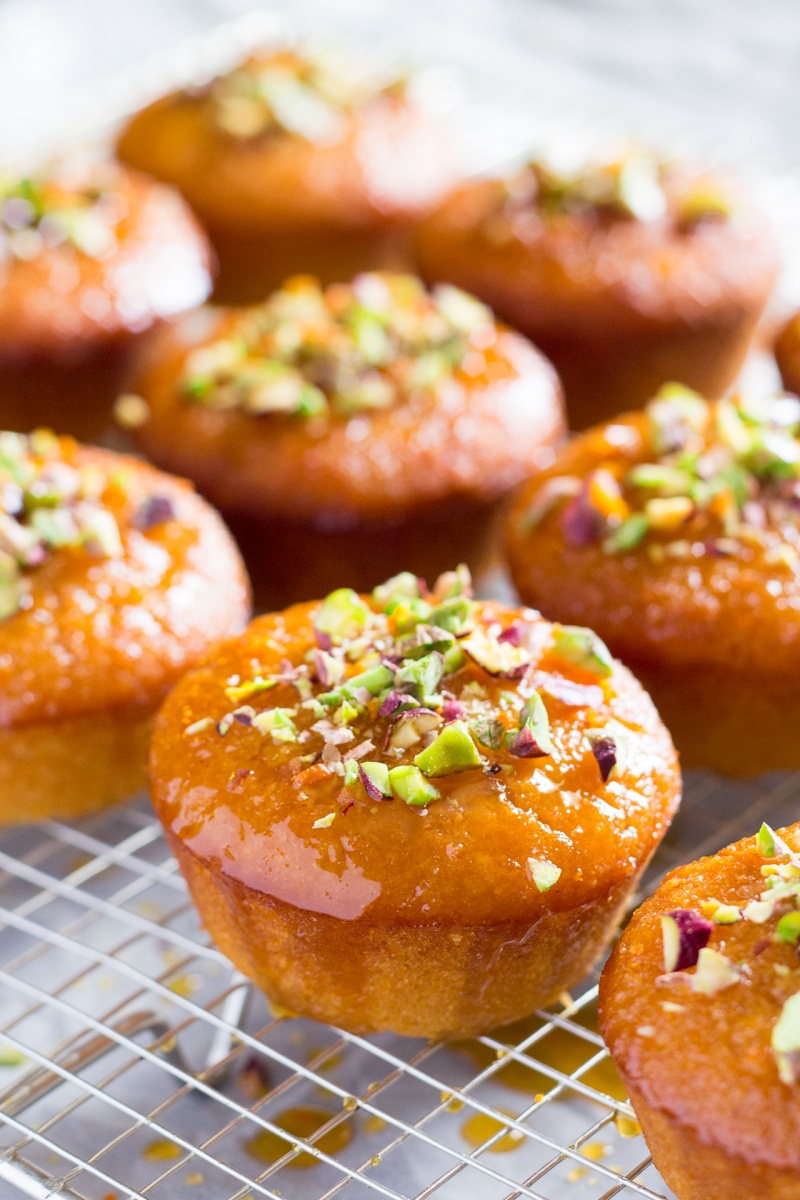 I could hardly wait to share this recipe with you as I think you'll love these syrup-infused orange semolina cupcakes! Last time I baked these was before I went vegan and I remember it well for a reason.
I made them into a cake for the French TV crew who came to film us for an episode of a French travel show Echappées Belles. The episode was about several Cycladic Islands and foreigners who chose to live on them. The producers seemed quite keen on our back story of escaping the rat race in the search of Aegean-tinted bliss.
Duncan did a lot of stand-up comedy back in London so he was quite comfortable in front of the camera. I, on the other hand, looked like I should have downed some whiskey before the filming started (I wish I had thought of that).
The worst off though was our poor cat, Noodle. The producers were quite keen to include him in one of the 'domestic bliss on a Greek island' scenes but, as luck would have it, two days before the filming, we applied a "spot-on" flea treatment on him. Being new and very inexperienced pet owners, we must have applied the medication incorrectly as Noodle managed to eat it and fell seriously sick the day after. He was really, really poorly and so he ended up looking extremely miserable on camera. Poor thing! Luckily, he pulled through.
Sick cat episode aside, it was funny and a little bit cring-e-y to see yourself on TV. And the cake went down so well that I've decided to have a crack at veganising it and re-packaging it in the form of cute, individual cupcakes. They turned out great and all my omni neighbours were scoffing them down with approving murmurs so I'm confident you'll like them too.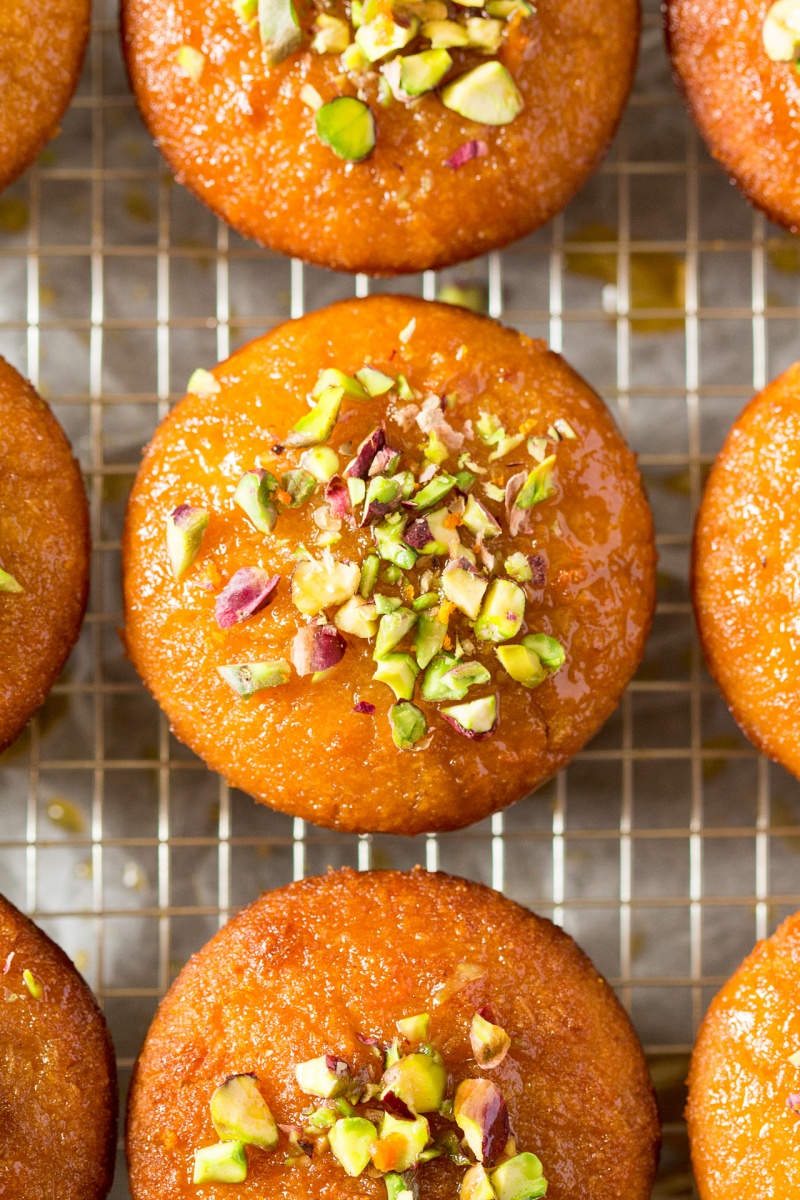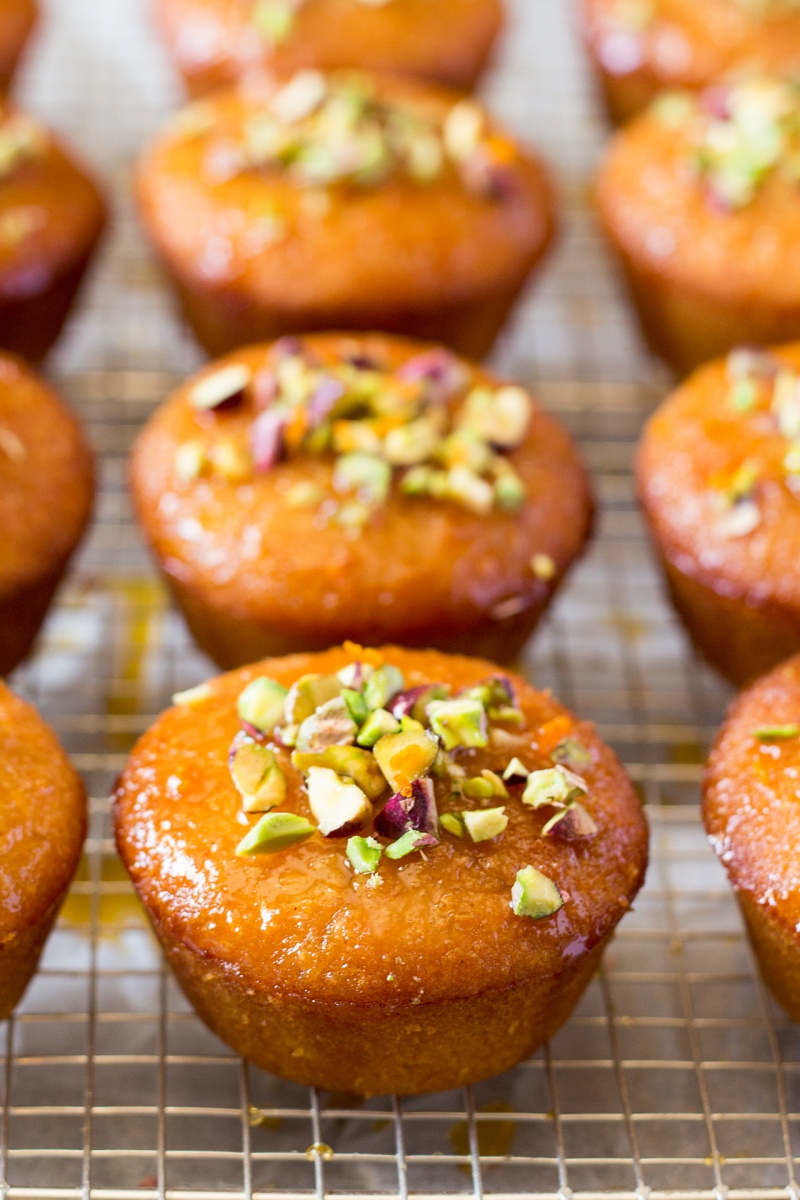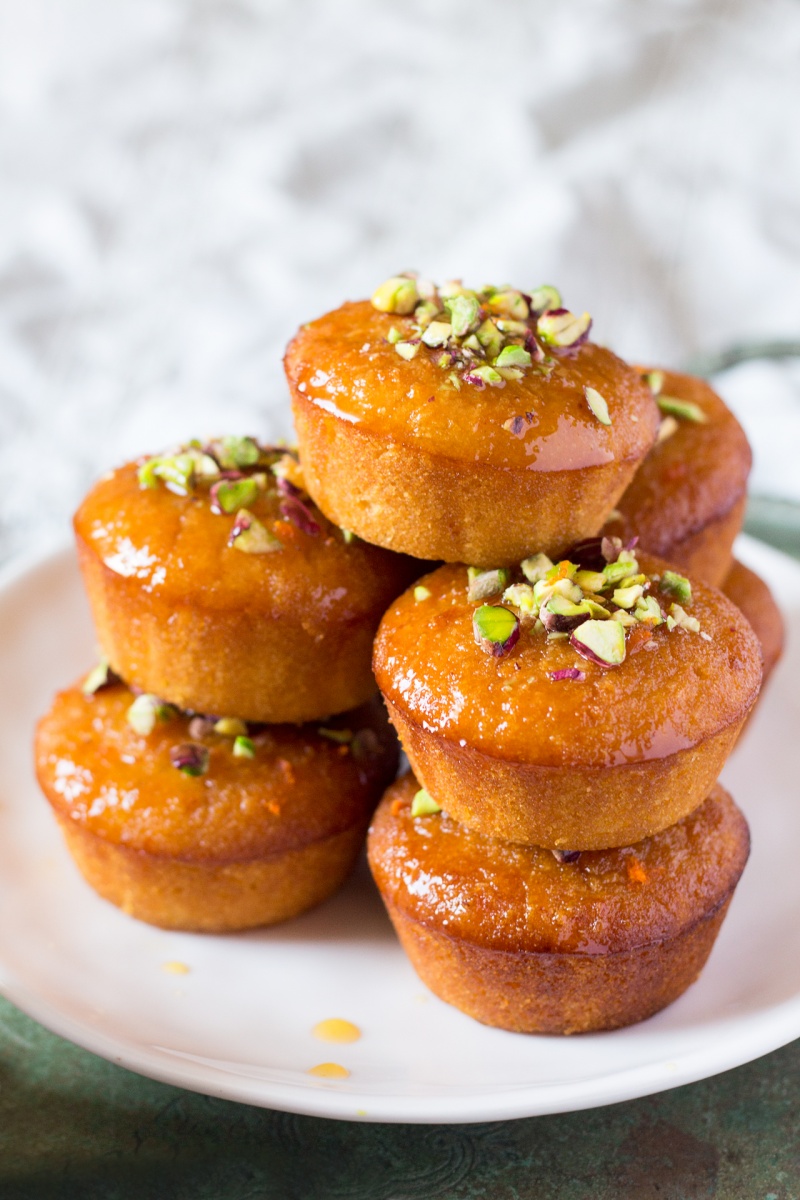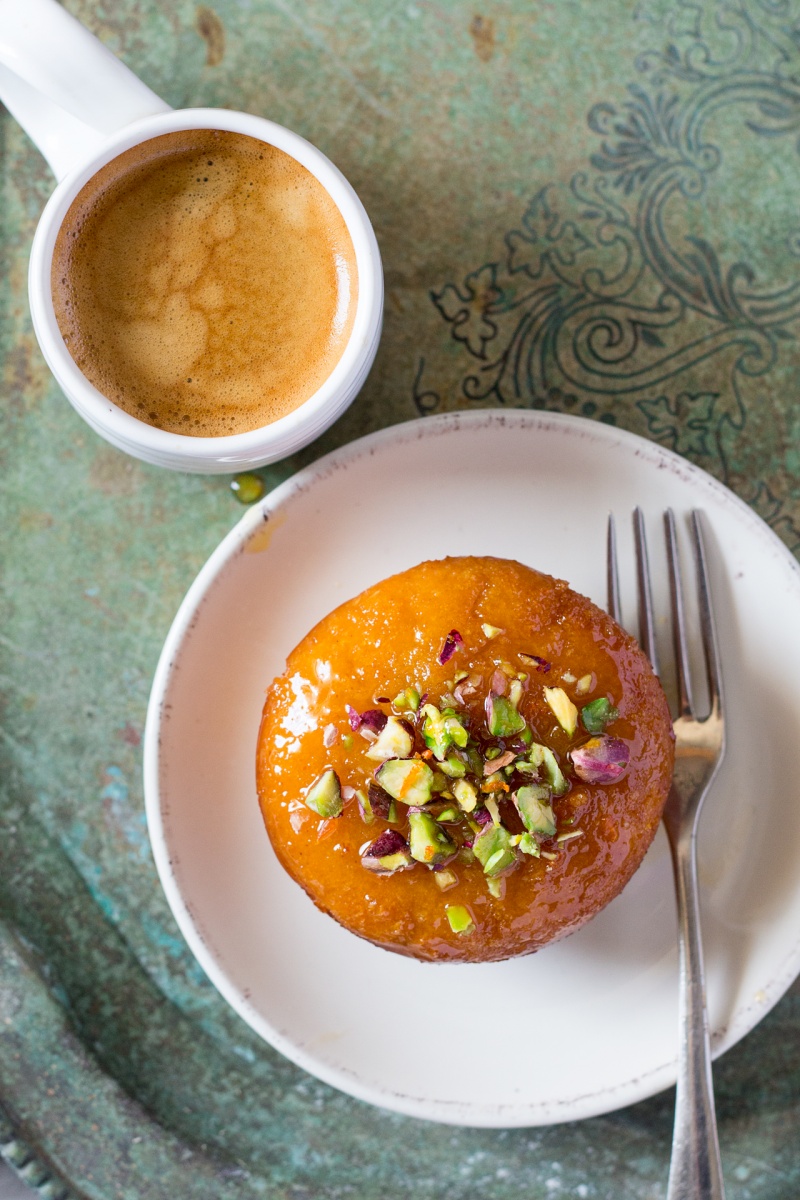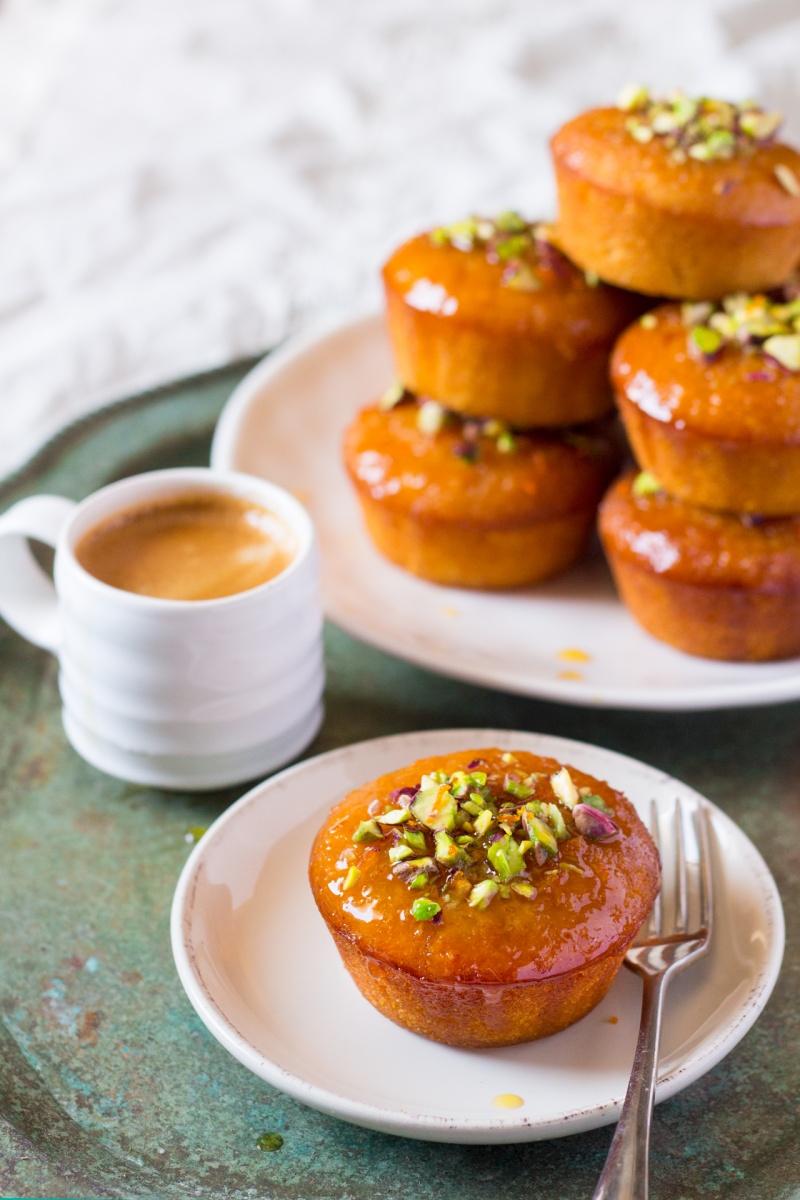 WET INGREDIENTS
135 ml / ½ cup + 1 tbsp mild olive oil
180 ml / ¾ cup freshly squeezed orange juice
120 g / 3/8 cup fine-cut orange marmalade
6 tbsp / 3/8 cup apple purée*
3½ tbsp aquafaba**
grated zest of 1 orange
DRY INGREDIENTS
50 g / ½ cup desiccated coconut
60 g / scant 1/3 cup brown sugar
70 g / ½ cup + 1 tbsp plain flour, sifted
135 g / ¾ cup fine semolina (for cakes)
1½ tbsp ground almonds / almond flour
1½ tsp baking powder
chopped pistachios or almonds, to decorate (optional)
SYRUP
360 ml / 1½ cup orange juice
100 g / ½ cup sugar (I used brown)
METHOD
Pre-heat the oven to 180° C / 350° F. Oil a 12-hole standard muffin tin with a bit of olive oil or line the tin with cupcake liners.
In a medium bowl combine all the dry ingredients apart from chopped pistachios.
In another large bowl, whip aquafaba** until it has soft peaks.
Whisk in the rest of wet ingredients until marmalade dissolves completely.
Mix dry ingredients into the wet ones slowly, until well combined. The mixture should be quite runny.
Distribute the mixture evenly between 12 muffin holes. Bake in the pre-heated oven until tops are lightly browned and an inserted toothpick comes out clean (about 30-35 minutes).
While the cupcakes are baking, combine syrup ingredients in a small pot and bring to a gentle simmer.
As soon as the cupcakes are out of the oven, brush them with hot syrup several times allowing it to soak into the cake between each go.
Return leftover syrup to the stove for 5-10 minutes, let it come to the boil and thicken slightly. Brush thickened syrup onto the cakes and sprinkle with pistachios (or almonds). Thicker syrup will keep them in place better.
NOTES
 *To make simple apple purée, simply peel and core two sour apples (we used Granny Smith variety) and pop into a small pot with a lid. Add a splash of water so that the apples do not catch on the bottom and simmer, covered, on a very low heat until they are falling apart soft. Blend in a blender or mash with a fork if you do not mind a slightly chunkier purée.
**Aquafaba (AF) or bean brine is leftover cooking water from cooking most legumes. I use chickpea water and have not tried using any other type yet. You can get it from a can of low sodium chickpeas or make your own. In this recipe, I used tinned AF, but when making sweet recipes I always make my own to avoid added salt. When making your aquafaba, soak dry chickpeas in lots of water overnight, rinse and put in a large pot with lots of water. Bring to the boil and then simmer for about 1 hour (until beans are soft). Remove cooked chickpeas with a slotted spoon and what's left in your pot is aquafaba. If it is too runny (ideally it should resemble egg whites), you can concentrate it a bit by simmering it on a low heat (without a lid) until it reaches the desired consistency. Cool it down before using.
Cup measurement I use is 1 cup = 240 ml (rounded up from 236.6 ml). As baking is a science, I recommend weighing all your dry ingredients and using metric volume measurement for liquids. I have converted metric measurements into cups, but some values do not lend themselves well to this conversion so they are approximations only.
This recipe is an a vegan adaptation of Yotam Ottolenghi's 'Semolina, coconut and marmalade cake' from his gorgeous 'Jerusalem' cookbook.