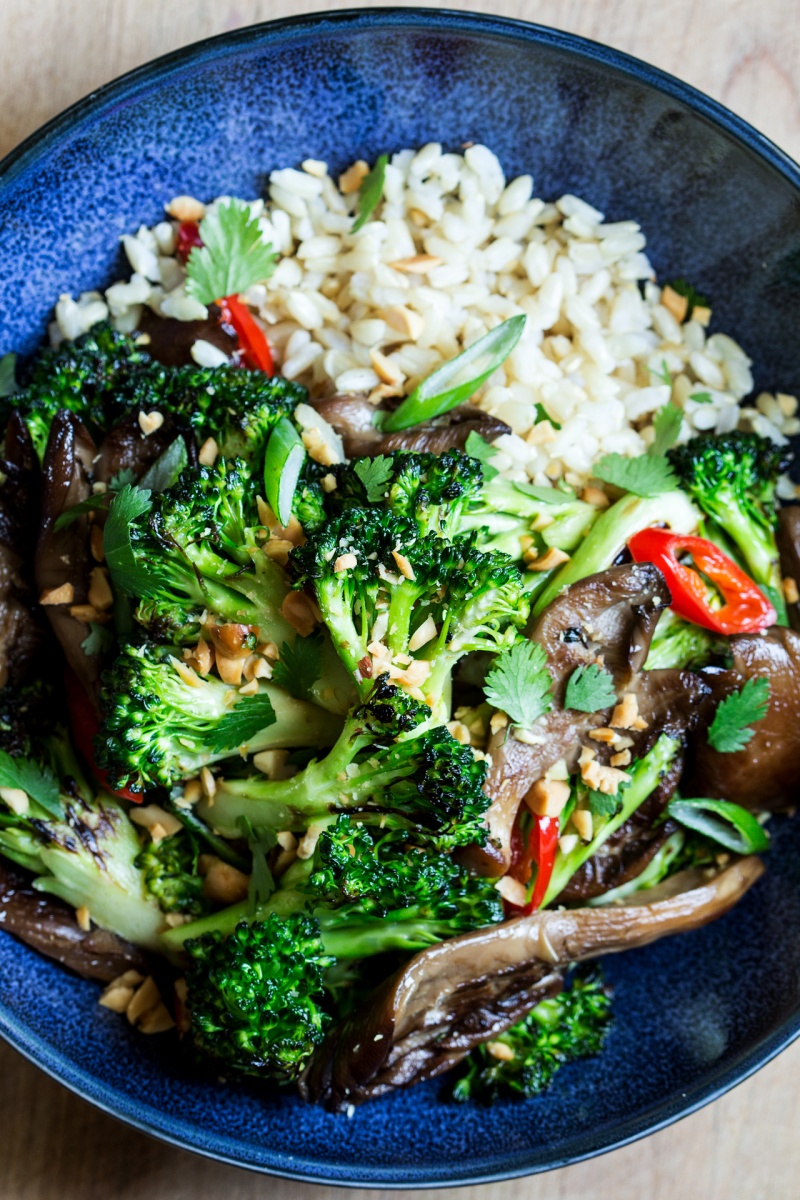 If you follow me on Instagram , you have probably heard that my oven is broken – I moaned about it a fair amount 😉 . On one hand, I do miss baking, but on the other it is a good thing as I've been going a bit too 'cake happy' in the past few weeks and I was meaning to tone it down for a while now.
Before I even realised there was an issue with my oven, I decided to quit baking and dessert making for a few weeks in an effort to bring some equilibrium to my diet.
Don't get me wrong, I am not one for dieting. I don't believe in diets or drastic calorie restrictions and I don't tolerate meal skipping well (Duncan can testify to that 😉 ) as I get grumpy when my blood sugar plummets… However, it's not that I rely on cakes for any nutrients so forgoing sweets seems like a logical solution.
As you can imagine my pesky sweet tooth isn't finding it easy, but I try to explain to myself that willpower is like a muscle and the more you exercise it the stronger it gets (here is to hoping 😉 ). I continue to have three nutritious meals a day, each full of fibre and complex carbohydrates and I allow myself a small sweet snack (like a square of dark chocolate) with my afternoon espresso, which, in my mind, minimises the risk of going completely off the rails in the dessert department 😉 . That's the level of 'dieting' I can handle (for the most part).
Oyster mushroom stir-fry is one of these simple and nourishing meals that we often have for dinner. No frills, simple fare – brown rice topped with stir-fried oyster mushrooms and crunchy broccoli with a hint of ginger, garlic and chilli. This dish is packed full of fibre so it keeps you full for longer. Oyster mushrooms are the star of the show here as they give this dish a bit of a pleasant meaty texture, which contrasts nicely with the crunchy broccoli and roasted peanuts. If you are a fellow mushroom fiend, you'll love this dish, promise!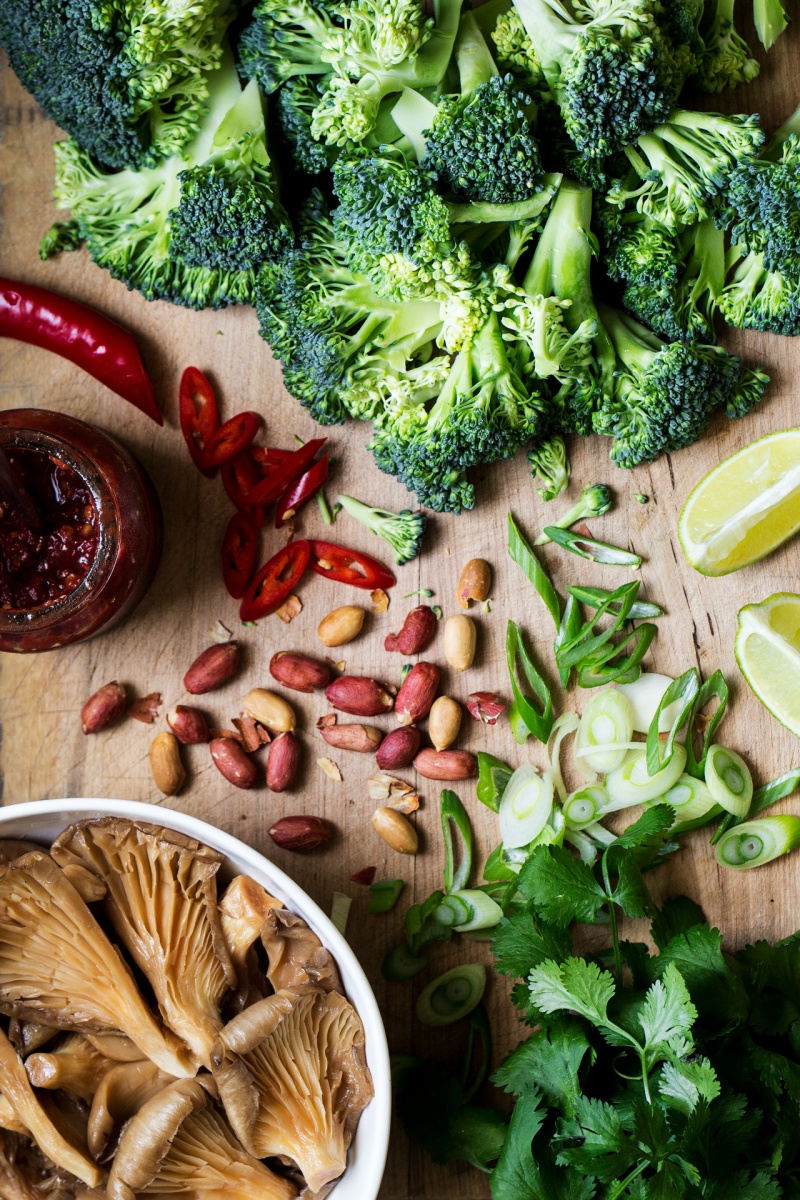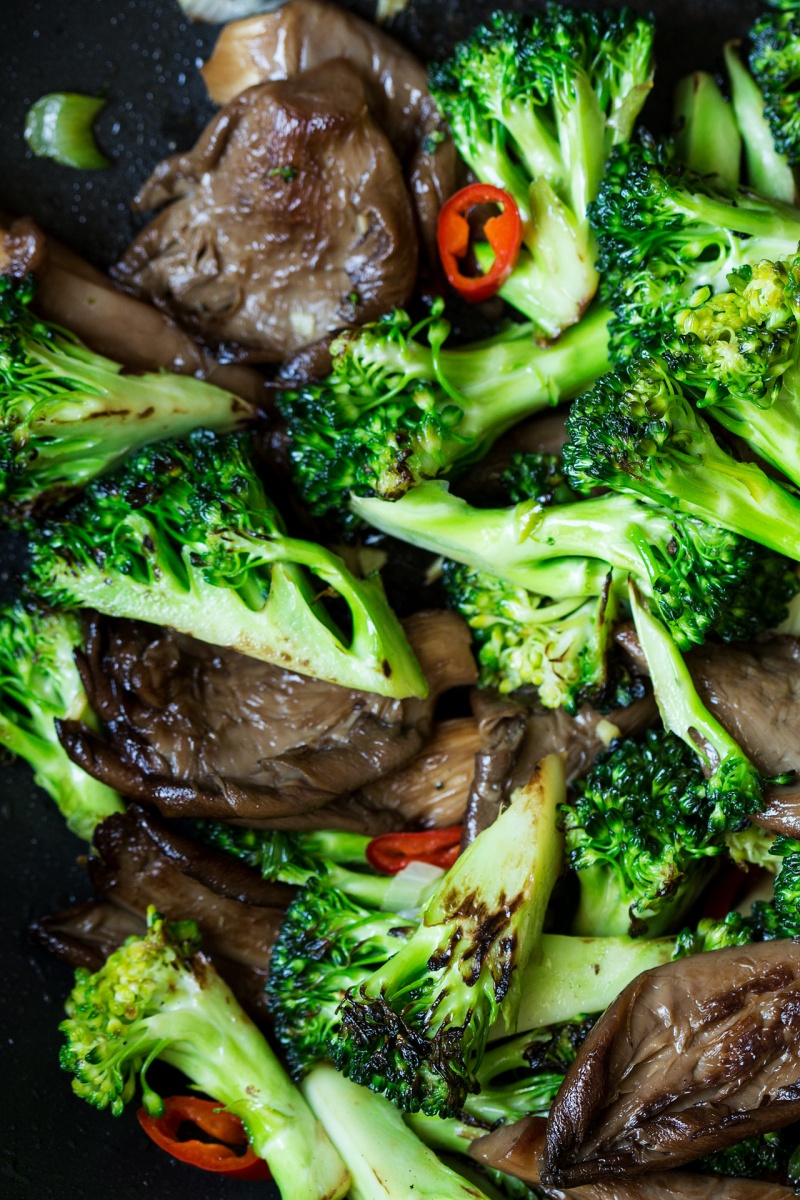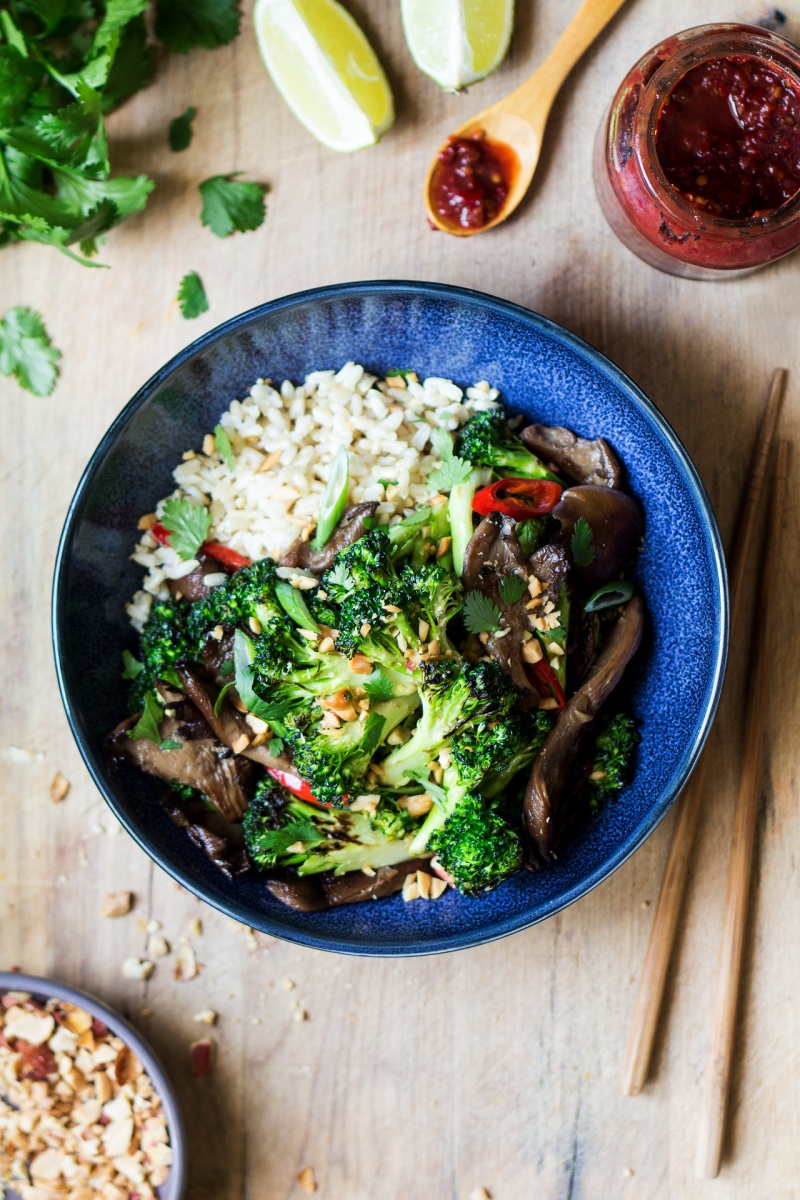 2 tbsp peanut oil (or other high smoke point oil)
1 large spring onion, sliced
2.5 cm / 1″ knob of ginger, finely diced
2 garlic cloves, finely sliced
½ hot red chilli, finely sliced
250 g / 9 oz broccoli florets
200 g / 7 oz oyster mushrooms
1 cup rice
fresh coriander, to garnish
crushed roasted peanuts, to garnish (optional)
MARINADE AND SEASONING
METHOD
Mix the marinade ingredients: 1 tbsp tamari, 2 tsp rice vinegar, 2 tsp maple syrup, 2 tsp sesame oil and 1 tsp liquid smoke in a medium mixing bowl. If your mushrooms are on the large side, slice them lengthwise into smaller pieces. Place them in the marinade and mix well so that they get evenly coated. Set aside for at least 30 minutes for the mushrooms to soften and absorb the marinade's flavours.
Mix the remaining ingredients: 1 tbsp tamari, 2 tsp rice vinegar, 1 tsp maple syrup and 2 tsp sesame oil in a bowl and set aside. This will be used to season the broccoli.
Cook your rice. I used brown rice, which takes about 35-40 minutes to cook, so I started cooking it about 25 minutes before I started on the stir-frying. If you use white rice it will cook in the same time it takes for the stir-fry to be ready.
Heat up 2 tsp of peanut oil in a non-stick wok. Add spring onion, garlic, ginger and chilli and stir-fry on a medium heat until softened and fragrant, for about 1-2 minutes. Transfer to a large plate and set aside.
Heat up another 2 tsp of oil. Once hot, add marinated mushrooms. Stir-fry for 4-5 minutes, until lightly browned and softened. Transfer to the plate with the aromatics and set aside.
Finally, heat up another 2 tsp of oil and add the broccoli florets. Stir-fry for 5 minutes until cooked yet still crunchy. Season the broccoli with the mixture you prepared in step 2.
Return the aromatics and cooked mushrooms to the wok. Allow them both to warm up before piling on top of cooked rice. Serve sprinkled with crunched peanuts and fresh coriander.