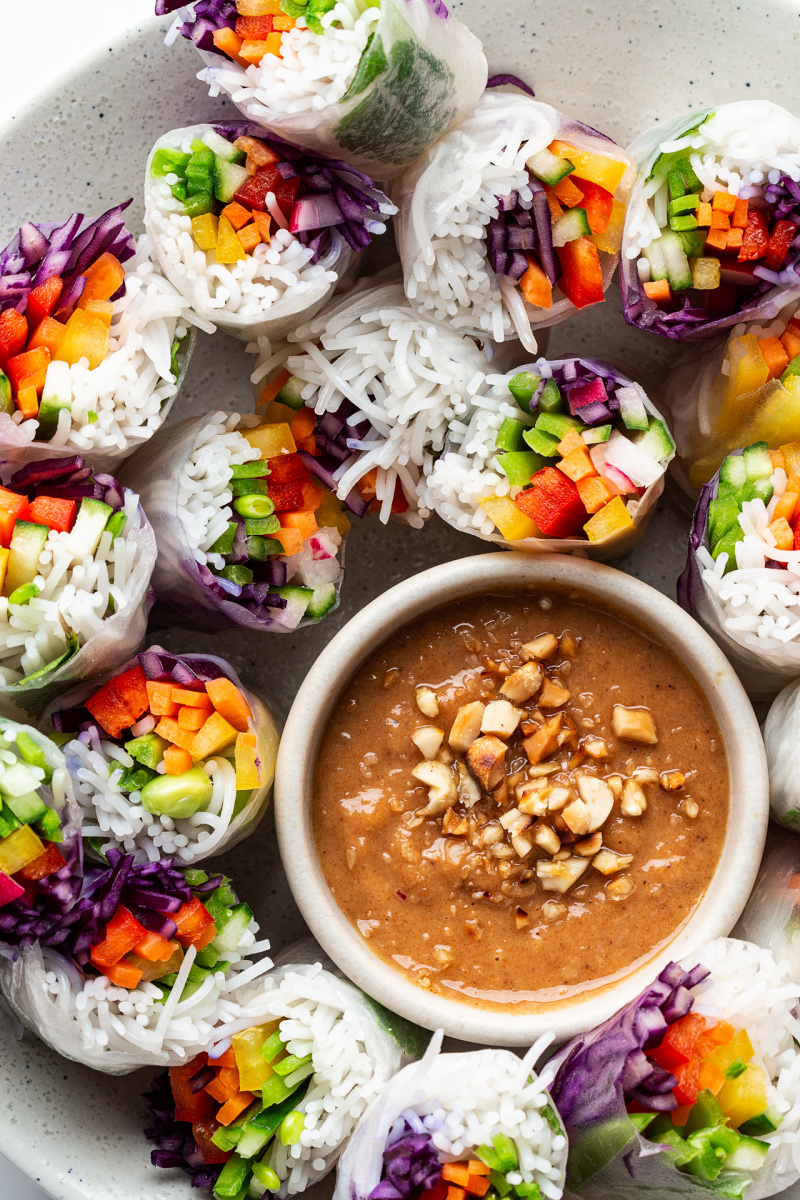 I've chosen today's recipe to align with a mini (3 whole days!) heatwave that has been bestowed on us this week. It's an easy and fresh recipe that certainly makes for an ideal heatwave lunch and as it requires practically no cooking, it affords me more time to lounge in the sun – something I prioritise way more since we moved back to the UK after years in permanently sunny Greece.
As you might have seen on my Instagram stories, we have finally finished the renovation of our living room and we are both ecstatic. It scrubbed up really well and even Tina, despite an obligatory sulk, loves it already too – she has claimed a spot on the couch where she waits for us before we both sit down to watch our favourite show.
Having to make do with a subpar setup for months makes us both feel extra grateful. It's just like they say, you cannot experience joy without sadness, or pleasure without pain, but I digress… Seeing the end result has suddenly made us feel like all these long winter weekends of stripping off dated salmon pink wallpaper off the walls and ceiling, cleaning the residual glue and knocking down smelly inbuilt cupboards was a good time investment, even though we had days when we were truly sick of it all and the motivation was low.
Now, the room with part of a wall knocked down, restored floorboards, replastered, painted and with new skirting looks unrecognisable and we are proud of what we have achieved. We have also amassed a fair amount of tools in the process and learned a lot of new skills, so after a bit of a well deserved DIY rest, we plan to tackle another house project. Either a cat shelf or an understairs storage cupboard. My office is up for renovation next. We are taking our time in a bid not to burn out and try to remember to savour the journey as much as the destination. I'm working on being more methodical and patient in my old age 😉 .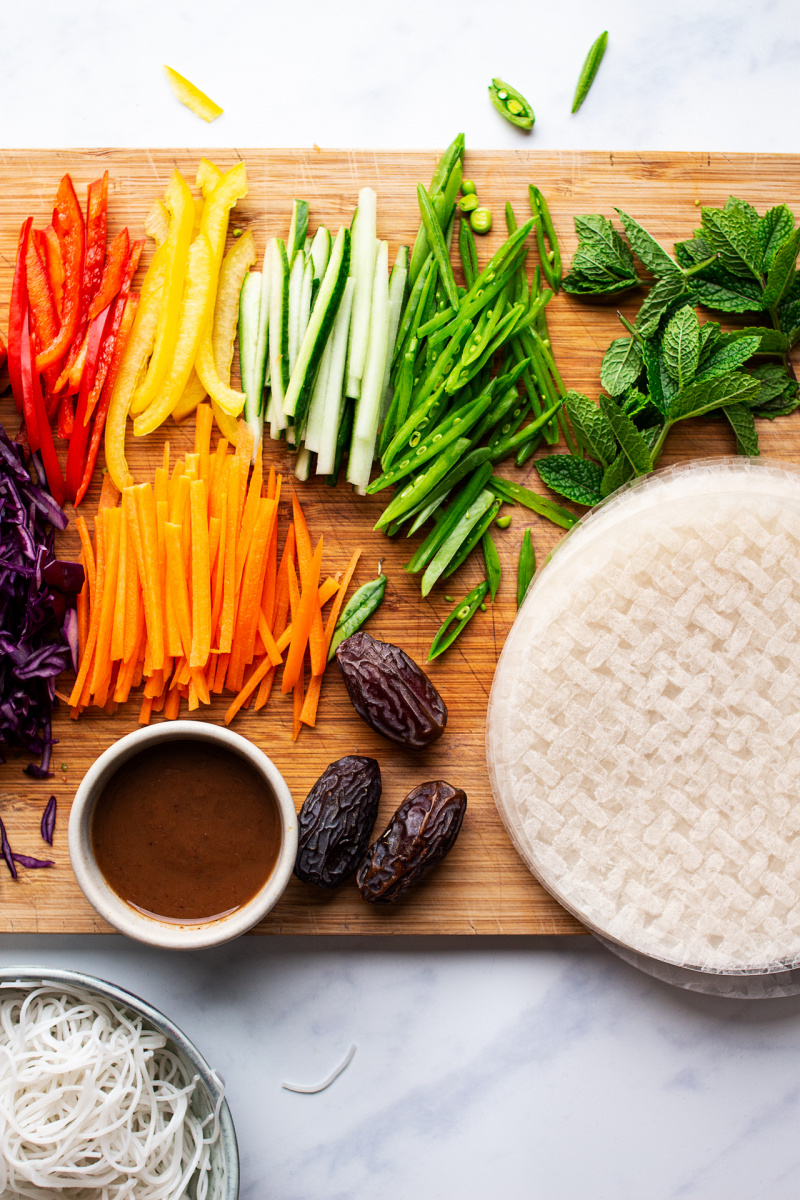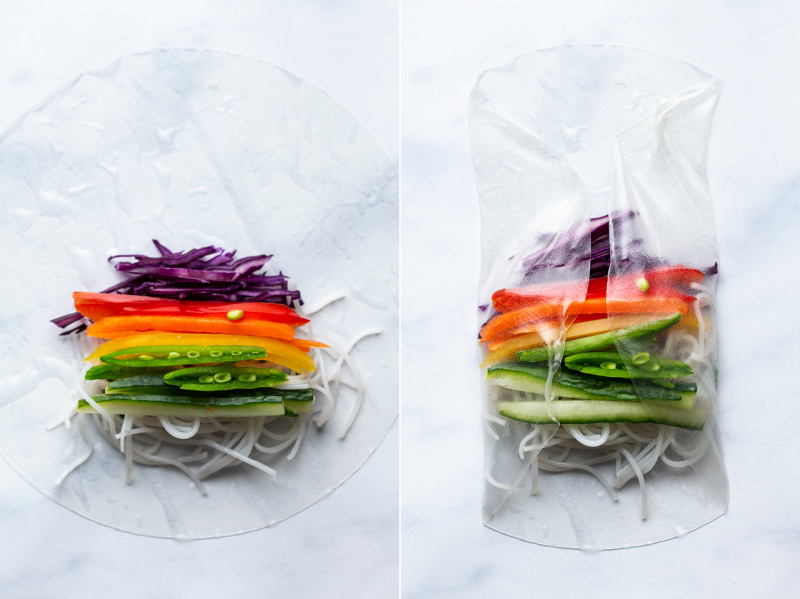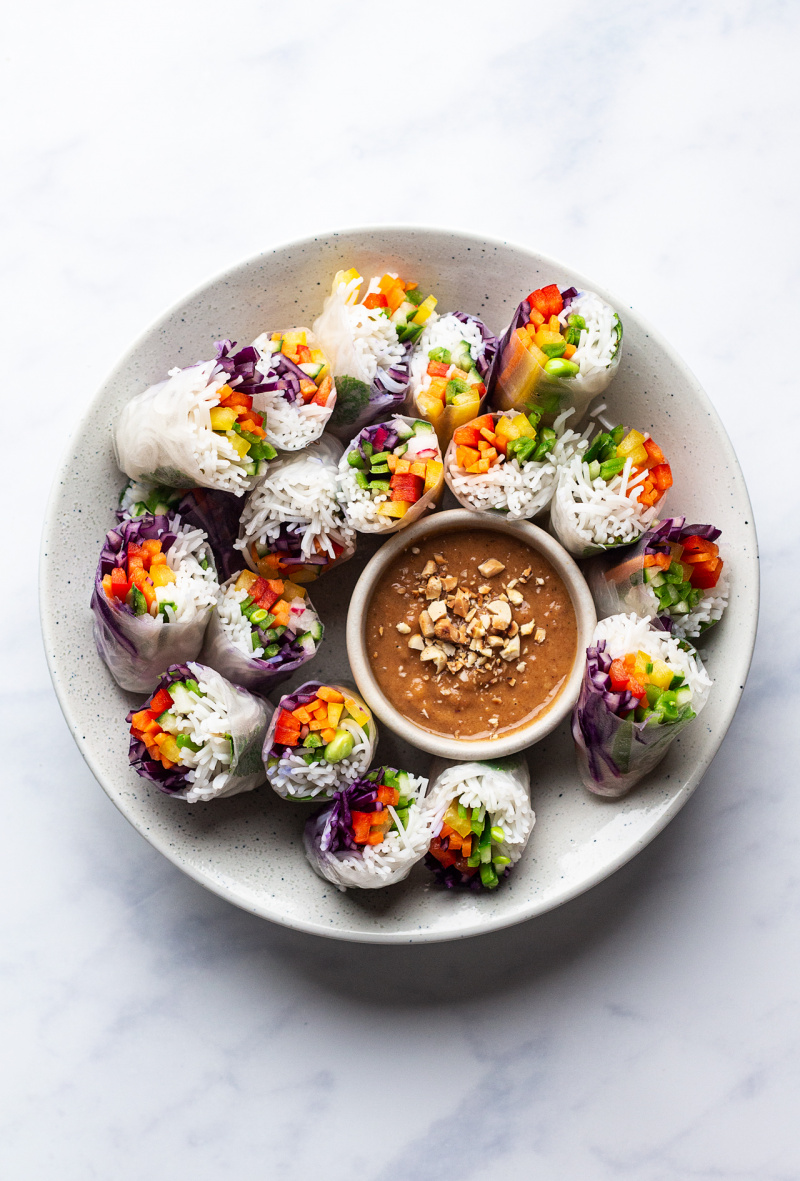 DIPPING SAUCE
6 juicy Medjool dates (115 g / 4 oz)
45 ml / 3 tbsp all natural peanut butter (or almond if you prefer)
3-4 tbsp tamarind concentrate* (strength varies so adjust to taste)
2 tbsp soy sauce or tamari, adjust to tase
1 small garlic clove
1 tsp ginger, grated finely
SUMMER ROLLS
20 rice paper wrappers (mine were 16 cm diameter)
a handful of coriander or mint
75 g / 2.65 oz vermicelli rice noodles, cooked
a small wedge of red cabbage, shaved on a mandolin
1 carrot, cut into matchsticks**
1 small cucumber, deseeded and cut into thin matchsticks
½ red pepper, cut into thin matchsticks
½ yellow pepper, cut into thin matchsticks
a handful of sugar snap peas, cut thinly diagonally
METHOD
DIPPING SAUCE
Pit the dates and soak in boiling water for 15 minutes to soften.
Put drained and squeezed out dates, peanut butter, 3 tbsp tamarind concentrate, 1 tbsp of soy sauce / tamari and about 6 tbsp of water in a blender. Blend until smooth. Taste and season with more tamarind, soy sauce / tamari if needed and garlic and fresh ginger. You may need to add a touch more water to achieve a good consistency.
SUMMER ROLLS
Prepare a bowl with cold water and rehydrate one rice paper wrapper at a time by immersing it fully in the water for about 15 seconds and then placing it either directly on the counter (I have a granite worktop and that works well) or on a damp kitchen towel spread out in front of you. Do not immerse the wrapper for too long – you want it flexible but not fully soft when you take it out of the water. It will continue to soften once out of the water.
Place two mint or a small clump of coriander leaves at the bottom of each roll, in the middle of the rehydrated rice paper. Follow by a clump of cooled rice noodles and a small portion of each and every vegetable. Take care not to overfill (especially if you are new to making these) as you will have a hard time rolling it up.
Once you finish with the filling, start rolling each summer roll like a burrito. Fold the sides over and start rolling from the bottom, making sure you keep on wrapping the rice paper over the filling tightly with your other hand. It takes a few goes to get the knack of it.
Repeat steps 1, 2 and 3 until you've run out of your filling and / or wrappers.
Cut the rolls in half and enjoy them fresh, dipped in the prepared dipping sauce.
NOTES
*Although tamarind products are often branded as 'seedless', I have personally found that they tend to contain ground up pieces of seeds which are unpleasant to eat and might cause a tooth break if large. I recommend pressing this ingredient through a small sieve first to ensure a smooth texture of the dipping sauce.
**Be sure to adjust the length of your veggie matchsticks to the diameters of your rice paper wrappers. I used 16 cm / 6.3″ wrappers so I cut all my veggies to 5 cm / 2″ to allow for a generous margin on both sides of the filling, which makes rolling the rolls much easier.