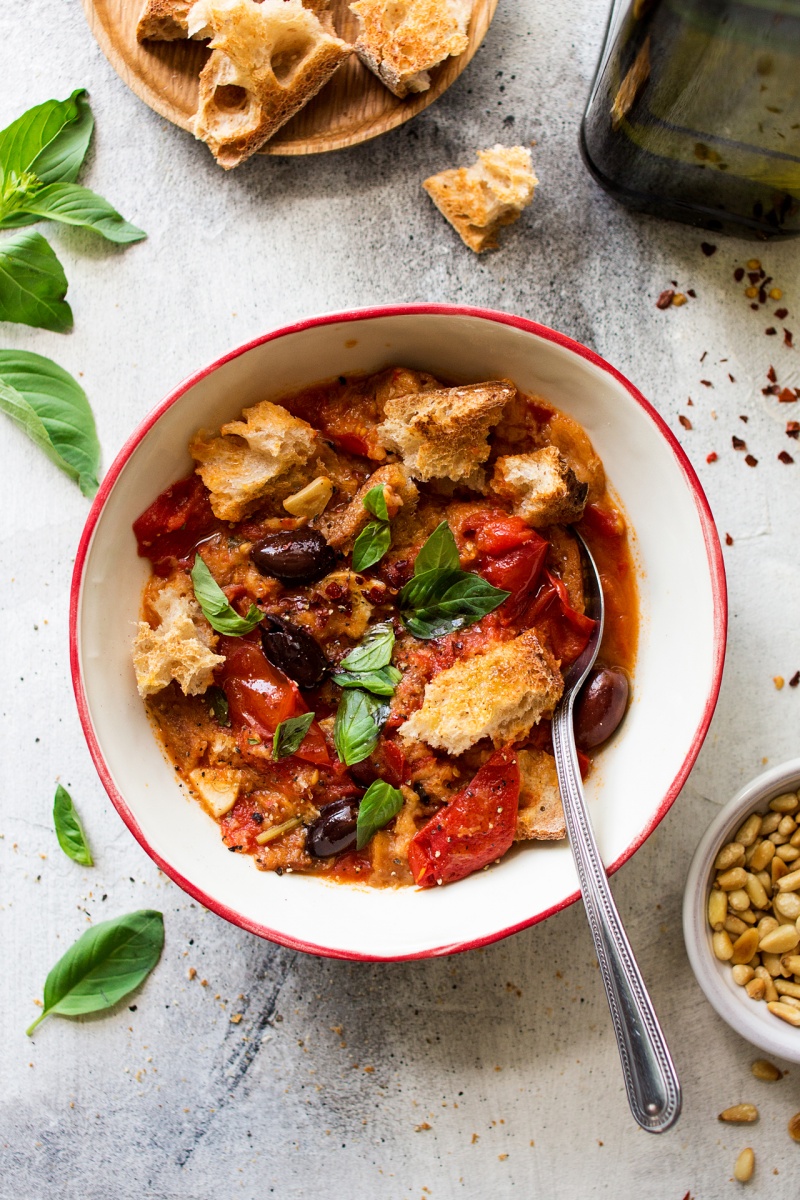 I don't know about where you are, but here, in the UK, summer feels like a distant memory. We've finally had our wedding photoshoot on Saturday afternoon and after two hours of standing around in our wedding gear (which we last wore in the sweltering heat of July), we were both so cold. As soon as we were done, we ran to the nearest pizza joint for a pizza, a glass of wine and mainly to sit as close to the open fire as we could. It worked a treat and I'm happy to report that neither of us came down with a cold despite the fact that I thought it was quite likely.
While the weather could have been a touch warmer for photography purposes, it was perfect for walking around. After our photographer introduced us to Ashton Court (a beautiful manor house and its expansive grounds featuring a 600 year old deer park and some beautiful old woodlands) on Saturday for the first time, we went back yesterday to have a good look around. Getting home to a bowl of hot soup, a coffee and a mini dessert (we are testing a super exciting recipe that I did not think was possible to veganise. We are super excited to share it soon 🙂 ) was a perfect end to a really nice afternoon.
This soup bridges the gap between vanishing summer and impending autumn. It uses ripe, late summer tomatoes that are roasted in the oven for ease and extra juiciness and stale sourdough bread, which acts like a sponge and gives this soup a little body, without the need for any other thickeners. We also added some cooked chickpeas to ours, to make it even more filling and nourishing.
This simple bread and tomato soup is an Italian classic known as pappa al pomodoro. It really appeals to my sense of frugality as I often have leftover sourdough bread, which I am loathe to throw into the compost. It's flavoured with garlic, basil and I put a good pinch of chilli in mine. It's comforting and satisfying like a decent cold weather dish should be, yet reminiscent of warm sunny days. Late summer in a bowl.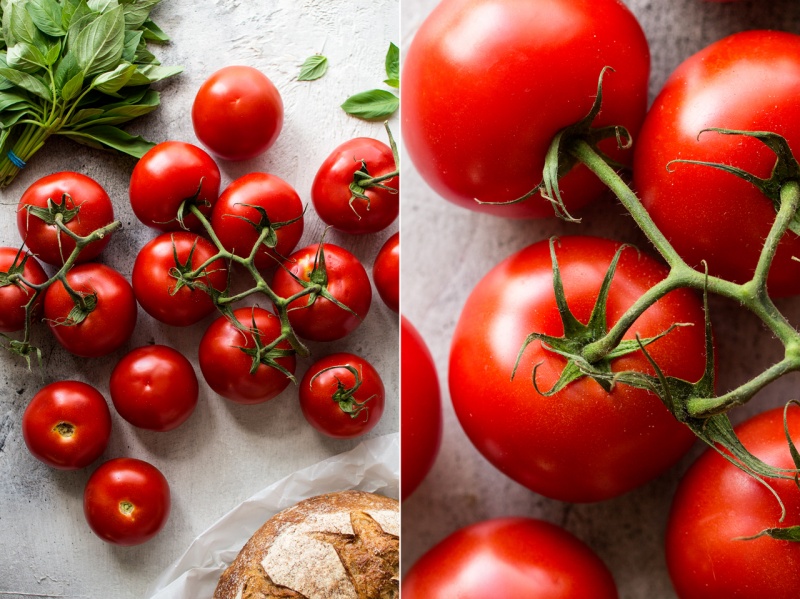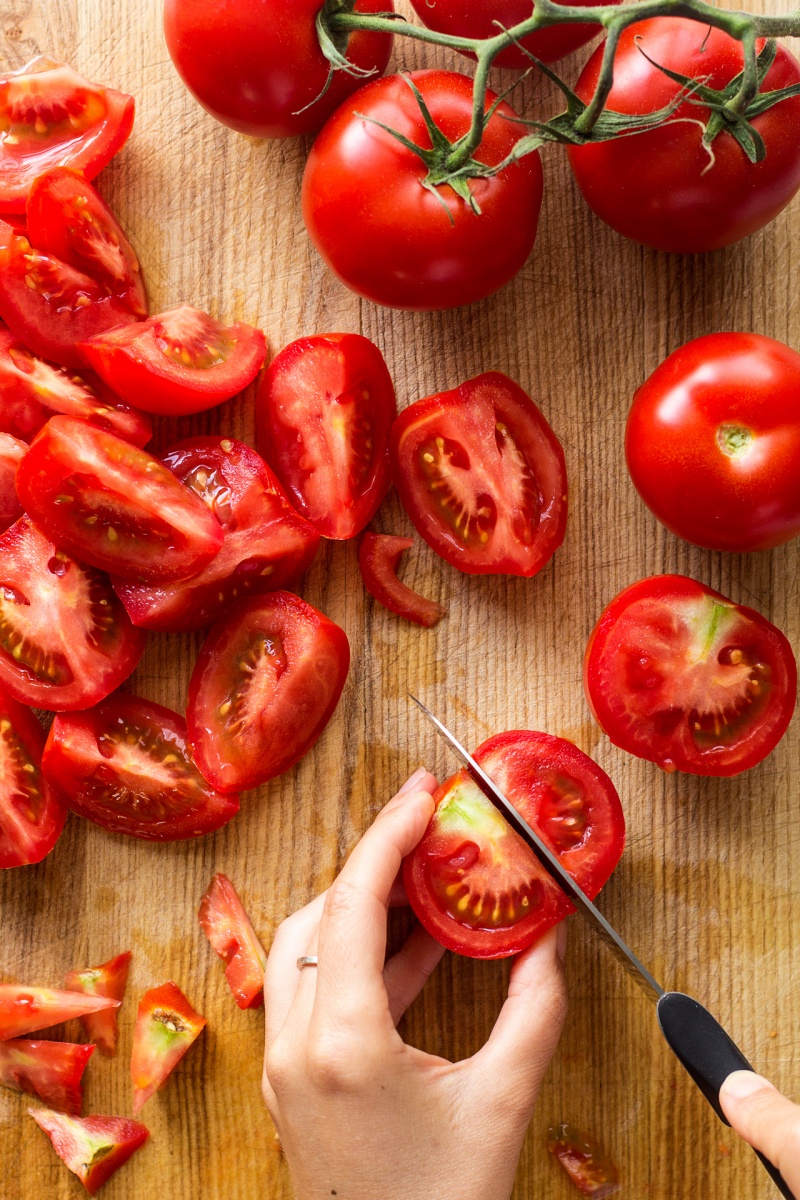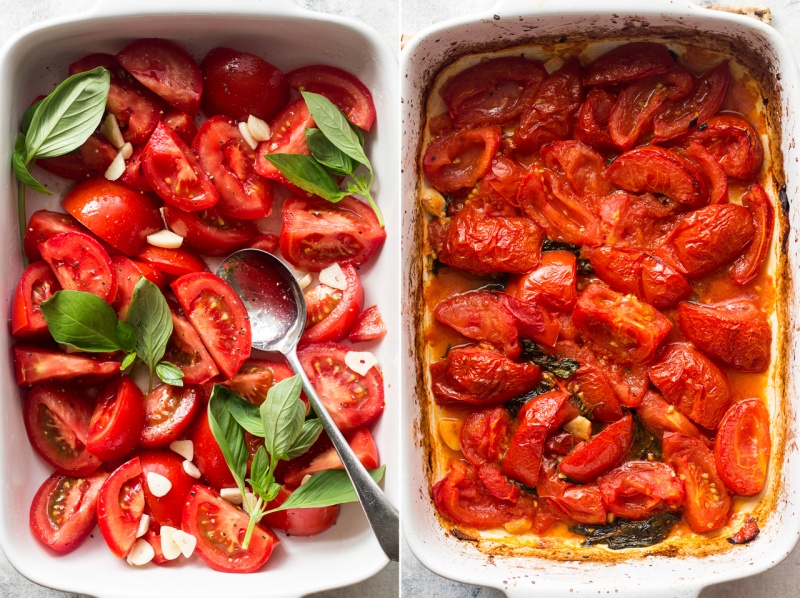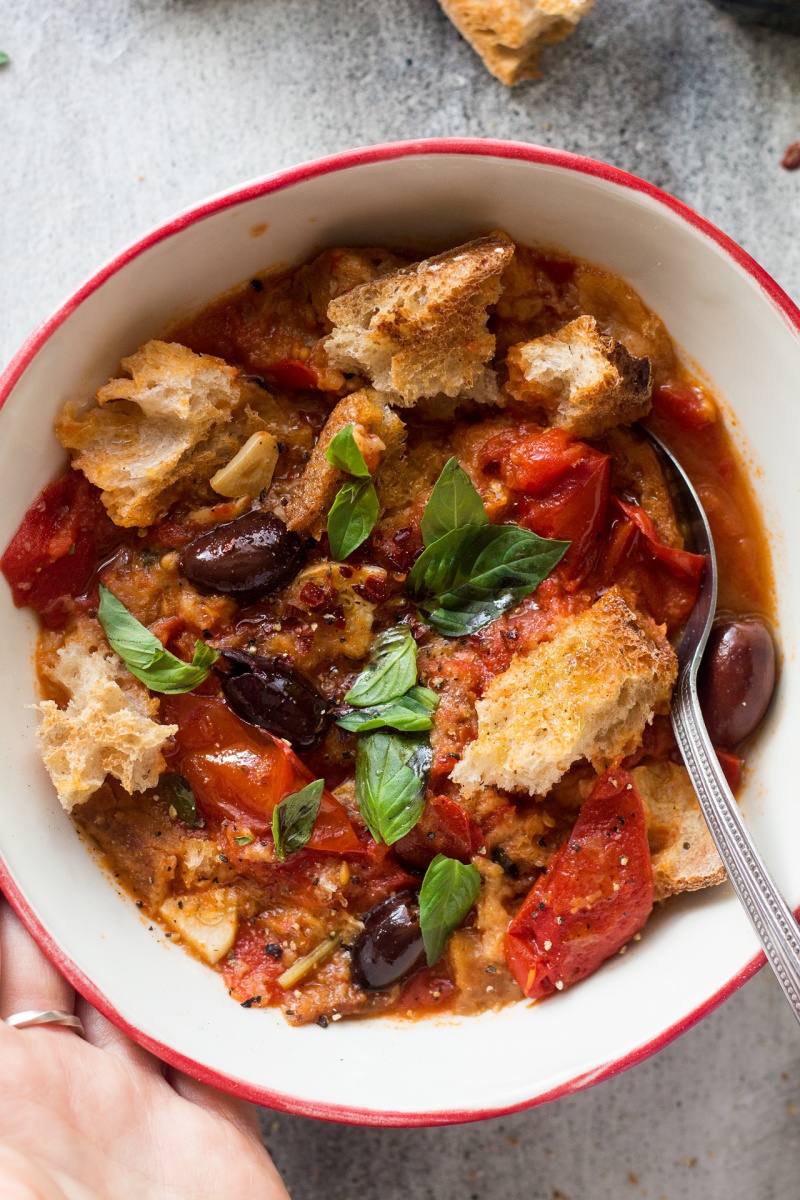 1 kg / 2 lb ripe tomatoes on the vine (about 8 medium)
3 garlic cloves, sliced
3 tbsp / 45 ml extra virgin olive oil
a bunch of fresh basil
15 Kalamata olives, pitted
½ stale sourdough bread or large ciabatta
good pinch of chilli flakes, optional
good pinch of sugar (if tomatoes lack sweetness), optional
salt and pepper to taste
METHOD
Preheat the oven to 220° C / 430° F and get a medium size baking tray ready.
Cut the tomatoes up into quarters and core them. If the skins are likely to bother you, blanch and peel them first. Toss the tomatoes and sliced garlic in 2 tbsp of olive oil. Season well and place them in a baking tray.
Bake for about 30 minutes. After 30 minutes is up, give the tomatoes a good stir and tuck a few basil stalks under the softened tomatoes. Bake for a further 5-10 minutes, until the tomatoes are lightly caramelised and juicy.
Transfer the tomatoes and their juices to a large sauce pan with a matching lid. Add the olives and the rest of the torn basil leaves. Top up with 2 cups of water (or stock) and cover.
You can add half of the bread at this point, but be aware that it its texture will change drastically (it gets soggy and sort of creamy). I personally prefer adding the toasted bread in at the very end.
Bring to the boil, reduce the heat, and simmer, stirring occasionally and breaking up the bread and tomatoes a little, until the bread is softened and the soup has thickened slightly (about 10 minutes). Season with a good pinch of chilli, sugar (if using) and some salt and pepper.
Toast the rest of the bread either on a hot griddle pan or in the oven. Tear up the bread before serving with the soup.
Serve the soup with an extra drizzle of olive oil and topped with the chunks of toasted bread.
NOTES