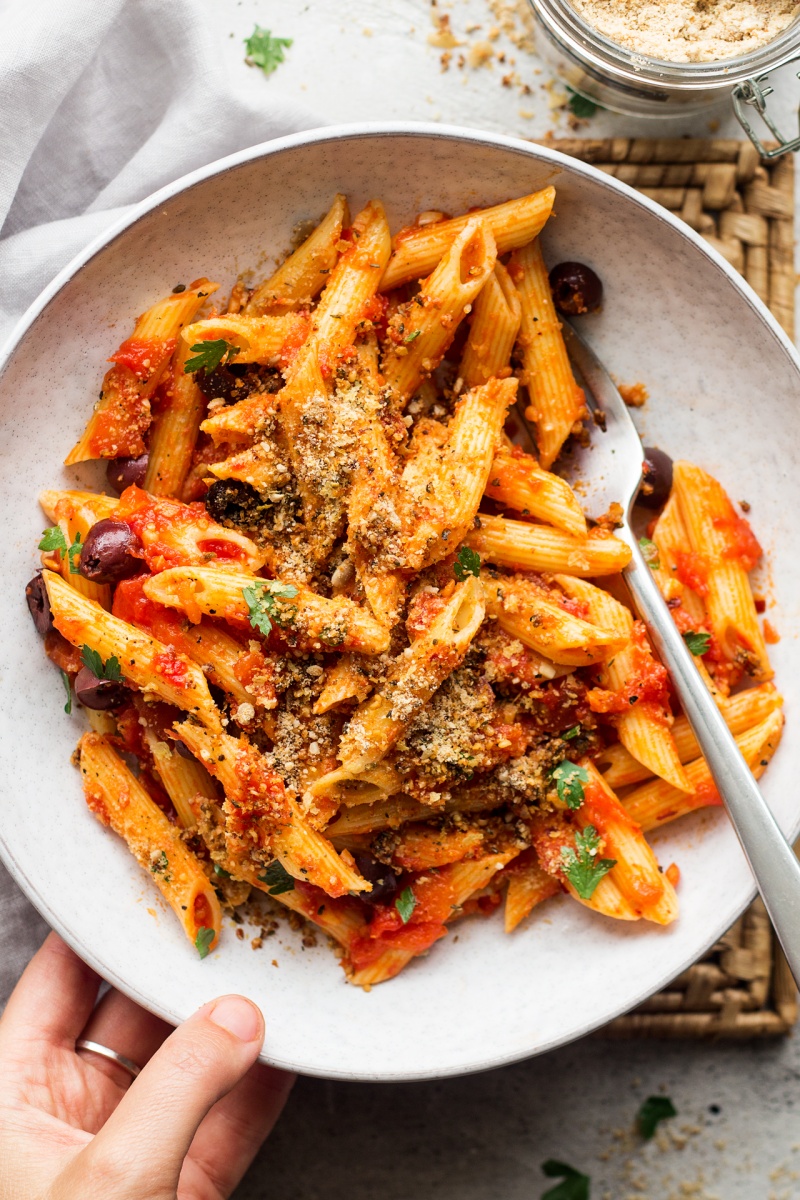 Hope you guys are well and your weekend was peachy and relaxing? As Duncan was away, I did a bit of pottering around the house and snuggling with my cat on Saturday and on Sunday ventured out to the Bristol Museum with my friend, Melanie. If you follow us on Instagram you might have seen my somewhat hectic Instastory and if you did, apologies, I WILL get better at them, that's a promise!
It's a bit of a bummer as we seem to have swapped gorgeous weather for a lot of rain in the past few days so I'm into comfort food again lately. If the weather continues in this vein, you'll be seeing a lot more desserts on the blog, me thinks.
Today's dish marries overtones of summer in the form of late-summer tomatoes with a bit of comfort. It's a simple pasta arrabbiata made with ripe fresh tomatoes simmered in a chilli and garlic-infused oil, which comes together rather quickly, as you want the tomatoes to be just cooked. Because of this, the simmering does not take as long as it does for rich, winter sauces.
Now, to the traditionally-minded amongst you, I am aware that arrabbiata is rarely served with parmesan, but tradition goes out of the window a bit when you are vegan, plus I've been dying to share my vegan parmesan invention with you for a while now. So I've used this simple summer pasta as an excuse to do just that. Sorry, Signorina Arrabbiata, I've used you – don't be arrabbiata (=angry in Italian) with me 😛 .
This simple concoction of seeds roasted in a slowly dehydrated miso paste and seasoned with some nooch (nutritional yeast) and a pinch of herbs is something I've been addicted to lately. It's really easy to make and has bags of flavour. While it makes for a perfect pasta topping, it's also delicious sprinkled on salad, lunch bowls and avocado toast, so I hope you'll give it a go, even if pasta isn't your thing.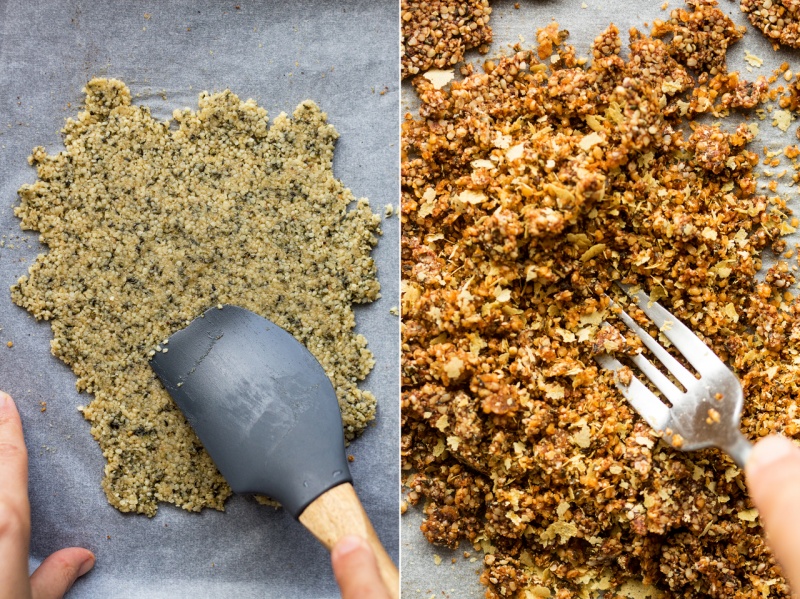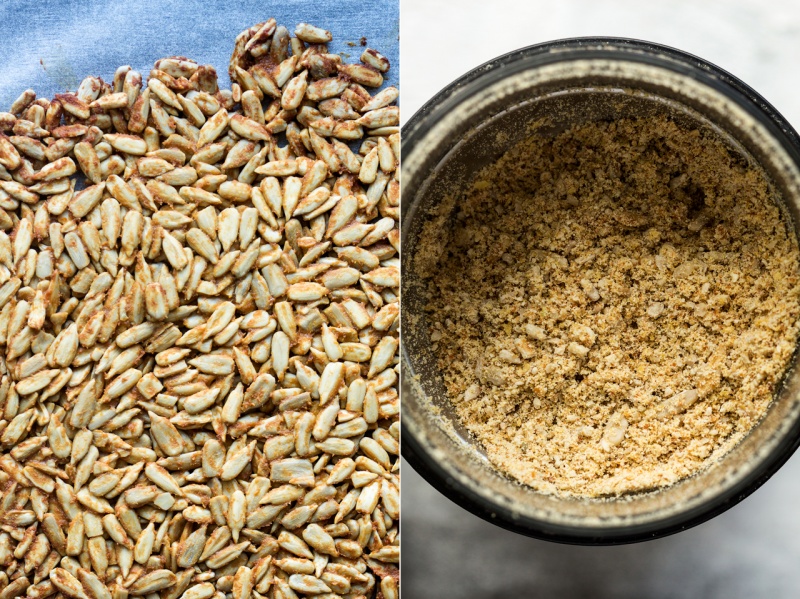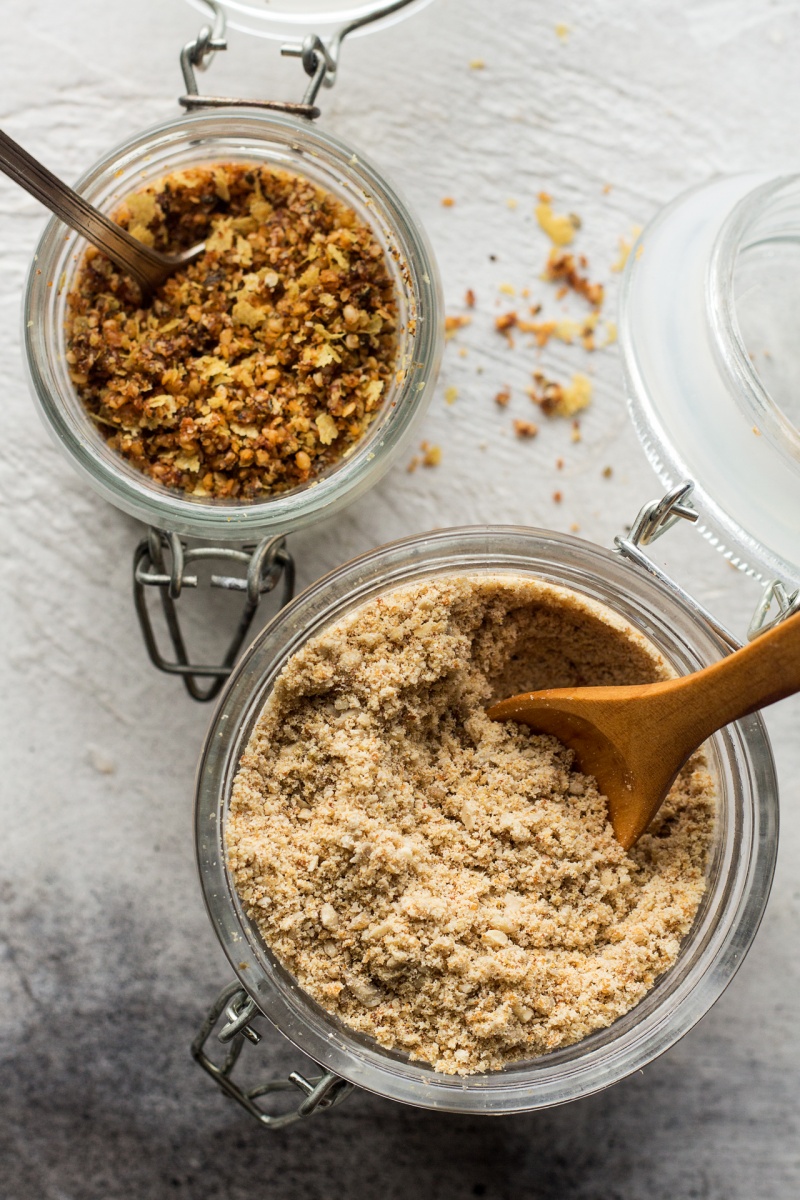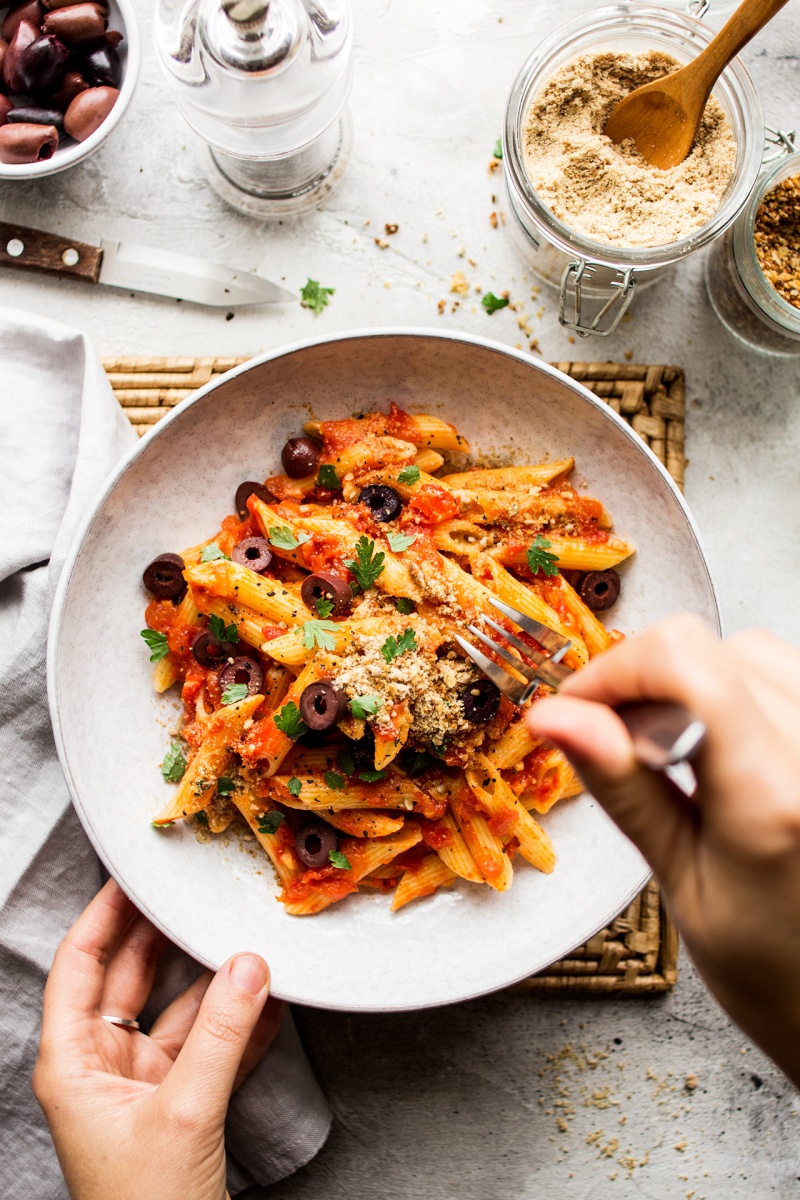 VEGAN PARMESAN (makes a small jar)
SAUCE
2 tbsp / 30 ml extra virgin olive oil
¼ tsp chilli flakes, or more to taste
2 garlic cloves, diced very finely
700 g / 5 ripe medium tomatoes (approx. 3½ cups chopped)
200 g / 14 oz penne (GF if needed)
½ tsp salt, more to taste
black pepper, to taste
fresh parsley or basil, to garnish
sliced black olives, to garnish (optional)
METHOD
VEGAN PARMESAN
Preheat the oven to 100° C / 210° F fan function (recommended) or 120° C / 250° F without a fan and line a medium size baking tray with a piece of baking paper or with a non-stick baking mat.
In a medium bowl, combine miso paste, maple syrup and oil until you achieve a smooth paste.
Using a silicon spatula or the back of a spoon, rub the seeds into the miso mixture until uniform.
Spread the mixture on the prepared baking tray in as thin a layer as possible.
Bake for about 40 minutes, until dry. Once out of the oven, allow the mixture to cool off completely.
If using hemp, crumble the mixture using a fork. Once crumbly, work the nutritional yeast and dry herbs into it. If using sunflower seeds, I recommend blitzing them in a spice grinder (or pestle and mortar – although they are a bit harder to crush by hand).
Store in an airtight container in a dry cupboard. The mixture keeps for at least 2 weeks.
PASTA AND SAUCE
Heat up the olive oil in a heavy bottom frying pan, on low heat.
Add the chilli flakes to the hot oil and allow them to sizzle for a few seconds.
Add the finely diced garlic cloves and stir-fry for a minute or so until fragrant, but do not allow them to brown.
Add the diced tomatoes and their juices. Turn the heat up a little, to low-medium, and allow the tomatoes to simmer for about 20 minutes, until softened and reduced.
After the sauce has been simmering for about 20 minutes, cook your pasta al dente. Drain.
Squash the softened tomato chunks with a wooden spoon (or a fork) to make the sauce more uniform. Simmer for another 10 minutes or so, if the pan gets too dry too quickly, add a splash of water (stock or wine).
Season with salt, pepper and extra chilli if needed.
Toss the al dente pasta in the sauce, garnish with fresh herbs and my nut-free vegan parmesan.