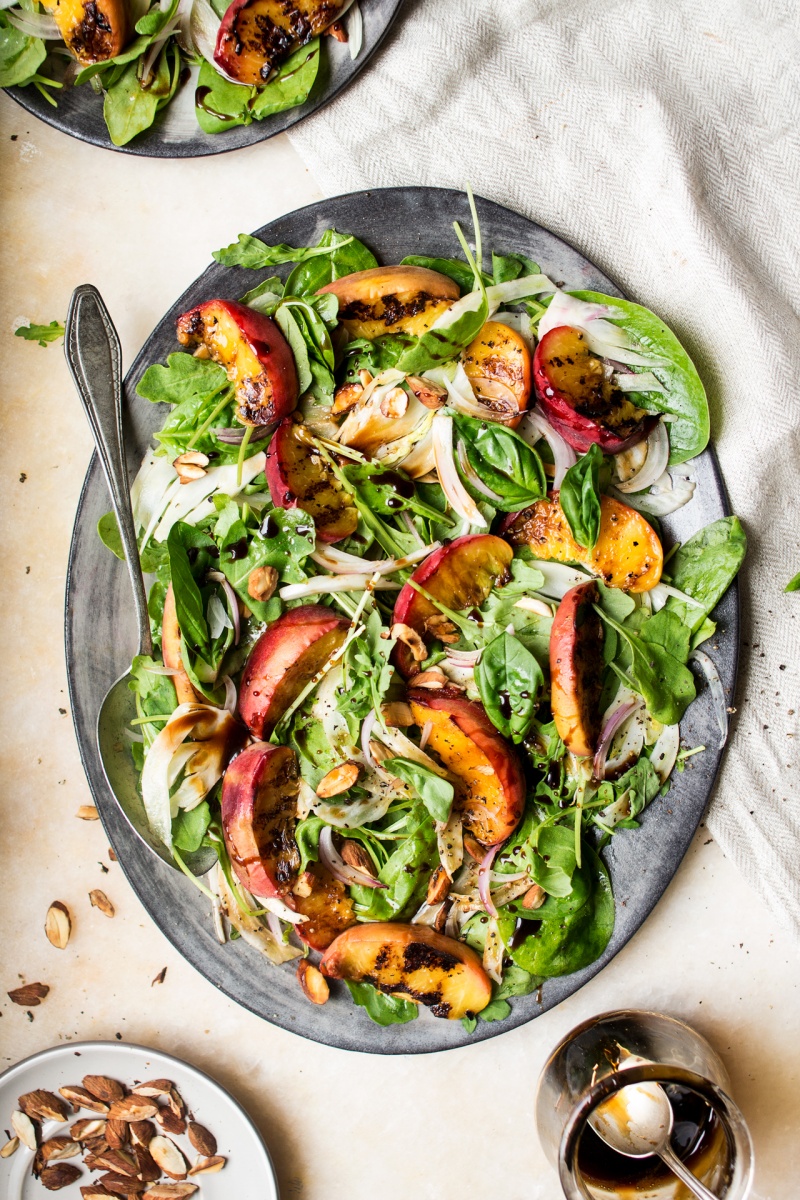 Juicy peaches are one of my earliest travel memories. My parents have always been massive fans of travelling, and having kids or being trapped behind the Iron Curtain wasn't going to stop them. Travelling wasn't only way more difficult at that time, it was also prohibitively expensive, so there was lots of scrimping and saving in the lead up to the holiday and lots of economising during.
The communist government stamped out any spontaneity. Before each trip, dad took care of all the paperwork (each time you wanted to leave the country you needed to allow plenty of time to apply for all the passports and visas again as the government would confiscate your travel documents upon arrival back home) and getting the camping equipment ready. Meanwhile mum worked tirelessly to provision for the trip as she knew there wasn't going to be any eating out. Camping and self-catering was the only affordable option.
As me and my brother were perhaps 6 and 4 at the time, this insane amount of determination and effort required to set our feet beyond Poland's borders was completely lost on us. All I remember is agonising over which doll I would be able to fit into my tiny mock-suitcase and whether she will have enough outfits for all the weather scenarios I was able to imagine 😉 . Kids, eh?
I also remember being scared of the rude and angry men whom we would encounter at border checkpoints and how serious my dad's face would turn each time we were approaching one. If you caught them in a bad mood, they would search the entire car upside down and leave all our neatly packed possessions in a whirl afterwards. I was terrified and curious at the same time, but I wasn't allowed to ask questions until we were at a safe distance. To this day, crossing borders fills me with anxiety.
Once abroad, we could not afford to eat out but my parents would always make a point of getting us ice cream or some seasonal fruit that wasn't available in Poland, even if it cost them several times more than it would at home. They wanted us to enjoy the experience as much as their limited means allowed. My earliest memory of having a peach was in Sofia, Bulgaria. I was sitting on a park bench, sun on my face, biting into one of the juiciest peaches I have ever tasted, sweet juice dripping off my chin and elbows and mum trying to do damage limitation with a tissue.
My parents often wonder why I chose to live abroad, but it was them who instilled this curiosity for travel in me and I'll be eternally grateful to them for making my brother and myself feel at ease with Europe (and travelling in general). Even though I might not have shown much gratitude at the time (and was perhaps way too focused on where my next ice cream is coming from), it was worth it. I did enjoy these trips immensely and have many treasured memories. Thanks, mum and dad!!
Anyways, I digress, back to peaches. This is perhaps why I've always loved this beautiful fruit. They really shine in this simple salad and if you can afford a bit more time to grill them lightly before assembling this plate, they will pay you back in bags of flavour! And try not to eat all of the maple balsamic glaze on its own, although I won't judge you as it's mightily addictive 😉 .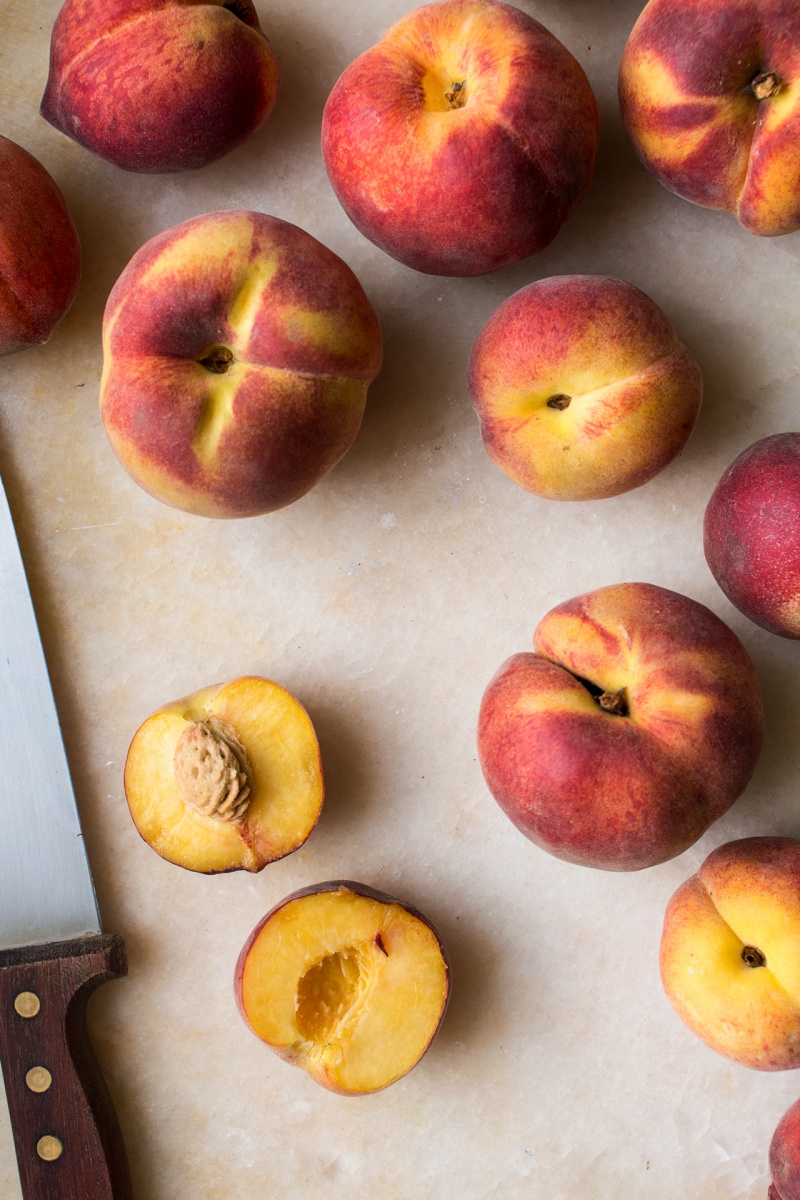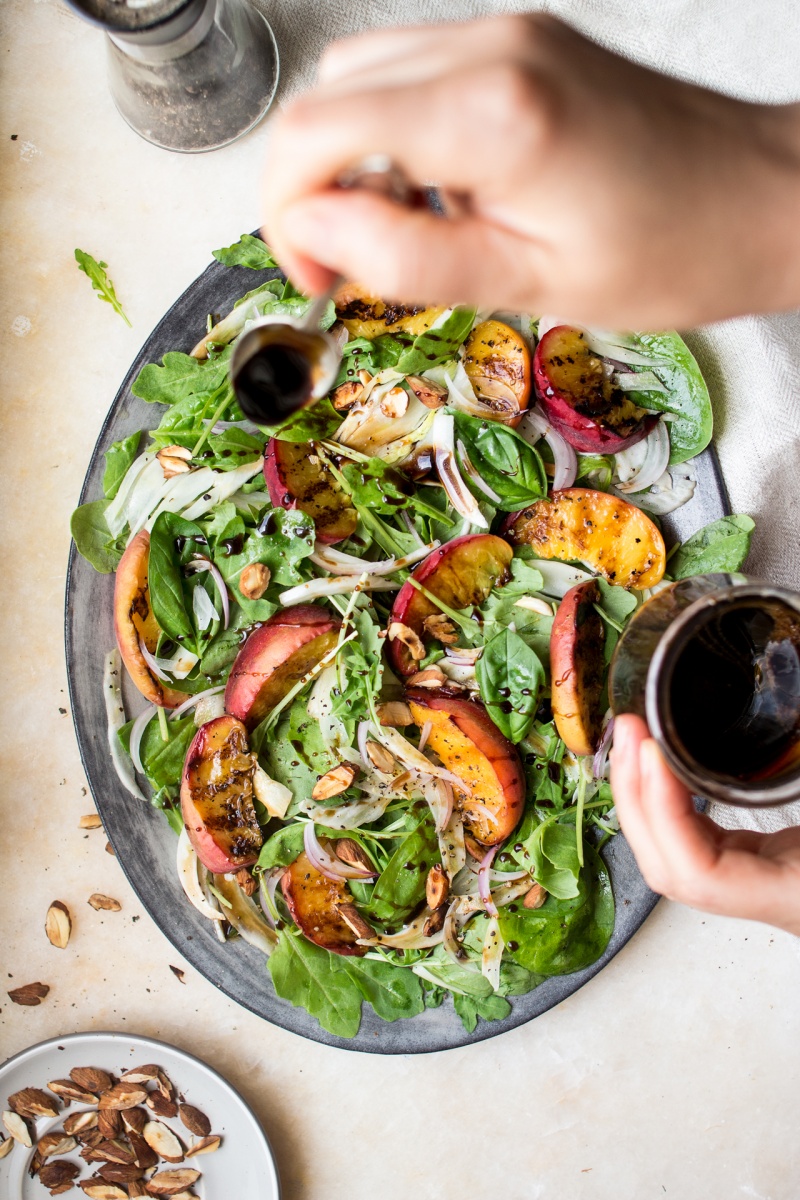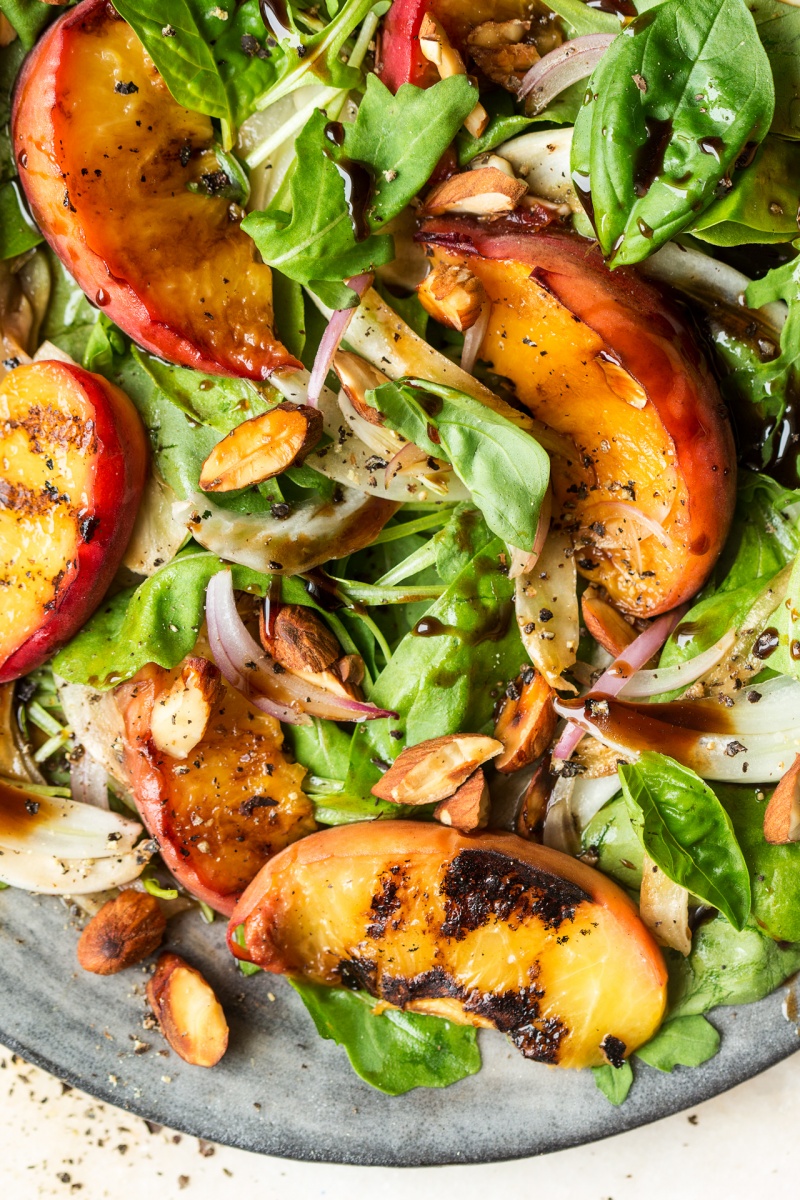 2 medium-ripe peaches (or nectarines)
1 small fennel bulb
50 g / 2 oz baby spinach
50 g / 2 oz rocket / arugula
½ small red onion, super thinly sliced
about 10 small basil leaves, roughly torn
2 tbsp almonds or almond flakes
salt and pepper
extra virgin olive oil
2 tsp lemon juice
BALSAMIC REDUCTION
METHOD
If using whole almonds, chop them on the diagonal. Heat up a small pan on a medium-high heat. Toast chopped almonds (or almond flakes) until browned and fragrant. Make sure you stir them frequently as they burn easily.
Place maple syrup and balsamic vinegar in a small pot. Place on a low heat and simmer for about 20 minutes until the excess moisture cooks out and you are left with a thick, syrupy dressing. Beware that the mixture will thicken a lot once it cools down. If you've over-reduced your glaze and it is no longer pourable, add a small amount of water to bring it back. If your mixture is too thin after cooling, reduce it further.
If you want to go the extra mile, you can roast your peaches for this salad, although that's by no means necessary, fresh peaches work beautifully too. To roast the peaches, slice each peach into 8 to 12 wedges. Heat up a griddle pan on a medium-high heat and brush it with a bit of olive oil. Once the pan is hot, place peaches on it raw side on, roast for about 2 minutes on each side until lightly charred.
Trim the top of the fennel off, core it and slice it into very thin slices using a mandolin or a sharp knife. Place it in a small bowl, sprinkle with lemon juice and mix – this step prevents discolouration.
Toss baby spinach, rocket, red onion and fennel in a small amount (1-2 tsp) of olive oil if you wish. Season with salt and a small amount of black pepper.
Place salad base at the bottom of a large platter. Arrange grilled peaches on top and sprinkle with roasted almonds. Drizzle balsamic glaze on top and decorate with fresh basil and an extra grind of black pepper.