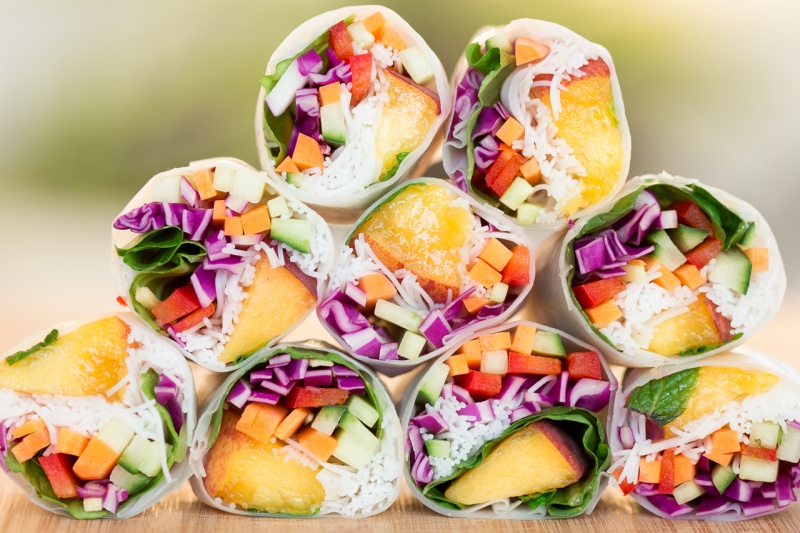 Vietnamese cuisine is one of my absolute favourites, especially in the warmer weather when it is fragrant and fresh flavours are so refreshing. Today's dish is a Vietnamese classic with a Greek twist.
Since, like I mentioned in my last post, peaches are to die for at the moment, I've decided to fold them into the summer rolls for an extra burst of subtle sweetness. Duncan is much more conservative about flavour matching and he never looks convinced when I suggest incorporating an ingredient that doesn't conventionally belong in a dish. I decided to blind test my idea on him. If I can convince this big sceptic that peach can belong in a summer roll then I have it in a bag, I thought.
He loved the taste and demolished a big plate of these vegan summer rolls for lunch while making lots of happy noises so I think the peach has passed the test with flying colours.
These summer beauties don't take long to make at all. The key is prepping all the vegetables and sauce in advance. Rolling these tight takes a little bit of practice, but you'll get the knack of it very quickly, I promise. I found it very therapeutic and a relaxing thing to do on the table outside, while listening to the birds singing.
They are crunchy, juicy and light and very satisfying. As an added bonus, they are easily portable too so don't feel the need to eat them at home. Shake things up: a picnic on a big meadow or on a lovely beach is just as good a place as any. Enjoy!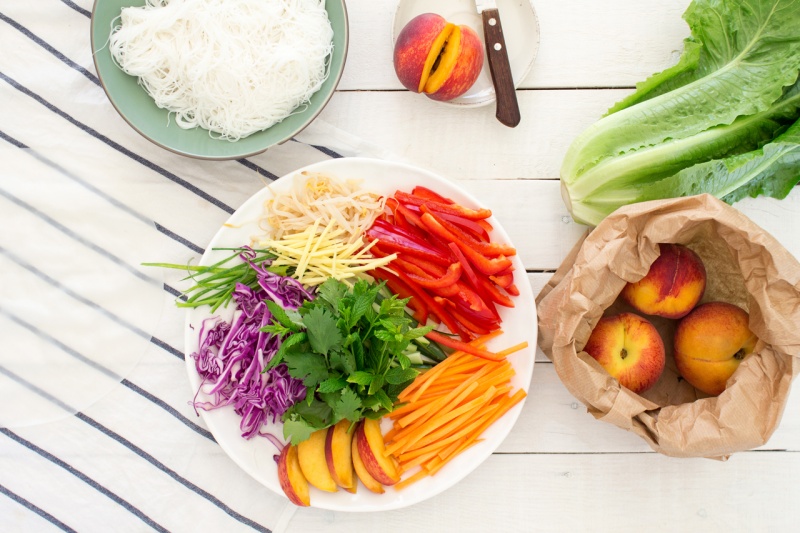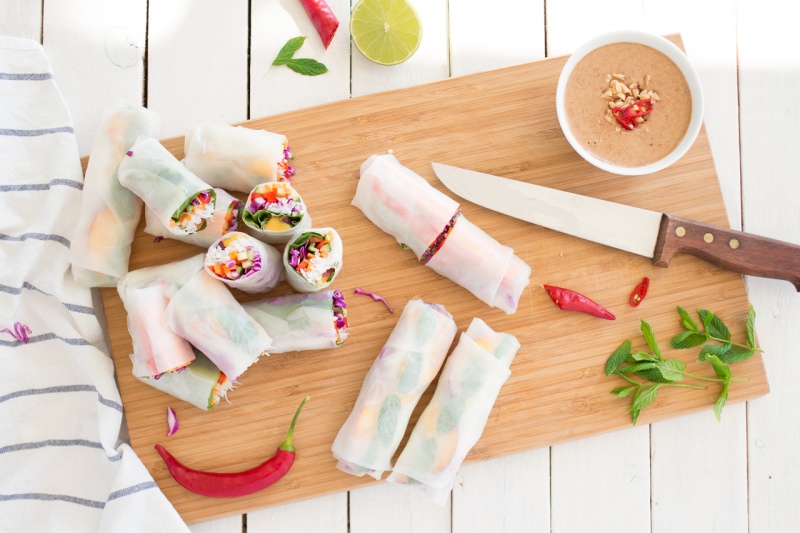 SUMMER ROLLS
20 rice paper wrappers (mine were 22 cm diameter)
3 peaches, sliced evenly
1 red pepper, julienned
1 small cucumber, julienned
2 carrots, julienned
¼ small red cabbage, sliced thinly
100 g vermicelli rice noodles
5 lettuce leaves, I used Cos
handful of fresh mint
PEANUT SAUCE
2 heaped tbsp all natural peanut (contains no sugar or salt) butter*
40 ml lime juice (from 1 lime)
90 ml water
1 tbsp / 15 ml tamari (for gluten free version) or soy sauce
1 garlic clove, pressed
2 tsp grated ginger
1-2 tsp hot chilli flakes
1 tbsp hoisin sauce**
METHOD
Prepare vermicelli noodles according to packet instructions.
Whisk all sauce ingredients together and set aside for the flavours to marry.
Dampen a clean kitchen towel and put on a clean surface. Prepare rice wrappers, one at a time, according to instructions on the packet. Put rehydrated rice wrapper on the damp towel.
Start filling the wrapper, but make sure you do not overfill. I put all julienned vegetables and cabbage in a stack at the very bottom. Then a clump of rice noodles, followed by a small piece of lettuce leaf that I wrapped round the veg below. I put two peach slices on the lettuce and mint leaves on top.
Once you finish with the filling, start rolling like a burrito. Fold sides over and start rolling from the bottom making sure you hold the filling tighly with your other hand. It takes a few gos to get the knack of it.
Repeat steps 4 and 5 until you've run out of your filling or/and wrappers.
Cut rolls in half and enjoy them fresh, dipped in peanut sauce.
NOTES
*If you have a peanut butter allergy, use almond butter instead. It will work just as well.
**If you don't have any handy, I found that plum or apricot jam works well too.