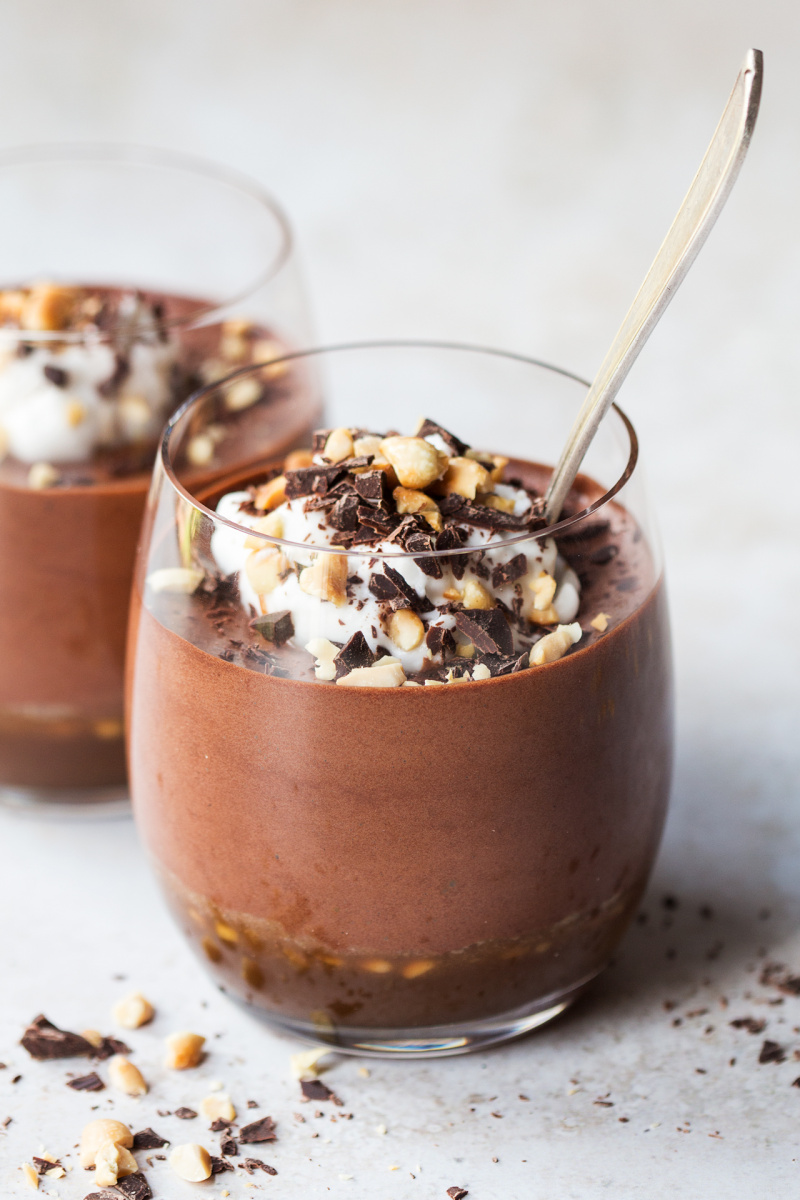 Hope the sun is shining for you this weekend! Our weather is not too bad, which is a miracle as it's a Bank Holiday here in the UK and that's usually a fire sure recipe for rain. We are not planning on doing much as we both need to recharge our batteries a little. I am working today to bring this delicious weekend dessert to you, but once I hit 'publish', I shall chill in the garden with a book and my cat, Tina.
I've been feeling a bit unwell the past few days, which is why I've had to shoot this recipe pretty last minute. I took an antihistamine for the first time ever in my life (turns out it did not really help) and I guess because I am not used to them at all, it has knocked me out completely. I could not keep my eyes open yesterday. Luckily, today I am much better…
It's a touch ironic that I've decided to post such an indulgent recipe right now as I am in the middle of trying to curb my sweet tooth again (probably in vain, but one can dream!) I must love torturing myself. It's been a while since I've made a vegan mousse with aquafaba so I've decided that I need to rectify that to make sure I don't lose my skills (that's the party line anyway…) and yup, all good. The mousse came out beautifully and so did the peanutty caramel layer.
They are a match made in heaven, one airy and not that sweet (although feel free to override me), the other silky, sweet, nutty and a touch salty. They go together so perfectly! If you are hosting, I wholeheartedly encourage you to make it this long weekend (if you live in the UK) and your dessert will be the talk of the dinner party, I can promise you that!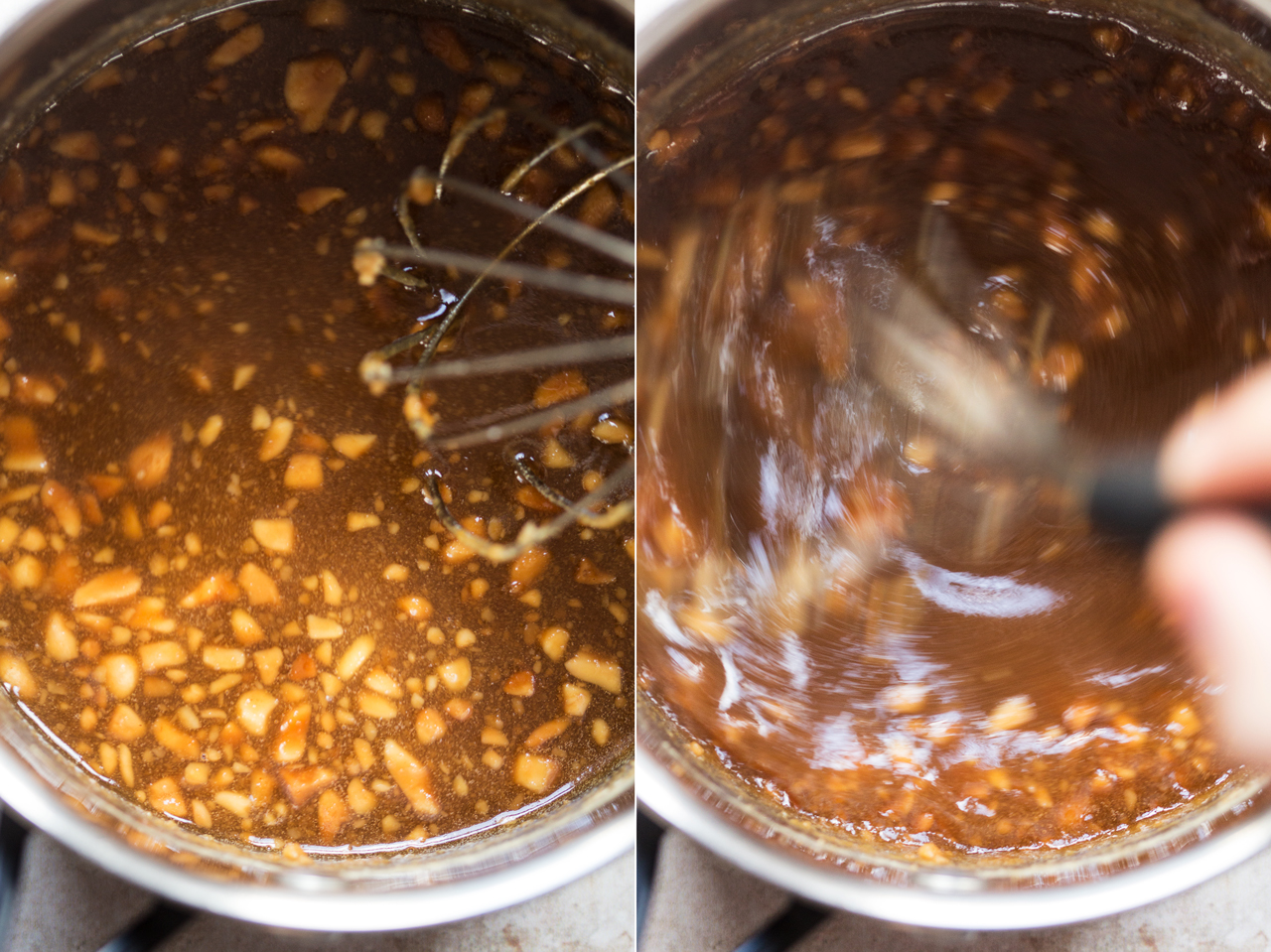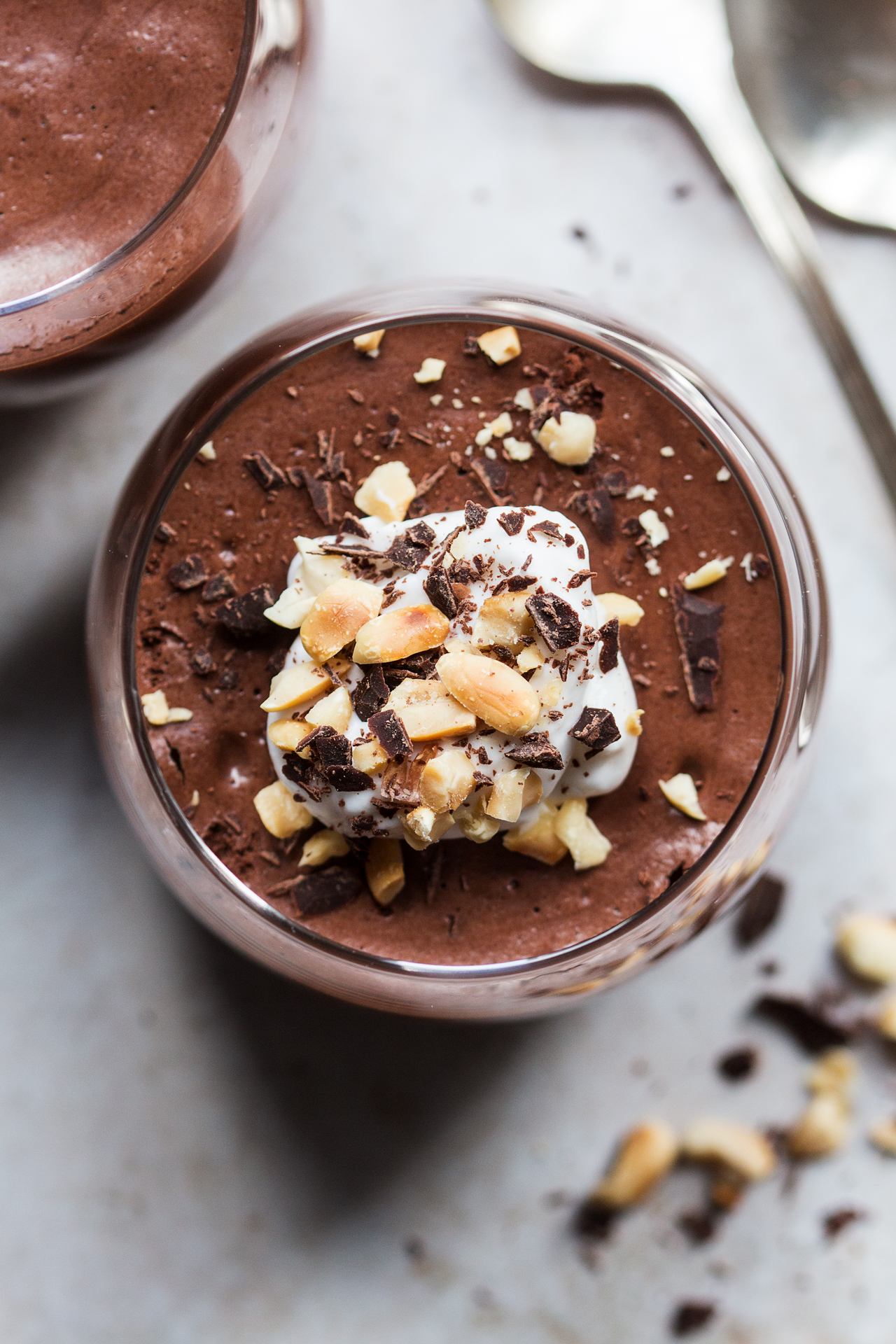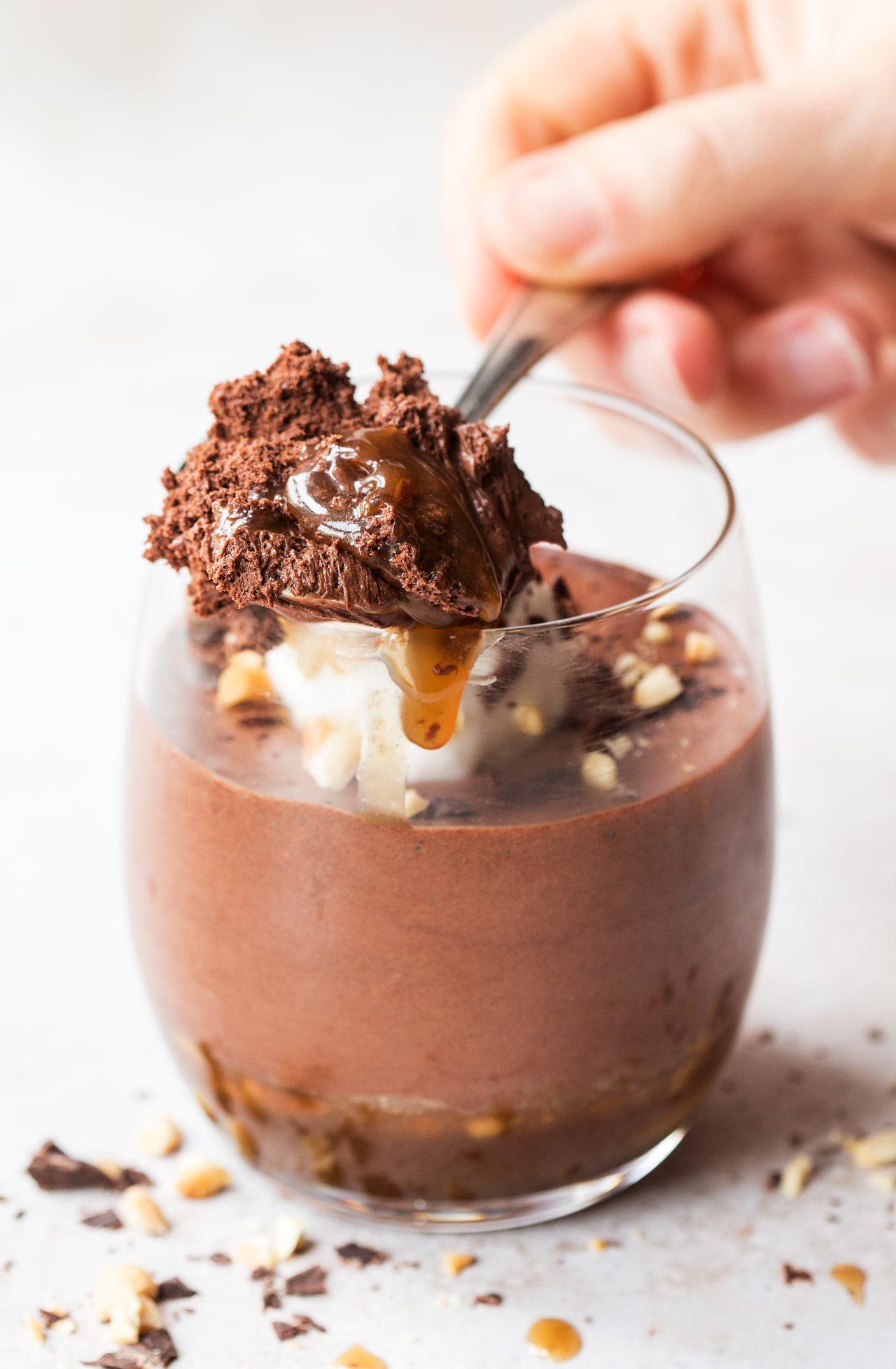 PEANUT CARAMEL
120 ml / ½ cup maple syrup + optionally more to sweeten the mousse
80 ml / 1/3 cup crunchy unsweetened peanut butter or almond butter
45 ml / 3 tbsp almond milk
a fat pinch of salt (optional)
CHOCOLATE MOUSSE
150 g / 5.3 oz dark vegan chocolate, broken into pieces
15-45 ml / 1-3 tsbp almond milk
120 ml / ½ cup aquafaba / chickpea brine
¼ tsp lemon juice or white vinegar (optional)
METHOD
Place maple syrup in a small pot and slowly bring it to a gentle boil (it takes about 3 minutes).
Once it starts foaming, add peanut butter and start whisking it in until it all dissolves into the maple syrup.
Allow it to come to a gentle boil again and add almond milk and salt. Mix well and allow it to cool. Caramel will thicken as it cools, if it's too loose, bring it back to a gentle simmer again and simmer for a few minutes to thicken. If it's too runny, add a splash more almond milk.
Divide caramel between 4 glasses and set aside for it to cool down completely before topping it up with chocolate mousse.
Place the chocolate and 1 tsbp of almond milk in a glass or metal bowl over a pot of gently simmering water. Simmer on low heat until the chocolate is almost melted – err on the side of caution as it is important for the chocolate not to overheat. Take the bowl off the pot with hot water and let it sit there.
Gently and slowly whisk chocolate until smooth. You may want to add a bit of maple syrup to the mixture at this point. I did not as I feel that caramel provides enough sweetness to this dessert, but it's down to personal preference. If your chocolate seizes, which happens sometimes, bring it back by whisking in another 1-2 tablespoons of room temperature almond milk. Allow this mixture to cool down a little.
While the chocolate is cooling, whisk aquafaba and a few drops of acid (it helps it stiffen) with an electric whisk until you achieve stiff peaks. Aquafaba needs to be so stiff that you should be able to invert the bowl over your head.
Gradually (start off with 1/3 of whipped aqauafaba) and gently fold whipped aquafaba into the chocolate mixture until the two are well incorporated. The mixture will deflate a little, don't worry, that's normal, but you don't want it to deflate too much by knocking too much air out of the mixture, which is why a gentle and slow folding motion is key here.
Spoon the mousse on top of the cold caramel and chill the dessert in the fridge until the mousse is fully set (I recommend for 8 hours / overnight). Decorate if you wish and serve.
NOTES
This recipe makes 4 x 120 ml / ½ cup portions.