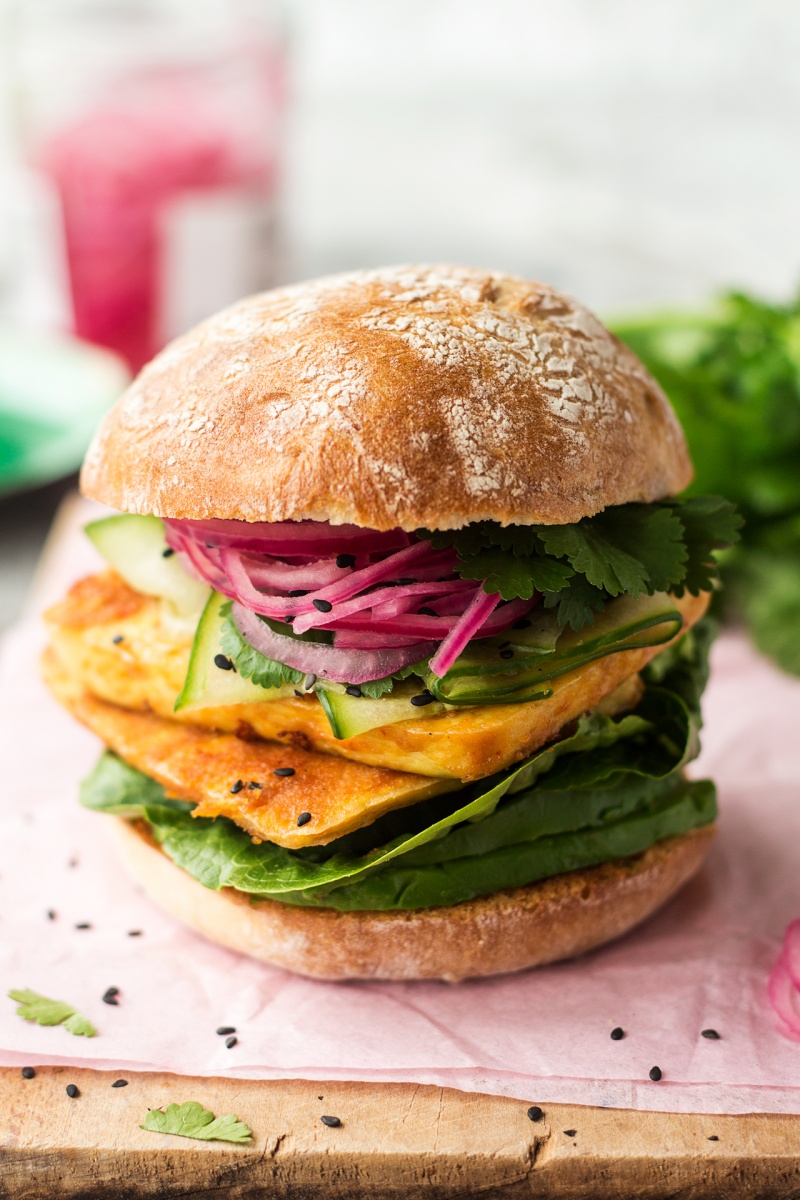 Happy Friday, guys! After the high of getting married, it's back to reality for us. Duncan is having an operation, the cat is having behavioural issues, the gorgeous summer weather appears to have come to an end and even my wedding nail polish is chipping… 🙁
Jokes aside, Duncan's been having massive issues with his sinuses for several months now. He has tried every possible cure, starting from garlic snorting… Well, not quite, rinsing his nasal passages with garlic infused tepid water and ending in antibiotics and steroids. Nothing has helped and the unpleasant symptoms were making it hard for him to go about his everyday and driving him crazy. Finally, his doctor ordered him to have a CT scan done and it transpired that he needs an operation for a deviated septum to resolve the issues. Poor thing, I really feel for him, although he is being very good about it and is relieved, quite frankly, that he finally has the answer to his mystery illness.
Tina has insisted on bringing us 'pressies' for the last few days. Is it because we got married, Tina? Really, there is no need!! First time, a tiny terrified little mouse raced across the kitchen floor while Tina was asleep on a chair nearby and I jumped and screamed. Luckily, Duncan used to have mice as pets as a kid and so he is really adept at catching them. He re-purposed an old shoe box, quickly separated Tina from her prey, caught the poor critter and then ran off to release it in a nearby woods. We were hoping it was a one off but it turns out that there has been a new mouse in the house for the last 5 days or so.
So far Duncan has managed to save 4 out of 5 mice, but we have no idea how to make it stop. We've tried explaining to Tina that we are not enamoured with her doing this, but she doesn't care. It's crazy how your cat changes from this sweet, gentle creature that needs you so much on an emotional level (I don't know about all cats, but Tina is very attached to us and like a child, gets really needy and affectionate when she has had a rough day – mainly involving being picked on by the tomcat next door) to a calculated and merciless killer in an instant. I realise that it is in her nature and many people think we should not intervene, but it's hard to watch her be so needlessly cruel.
Okay, enough of the doom and gloom. As it's Friday, I figured I can possibly tempt you with a simple burger? I made these easy tofu peanut burgers inspired by my favourite Asian flavours. They are easy to make and while we do not yet own a BBQ, so I wasn't able to test them on one, they did really well on a griddle pan, so I would risk a statement that they are perfect for the grilling season. They feature creamy avocado, crunchy lettuce leaves, chewy peanut marinade-coated tofu patties, fresh cucumber shavings, sharp pickles and fragrant coriander. They will go with a tumbler of light beer and a few rays of sunshine on your face, so don't delay, make them this weekend!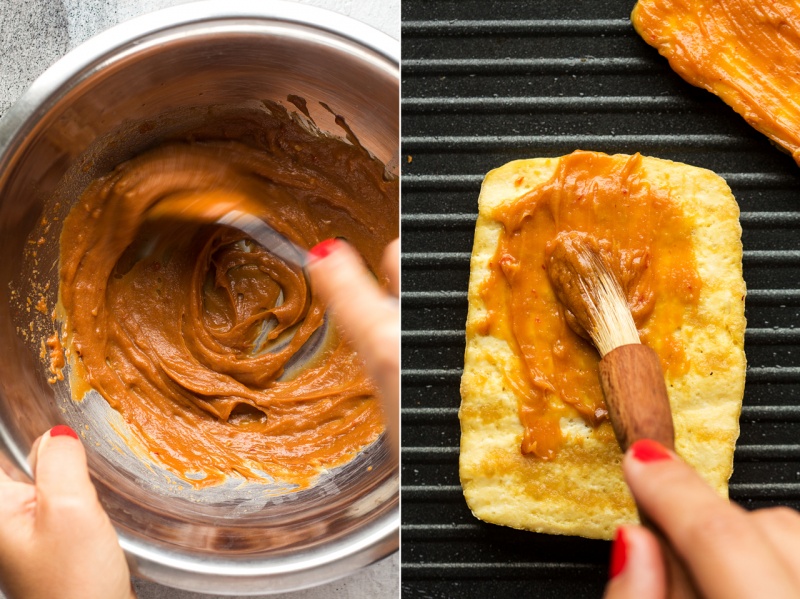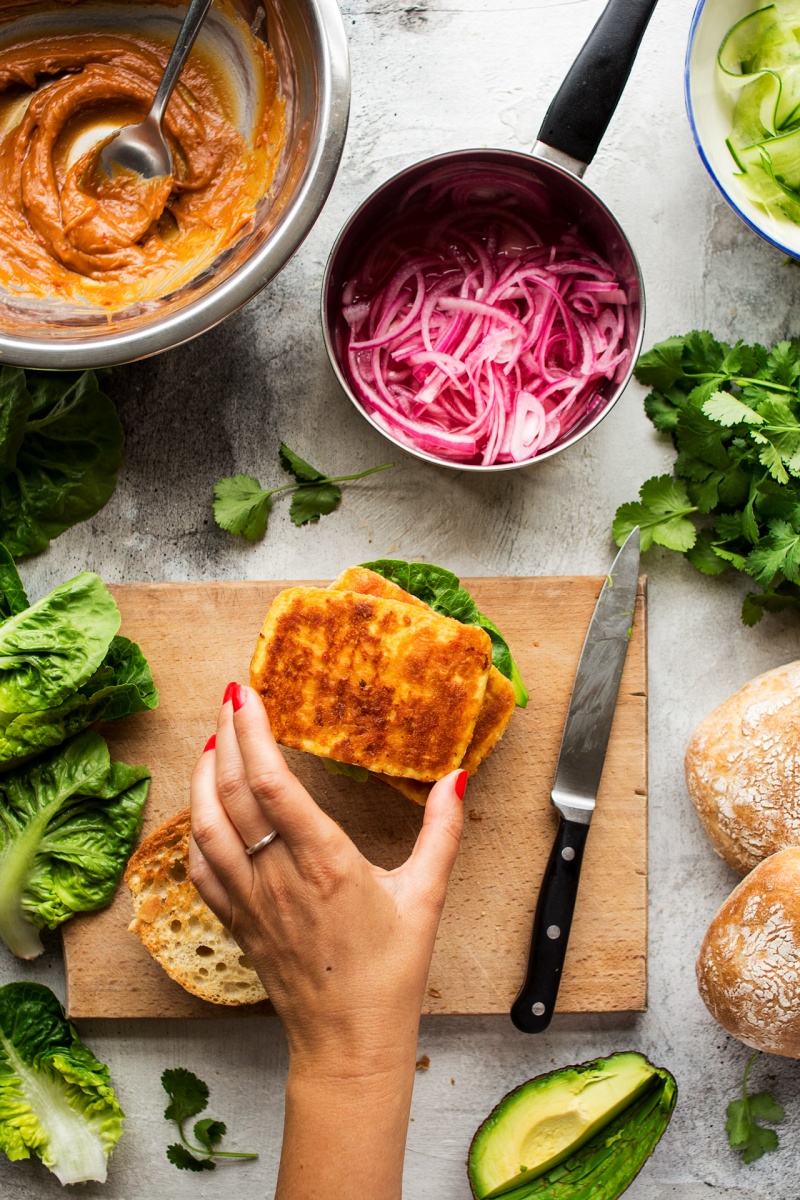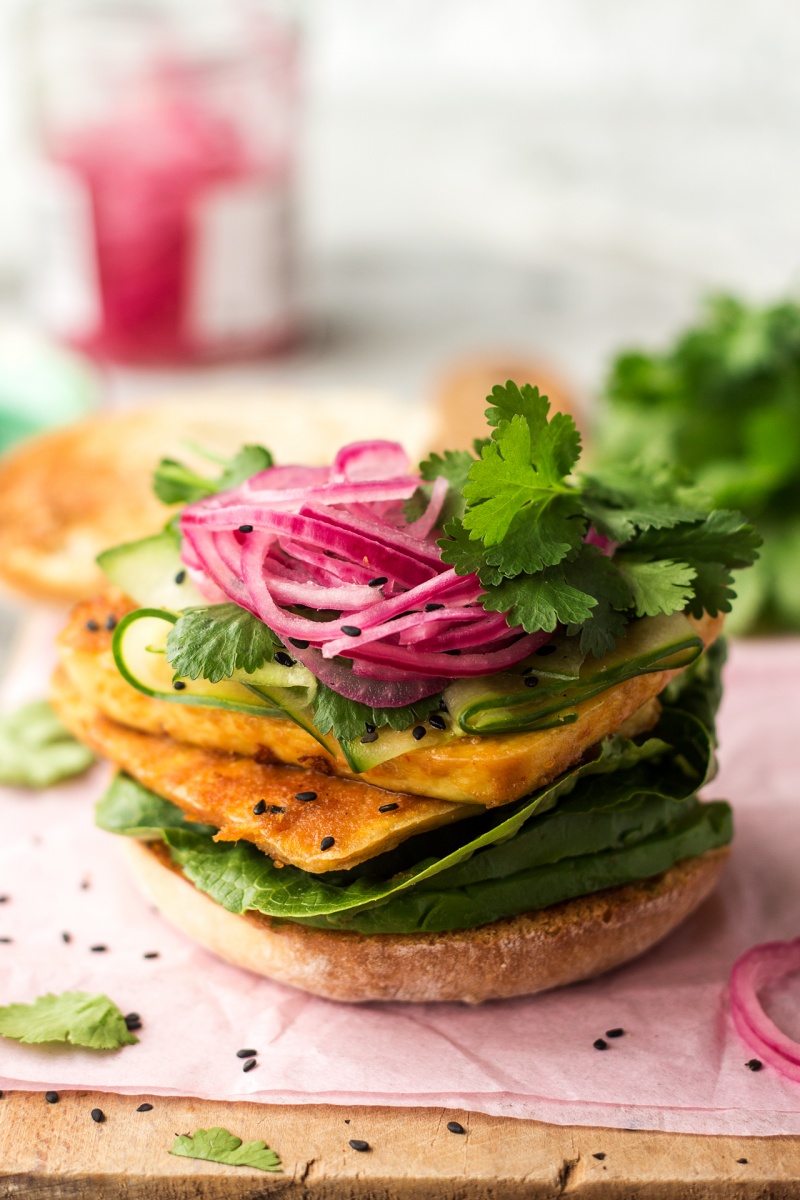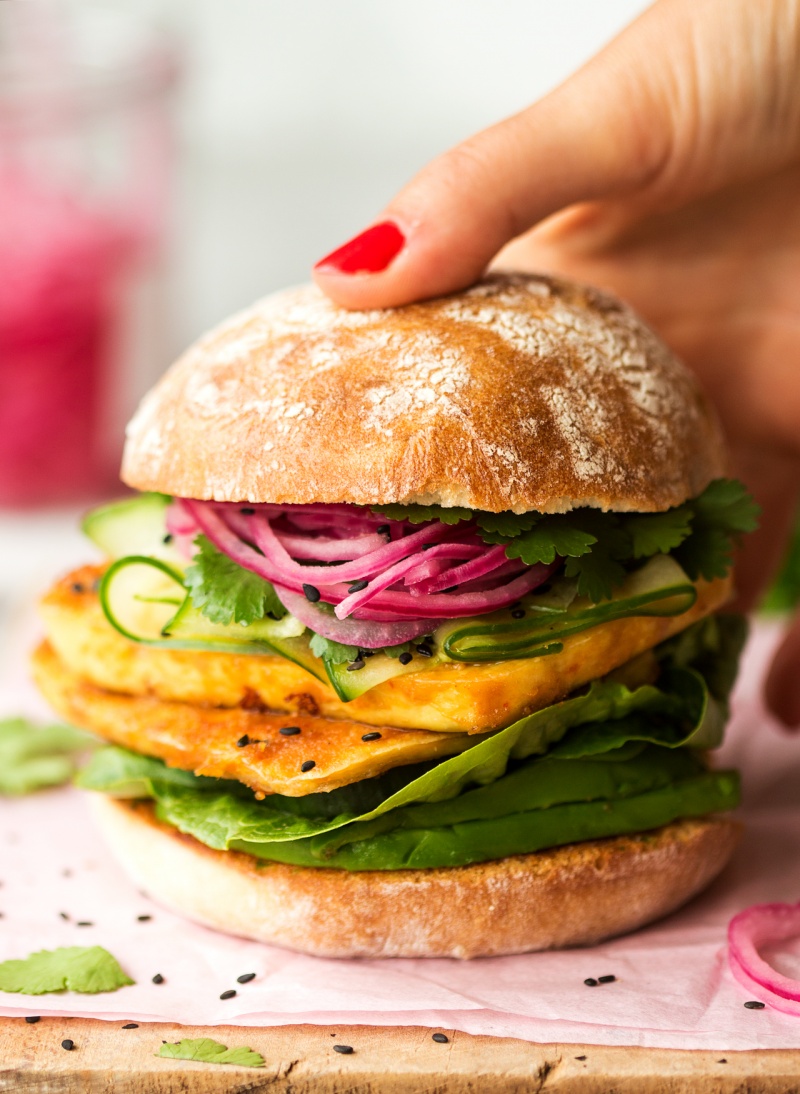 PICKLED ONIONS
120 ml / ½ cup apple cider vinegar
1 red onion, sliced very finely
MARINADE (DOUBLES UP AS A SAUCE)
REMAINING INGREDIENTS
400 g / 14 oz – 800 g / 28 oz firm cotton tofu*, pressed (I use this tofu press)
1 tbsp neutral oil
4 burger buns (GF if needed)
1 ripe avocado, sliced
8 small lettuce leaves
half a cucumber, shaved with a speed peeler
fresh coriander
black sesame seeds, to garnish (optional)
METHOD
Place the apple cider vinegar and 120 ml / ½ cup of water (use less water if you want the pickles to be sharper) in a small pan and bring to the boil. Place the finely sliced onions in a jar and pour hot pickling liquid over them. Store the leftovers in the fridge.
Cut the pressed tofu up into 4 or 8 (if you wanna have two pieces per burger) equal size pieces. The size will be different depending on the tofu you use, but you'll end up with 0.5 cm / 0.2″ thick slices.
Heat up a griddle pan on a low heat. Brush it with a bit of oil (that's especially important if the pan isn't a non-stick one). Alternatively, you can also use the oven at 200° C / 390° F.
Place the tofu on the heated-up pan and leave it alone for about 5-10 minutes (depending on the heat and conductivity of your pan) on each side. If using the oven, bake it in the preheated oven for 10 minutes on each side.
While the tofu is drying out, place all the sauce ingredients in a mixing bowl and mix until you get a uniform, thick sauce.
Sprinkle dried out tofu with a small amount of soy sauce / tamari (it should absorb it straight away) and then coat it in the marinade and return to the lightly greased pan for about 1-2 minutes on each side. If using an oven, switch the oven to the grill / broil function and grill for about 3-4 minutes on each side, until lightly caramelised.
Halve your buns and gently toast them if you wish.
Build your burgers by placing a few avocado slices on the bottom half of each burger, follow up with lettuce leaves, peanut tofu, cucumber shavings, pickled onions, fresh coriander, sesame seeds and an extra dollop of peanut sauce.
NOTES
*I used 200 g / 7 oz of tofu (two slices) per burger, but you can also get away with half of that.