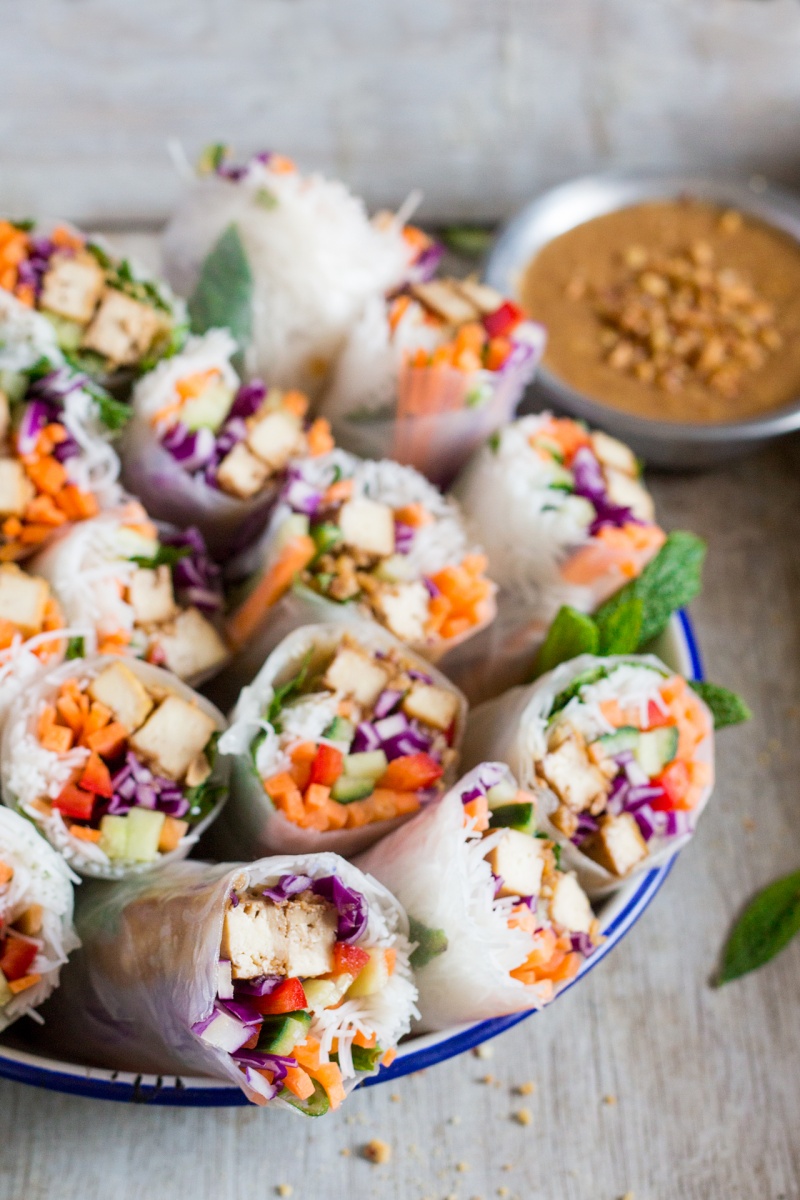 Do you love rice paper rolls as much as I do? If you do, you're in for a treat!
Last year, I decided to give them a bit of a Greek twist and packed them with slices of juicy local peaches. If you are after a 100% raw recipe, check it out.
This year, I wanted to make them a bit more hearty and stuffed them with peanut tofu instead. The tofu gets baked in the oven until golden (you can also fry it like in this recipe if you are feeling a bit more indulgent) and then coated in naturally sweet date and peanut marinade.
I know, dates and peanuts together may sound like a strange combo encompassing different cuisines, but my aim was to make these tofu rice paper rolls refined sugar free and damn tasty and I'm pleased to say that I think I succeeded on both fronts.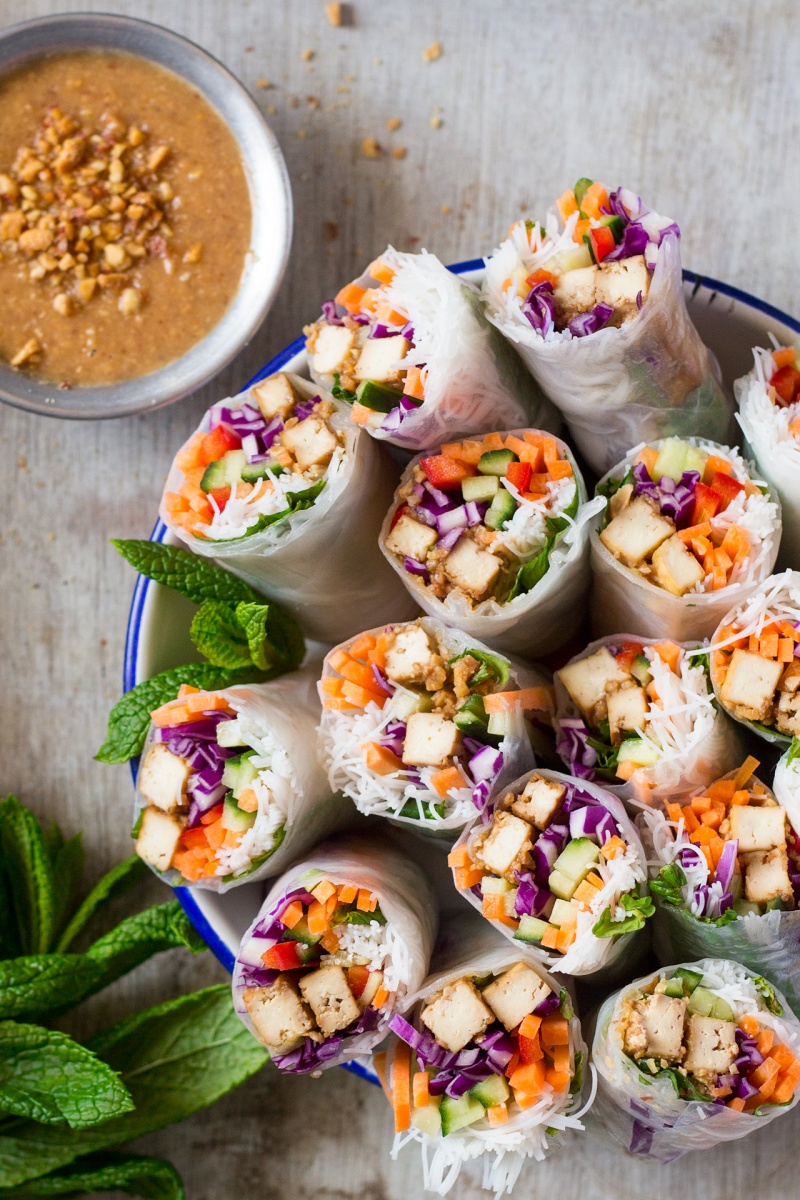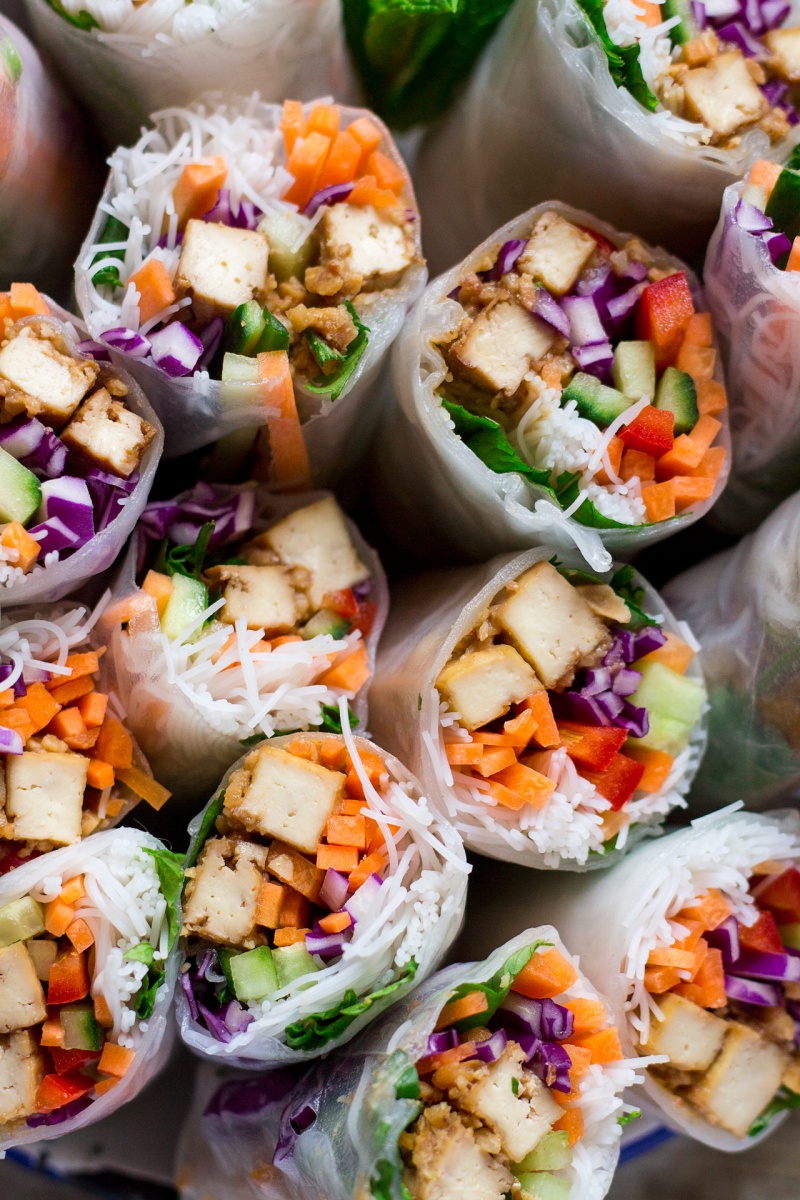 TOFU RICE PAPER ROLLS
16 rice paper wrappers (mine were 22 cm diameter)
400 g tofu, pressed*
1 red pepper, julienned
1 small cucumber, julienned
2 carrots, julienned
¼ small red cabbage, sliced thinly
1 red chilli, finely sliced (optional)
2 spring onions, finely sliced (optional)
handful of fresh mint and coriander
PEANUT SAUCE AND TOFU MARINADE
METHOD
PEANUT SAUCE AND TOFU MARINADE
Pit the dates and place them in a small bowl. Pour boiling water over them and soak for 10 minutes.
Prepare vermicelli noodles according to packet instructions.
Smash peanuts (in smaller batches) into a coarse powder in a pestle and mortar. Remove dates from the water and blitz them into a thick paste with a hand blender or in a food processor. Add lime juice, most of the crushed peanuts (reserve 2 tbsp to sprinkle inside the rolls), tamari, garlic and Sriracha. Save 2-3 tbsp to coat the baked tofu. Loosen the rest of the sauce up with a few tablespoons of water if it's too thick for dipping.
PEANUT TOFU
Heat up the oven to 175º C / 350º F. Line a baking tray with a piece of baking parchment.
Cut pressed tofu into 32 long strips. I cut each 200 g into 8 strips and then cut each strip in half.
Put tofu into a shallow dish and sprinkle with tamari or soy sauce on both sides. Let them sit in the seasoning until the oven is ready.
Place tofu on the prepared baking tray. Bake in the middle of the oven for 30 mins, turning tofu sticks half way through.
Once the baked tofu cools off, coat it in 2-3 tbsp of the peanut sauce.
SUMMER ROLLS
Dampen a clean kitchen towel and put on a clean surface. Prepare rice wrappers, one at a time, according to instructions on the packet. Put rehydrated rice wrapper on the damp towel.
Start filling the wrapper, but make sure you do not overfill. I put two mint leaves at the bottom, followed by a small clump of noodles, followed by vegetables and two sticks of tofu. I finished with some coriander, two slices of chilli, a few slices of spring onion and a sprinkle of smashed peanuts.
Once you finish with the filling, start rolling each like a burrito. Fold sides over and start rolling from the bottom making sure you hold the filling tightly with your other hand. It takes a few goes to get the knack of it.
Repeat steps 4 and 5 until you've run out of your filling or / and wrappers.
Cut rolls in half and enjoy them fresh, dipped in the prepared sauce.
NOTES
*To press the tofu without a
tofu press
, wrap your tofu in a paper towel, place it on a plate and weigh it down with something heavy (like a can of coconut milk, for example). Once the paper towel becomes wet, change it for a new one. Repeat a few times until the paper towel stays almost dry. Pressed tofu is tastier as it absorbs flavours better.
**If you have a peanut allergy, you can use almonds or cashews instead.
My recipe is inspired by this recipe by Serious Eats.