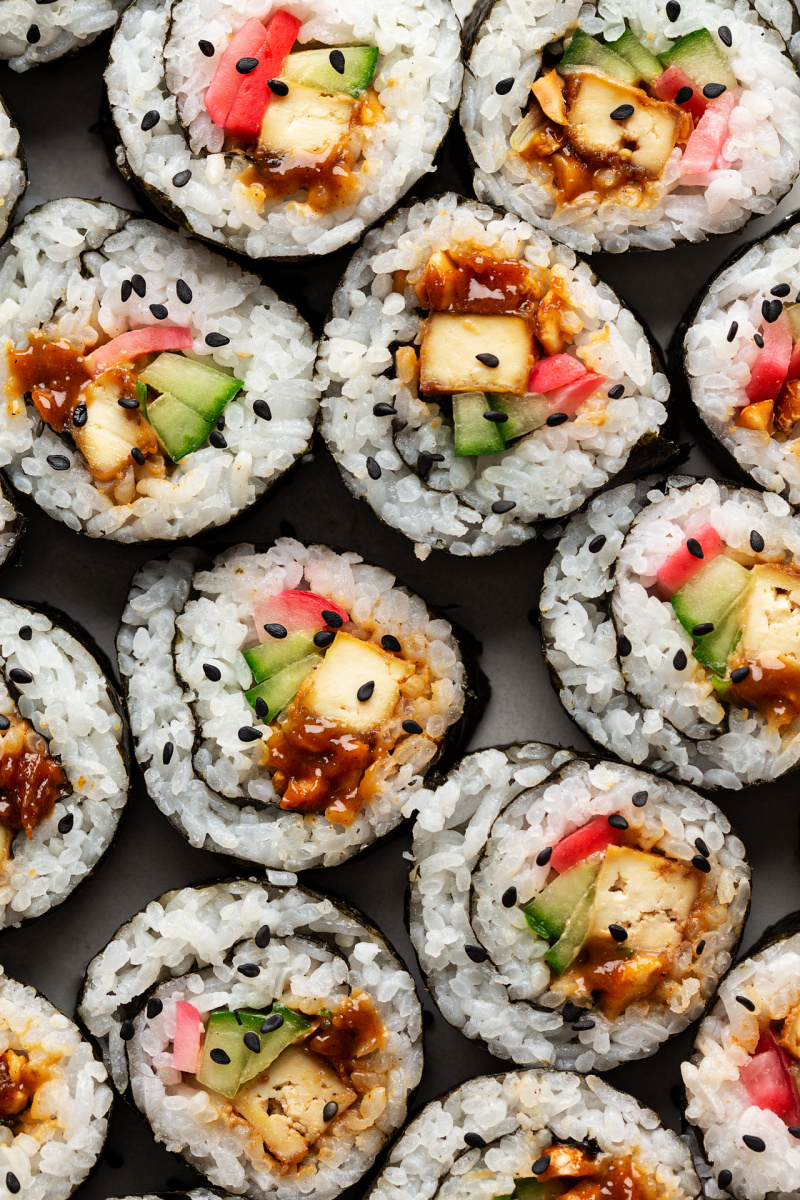 Hello from the land of the living, finally! Although I did say that before and ended up having to return to bed for another week…After nearly 4 weeks since I first started experiencing symptoms I am finally on the mend, although my energy levels still leave a lot to be desired. I do not remember the last time an illness ravaged my body so much, whatever this spiky thing is it certainly is very persistent. Apart from a day or two, my symptoms were actually really mild but the fatigue and energy loss were real. I'm grateful to be finally feeling better but I am also careful not to throw myself into things too quickly as the balance is still very delicate.
Although my head is jammed with cake and sweet treat ideas – is that a known side effect of a lockdown? – I've decided to go for something savoury today as a woman cannot live by baked goods alone 😉 . As soon as all my local shops had a panic-buying induced shortage of rice (and pasta), I visited my local Asian store and stocked up on sushi rice instead. I hope you have some in your cupboard too as, let's face it, for most people, making sushi is one of these projects that you do once and are left with a bunch of ingredients you never look at for ages. This is the time to dig them out. Failing that, you can also make sushi with brown rice, red rice, any rice really. Just make sure to cook it in a way that does not render the grains dry and separate.
The filling is also customisable. I used tofu, but tempeh or eggplant strips would also work well. I coated the tofu in a sticky peanut butter glaze with a hit of five spice and teamed it up with cucumber, quick pickled radishes, thin strips of spring onions and a smattering of toasted peanuts for crunch. This is by no means a traditional filling, but circumstances are exceptional so we make do. The result is delicious, sweet, sour, crunchy and fresh. I hope you'll enjoy this wilder take on plant-based sushi. Stay well.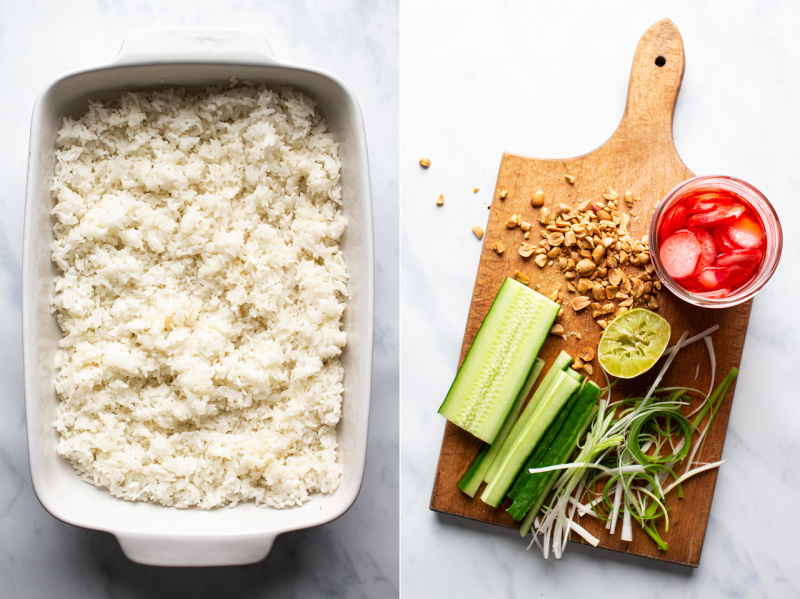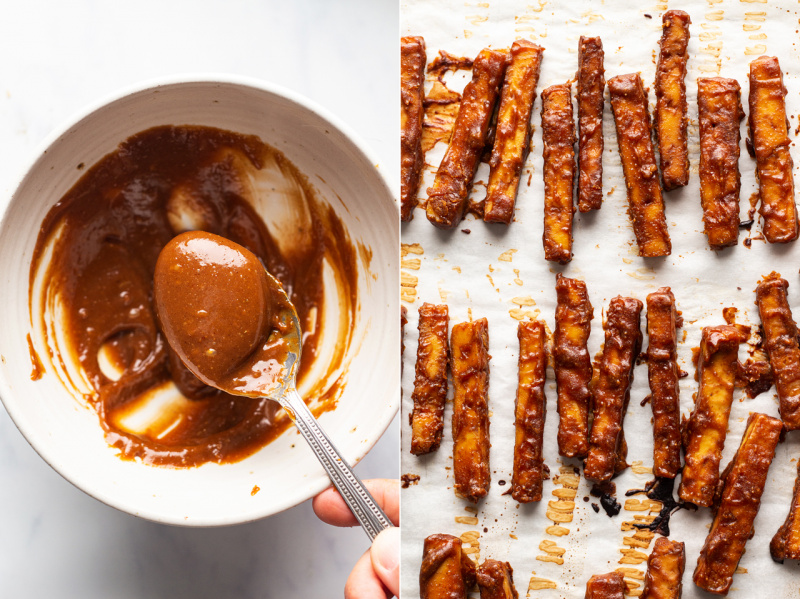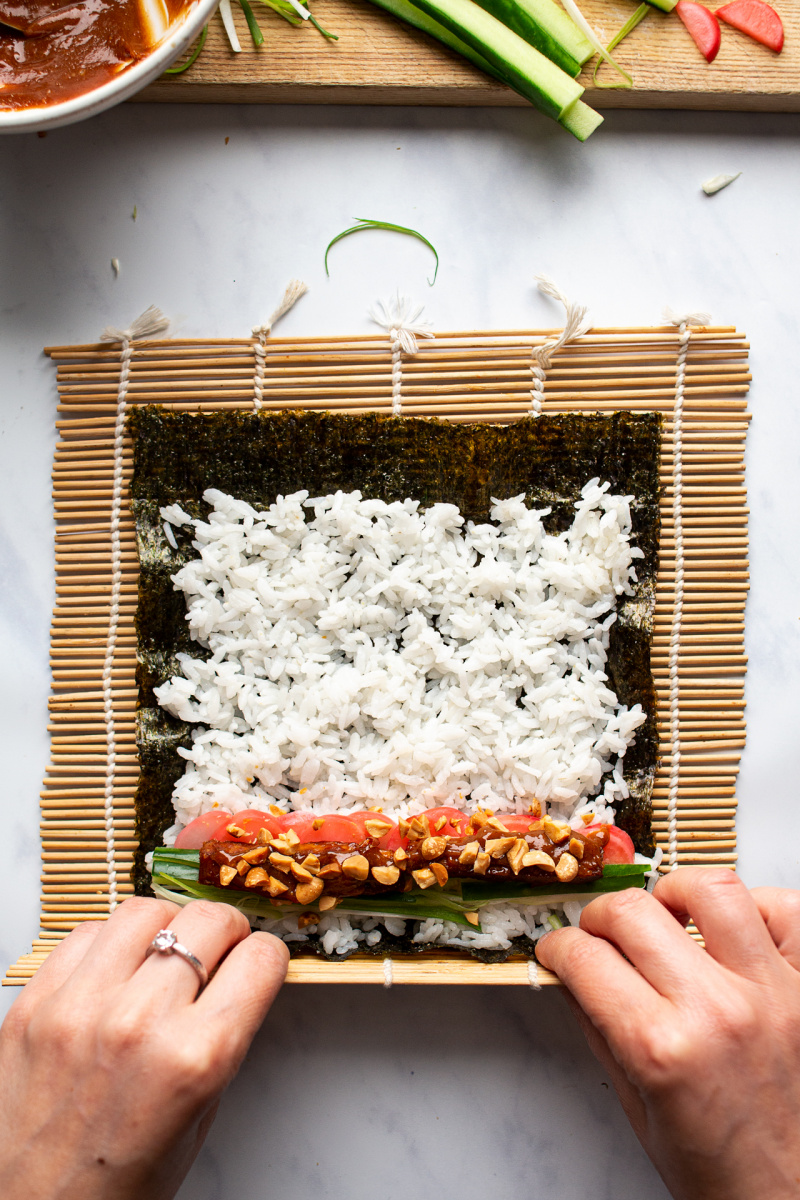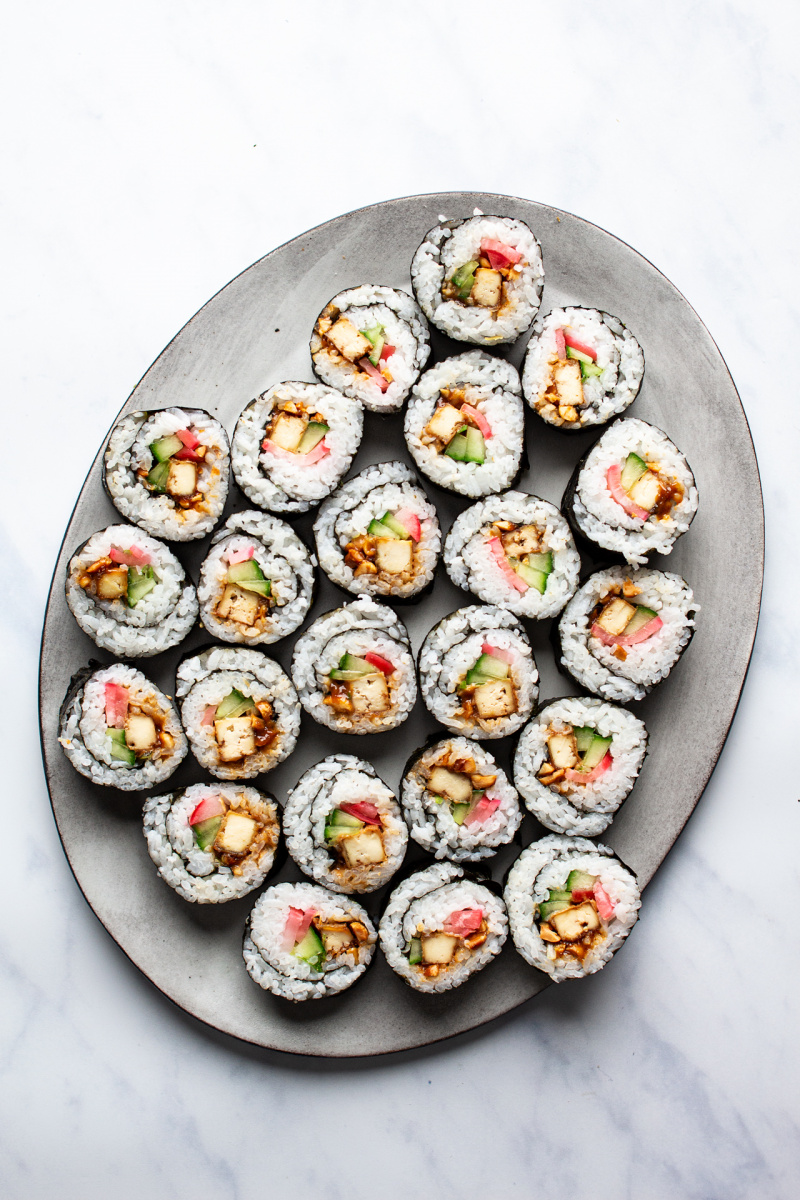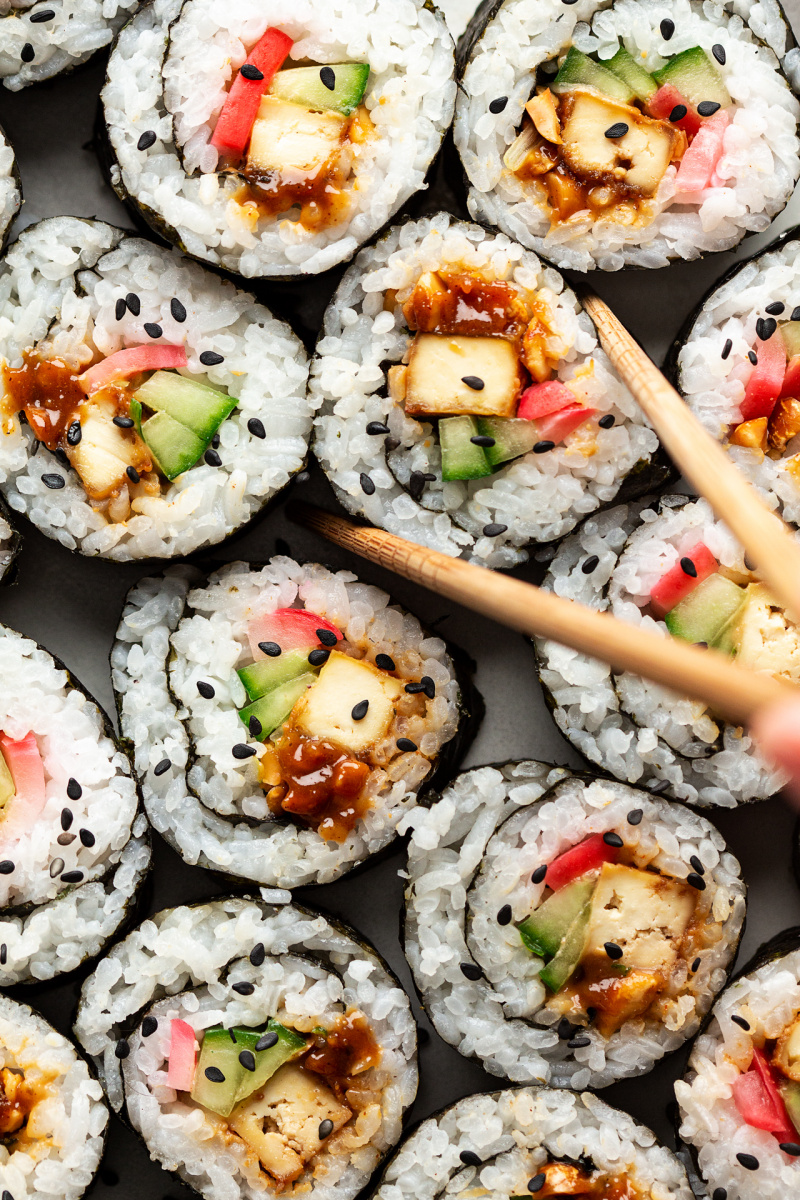 SUSHI
FILLING
10 radishes, pickled (see METHOD) or raw
1 tbsp rice wine vinegar (plus 60 ml / ¼ cup if pickling radishes) or lime juice
½ tsp fine sea salt
2 tbsp maple syrup (plus 2 tbsp if pickling radishes)
200 g / 7 oz firm tofu, pressed
3 tbsp tamari (for GF version) or soy sauce, plus more to serve
60 g / ¼ cup 100% natural* peanut butter (smooth or crunchy)
1 tbsp toasted sesame oil (optional)
a small garlic clove, finely grated
½-1 tsp Chinese five spice, adjust to taste
1 long cucumber, cored and julienned
1-2 spring onions / scallions, cut into thin strips lengthwise
30 g / ¼ cup toasted peanuts, chopped roughly (optional)
METHOD
RICE
Rinse sushi rice repeatedly until water runs clear.
Place rinsed rice in a medium-large pot with a glass lid and cover with 480 ml / 2 cups of water. Cover with a lid and slowly bring to the boil. Once the water comes to the boil, decrease the heat down to very low and let the rice cook until it has absorbed all of the water. Once all the water has been absorbed, switch the heat off but do not lift the lid and let the covered pot sit on a warm hob for another 10 minutes to finish off cooking in its own steam.
Transfer cooked rice onto a large Pyrex-style dish and season it with salt, folding the salt into the rice with a spatula (being careful not to squash the grains). Allow the rice to cool down completely.
QUICK-PICKLED RADISHES (optional)
Slice radishes into thin slices and place in a clean jar / bowl.
Place 60 ml / ¼ cup of rice wine vinegar with the same amount of water in a small pot. Add about ½ tsp salt and 1-2 tbsp maple syrup if you want milder pickles. Bring to a gentle boil.
Pour the pickling liquid over the radishes and set aside.
PEANUT TOFU
Cut tofu into long (approx. 0.75 cm / 0.3″ thick) batons. Place in a shallow dish and coat in 1½ tbsp of tamari / soy sauce. Allow to marinate while you heat up the oven to 190° C / 375° F.
Mix the peanut butter, 1½ tbsp tamari / soy sauce, maple syrup, rice wine vinegar / lime juice, sesame oil, grated garlic and Chinese five spice in a bowl. Set aside.
Spread tofu batons on a paper lined baking tray and bake for about 10 minutes.
Coat the tofu in approximately half of the peanut glaze, spread on the baking tray and return to the oven for another 10 minutes.
ASSEMBLY
Have a small bowl of water handy. Put the sushi mat (use a thickly folded kitchen towel instead if you don't have a sushi mat) down and put a nori sheet on top of the mat, shiny side down. Grab some cooled rice and spread it evenly on the nori sheet leaving a 1 cm / 0.4″ margin at the very top, for sealing. As well as spreading the rice evenly, keep on pressing it into the mat so that the roll is compact.
Place a row of radish halves, cucumber sticks, shredded spring onion, followed by baked tofu, extra drizzle of the sauce and a sprinkle of crushed toasted peanuts (if using) in a long line along the bottom edge of the nori sheet and leave a bit of space below so that you can fold the nori sheet over the filling.
Using the mat, slowly start rolling the roll, squeezing it tightly with both hands as you roll. Go back every now and then to make sure everything is tightly bonded.
Once you get to the end, dip your finger in water and brush the water on the margin to seal the roll. Finish rolling and set the roll aside. Repeat the last 4 steps with the remaining nori sheets.
Once you've rolled all the sushi rolls, cut them into 1 cm / 0.4″ slices with a sharp knife. Serve with leftover (watered down a little for better viscosity) peanut sauce, leftover pickled radishes and tamari / soy sauce.
NOTES
*You can use any type of peanut butter, but if you use a brand that contains added salt and / or sugar, make sure you adjust the amount of sweetness and saltiness to your taste.