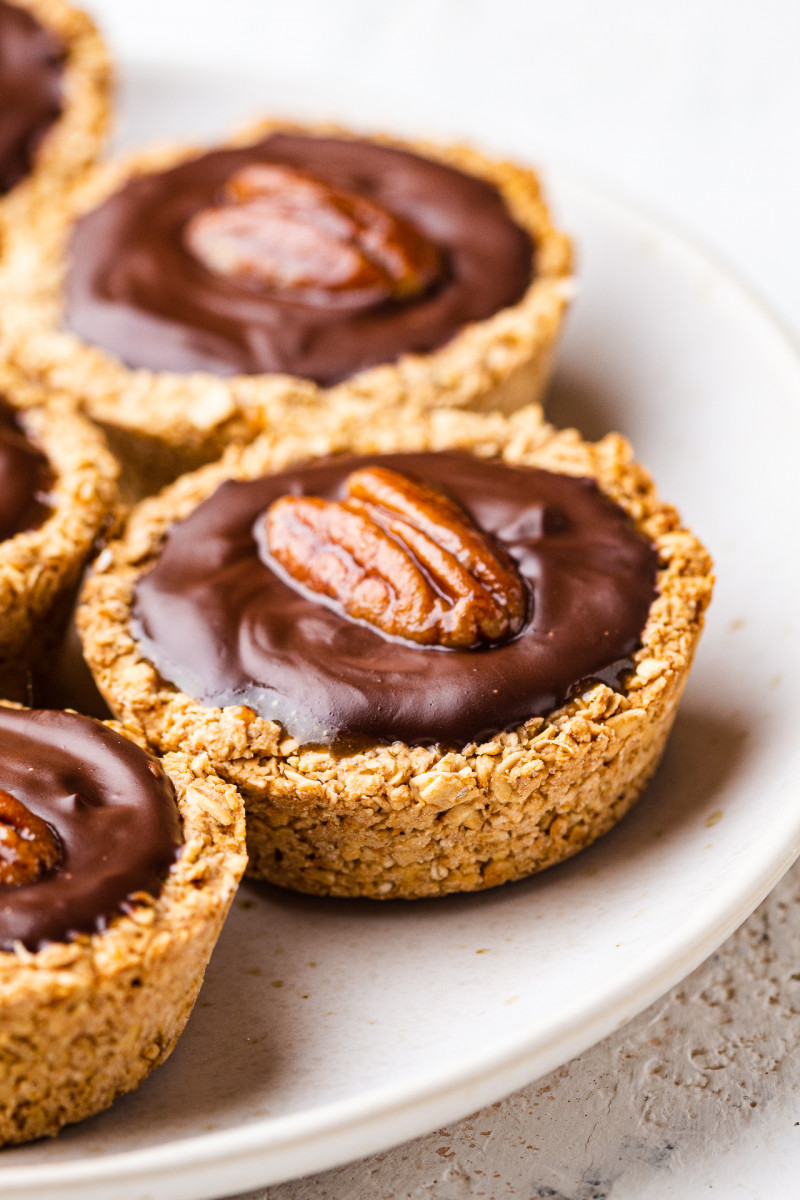 With Thanksgiving being celebrated in the US tomorrow, I made a tray of Thanksgiving-inspired pecan pie cups that do not require any pastry skills and are a joy to eat wherever you live and whatever celebrations you are into.
As I am a massive pecan pie fan, I have already published a full size version of it as well as cute mini pecan pies in the past. This year, I've decided to make something different that anyone can make and enjoy but with the flavours of the original.
These vegan pecan pie cups are simple to make. The crust is made of coarsely ground oats formed into shells and baked in a standard 12 hole muffin tin. The filling is pecan pie caramel flavoured with cinnamon and a good hint of orange, the addition of which I personally love especially at this time of the year. The whole thing is topped with a thin layer of rich and not very sweet chocolate ganache and decorated with a pecan half.
MORE ABOUT THE INGREDIENTS
OATS: I made the cups but grinding regular oats in a food processor until coarse – you want a mixture of smaller and bigger pieces so that they stick toghether into a dough. I have tried using fine porridge oats on their own too, but that does not work so well as the mixture is too crumbly. If you want to use fine porridge oats, simply swap some out for oat flour to get that variation in texture. Say 50% (112 g) porridge oats and 50% oat (113g) flour or something along these lines.
VEGAN BUTTER: I used a vegan butter block (I like Danish brand Naturli) but coconut oil works just as well. Use refined coconut oil, which has been steamed to remove coconut aroma and flavour. Use melted fat in the crusts and solid in the caramel.
MAPLE SYRUP: I used maple syrup to bind the oats together and to make caramel. You can replace it with another liquid sweetner, I am pretty sure.
MUSCOVADO SUGAR: I used muscovado sugar to get beautiful rich notes into the caramel. I used light muscovado as that's what I had on hand but udark muscovado works too.
ORANGE ZEST: I really enjoy a bit of orange zest in pecan pie filling as its aroma reminds me Christmassy things. Adjust the amount to taste, I used the zest of one small orange. Be sure to wash the fruit really well and if possible buy an organic orange for this application since you are using the skin. You could also use a clementine or a tangerine zest if you prefer, but be careful not to zest any bitter pith (the skin is way thinner).
CINNAMON: I used a hint of cinnamon in the cups and in the caramel. A touch of cardamom would also be a nice thing.
PECANS: I added chopped roasted pecans to the caramel to imitate the filling of a traditional pecan pie. If pecans are hard to get, walnuts would be a good substitute.
DARK CHOCOLATE: I topped these cups with dark, rich ganache. I did not add any sugar to it and chose a very dark chocolate so that there is a nice contrast between the sweet caramel and the more savoury topping.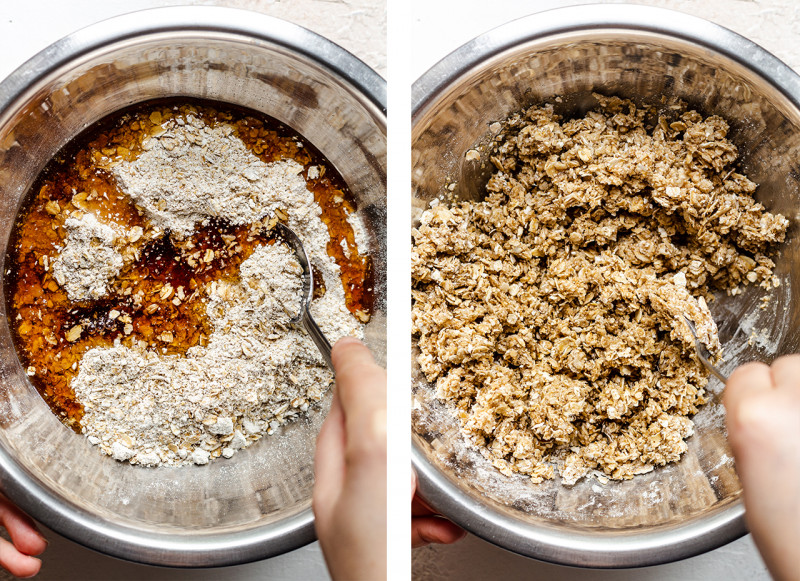 Combine coarsely ground oats with maple syrup and melted vegan butter until it all clumps together.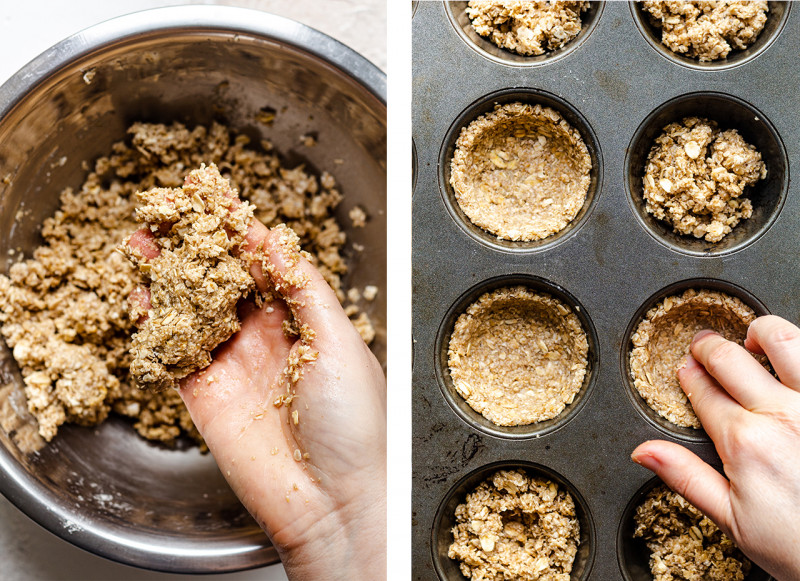 Line muffin tray holes with the mixture, wet hands help a lot. Bake until lighly golden, then cool.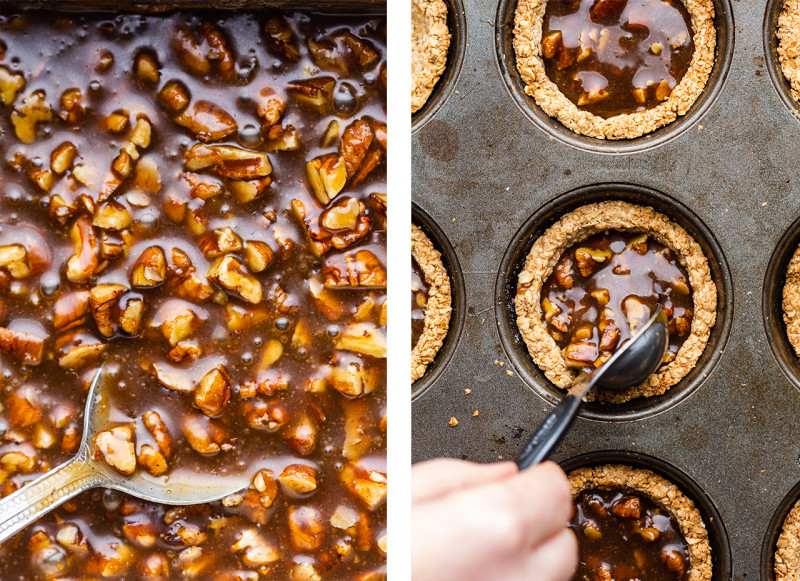 Make the pecan pie caramel, cool it right down afterwards (placing the pot with caramel in a bowl of cold water helps) and fill each cup without about a tablespoon of caramel.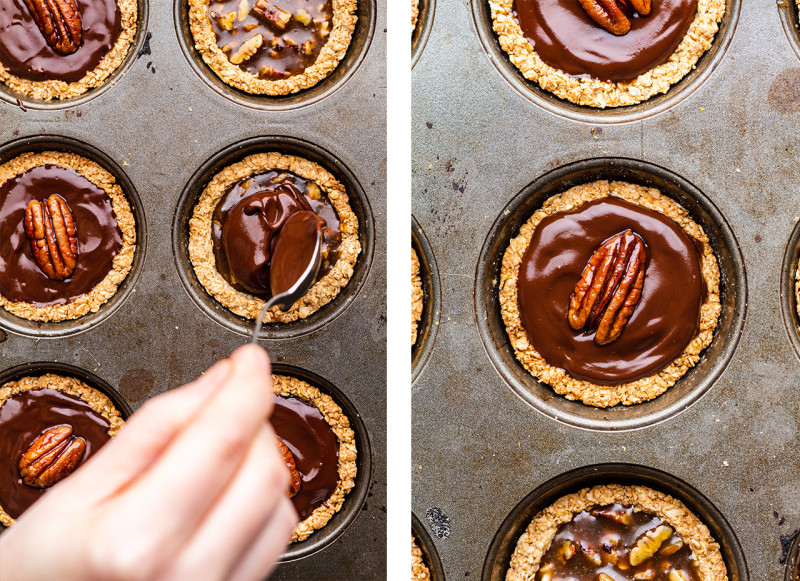 Finally, top the cups with chocolate ganache and decorate with a single pecan. Allow the ganache to set before consumption.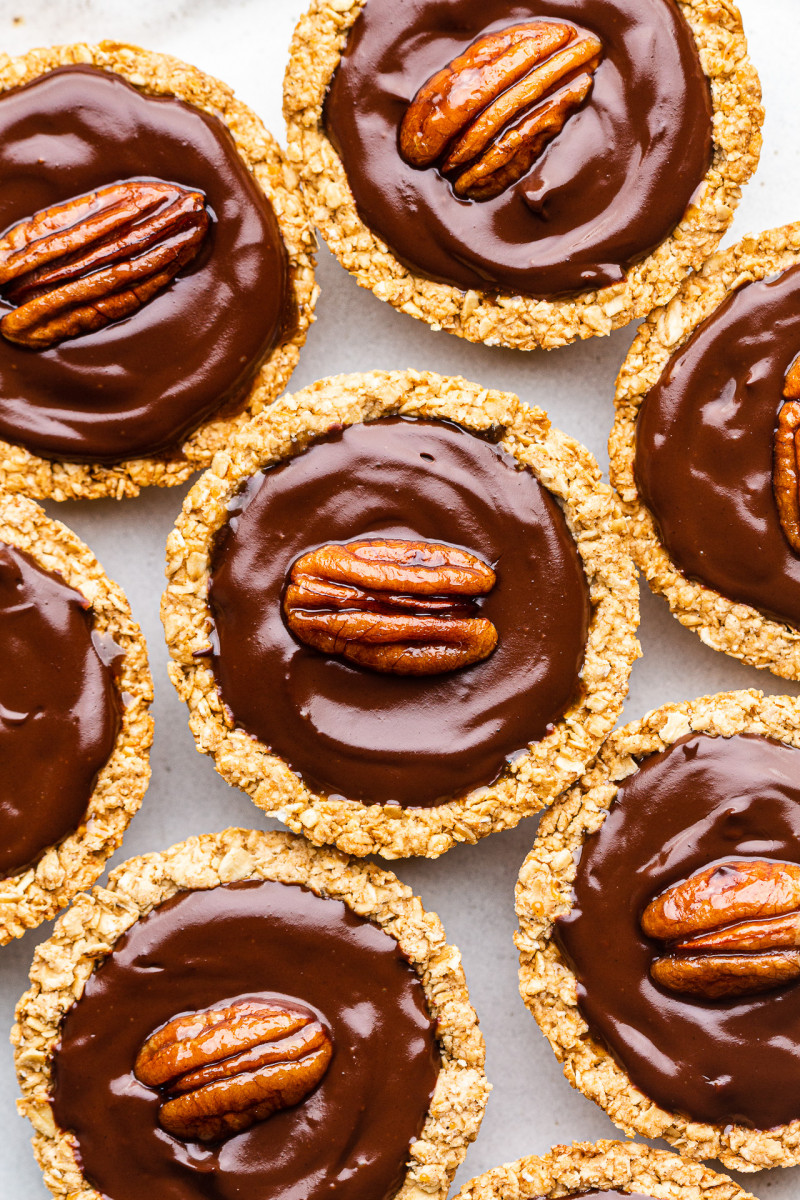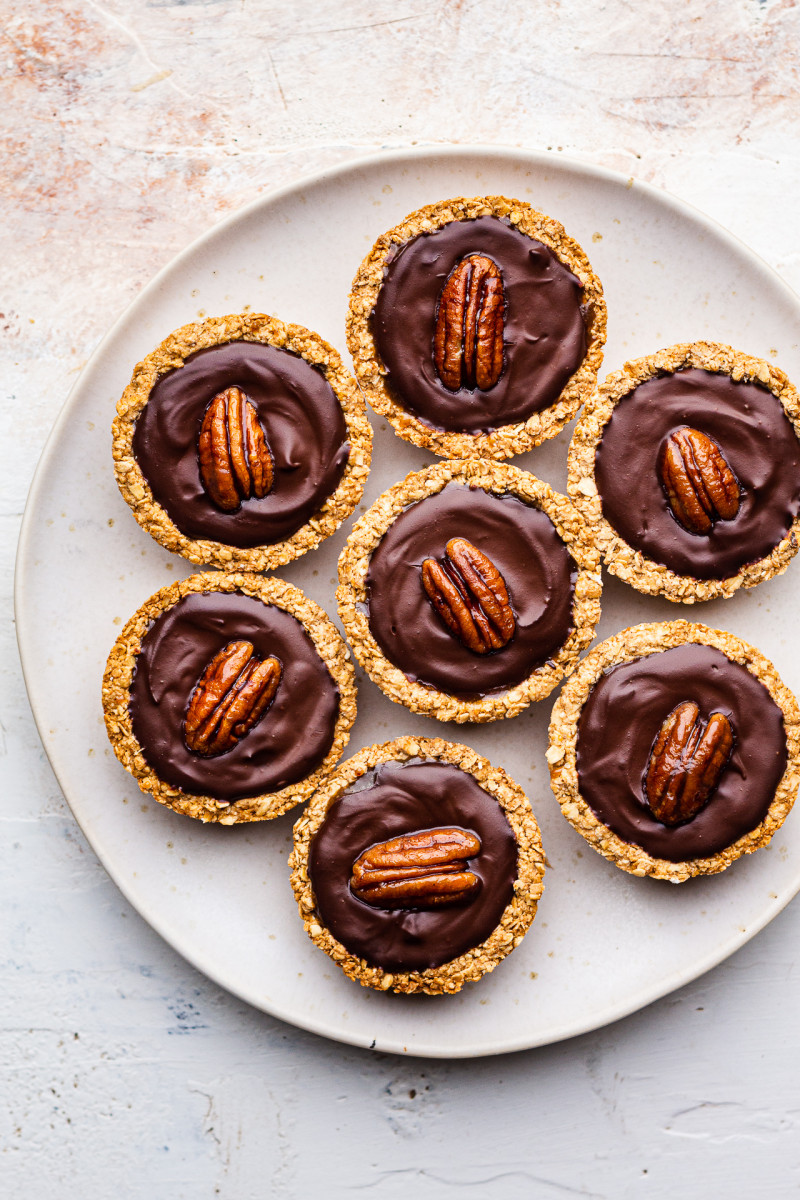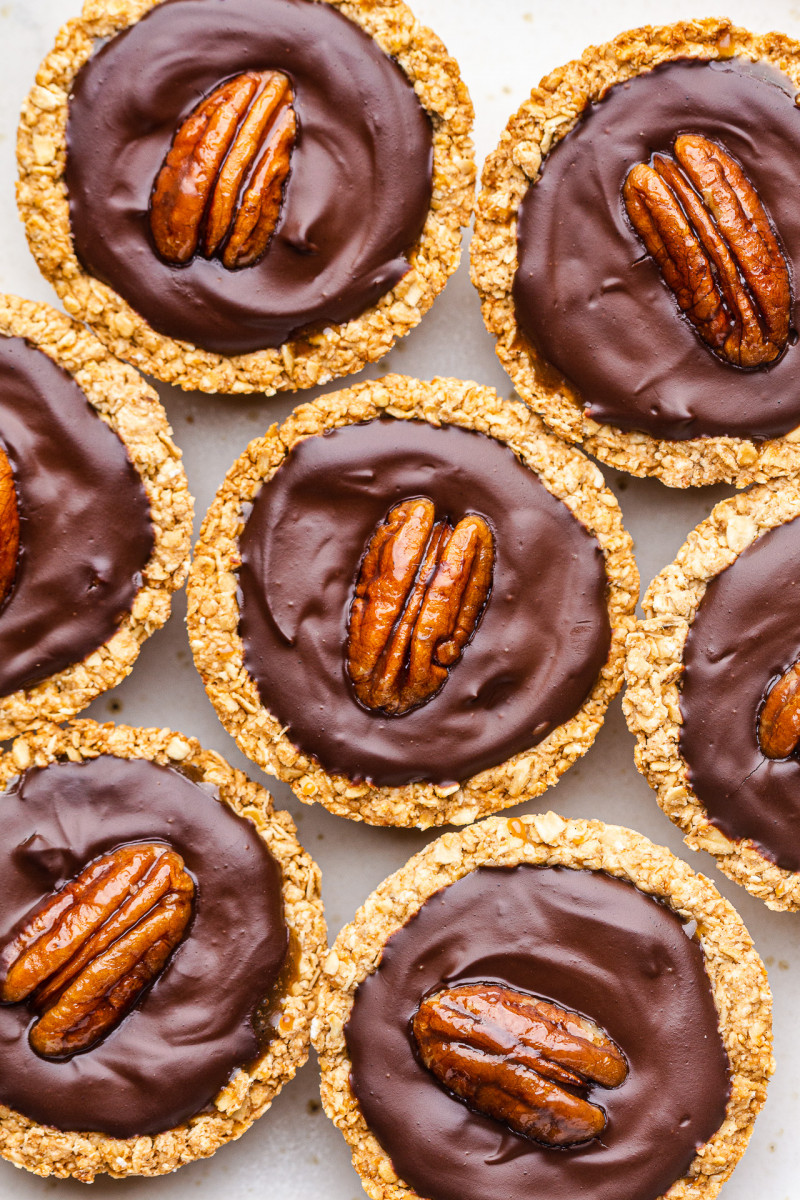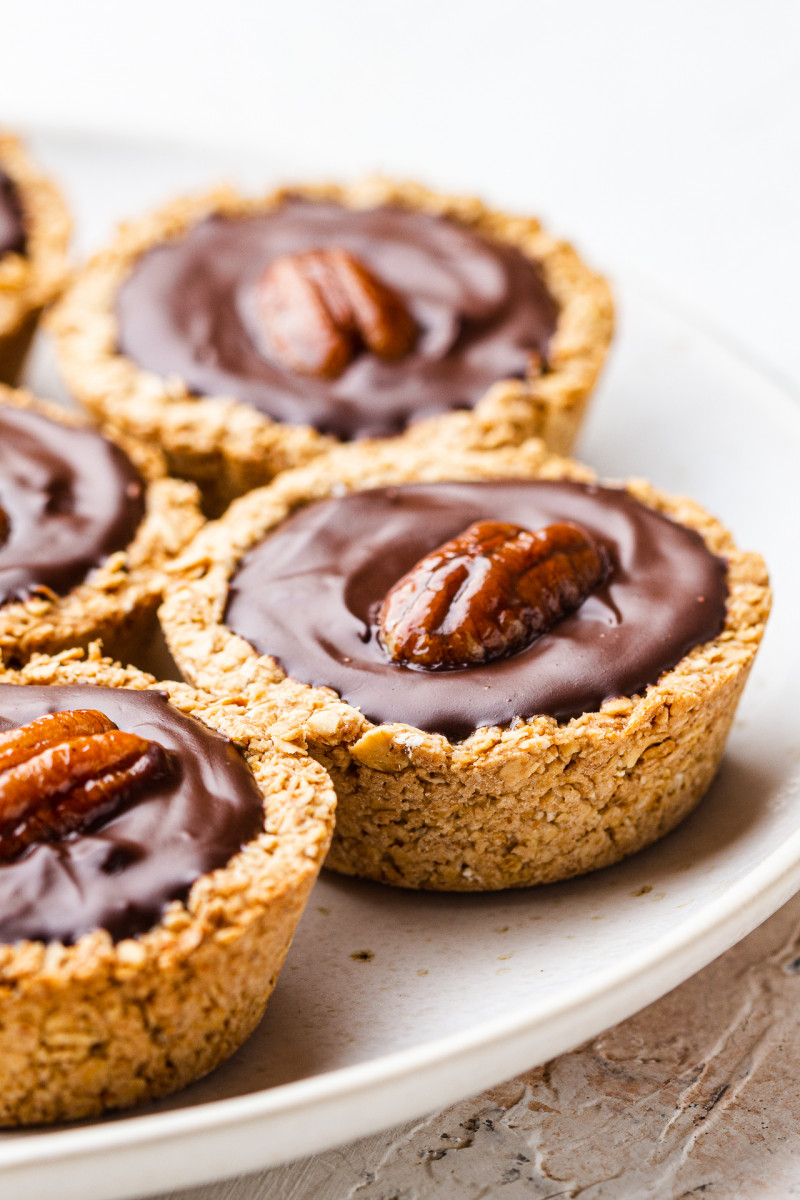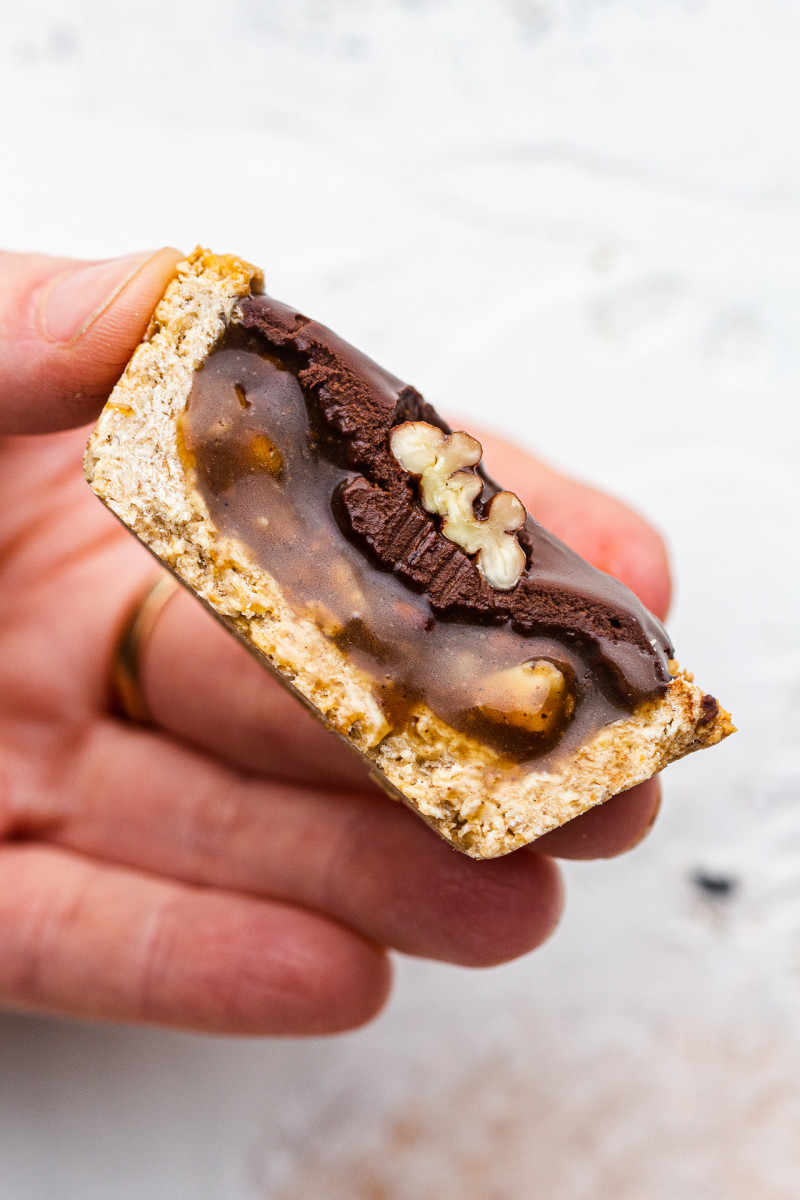 225 g / 2½ cups oats (GF if required), ground coarsely*
¾ tsp cinnamon
½ tsp fine sea salt
60 ml / ¼ cup maple syrup or other liquid sweetener
45 g / 3 tbsp vegan butter or coconut oil
PECAN PIE CARAMEL
120 ml / ½ cup maple syrup or other liquid sweetener
90 g / ½ packed cup light (or dark) muscovado sugar
80 ml / 1/3 cup vegan single cream* (I used Oatly) or canned coconut milk
50 g / ¼ cup vegan butter or coconut oil
¼ tsp salt, adjust to taste
1 tsp vanilla extract
¾ tsp cinnamon
zest of 1 orange, adjust to taste
100 g / 1 cup roasted pecans, chopped + 12 more for decoration
CHOCOLATE GANACHE
85 g / 3 oz 70% dark vegan chocolate
80 ml / 1/3 cup vegan single cream* (I used Oatly) or canned coconut milk
METHOD
Place ground up oats, cinnamon and salt in a large bowl.
Add maple syrup and melted vegan butter or coconut oil and mix well. Work into a uniform 'dough'. It should be pliable, but not too wet or sticky. If it is, add a touch oat flour.
Preheat the oven to 170° C / 335° F and grab a standard 12 muffin tin.
Divide the mixture between 12 muffin holes, about 1 tablespoon per hole.
Using a small spoon and then your fingers, line each muffin hole with the oat mixture, making 1.5 cm / 0.6″ tall (they are meant to shallower than the muffin holes) shells.
Bake for 15-17 minutes. Once out of the oven, press the bottoms down as they have likely bulged up a little. Allow the cup shells to cool down completely before filling.
PECAN PIE CARAMEL
Place maple syrup and muscovado in a small pot on a low heat, measure out cream and vegan butter and have it ready.
Bring maple syrup and sugar to a gentle simmer. Allow it to bubble gently for about 60-90 seconds and when after it starts to bubble vigorously all over, take it off the heat.
Whisk in cream, vegan butter, salt, vanilla, cinnamon and orange zest. Whisk until completely dissolved and smooth.
Bring the pot back to the stove and allow the caramel to bubble gently (on a very low heat) for about 10 minutes, stirring from time to time.
Allow it to cool down, add chopped up pecans.
GANACHE FILLING
Place broken up chocolate and vegan cream in a bowl suspended over a pot of water (bain marie/water bath)- make sure the water does not touch the bowl.
Warm them both up on the lowest setting (the water underneath should barely simmer and not boil) until the chocolate has melted.
Once the chocolate has melted, whisk the chocolate and cream together, if using coconut milk – add 4 teaspoons (20 ml) of plant milk to achieve the correct consistency.
ASSEMBLY
Place about 1 tbsp of pecan pie caramel in each cup.
Next, top with a generous teaspoon of chocolate ganache and once it's set a little, decorate with a single pecan half.
Place the cups in the fridge (or freezer if you are in a hurry) to allow the filling to set. It will take 2-3 hours in the fridge and about 30 minutes in the freezer. Keep in an airtight container, on the counter for a few days or freeze if you want to enjoy them at a later date.
NOTES
*OATS: you can also use 50% fine porridge oats and 50% oat flour.