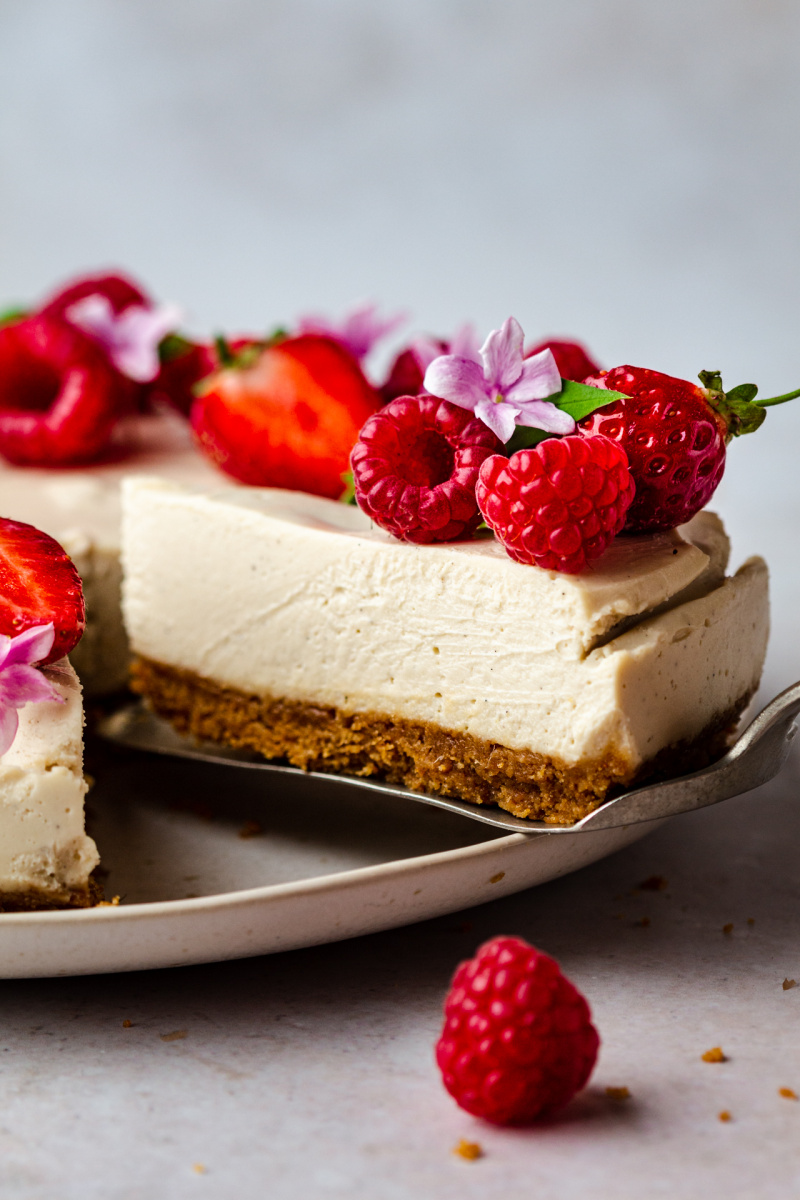 Another weekend, another dessert 🙂 I don't know why but whenever I plan my weekend recipe I more often than not seem to land on a dessert! It's probably because my mom used to bake at the weekends and therefore I have come to associate weekends with sweet treats, although I hardly need an excuse…
This weekend's treat is a no-bake vegan cheesecake topped with a mountain of fresh, seasonal berries with a subtle hint of white chocolate and ginger. I'm really excited to be able to share this recipe with you – it's so deliciously decadent and creamy yet really simple to make – it requires no cooking or baking skills at all.
I have seen a lot of vegan cheesecake recipes using vegan cream cheese and while I'm sure the results can be delicious, that's not something I am terribly keen on myself. Firstly, because I like to know what's in my food and those vegan cream cheese products tend to be rather processed. Secondly, because what's on offer here, in the UK, is likely to differ from what is available in other countries and that makes the recipe a little harder to reliably reproduce. There is much less risk of that happening when you use wholefood ingredients like I did in this recipe: silken tofu, cashews and cacao butter.
The base is a standard crushed biscuit base made vegan. I used ginger snaps and bound them together with some melted coconut oil, but any dry vegan biscuits and vegan butter will work just as well. If you would rather have a wholefood crust, this kind of base will be just as delicious.
The filling is what it's all about. I made it by honing just the right portions of silken tofu, creamy cashews and cacao butter, which yields a surprisingly creamy and indulgent result. Cacao butter, which you can order online or get in a health store, is key in firming this cheesecake up but it also gives it a gorgeous white chocolate flavour that works so well against tangy berries and spicy ginger.
I'm pretty sure you could use plant butter, coconut oil or white vegan chocolate instead but in the two last cases the amount of the ingredient will need to be increased or else the cheesecake will fail to set. I do encourage you to get your hands on cacao butter though if you can, not only is it invaluable at making delicious vegan desserts (like this summer sponge or my white chocolate ganache tarts), you can make your own chocolate with it too.
The filling is so simple to make yet so divine and utterly irresistible. When I was testing this recipe Duncan and I were like 'we will be good and just have a little taste and bin the rest' (cos being a recipe developer can wreck your good eating habits). No chance – once the sweet creamy mixture hits your palate there is no going back. We ended up fighting for leftovers 🙂 I hope you'll make it and enjoy it just as much.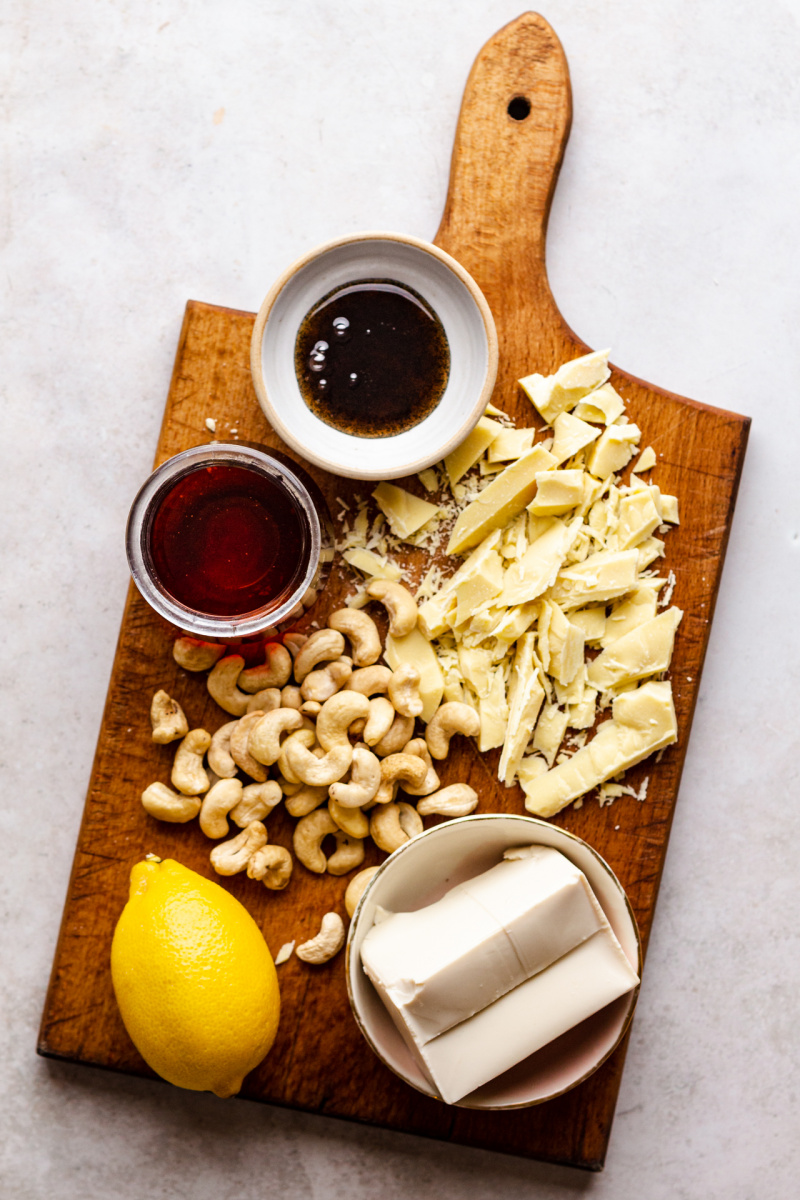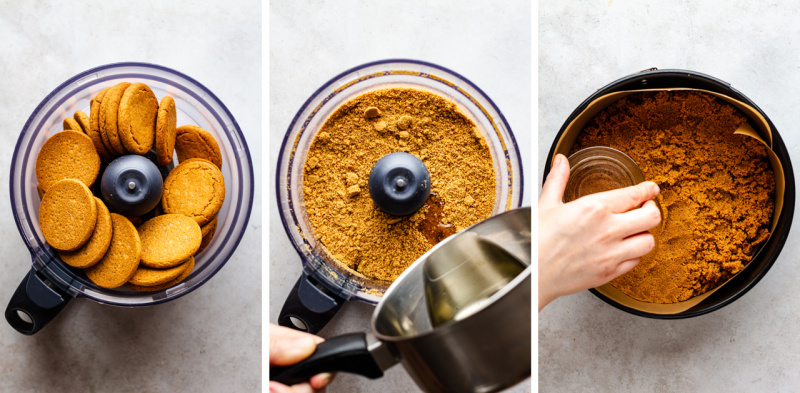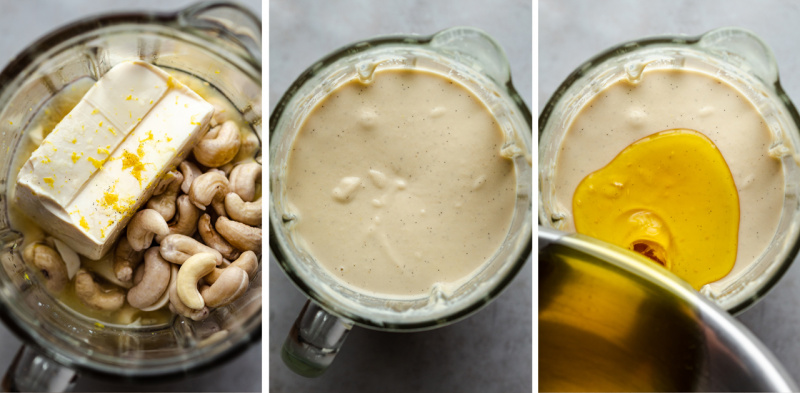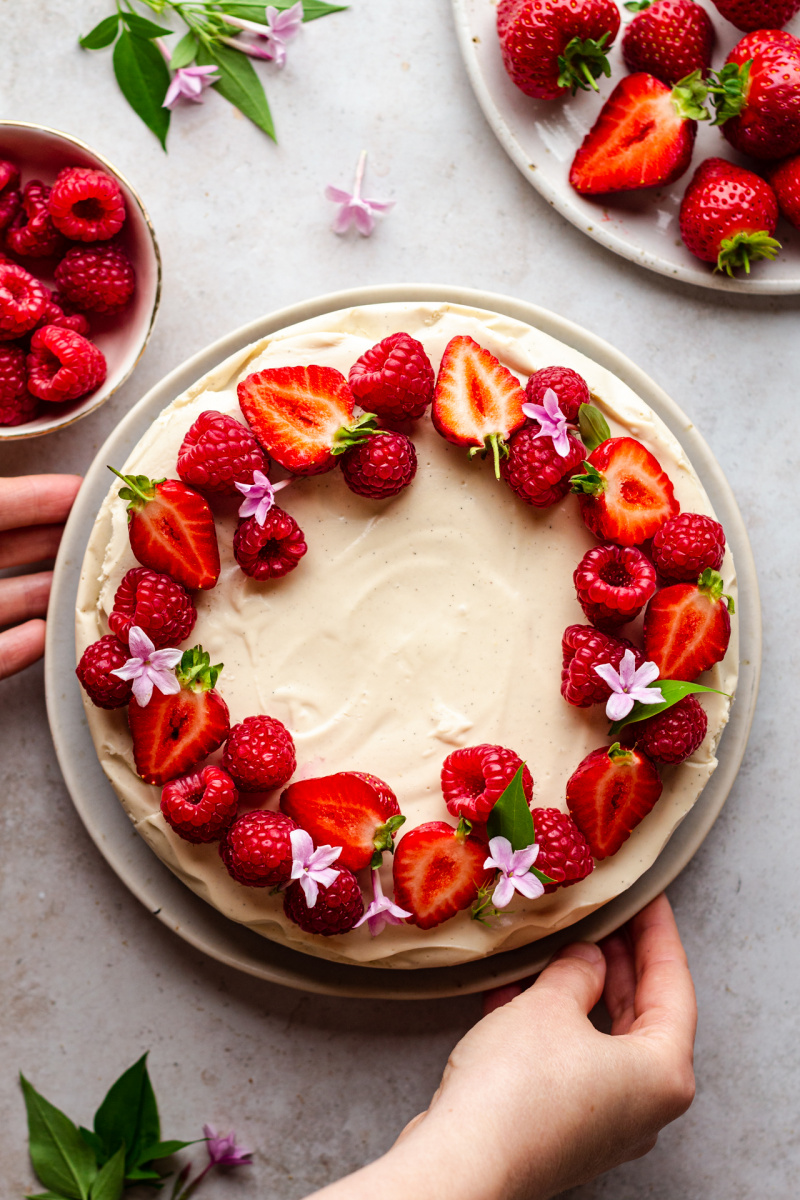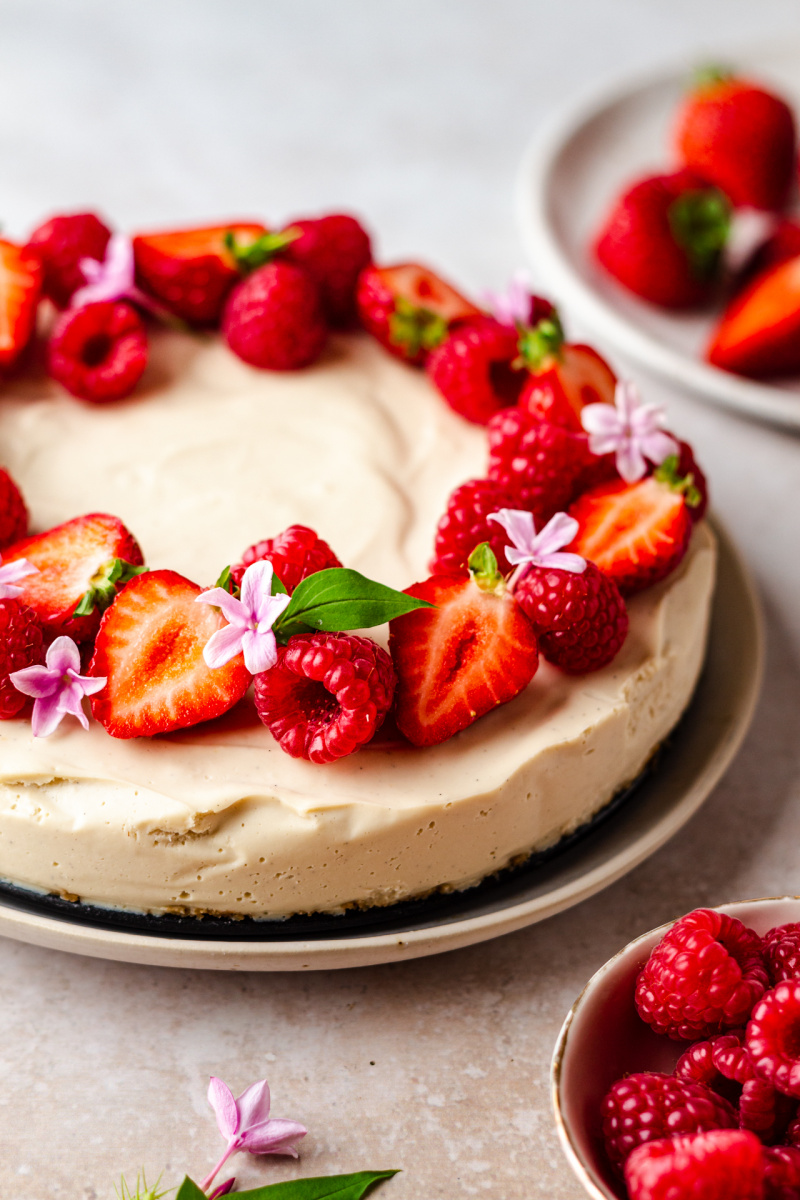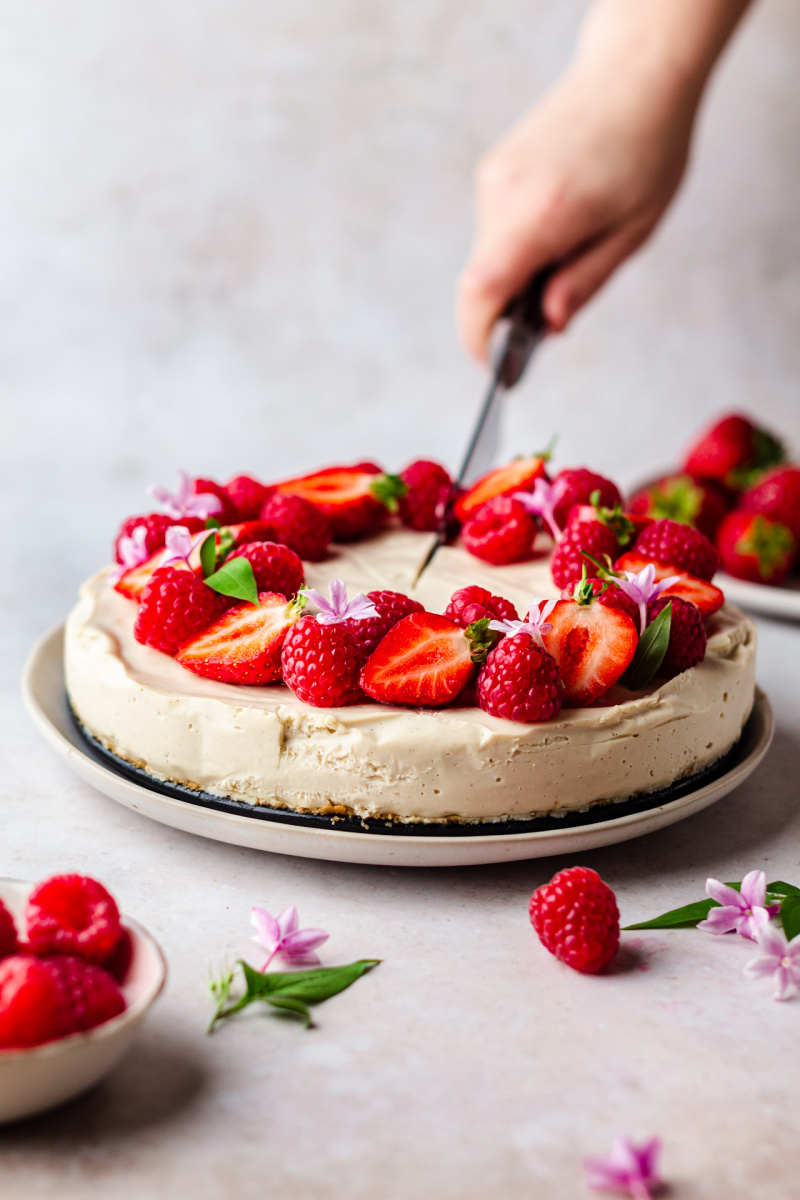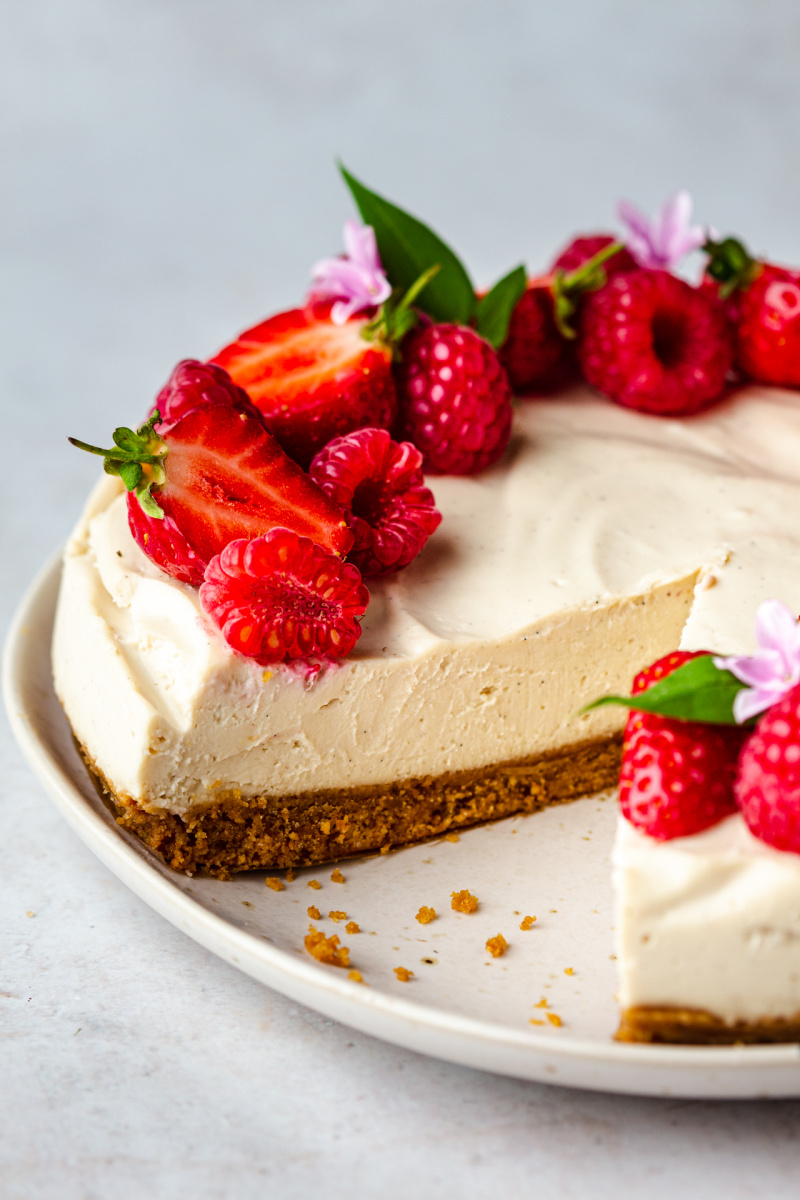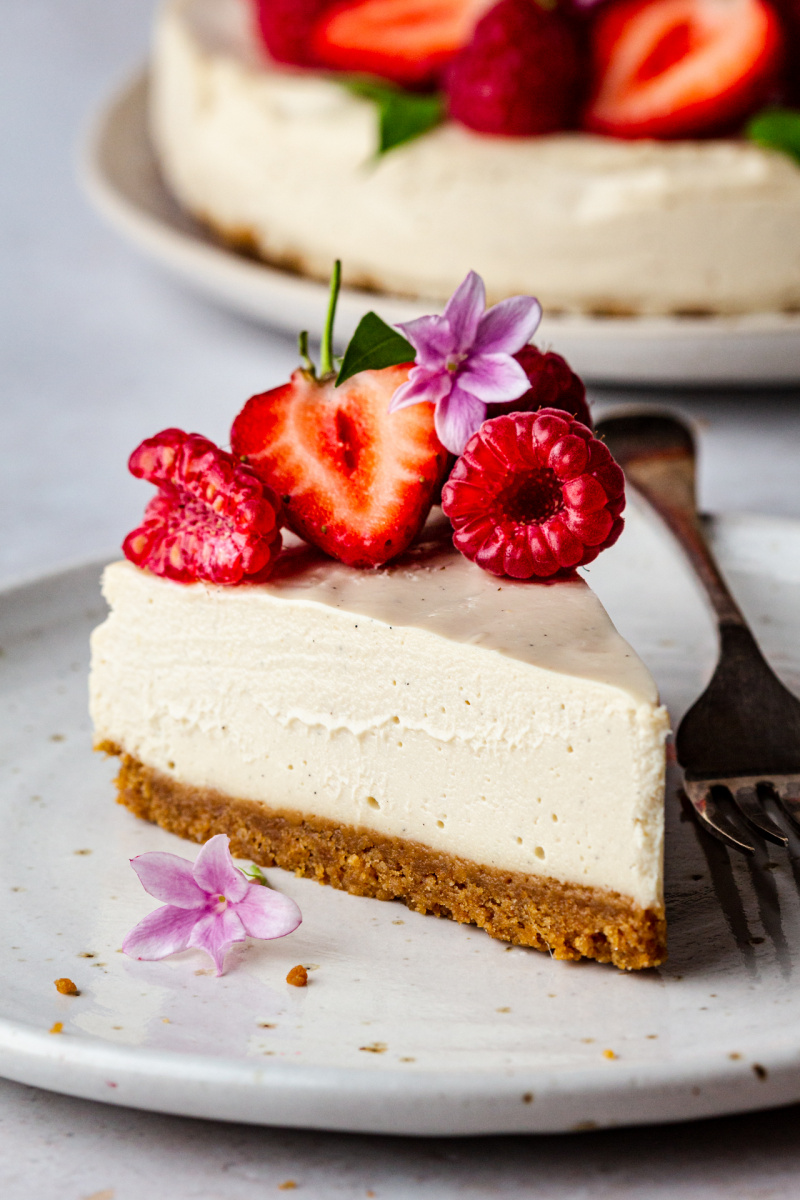 CHEESECAKE BASE
100 g / 3½ oz (8 tbsp) coconut oil or vegan butter
250 g / 8¾ oz vegan ginger biscuits (GF if needed)
CHEESECAKE MIXTURE
TOPPING
fresh berries (I used raspberries and strawberries)
METHOD
Prep: line the bottom of your springform tin with a circle of baking paper and cut out a long rectangle to line the sides of the tin with. Affix the long strip of paper to the sides of your springform tin.
CHEESECAKE BASE
Melt the coconut oil / vegan butter.
Grind your biscuits in a food processor until you get a delicate crumb.
Add the melted oil / butter and process until the mixture resembles wet sand. You should not need any more moisture but if you do, add a small amount of plant milk.
Transfer the mixture to the lined tin and press it into the base really well, creating a compact biscuit base. I used the bottom of a glass to ensure the base is smooth, even and well bound. Place in the fridge while you make the cheesecake mixture.
CHEESECAKE MIXTURE
Melt the cacao butter gently (do not let it overheat), over a water bath. Allow it to cool down a little while making the rest of the mixture.
Put (drained) silken tofu, maple syrup, drained cashews, vanilla, lemon juice, lemon zest and lemon extract (if using) in a blender. Process until silky smooth. If, like me, you don't have a very powerful blender, you may need to split the mixture into two batches to be able to get the cashews blended super smooth and creamy.
Finally add melted (cooled, not hot) cacao butter and blend until well combined with the rest of the mixture.
Season with ginger to taste (if using) blending more to incorporate the ginger well into the mixture.
Pour the cheesecake mixture over the set base and place the tin in the fridge (for at least 4 hrs) to set.
Once set (the top will be firm to the touch), top with fresh fruit. Keep refrigerated.
NOTES
*CACAO BUTTER: Cacao butter is what gives this cheesecake white chocolate flavour and what makes it set. If unavailable, I would suggest 400 g / 14 oz vegan white chocolate (I tested it, vegan white chocolate only contains about 25% cacao butter), reduce the amount of maple syrup and increase the amount of lemon juice to taste. You could also replace cacao butter with coconut oil, but white chocolate flavour will be lost. I have not tested with coconut oil, but I would suggest about 120 g / 4.25 oz as it's softer than cacao butter. Use refined coconut oil, which has been steamed to remove coconut taste for a neutral flavour.
*MAPLE SYRUP: You could use other liquid sweetener (like agave syrup) or icing sugar to sweeten and plant milk (135 ml / ½ cup + 1 tbsp) to get the right consistency.
*CASHEWS: Soak them overnight or in boiling water for a minimum of 45 minutes.
*GINGER: Instead of freshly grated ginger, I also like using 5-6 stem ginger balls (about 100 g / 3½ oz) instead. You could also use stem ginger syrup (instead of maple syrup) to sweeten but if doing so make sure you taste the mixture before adding ginger balls or else the ginger flavour may end up too strong.
NUTRITIONAL INFO
*per per slice (based on 16 servings)