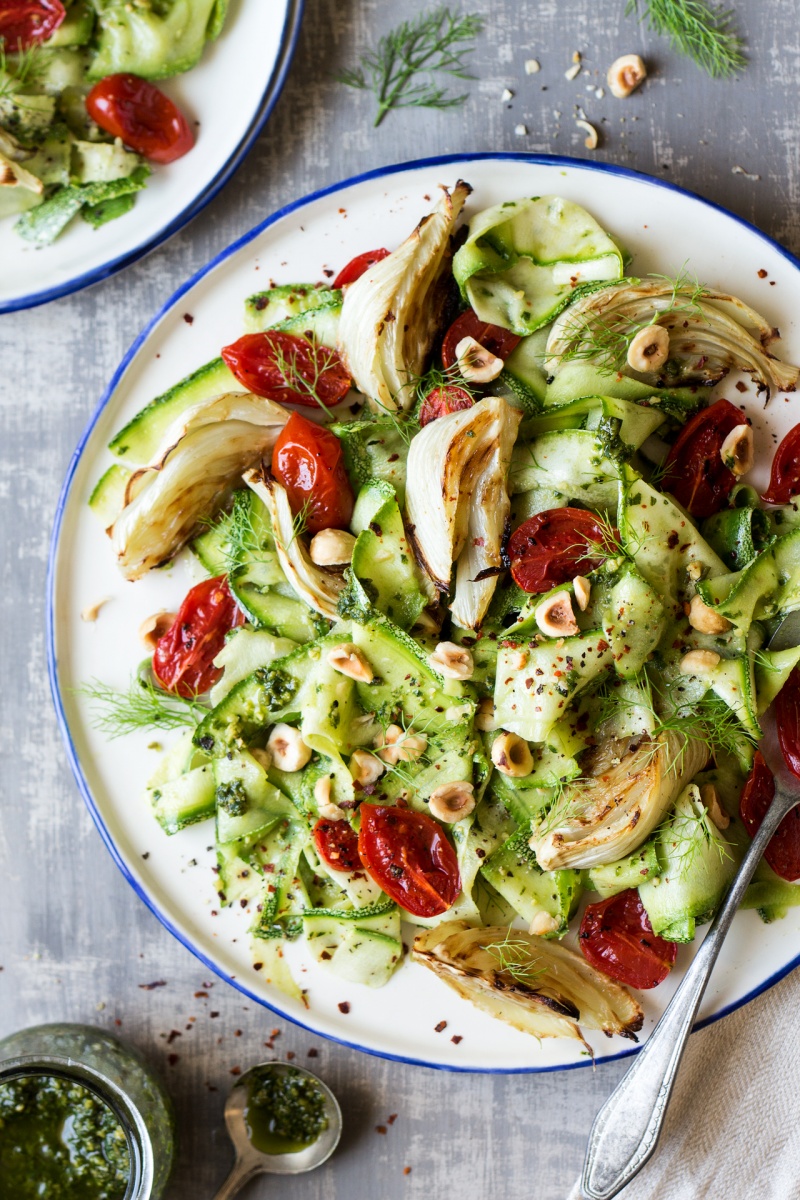 Summer is here in earnest. The Greek Meteorology Office has just issued an extreme whether warning. The latest forecast is to expect a 43° C heatwave in the next few days.
Extreme heat is something I'm fearing a bit, to be honest. Being a northern European (that's what Duncan calls me), I struggle when the temperatures soar over 30° C, I get grumpy and my motivation to do anything is at an all time low.
Like my cat, all I wanna do is lie on a cold marble floor with an occasional dip in the sea (actually, that's not something Tina is so fond of 😉 ) . She does suffer in heat too, poor thing. Sometimes I wonder why clever Mother Nature hasn't provided furry animals with a zip so that they can ditch their furry coat for summer.
So, as I'm in a bit of a lazy summer mode these days, this dish isn't terribly involved. It came about as a solution to an abundance of zucchinis that I bought under the spur of a moment, so if you too are drowning in zucchinis, I'm coming to your rescue.
Admittedly, zucchini is quite a bland vegetable, which is what the haters hold against it 😉 . To my mind, its blandness can be as much a fault as it can be a virtue though. It makes it a perfect candidate for tossing in a herbaceous basil and mint pesto and hey, presto, lunch is ready. I jazzed up mine with oven-roasted cherry tomatoes and fennel as they don't require much work and some ready-roasted crushed hazelnuts for a nice crunch.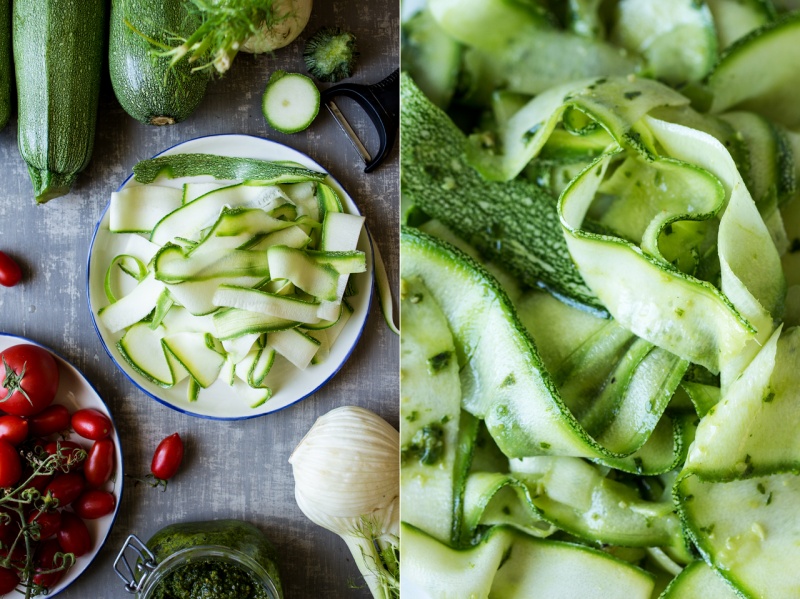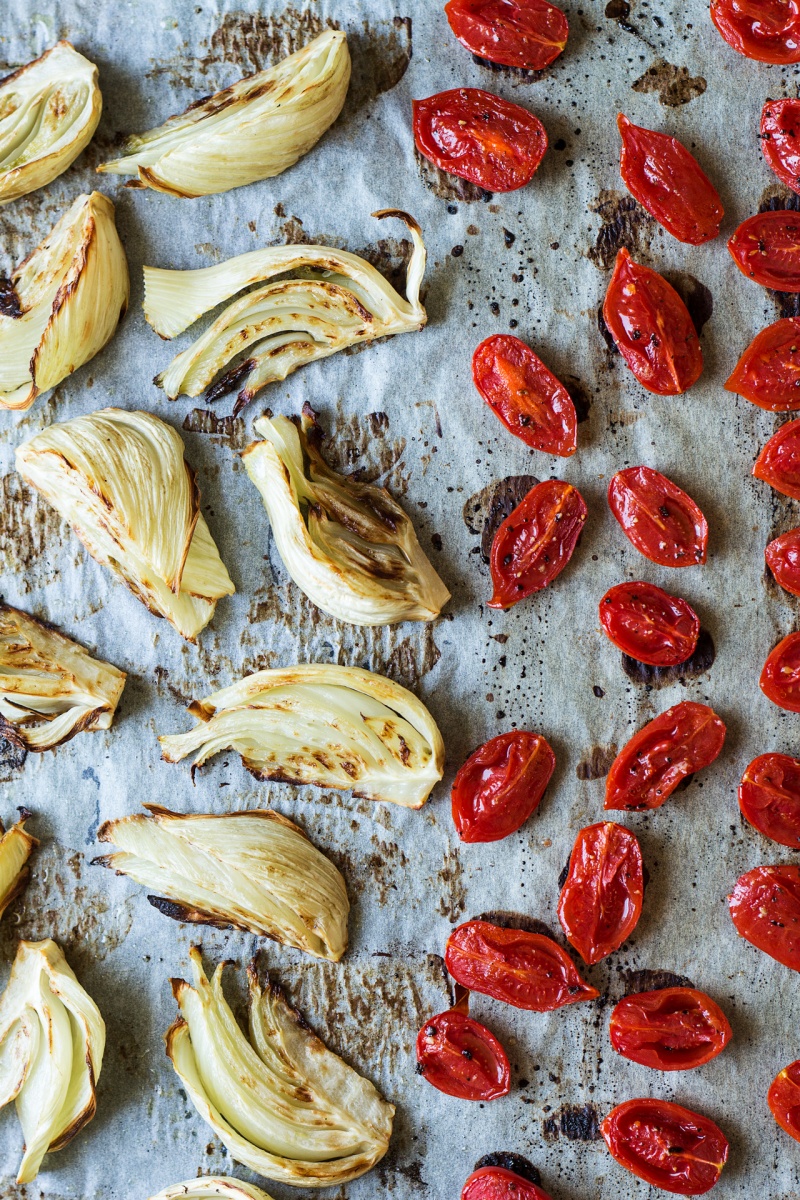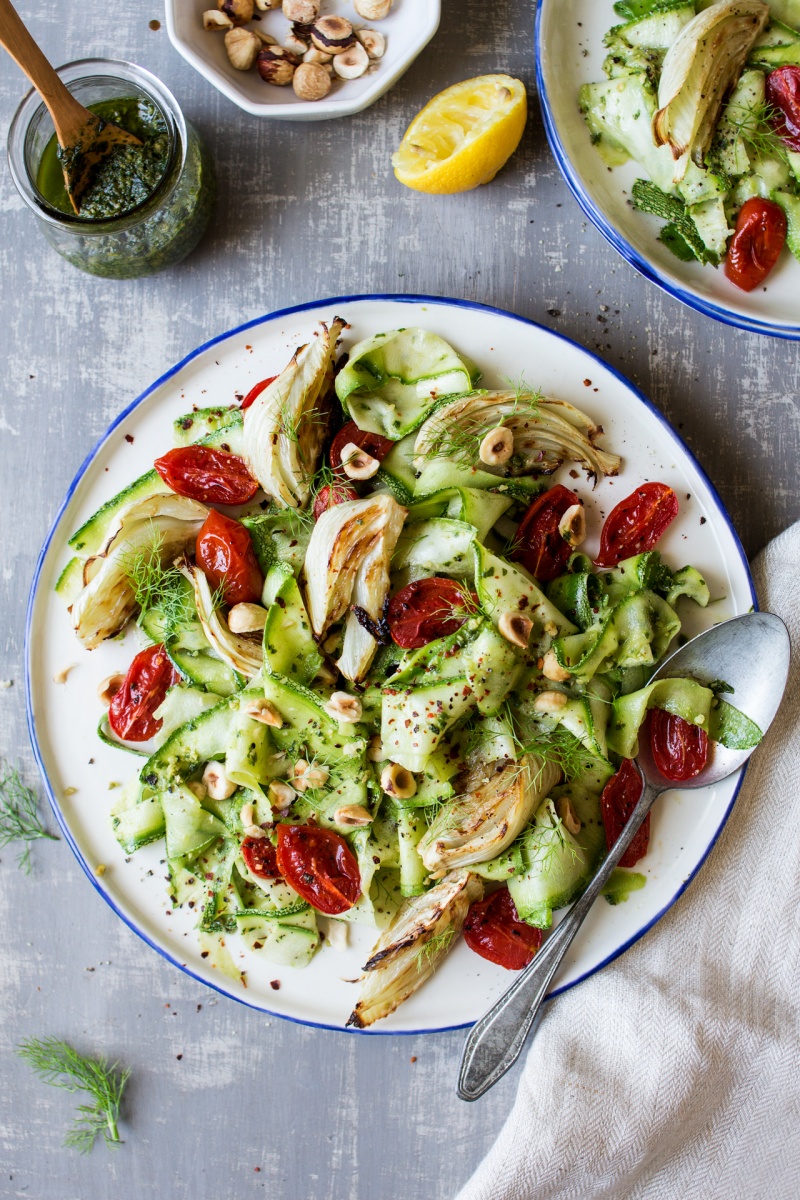 SALAD
700 g / 1.5 lb zucchinis (approx. 2 medium)
2 fennel bulbs
15 sweet cherry tomatoes, halved
2 tbsp lemon juice
12 roasted hazelnuts, chopped roughly
salt and pepper
extra virgin olive oil
pinch of pul biber or other mild chilli (optional)
PESTO (makes a medium jar)
¼ cup ready roasted hazelnuts
30 g / 1 oz basil leaves
30 g / 1 oz mint leaves (or double the basil)
1-2 garlic cloves, pressed
about 120 – 180 ml / ½-¾ cup extra virgin olive oil
2 tbsp lemon juice
2 tbsp nutritional yeast (optional)
a few pinches of salt, adjust to taste
pepper, adjust to taste
METHOD
PESTO
Place washed and dried basil and mint leaves in a food processor or herb chopper and process until roughly shredded. You could also make pesto in a pestle and mortar but it requires a fair amount of elbow grease.
Add hazelnuts and process some more.
Drizzle in olive oil until the pesto reaches a nice consistency.
Season with garlic, salt, pepper, nutritional yeast (if using) and a dash of lemon juice.
SALAD
Using a speed peeler, turn washed and dried zucchini into thin ribbons. I didn't use the seedy and watery core (I set it aside for another dish), but that's up to you.
Heat up the oven to 200° C / 390° F and line a baking tray with a piece of baking paper.
Trim the top of the fennel off and take the first layer off if it's not in a good condition. Cut fennel bulbs in half lengthwise (from top to tail) and then cut each half into 3 or 4 pieces depending on the size of your bulbs. Ensure all pieces are roughly the same thickness.
Brush fennel sides with a bit of olive oil and place on the prepared baking tray, cut side down. Leave about half of the tray empty for the cherry tomatoes, which will be placed on the tray later. Bake for 15 minutes.
Brush tomato halves with a little bit of olive oil and set aside.
After 15 minutes is up, flip all fennel pieces to the other cut side and place the cherry tomato halves (cut side up) on the baking tray. Return the tray to the oven for another 15-20 minutes, until the fennel is nicely charred and the tomatoes soft and oozing sweet juices. Sprinkle generously with salt and pepper.
Just before plating, create the dressing by mixing 3 tbsp of vegan pesto with 2 tbsp of lemon juice. Mix well and coat zucchini ribbons on this dressing.
Place dressed zucchini ribbons on a serving plate. Scatter roasted fennel pieces and cherry tomatoes. Sprinkle with a dash of chilli flakes (if using) and chopped toasted hazelnuts.