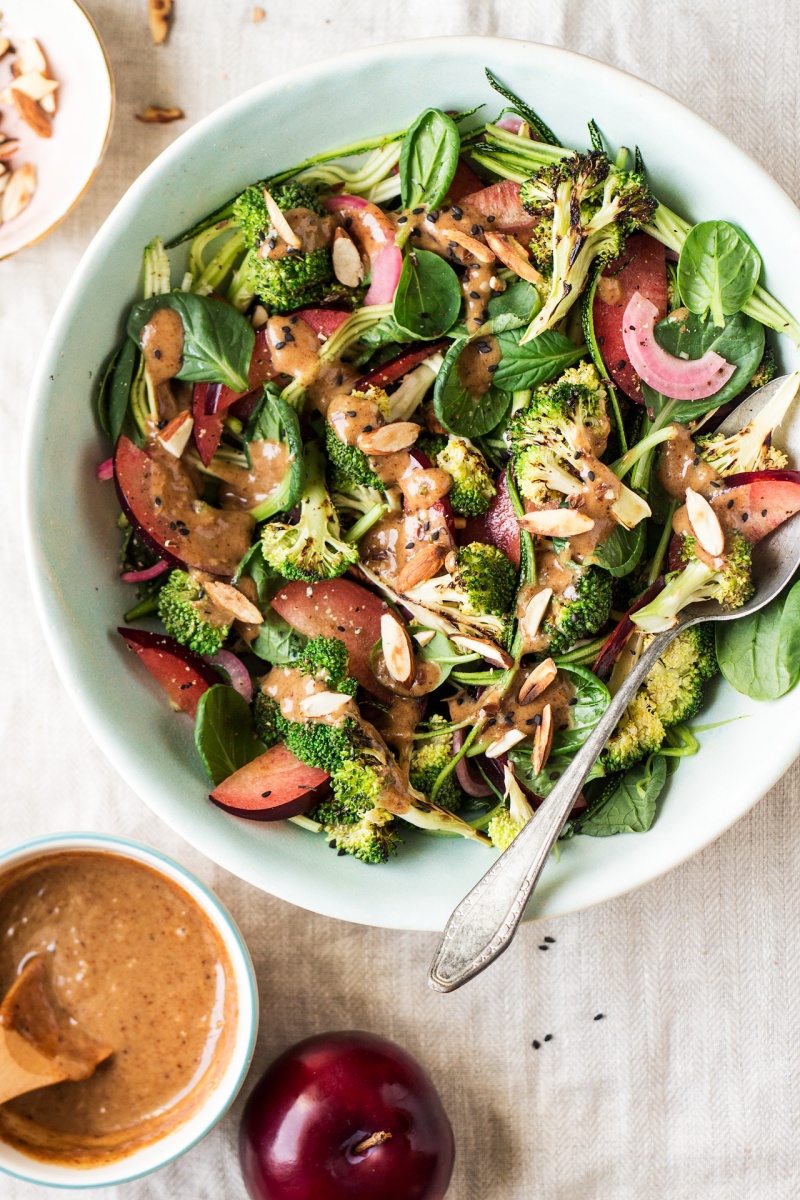 Plum season is upon us and so today's lunch is a simple plum and charred broccoli salad with an addictive almond and ginger dressing. It also features plenty of baby spinach and zoodles for an extra nutritional boost. Thanks to all the fibre, it makes a nice, filling (yet light) lunch – ideal warm weather food!
The almond dressing is my latest obsession, I could happily eat it slathered on everything or even on its own, with a spoon. Try and find roasted almond butter as it really improves the overall flavour.
I tend to make my own almond butter (here is how, if you're curious) as shop bought is prohibitively expensive here and never as nice, in my humble opinion.
I always roast my almonds prior to turning them into an almond butter. Roasting the almonds gives the sauce a much greater depth of flavour. Making your own nut butter is fairly easy and even a low-tech (like my 6 year old, run of the mill Kenwood) food processor manages the job just fine.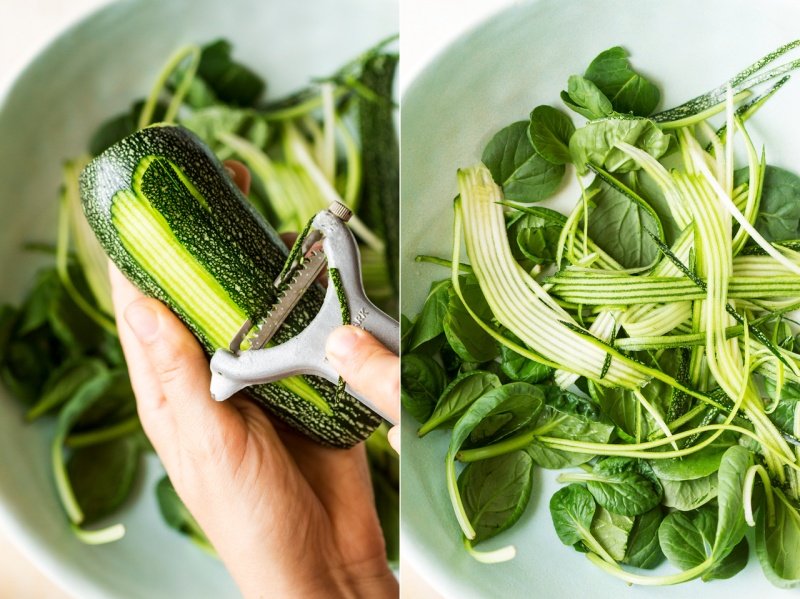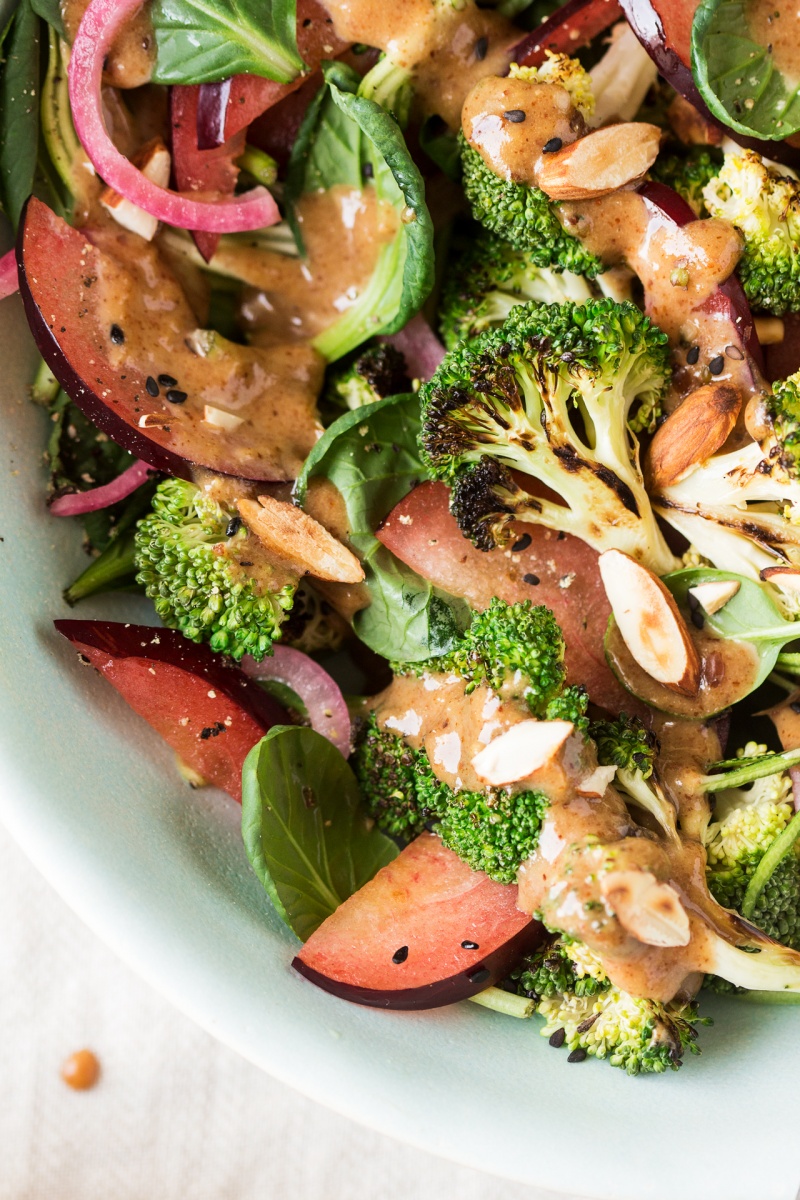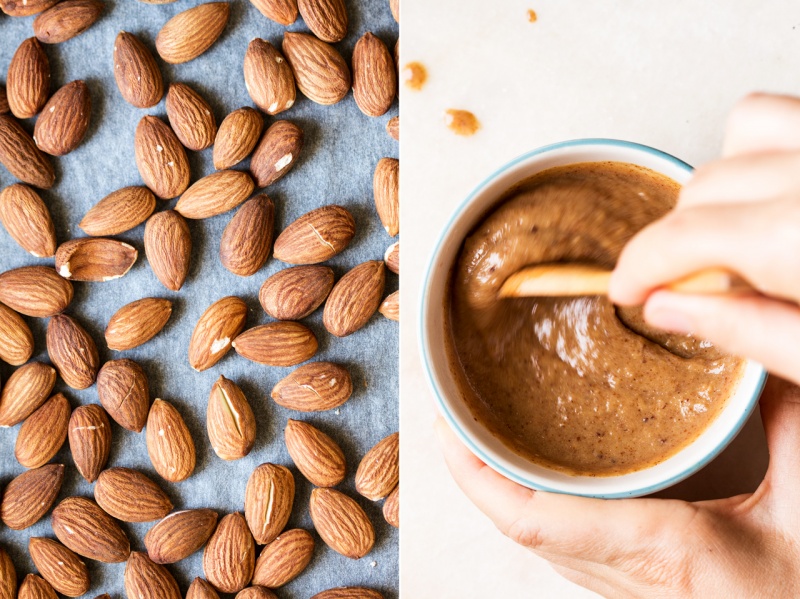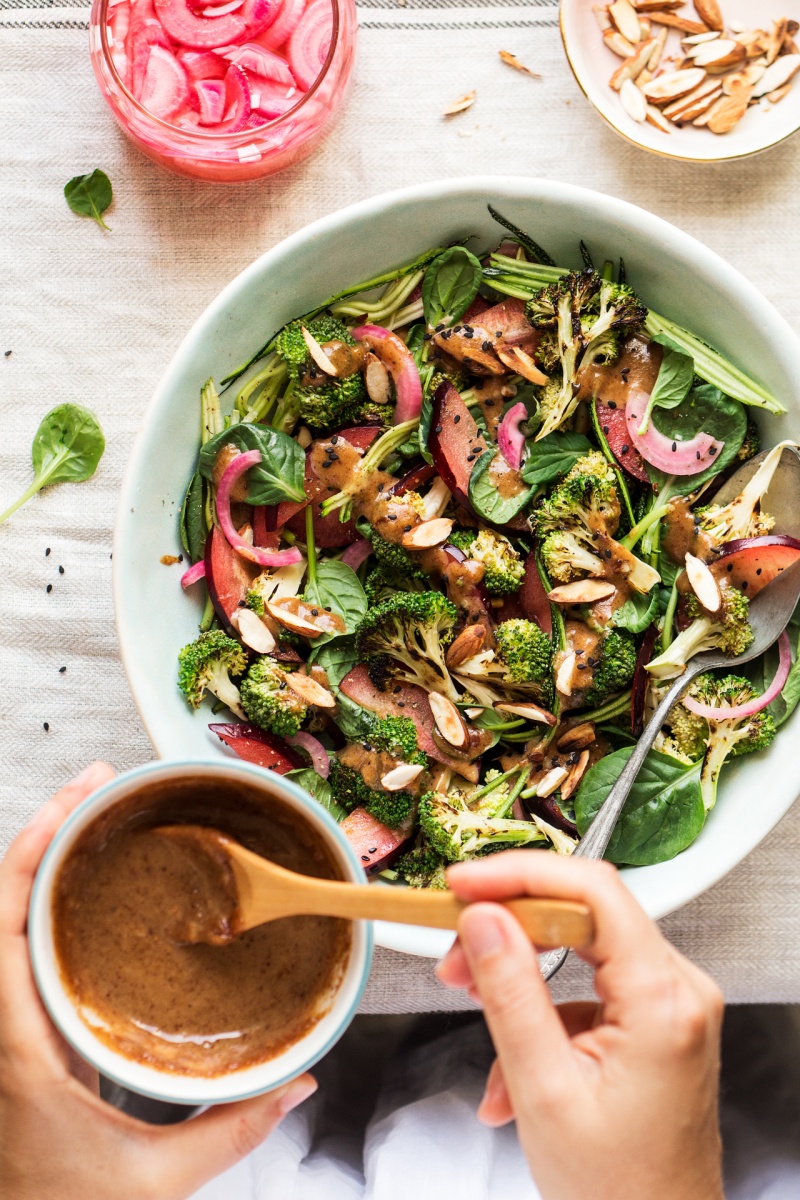 1 medium broccoli
1 tbsp oil (I used olive oil)
2 ripe plums (I used red plums), sliced thinly
1 zucchini
100 g / 3.5 oz baby spinach
a handful of quick-pickled onion strands or 1 small spring onion, finely sliced
2 tbsp almonds, sliced
salt and black pepper, to taste
black sesame seeds, for decoration (optional)
DRESSING
METHOD
In a medium bowl, combine all the dressing ingredients with about 3-4 tablespoons of water. Whisk well until well combined. Set aside.
Heat up a small pan on a medium-high heat. Throw slices of almonds on it and toast until golden and fragrant, agitating them (or stirring) frequently as they can burn easily.
Cut broccoli up into thick slices. Heat up a griddle pan, brush a bit of oil on it and, once hot, place broccoli slices on it cut side down. Grill for about 2-3 minutes, until charred and flip them to the other side. Small pieces will be done sooner so take care to remove them from the pan first. Alternatively, you could also roast broccoli in a hot oven. To do that, preheat your oven to 200° C / 390° F and line a baking tray with a piece of baking paper. Chop broccoli into same size florets and coat with 1 tbsp of olive oil. Arrange the broccoli florets on the prepared baking tray ensuring they have some space in between them. Bake them for about 15 minutes, until tender and slightly charred. Season with salt and a touch of pepper.
Turn zucchini into zoodles or ribbons using a julienne peeler.
Arrange the baby spinach, zoodles, charred broccoli, plum slices and pickled onion pieces in a large bowl. Toss gently with your hands. Sprinkle with roasted almonds and black sesame seeds (if using) and serve with the sauce on the side.
NOTES
If you would like to bulk this salad up, I recommend brown rice rather than noodles. In my experience, rice noodles (I tried both vermicelli and flat noodles) seem to soak up all of the dressing and leave the salad a bit too dry.