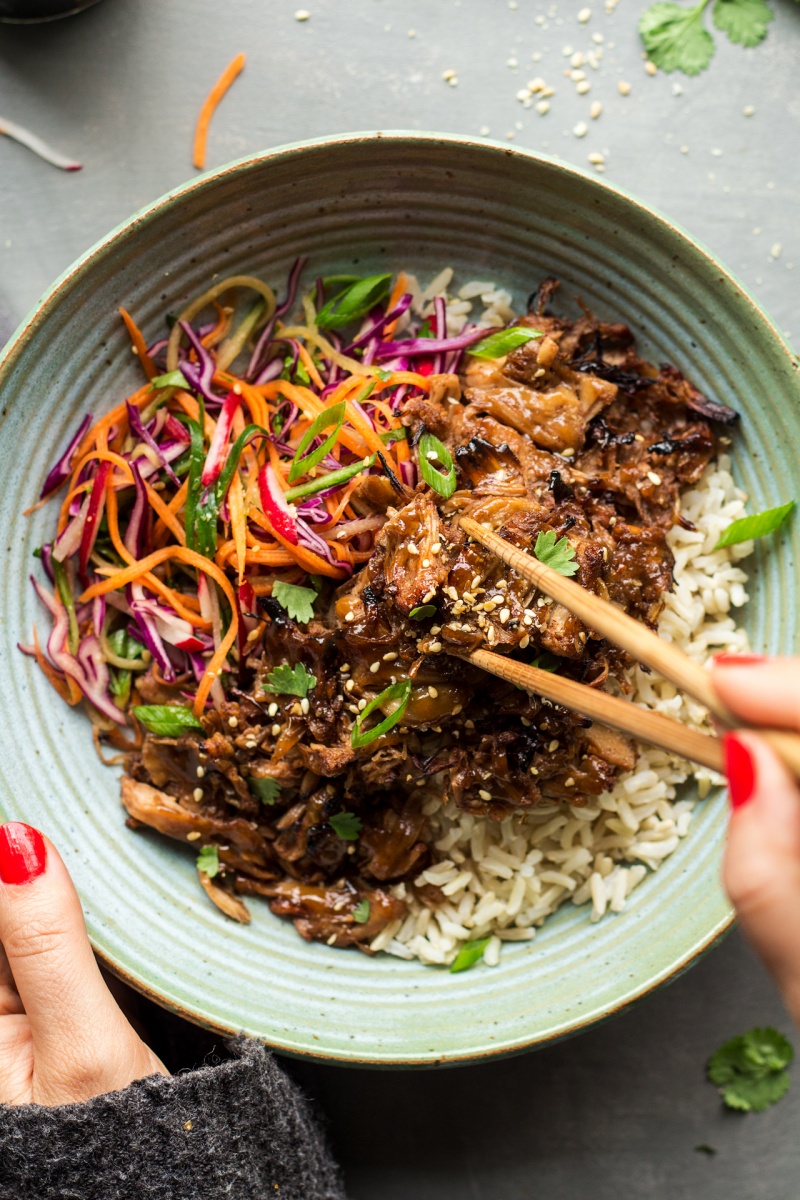 Greetings from delightfully warm and only just autumnal Krakow, guys! It may be because I was born in October, but I love autumn here. This year, it is unseasonably warm (thanks humans!!) and dry so I feel like I am getting another shot at summer as a bonus too. It's 27° C (80 ° F) during the day. Evenings are warm and perfect for romantic strolls around town, which makes me wish Duncan was here with me.
On paper at least, it should stay beautiful until the end of October before the misery of short days, rain and biting cold hits. If not for the fact that I miss Duncan and Tina terribly, I could stay a bit longer to experience proper Polish autumn again. I could easily pass the time watching the leaves turn all shades of red and orange, picking chestnuts in the park and marvelling at how much this beautiful city has changed since I left over 15 years ago.
Apart from a few trips to the dentist, which I always dread, I have had a really lovely time so far. I caught up with family and friends, ate lots of lovely vegan food cooked for me (my little bro has become a bit of a pizza buff recently, which I love) and took a break from cooking myself, which is exactly what I needed to get my creativity flowing again. I can already feel new ideas percolate in my head and I am looking forward to cracking them open when I get back.
Meanwhile, this is a simple midweek dinner idea that I cooked up for you before I left. It's easy to make, quite simple, yet really delicious. It's inspired by Asian flavours, but not authentic by any means. I simply used what I had to hand. The pulled jackfruit tastes even better the day after it has been made, as the resting time gives all the flavours a chance to marry. If you don't like or cannot find jackfruit, use mushrooms instead. King Oyster mushrooms work best at mimicking the texture of pulled pork (like in this recipe) but regular Oyster mushrooms won't leave you disappointed either.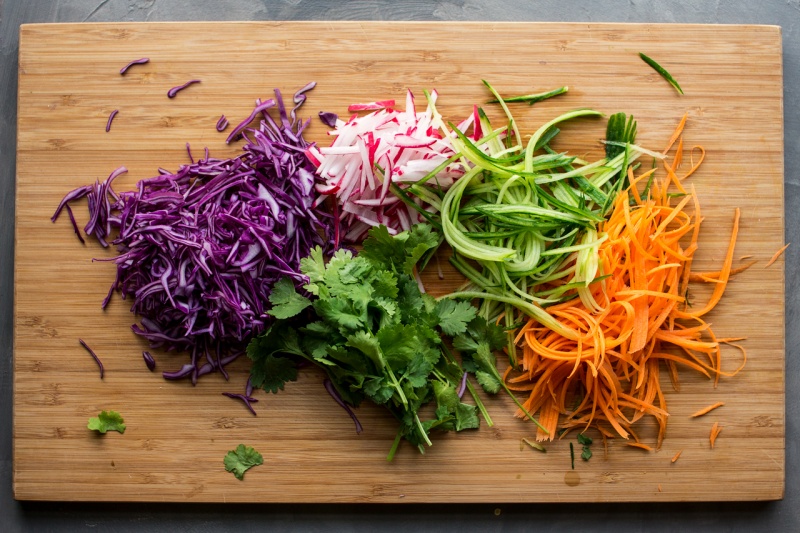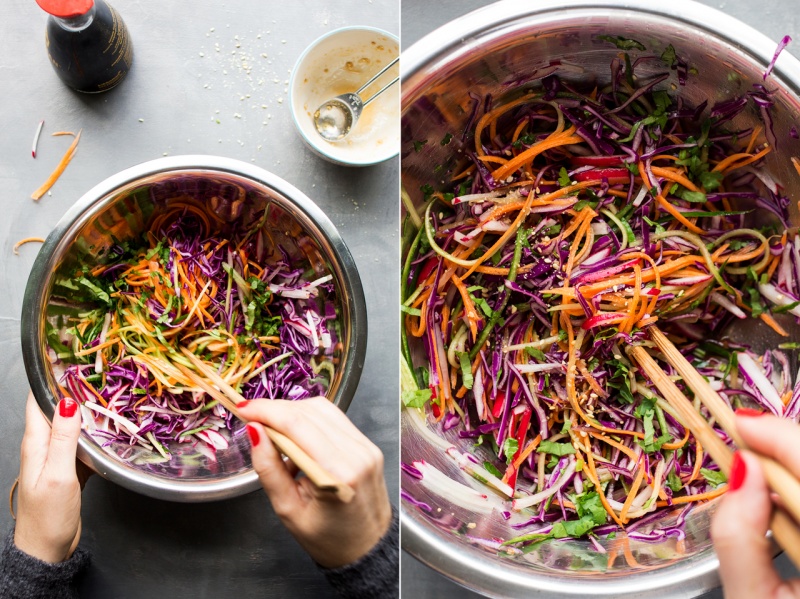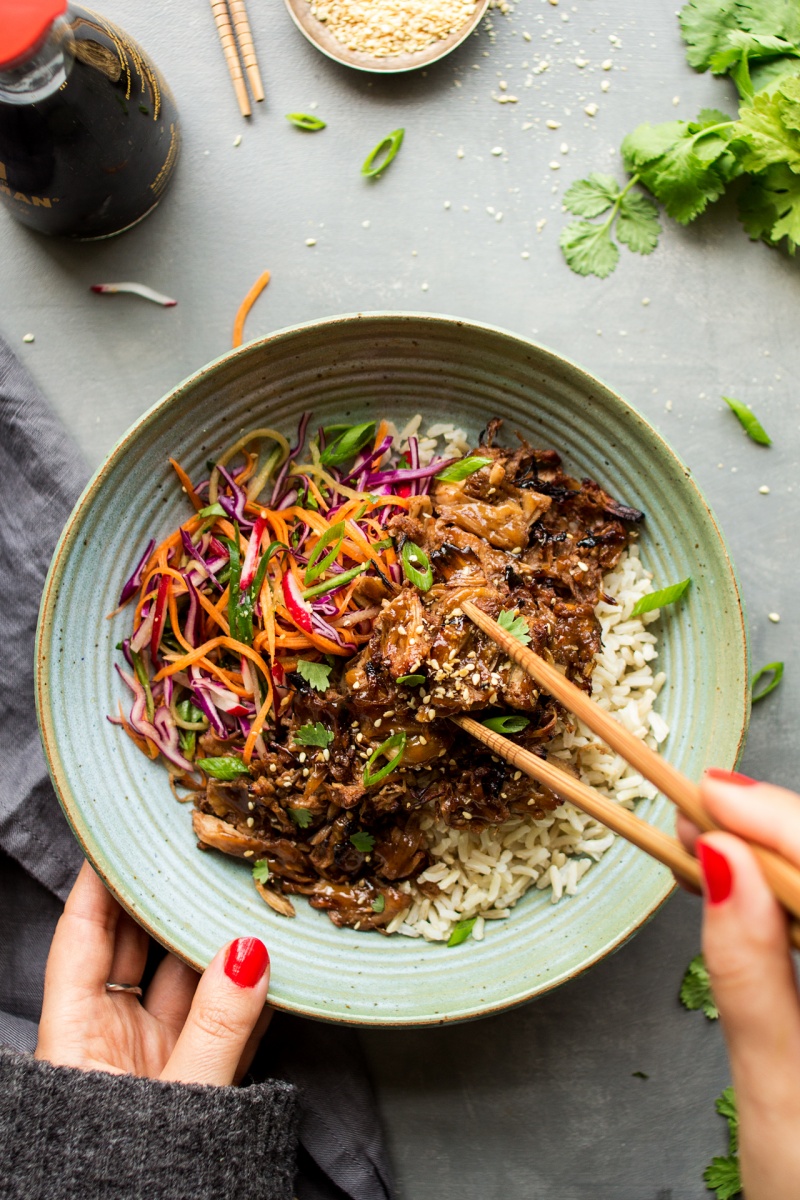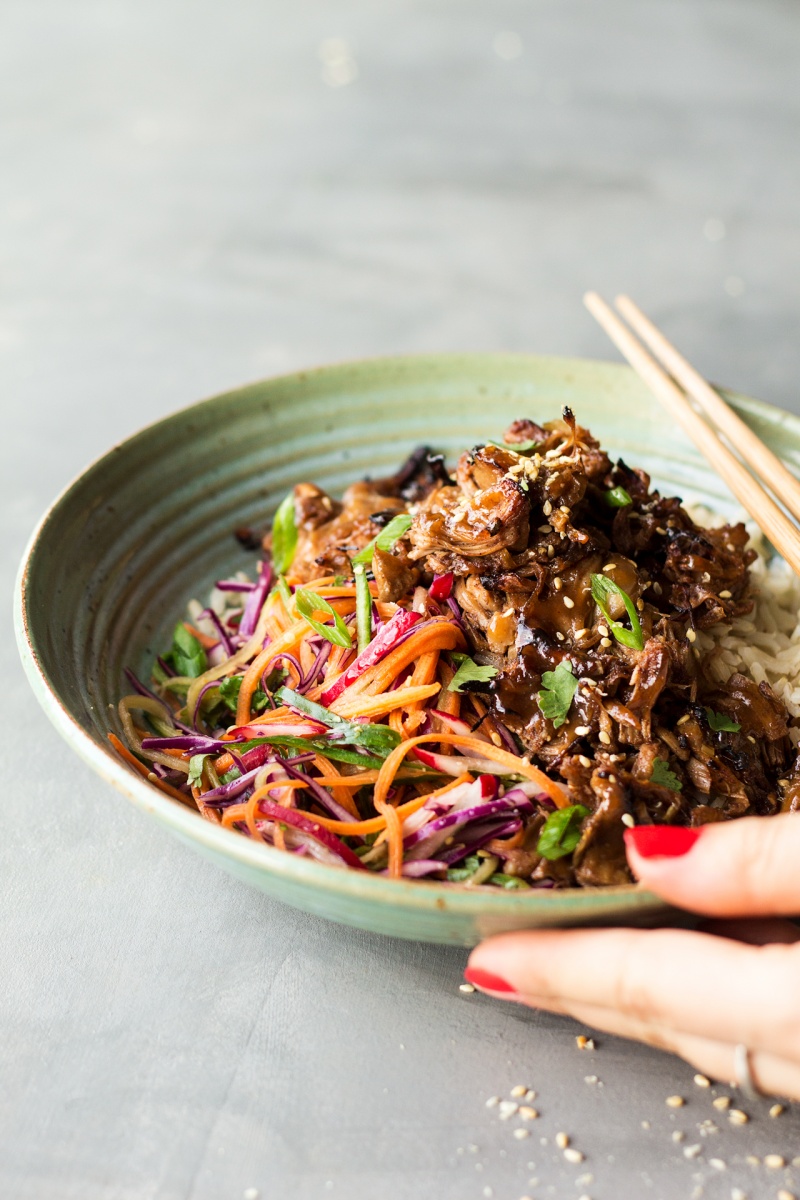 JACKFRUIT 'PULLED PORK'
2 cans x 400 g / 14 oz young (green) jackfruit in water
2 tbsp oil (I used peanut oil)
3 small shallots, finely diced
4 cloves garlic, finely diced
1 tbsp finely diced ginger, adjust to taste
2 lemongrass stalks, tender inner part finely diced (optional)
1 tsp Chinese five spice
60 ml / ¼ cup veggie stock (or water)
45 ml – 60 ml / 3 tbsp – 4 tbsp ( ¼ cup) tamari (for GF version) or soy sauce
2 tbsp rice vinegar
1 tbsp maple syrup
1-2 tbsp hoisin sauce
2 tsp toasted sesame oil
SLAW
1 carrot, julienned
small cucumber, julienned
small wedge of cabbage, shredded thinly
4 radishes, cut into matchsticks
1 small spring onion, thinly sliced
fresh coriander leaves, to garnish (optional)
1 tbsp tamari (for GF version) or soy sauce
2 tsp toasted sesame oil
1 tbsp rice vinegar
1 tsp maple syrup
toasted sesame seeds, to garnish (optional)
METHOD
JACKFRUIT 'PULLED PORK' (for best flavour, make a day ahead)
Drain both jackfruit tins. Cut the firm, pointy ends off each triangular piece of jackfruit (you can chop them finely and use them if you wish). Set aside.
Heat up the oil in a medium, heavy-bottomed pan. Fry the shallots until softened. Add the garlic, ginger and lemongrass (if using). Fry off gently until soft and fragrant.
Add the five spice mix and fry it off gently, stirring the whole time, for a minute or so.
Now add in the prepared jackfruit along with the veggie stock (or water). Let it stew on a low heat until softened. Break up the pieces with the back of a wooden spoon so that the individual fibres separate more.
Mix the remaining marinade ingredients in a small bowl and pour over the jackfruit.
Simmer the mixture gently for another 10-15 minutes – until all the excess moisture cooks out. Allow the mixture to cool down. Place in the fridge overnight to intensify the flavour.
Just before you are ready to assemble the bowls, set the oven to 200° C / 390° F fan function. Spread the jackfruit pieces on a baking paper-lined baking tray and brush them lightly with an extra tablespoon of hoisin sauce. Bake for about 20 minutes, until a little caramelised and browned around the edges.
SLAW
Place all the veggies, spring onions and chopped coriander in a mixing bowl.
Mix the dressing ingredients in a small bowl.
Toss in the dressing and sprinkle with toasted (and crushed in a pestle and mortar if you want to get more flavour out of them) sesame seeds.
ASSEMBLY
Serve the pulled jackfruit and slaw with a side of cooked brown rice.