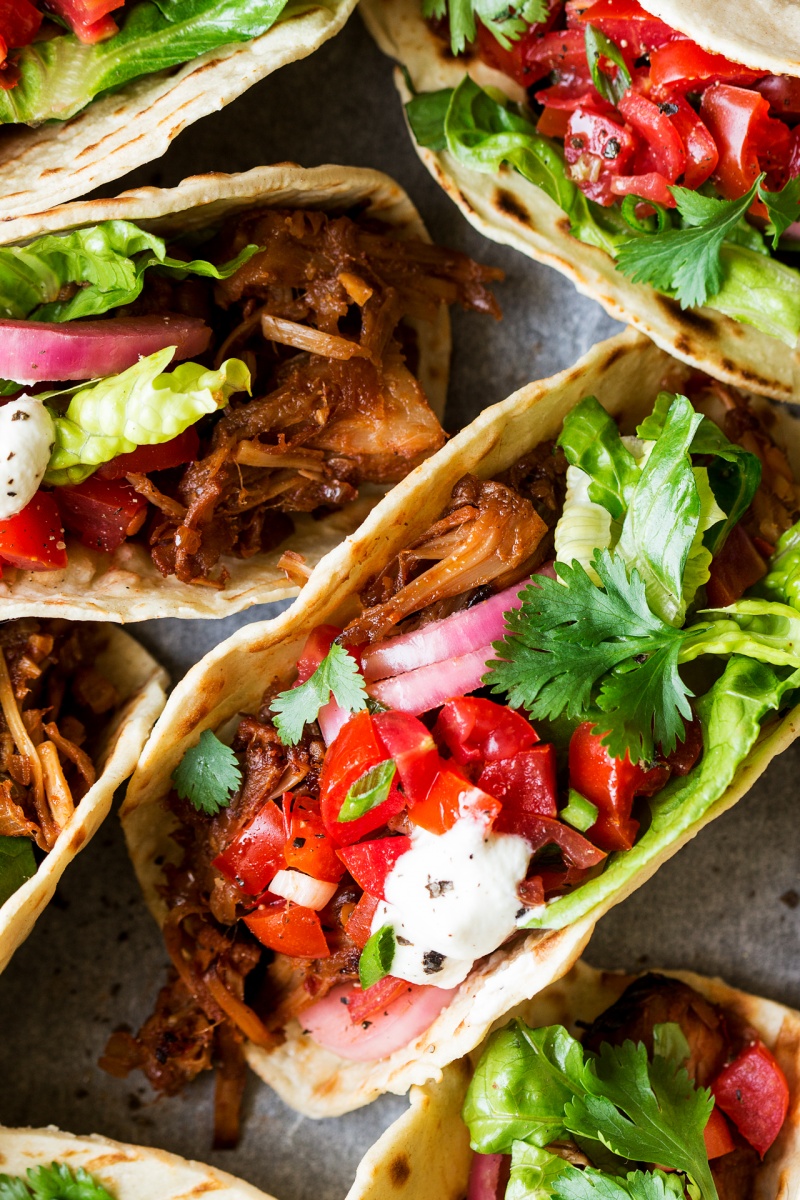 After the success of my bao bun recipe, jackfruit has become a bit of an obssession…The trouble is, no one sells it here 🙁 . There is one shop, which orders them for me, but as it takes a few weeks between me placing an order and the order actually arriving, I need to be organised about my recipe testing and creation when it comes to this elusive ingredient.
This batch took a little long to arrive but it is finally here, which made my day as I've been dying to make pulled jackfruit tacos for a while. The weather has become almost summery and what better way to celebrate summer (okay, spring still) than with a tray of juicy, filled to the brim, tacos, chilled craft beer and a postprandial nap in my hammock 😉 (my lazy cat, Tina, agrees!). Plus, it is Cinco de Mayo today, isn't it? So I feel like this Mexican-inspired feast has been perfectly timed.
These smoky and spicy tacos have got a big thumbs up from Duncan who could not wait for me to finish photographing them so that he can sink his teeth into at least one. I am rather pleased with how they turned out too and the only issue is that I'll now have to beg the shop owner to get me some more jackfruit. He seems a little bit bemused by my quirky taste in food as I haven't managed to explain what I use it for…Pretend pork!? I don't think he will appreciate the genius of this idea.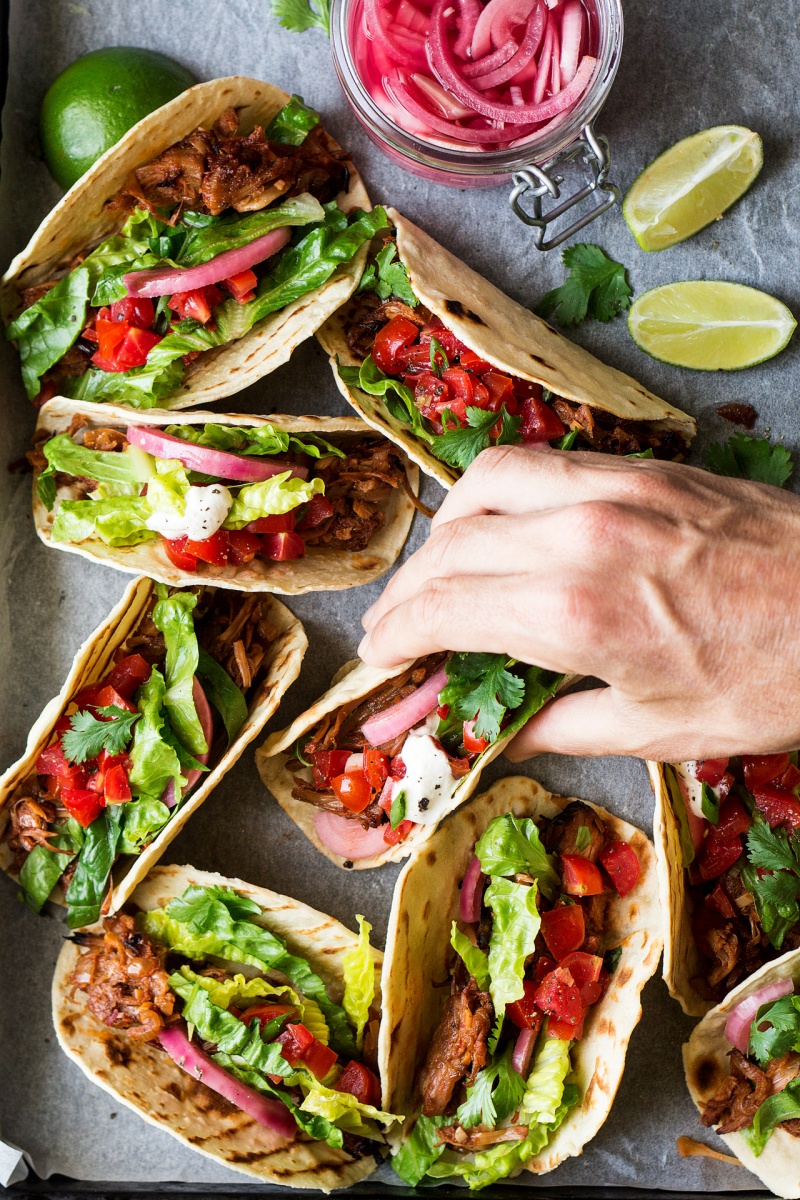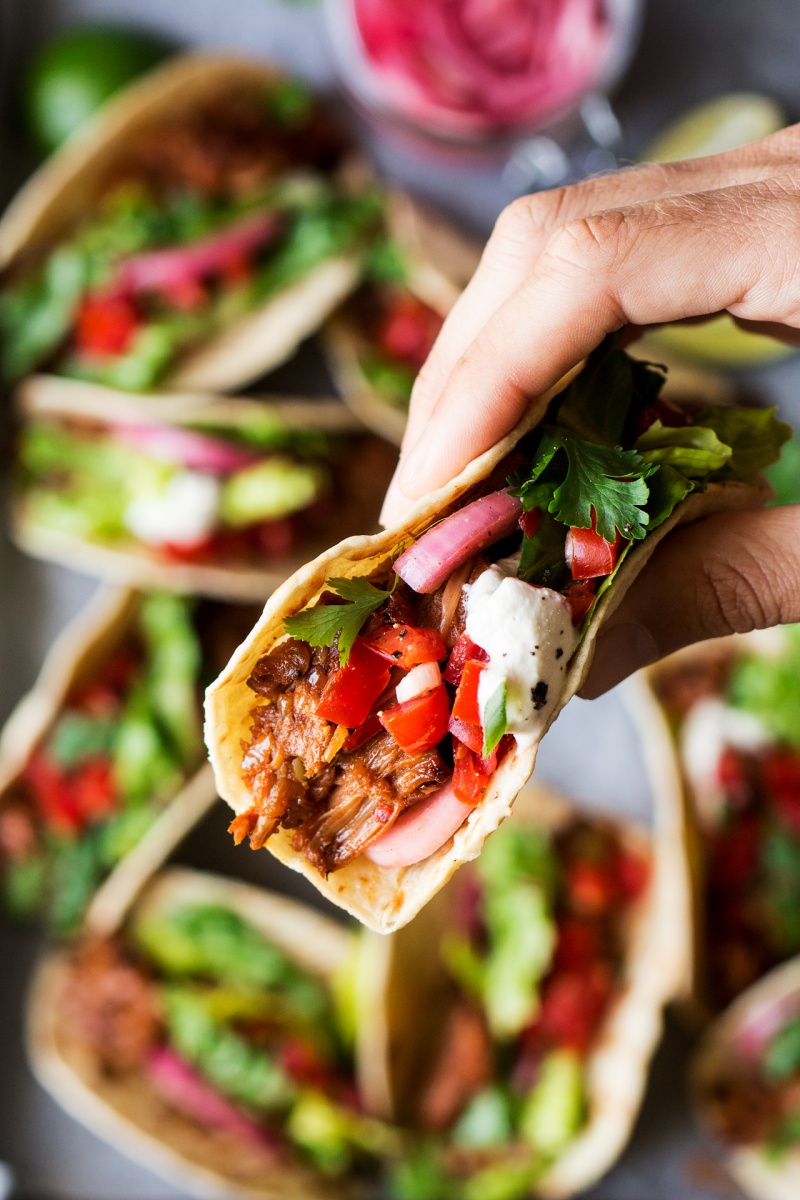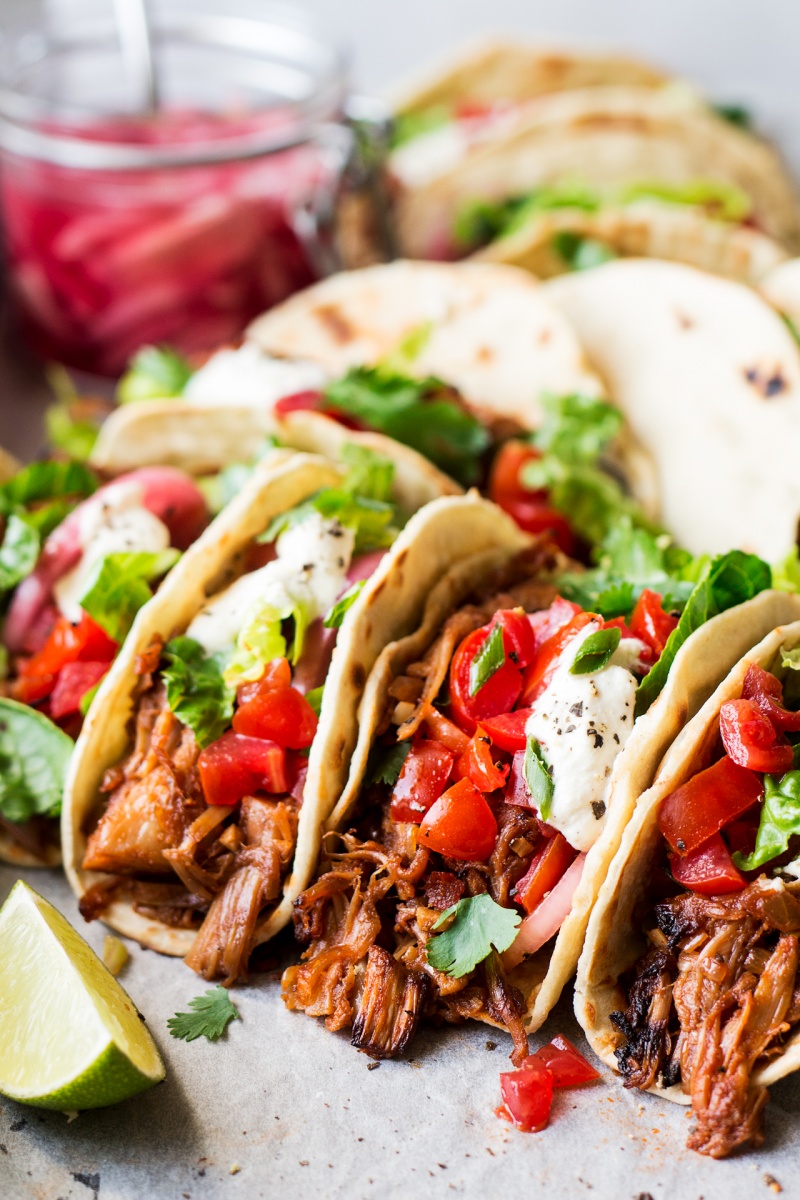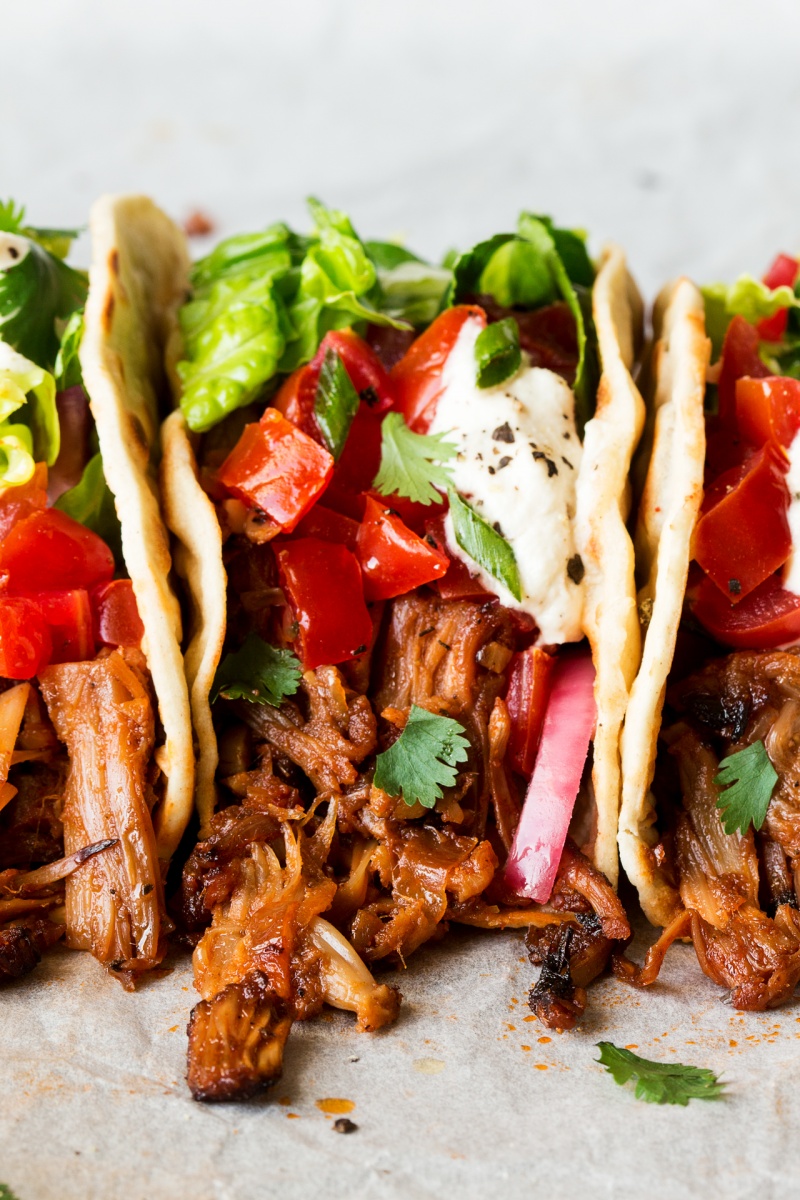 PULLED JACKFRUIT (for best flavour, make a day ahead)
4 tbsp olive oil
1 medium red onion, finely diced
4 cloves garlic, finely diced
1 heaped tsp ground cumin
1 tsp smoked paprika
1 tsp ground coriander
1 pinch ground cinnamon
2-3 pinches ground cloves, adjust to taste
1 tsp sambal oelek (Indonesian chilli paste) or chilli powder, to taste
2 tbsp tomato paste
2 x 565 g / 20 oz tins young (green) jackfruit in water
4 tbsp soy sauce
3 tbsp maple syrup
¼ tsp white pepper (black is okay too)
1-2 tsp liquid smoke**, adjust to taste
1 tbsp apple cider vinegar
SOFT TACOS (makes about 10 x 12 cm / 4.5″ diameter)
185 g / 1½ cups all purpose white flour
½ tsp baking powder
¾ tsp salt
2 tbsp vegetable oil (I used olive oil)
SALSA
15 ripe plum tomatoes
1 spring onion, sliced thinly
2 tsp lime juice
½ tsp sugar
salt & pepper, to taste
REMAINING INGREDIENTS
Romaine lettuce, shredded
quick-pickled red onions (details in this recipe)
vegan sour cream (details in this recipe)
small bunch of coriander
METHOD
PULLED JACKFRUIT (for best flavour, make a day ahead)
Drain both jackfruit tins. Cut the firm, pointy ends off each triangular piece of jackfruit (you can still use them if you wish, I don't). Set aside.
Heat up olive oil in a medium, heavy-bottomed, pan. Fry diced red onion until softened, translucent and lightly caramelised. Add chopped garlic and fry off gently until soft and fragrant.
Add most of the spices: cumin, smoked paprika, coriander, a pinch of cinnamon and cloves to the onion-garlic mixture. Fry them off gently, stirring the whole time, for a minute or so.
Mix in the tomato and chilli paste.
Now add in the prepared jackfruit along with soy sauce, maple syrup, liquid smoke and apple cider vinegar. Mix everything really well. Squash the jackfruit pieces with your mixing spoon so that the individual fibres separate more. Season with white pepper and another pinch of ground cloves if you wish. Simmer the mixture gently for another 10-15 minutes and then allow it to cool down. Place in the fridge overnight to intensify the flavour.
Just before you are ready to assemble the tacos, set the oven to 200° C / 390° F (fan function). Spread the jackfruit pieces on a baking paper-lined baking tray and bake for about 20-25 minutes, until a little browned.

TACOS

Put a kettle on. To make tacos mix flour, baking powder and salt in a big bowl. Add olive oil to the flour mixture and incorporate it well with your hands. Once the water comes to the boil, add about 120 ml / ½ cup of hot water in. Initially mix it all together with a spoon (as the mixture will be too hot), then start kneading the dough with your hands – you may need to add another splash of water if the dough is still too dry.
Knead for about 5 minutes until the dough is smooth and elastic. Rest the dough for about 30 min covered with a damp kitchen towel. The resting step is very important so do not skip it. You can also make the dough a day in advance and keep it in the fridge overnight – if you decide to do that, bring the dough to room temperature before rolling the tacos.
Once the dough has rested, divide it into 10 equal pieces.
Set a medium, heavy-bottomed or griddle pan on a medium heat (it's important not to get the pan too hot, I used setting 4 out of 6).
Roll each piece of dough into a ball. Using a rolling pin, roll out tortillas on a lightly floured surface. Refrain from adding too much flour as it will produce dry tacos. Once you are happy with the shape* and thickness (make them as thin as possible), put your taco on a hot pan.
Little bubbles will start to appear after about 30 seconds, if any large air pockets appear pierce them with the tip of a knife. After about 1-2 minutes from when the taco hits the pan, flip the taco and cook for only about 30 seconds on the other side. Do not let them sit in the hot pan for too long as it will produce dry and cracking tacos.
Keep cooked tacos in a stack in a warm place (like a very low oven) covered with a damp towel (to prevent them from drying out).

SALSA

Chop tomatoes into a fine dice. Add sliced spring onion and lime juice. Season with salt, pepper and sugar. Set aside.

ASSEMBLY

Finally, assemble your tacos by putting pulled jackfruit, chopped lettuce, tomato salsa, pickled onions (if using) and coriander in the middle of each taco. Drizzle with vegan sour cream.
NOTES
*Don't get discouraged if your tacos aren't perfect circles. If you are finding it hard to roll out them into circles, use an upside down bowl to help you cut out perfect circles from your dough.
**If you don't have liquid smoke, you could increase the amount of smoked paprika instead.