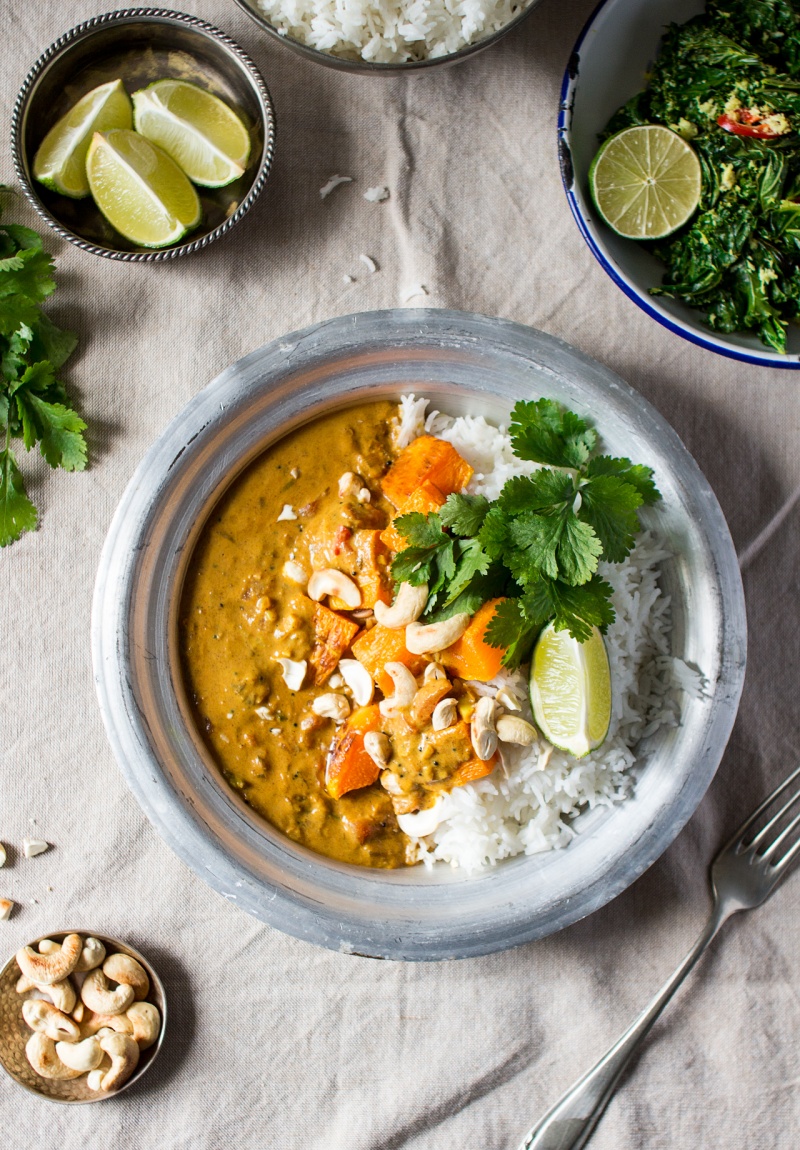 A good warming curry is one of my favourite things to eat in cold weather. Being able to transform a bunch of everyday ingredients into a mouth-watering dish with a judicious use of spices feels like culinary wizardry.
One day, I am hoping to be able to visit India and get some curry making lessons from a master. For now, I have to rely on my general cooking knowledge, experience of eating various curries over the years and a method of trial and error.
The spicing of this dish took me a few goes and I'm really pleased with the final result. It is super simple and quick to make and even though dry roasting and then grinding your own spices is preferable to using an already ground one, sometimes speed and convenience are more of a consideration.
This pumpkin coconut curry has a bit of a kick (use less chilli if you don't like hot food) which is nicely soothed by the cooling coconut sauce. It's delicious with dry roasted cashews and fresh coriander leaves on top. As curries and stews tend to gain more flavour over time, make this dish a day ahead and I promise that you'll have a sudden urge to lick your plate clean;).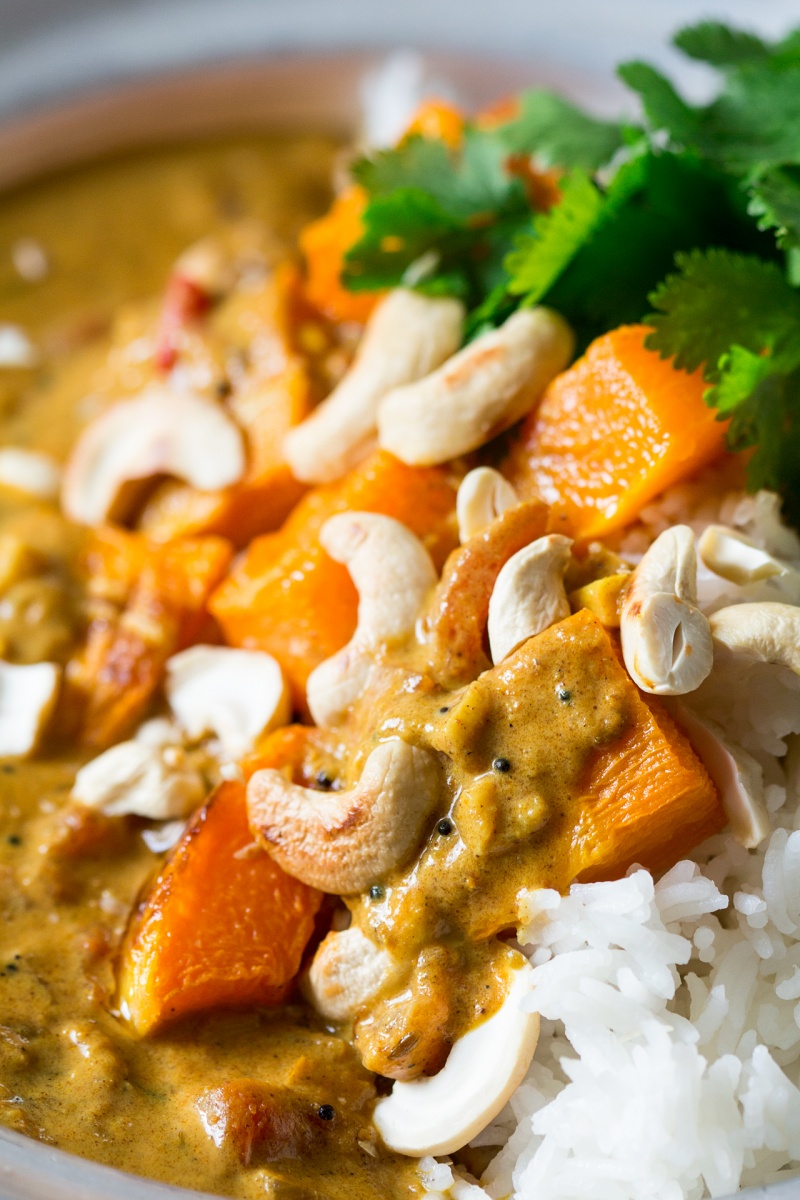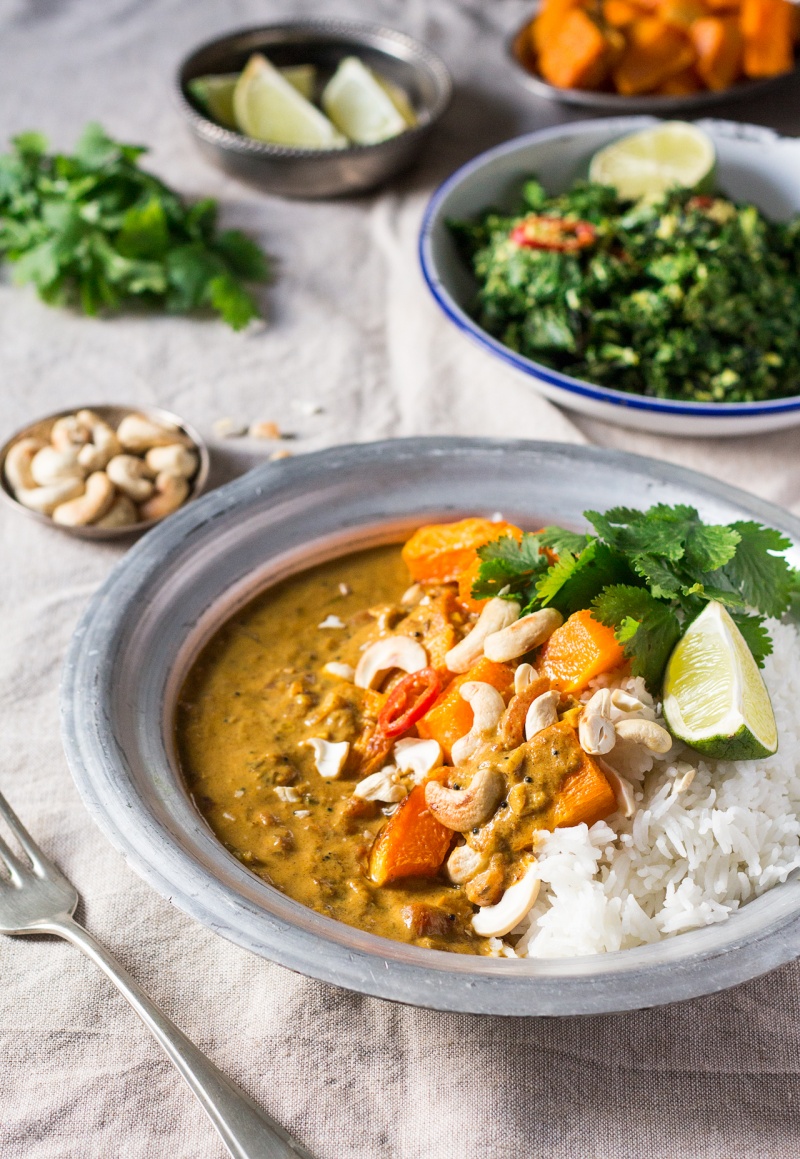 about 600 g pumpkin or butternut squash, cut into equal size cubes
2 tbsp rapeseed / canola oil
1 tsp black mustard seeds
1 small red onion, finely chopped
4 garlic cloves, finely chopped
4 tsp finely grated ginger
1 tsp ground cumin
½-1 hot red chilli, sliced
¼ tsp hot chilli powder
1½ tsp garam masala
1½ tsp ground coriander
1 tsp turmeric
1 tsp cinnamon
1-2 tsp maple syrup
a handful of coriander, stalks chopped* + leaves for serving
2 cups / 1 tin full-fat coconut milk
½ tin chopped tomatoes / 1 large tomato (peeled and chopped)
about 1¼ tsp fine sea salt
lime wedges, to serve
handful of cashews, lightly toasted (to serve)
METHOD
OPTIONAL STEP: I prefer my pumpkin caramelised so instead of cooking it in the curry sauce, I roasted it in the oven. I drizzled it with olive oil, sprinkled with some salt and baked on a baking tray in a 200° C / 390° F oven for about 30 mins.
Heat up oil on a medium heat, in a heavy bottom pan. Once the oil is hot, add mustard seeds and wait until they start popping, stirring from time to time. Wait another minute before adding onion.
Add chopped onion, sweat it gently, stirring from time to time until it gets almost soft.
Add garlic, ginger, fresh chilli and chopped coriander stalks. Cook for 2 minutes stirring frequently so that ginger does not stick to the pan.
Now add all the ground spices and 1 tsp of salt. Reduce the heat to low and coat everything in the pot in spices. Stir frequently, cook for 1-2 minutes until all spices are fragrant.
Add chopped tomatoes and ¼ cup / 60 ml of water. Cook for 2 minutes until tomatoes become mushy.
Add coconut milk and pumpkin. Let everything come to a gentle boil, simmer covered until pumpkin is tender. If you're roasting the pumpkin, simmer the sauce for about 10 minutes.
Taste and adjust spicing if needed. I added a bit more salt and a 2 teaspoons of maple syrup.
Serve with coriander leaves and chopped cashews on top, with basmati rice or a vegan naan. A side of spicy coconut kale goes really well with it too.
NOTES
* You can leave coriander stalks whole and remove them before serving the curry or chop them up finely and leave them in.
As with most curries and stews, the flavours of this dish benefit from being made a day ahead.