Sometimes, necessity really is the mother of invention. As we were driving to get food shopping done for upcoming recipes, our car broke down on the busiest and most dangerous road on the island, in pitch black, where speed limit isn't a concept anyone seems to be familiar with and where people are often seen texting (yes! texting!!) while driving because they know the road, why would they need two hands while driving…!? To add insult to injury, I forgot to top up my phone… We had no other choice but to walk to the nearest petrol station in search of a towing service. Even though the sky was scattered with stars, it wasn't the most relaxed or romantic walk. We had no torch, were wearing all dark and non-reflective clothing and I'm not known for my night vision either 😉 . Every time a car blasted past, we stopped in readiness to throw ourselves into a ditch in case the driver hadn't noticed us. Luckily, we did not have to walk very far, the guy at the petrol station was very friendly and helpful and the tow truck appeared within half an hour. The tow truck guy was such a character that he made us both laugh despite the rough night and kindly gave us a lift to the main town afterwards! The car is currently being fixed and we are hoping to be mobile again soon! Yay!
So, as we have no transport, I've had to come up with a recipe from what I already had in the house. This pumpkin crostini is inspired by one I enjoyed for breakfast at one of Warsaw's vegan-friendly food spots. It's simple but the combination of flavours and textures works a treat: creamy hummus, sweet pumpkin (sweet potato works great too!), slightly bitter and garlicky rocket pesto, sour pomegranate seeds, crunchy pine nuts and spicy chilli flakes. I recommend having it warm on a freshly toasted sourdough bread. It makes a great lunch or breakfast (if, like me, you don't scrunch up your nose at savoury open sandwiches for the first meal of the day), but it will also make a pretty canapes if you are having friends around for a few drinks.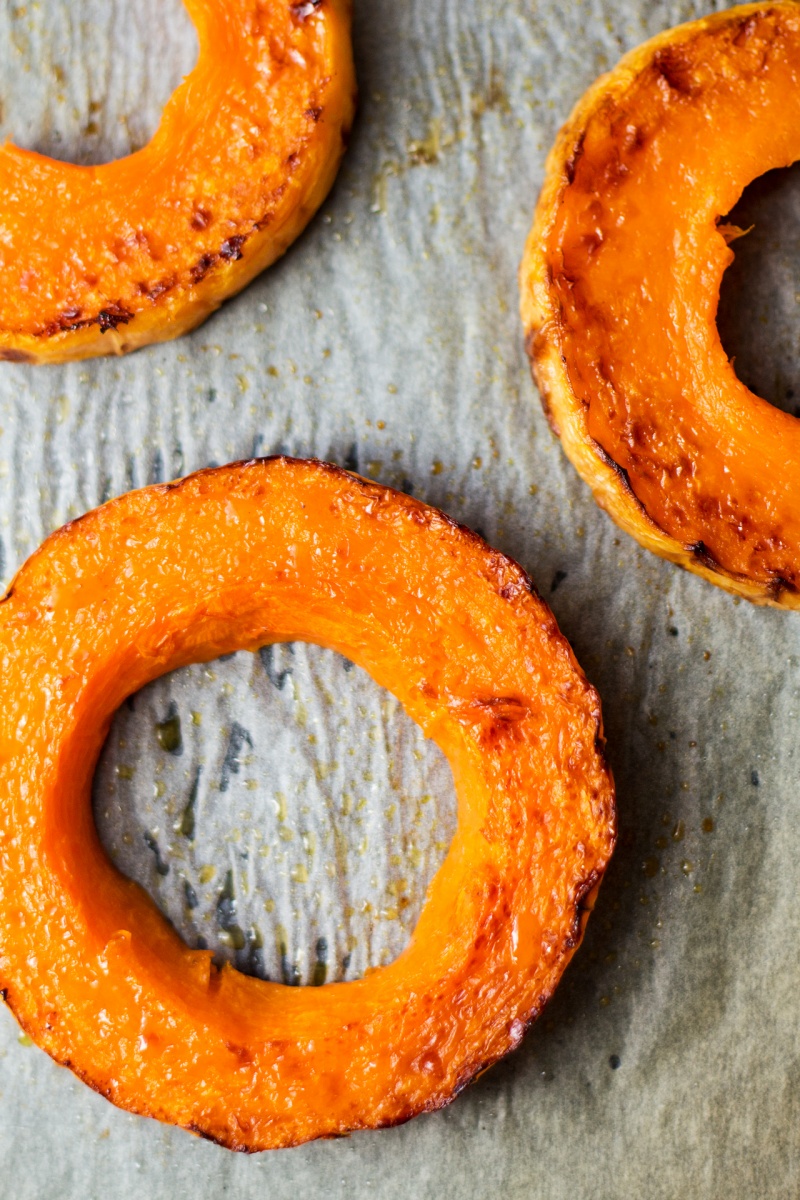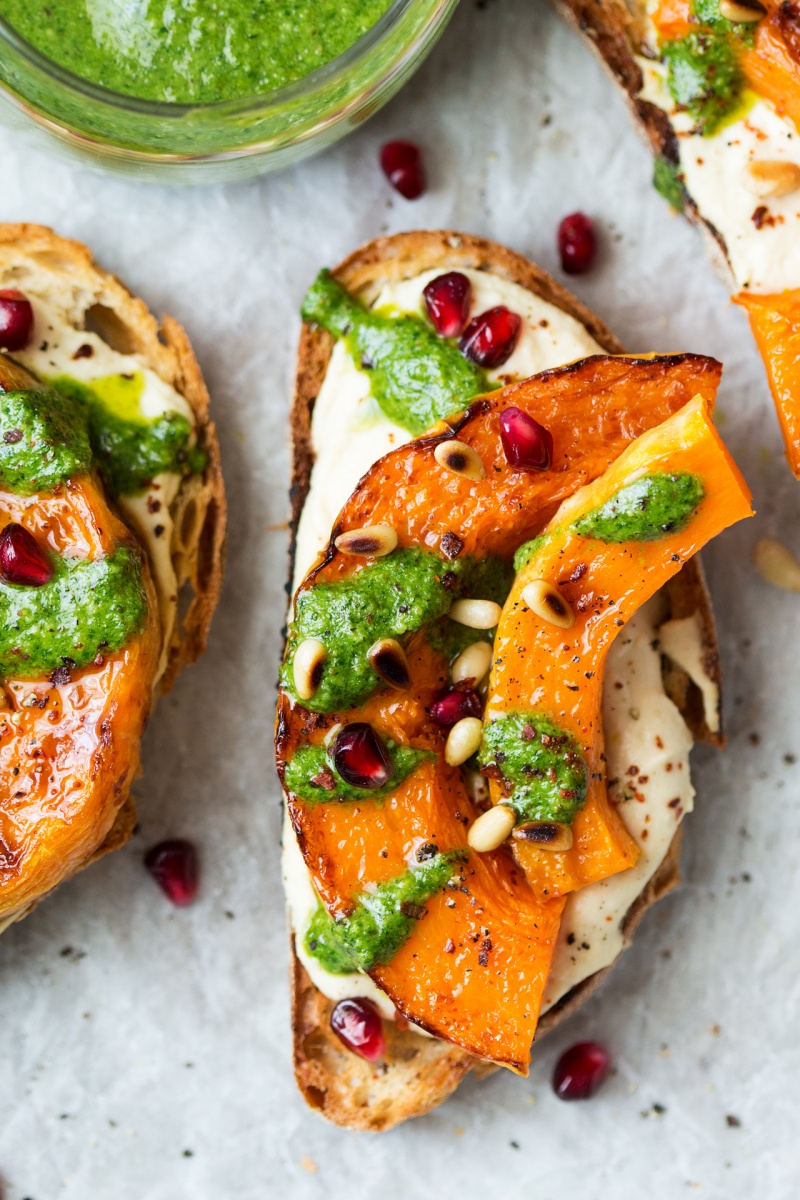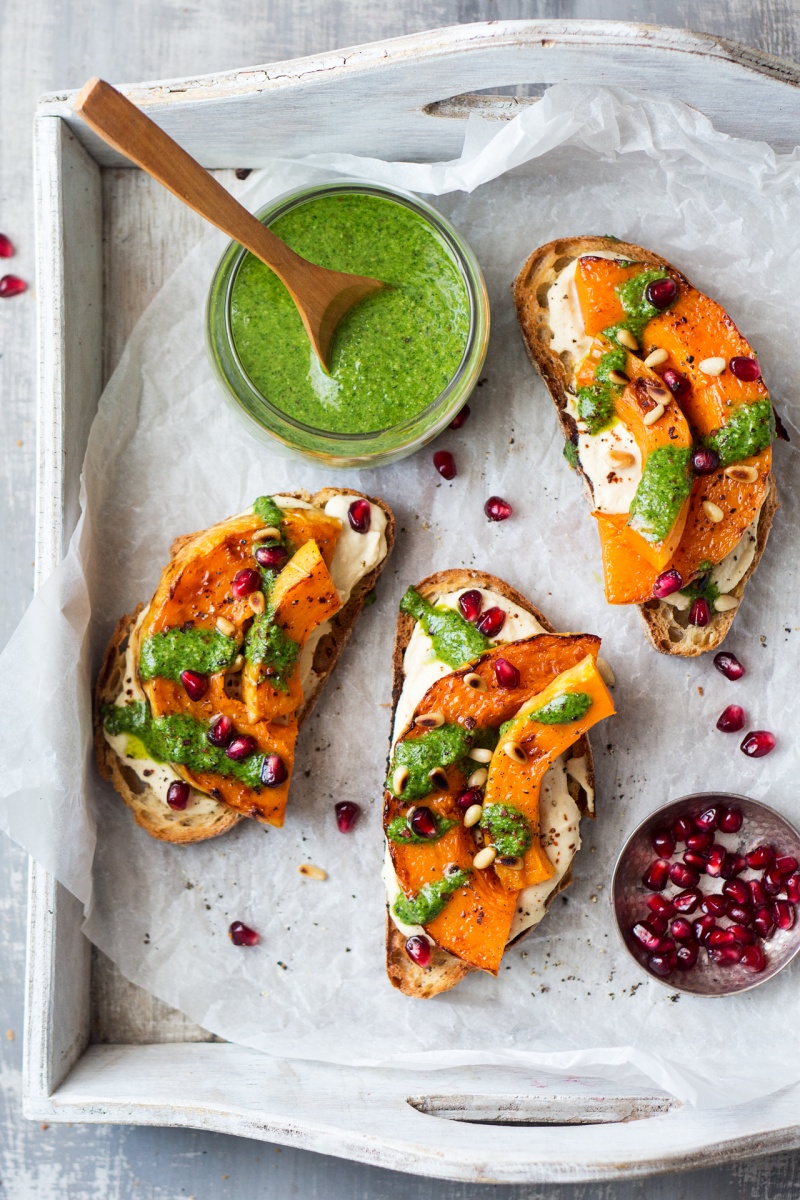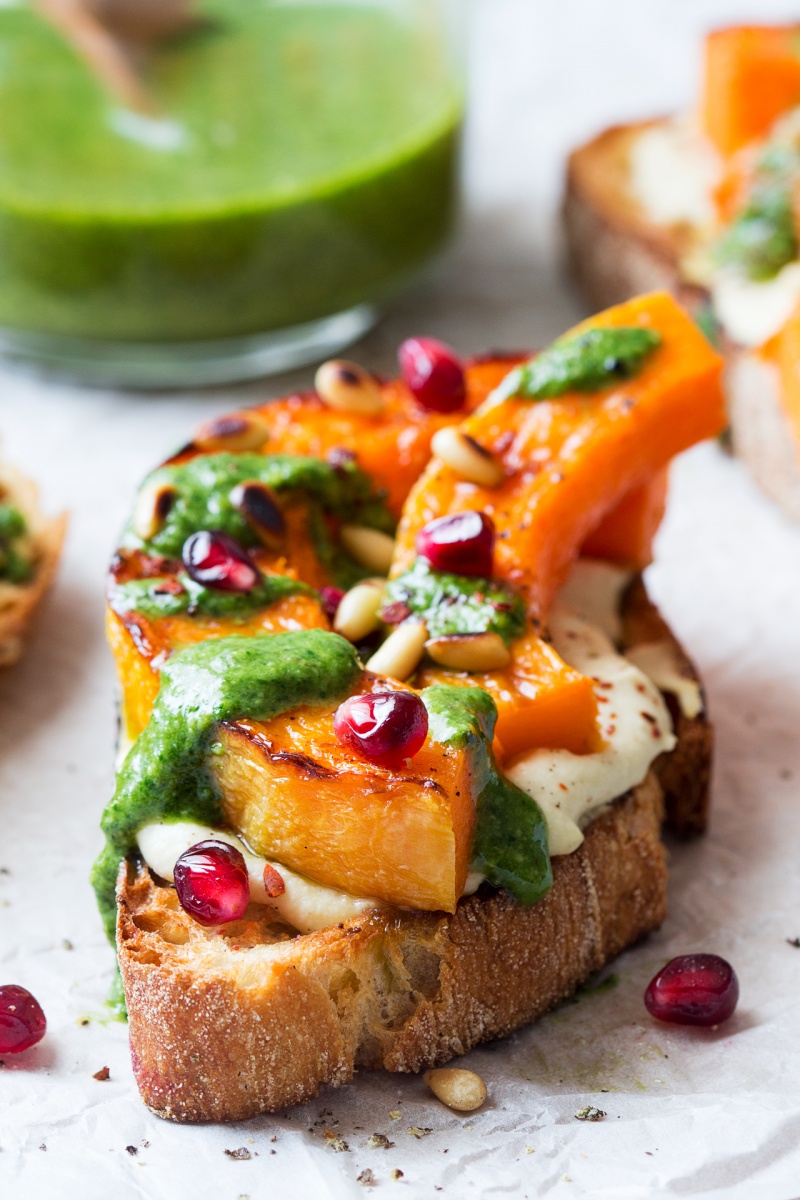 CROSTINI INGREDIENTS
4 slices of toasted bread (I used sourdough bread)
½ cup hummus OR vegan ricotta
4 slices of butternut pumpkin / squash (sweet potato works well too!)
1 tbsp pine nuts, toasted on a pan
seeds of ½ pomegranate
olive oil
½ tsp chilli flakes OR Turkish pul biber
ROCKET / ARUGULA PESTO
28 g rocket / 1 oz rocket / arugula
120 ml / ½ cup extra virgin olive oil
2 tbsp lemon juice
2 tbsp nutritional yeast
28 g / 1 oz walnuts, toasted on a pan
1 large garlic clove
pinch of sugar
¾-1 tsp salt, adjust to taste
black pepper, to taste
METHOD
Heat up the oven to 200° C / 390° F and line a baking tray with a piece of baking paper.
Wash butternut pumpkin / squash and cut into 1.25 mm / 0.5 " slices. Brush them with olive oil, season with salt and bake for 30-40 mins in the preheated oven, flipping the slices to the other side half way through baking time. The pumpkin is ready once the flesh is soft and nicely caramelised on the outside.
Place dry rocket, garlic and toasted walnuts in a herb chopper with olive oil. Blitz into a fine pesto. Season with lemon juice, salt, pepper, a pinch of sugar and nutritional yeast.
Toast your bread slices, top with hummus or vegan ricotta and caramelised pumpkin slices. Season with black pepper, drizzle with rocket pesto and sprinkle with pomegranate seeds and toasted pine nuts.