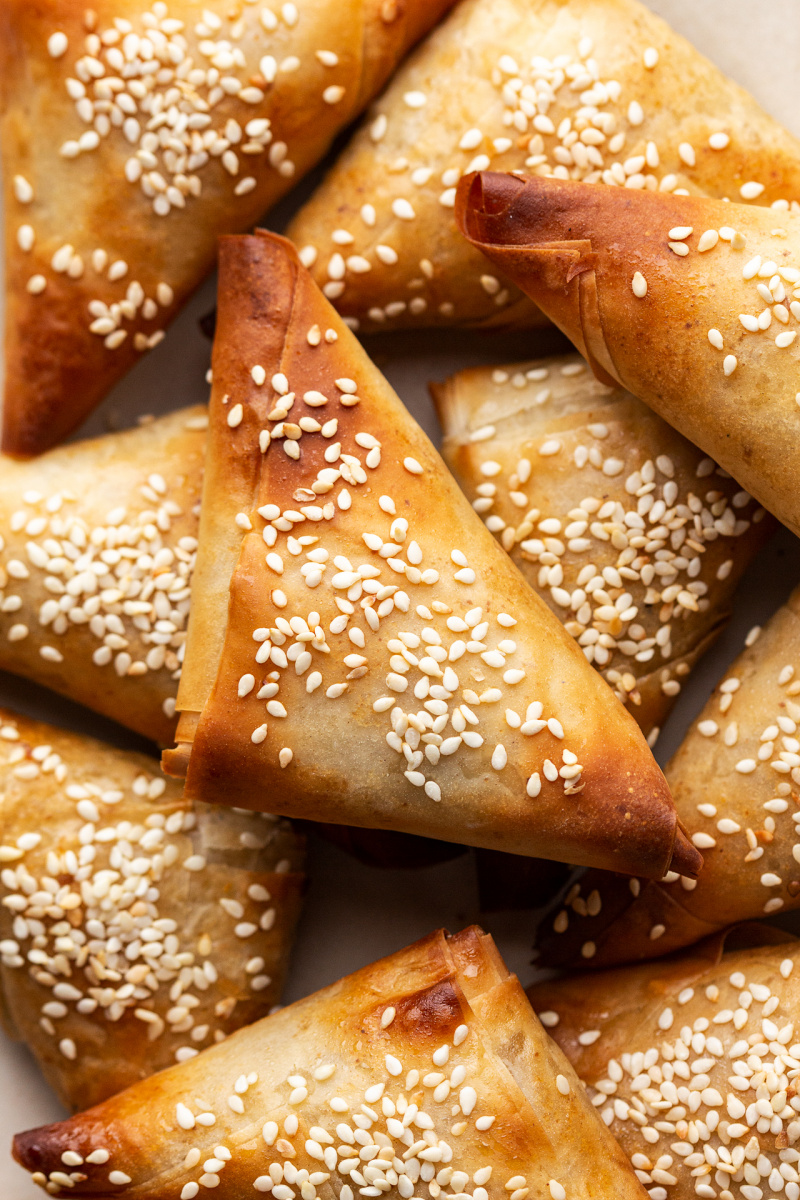 Hello everyone! I'm sorry for a bit of a radio silence, but I was so exhausted after a month of renovating that I needed a few days to recuperate once I got back home. It was quite a stressful month and the renovation took a week longer than I planned, but I am done at last – the keys are with the estate agent and I hope that the place sells quickly.
I feel a mixture of excitement at the prospect of no longer having to worry about finding tenants or dealing with repairs, but also sadness as that's the end of an era for me. This flat was my very first property and I still remember the excitement I felt when I got the keys. I slept on an air mattress in the middle of an empty apartment yet felt joy at not having to share my space with anyone anymore.
With Thanksgiving just round the corner, swiftly followed by Christmas, I made a tray of golden pumpkin phyllo triangles that would be a welcome addition to any family gathering – should we get a break from Covid and are able to celebrate in a larger group at all. These crispy pastry triangles are inspired by the Greek spanakopitakia I made a while back. They are easy to make, they marry some of this season's best flavours and make a fun appetizer. I hope you'll enjoy both making and eating them.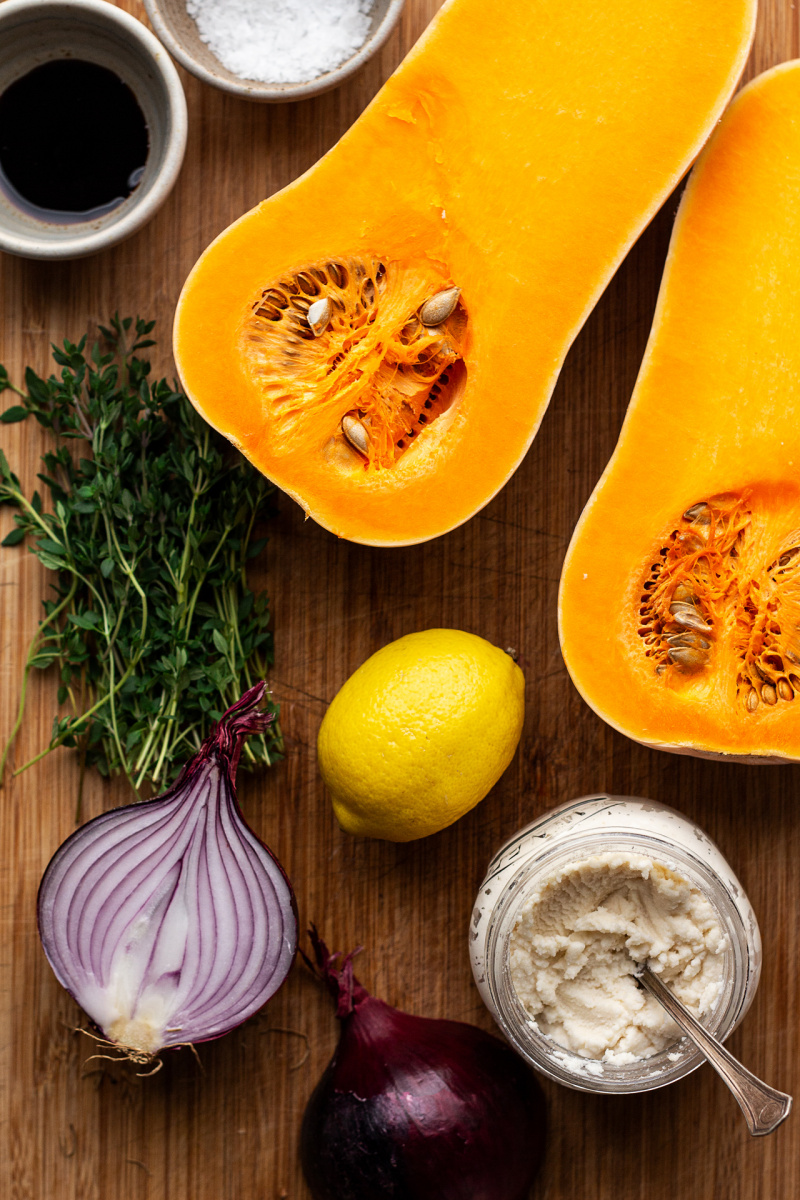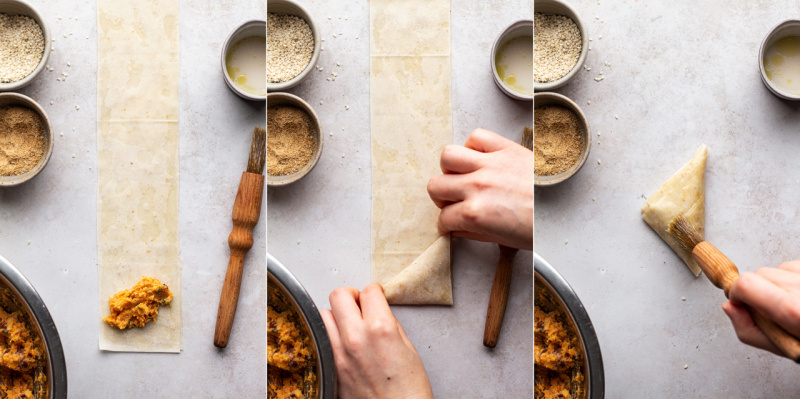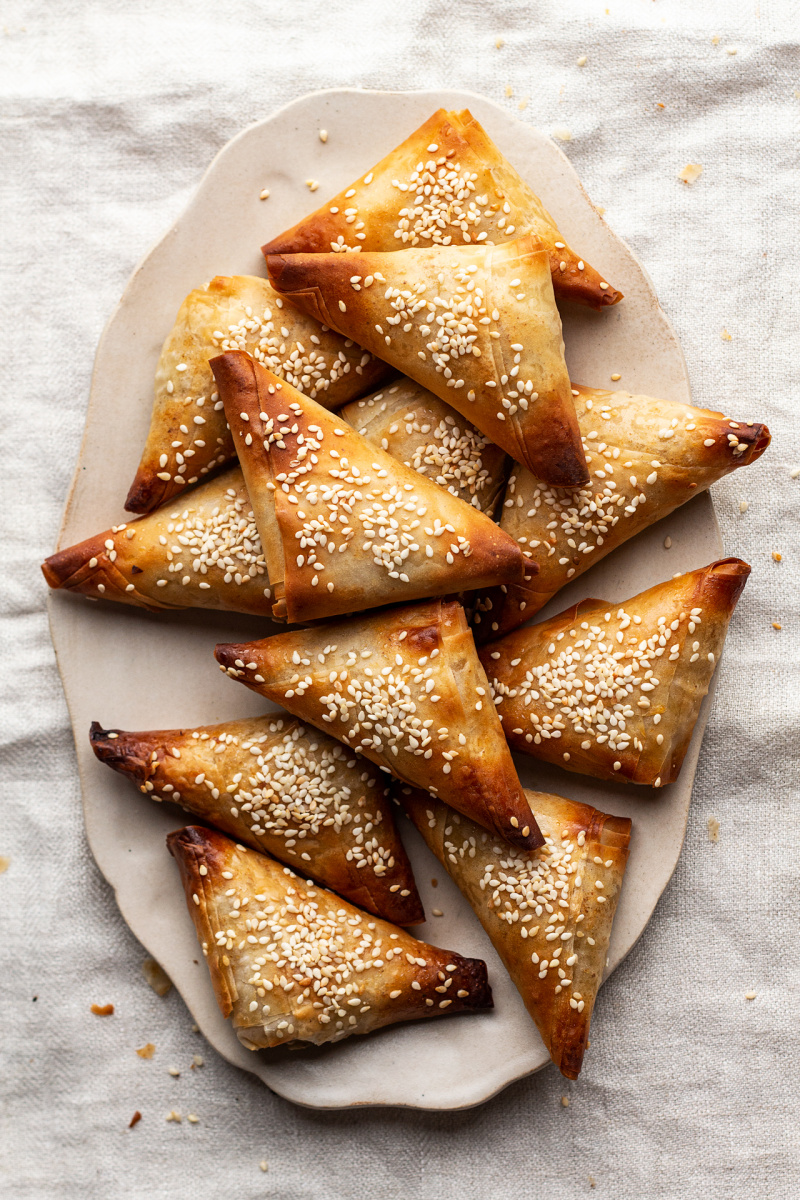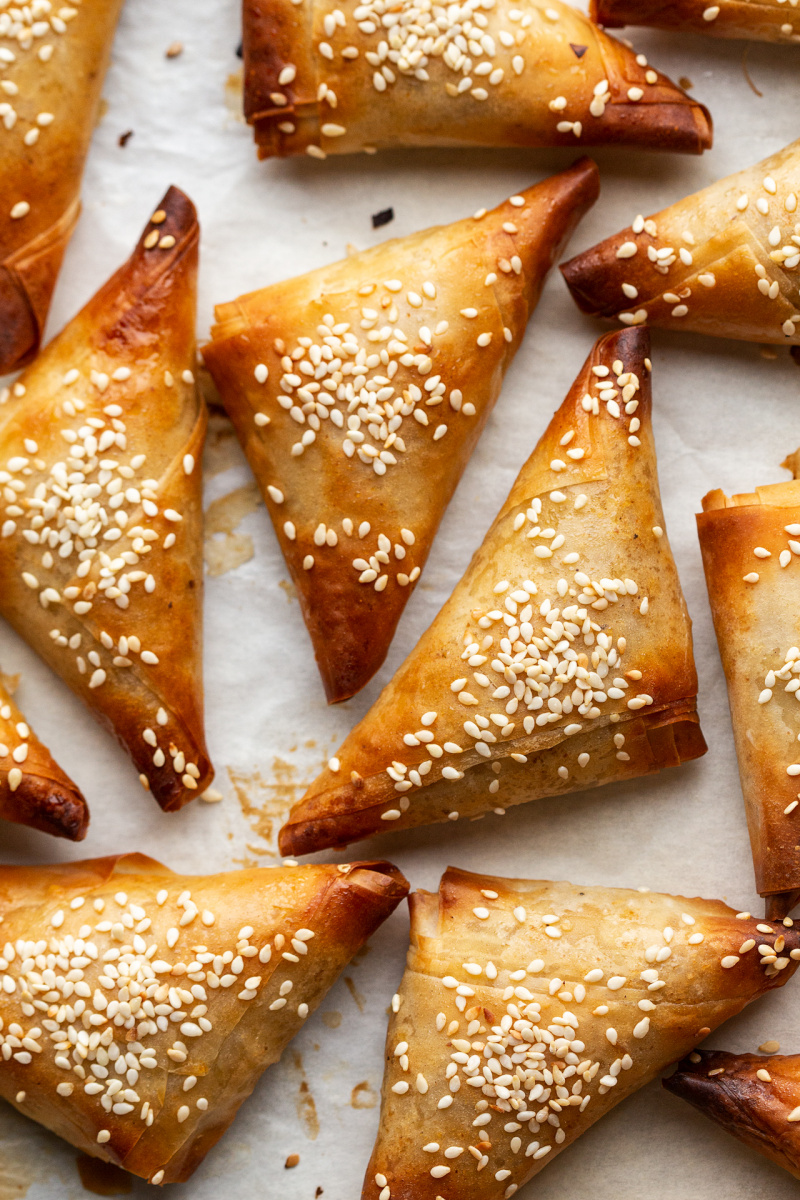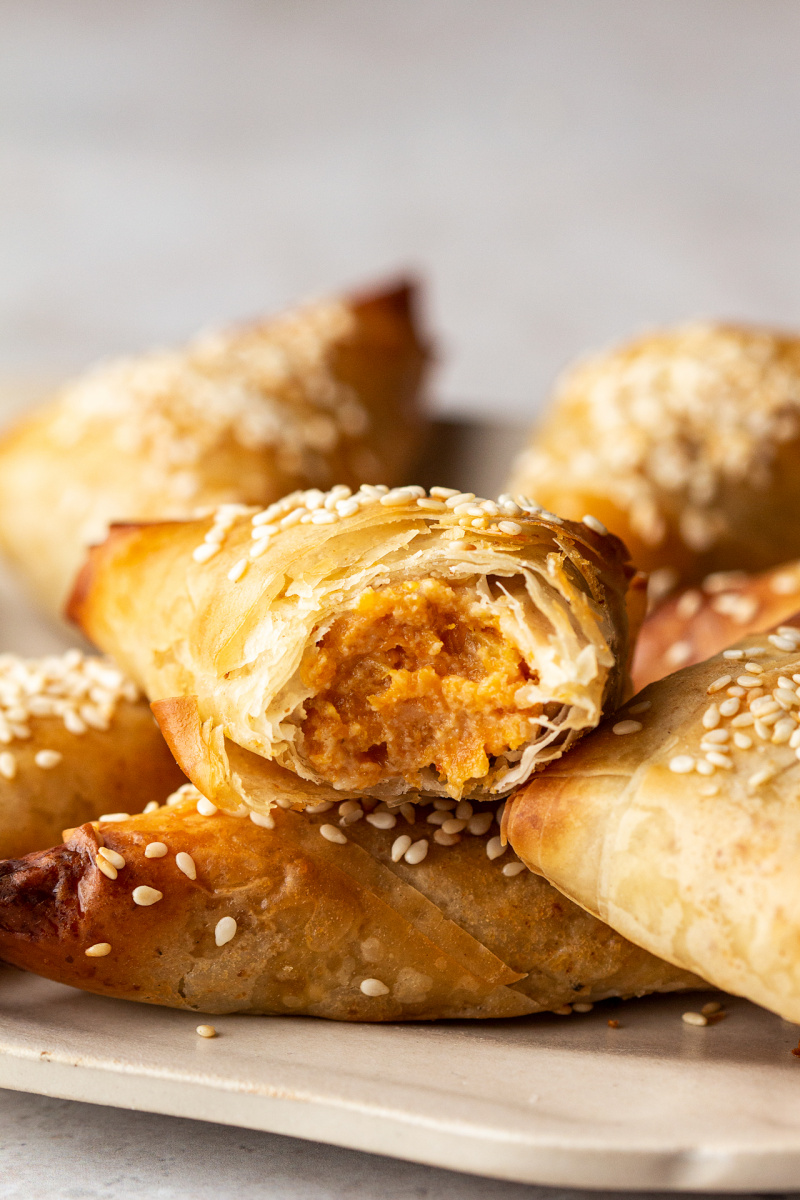 100 g / 3½ oz almond flakes* soaked in boiling water for a few hours or ½ cup vegan ricotta cheese
1 lemon, zest and juice
fine sea salt to taste
400 g / 14 oz firm pumpkin or butternut squash, cubed
2 tbsp olive oil + more for brushing
1 small red onion
1 tsp sugar, adjust to taste
1-2 tbsp quality balsamic vinegar
1 garlic clove, finely grated
fresh thyme, I used 8 sprigs
a good pinch of chilli flakes
black pepper, to taste
¼ cup fine breadcrumbs
vegan egg wash: 1 tbsp plant milk + 1 tsp maple syrup + 1 tsp olive oil
white sesame seeds, for garnish
1 pack vegan phyllo sheets, defrosted (mine was 270 g / 9½ oz, 7 sheets)
METHOD
Make your almond ricotta – this recipe will make more than you need but your blender will struggle to make a smaller amount. Drain soaking water away, place the almonds in a blender with a good squeeze of lemon juice (make sure you zest the lemon first) and water to obtain a smooth paste. Salt to taste. Place the mixture in the middle of a muslin cloth in a small sieve suspended over a bowl and weigh the mixture down to drain extra moisture away.
Heat up the oven to 200° C / 390° F and grab a large baking tray.
Cut your pumpkin / squash into a uniform dice, coat in about 2 tsp of olive oil and season with salt. Place on a large baking tray, leaving about a third of the tray free.
Coat onion slices in about 4 tsp of olive oil and place on the same baking tray. While squash / pumpkin pieces should be as spread out as much as possible to get a nice char, the onions slices should overlap so that they stay moist.
Bake for about 30 minutes, giving both a good stir 15 minutes in. After 30 minutes, your squash / pumpkin should be done – if so, remove it from the tray.
Season cooked onions with a generous sprinkling of salt and sugar and coat in balsamic vinegar. Return to the oven for another 10-15 minutes, giving the onion another stir halfway through (approx. 7 minutes in).
Pick out and discard dried out bits of onion (if any) and chop the remainder finely. Mash baked pumpkin / squash with a fork and place in a mixing bowl, together with chopped up onion and ½ cup of almond (or other) vegan ricotta. Mix well. Season with lemon zest, garlic, fresh thyme leaves (I used about 8 sprigs), chilli flakes, salt and pepper. Make sure the mixture is not too wet, it should keep its shape when spooned.
Lower the oven temperature to 190° C / 375° F and line a large baking tray with a piece of baking paper.
Prepare a small bowl with olive oil, a pastry brush, a bowl of breadcrumbs, a bowl with egg wash and one with sesame seeds, as well as two damp kitchen towels to protect the pastry from drying out.
Measure the width of your pastry roll and divide into as many 5.5-6.5 cm / 2.2-2.5″ wide segments as you can. The brand I used was about 26 cm / 10″ wide, which allowed me to cut it into four 6.5 cm / 2.5″ segments. Cut one segment off at a time and keep the rest of the pastry covered with a damp kitchen towel.
Unfurl the first segment and place the first strip of pastry on the bench ahead of you, keep the rest under the damp towel. Brush it with a small amount of olive oil, sprinkle with a thin layer of breadcrumbs so that the pastry layers do not stick to each other and the pastry stays crunchy. Now, place another strip on top of the first one and brush it lightly with oil again and sprinkle with breadcrumbs.
Place a heaped teaspoon of filling at the bottom of each strip and then start folding the pastry around the filling (see the photos in the post).
Seal the triangle with a dab of olive oil. Place on a baking tray under a damp kitchen towel. Continue until you use up all of the filling or pastry sheets.
Brush the tops of the triangles with vegan egg wash and sprinkle with sesame seeds. Bake for about 15 minutes (until golden) turning the tray around half way through to make sure the triangles brown evenly. Consume immediately.
*Alternatively, you could use a block of firm tofu instead. The best way to do that is to drain 200 g tofu, freeze it for a day and defrost it first – this will make the tofu more crumbly. You could also use tofu straight out of a packet, but make sure you drain it well first.