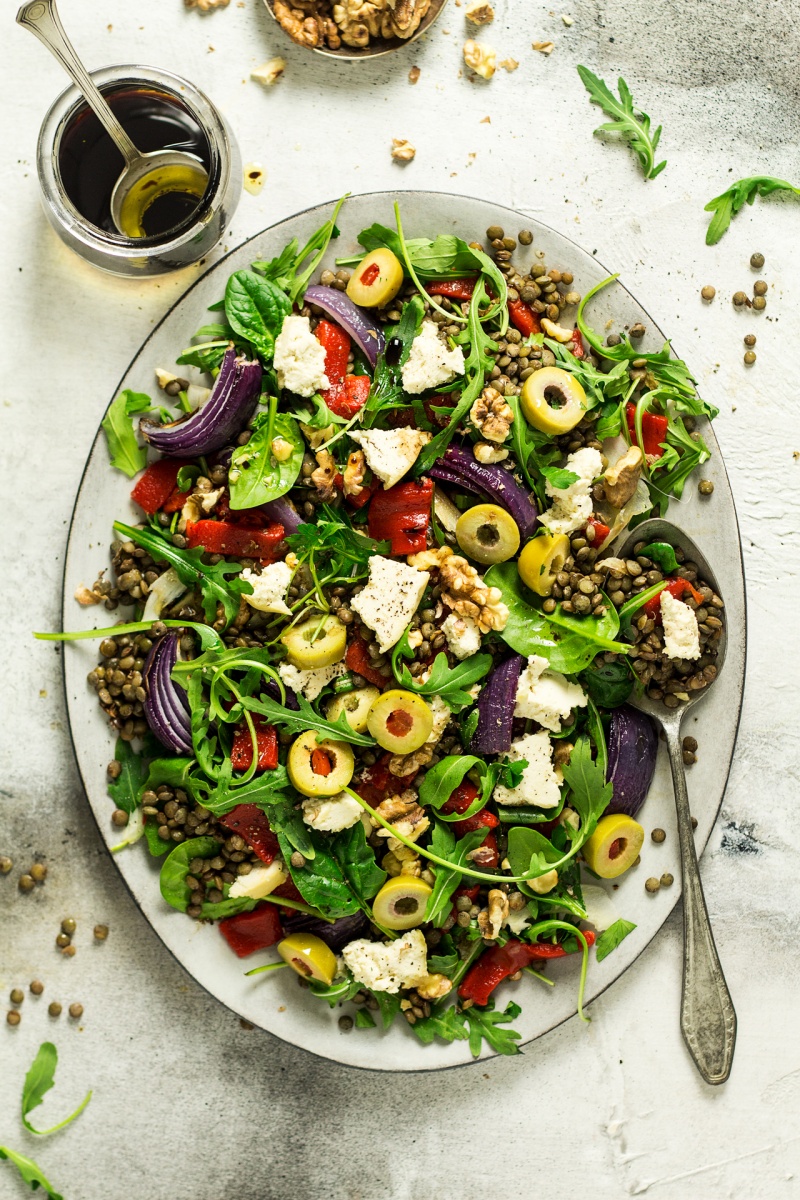 I'm finally home after my flight got cancelled last Tuesday due to a heavy snow fall all over Europe. I had a really good time at home, but I really started missing Duncan and Tina towards the end of my stay so I'm happy to be back, especially that I got a welcome gift of a beautiful orchid and my favourite chocolate, complete with a welcome home note stamped with Tina's paw print. How lovely!
Freezing temperatures meant that walking around wasn't particularly pleasant, which is a shame as I love strolling through old Krakow streets idly – something I remember fondly from when I was at the university there. Instead, I saw family and friends at their homes or in cosy hangouts, visited plenty of nice coffee shops and vegan food joints, went to the cinema several times and to the theatre once too. It was a fun two weeks and now I feel renewed and refreshed.
Although I have occasionally cooked for my family, I really enjoyed having time off cooking and thinking about food (as much as I could manage it, that is) and I am starting this week full of enthusiasm for experimenting and with a head full of new ideas for future posts. I love it when this happens. Feeling inspired is the best feeling ever.
Today's recipe is a simple Puy lentil salad that I used to enjoy before going vegan. I was reminded about it the other day, when Duncan's cousin gave me a bag of Puy lentils and I decided it's time to recreate it using plants.
It's easy to make, healthy, filling, delicious and full of contrasting flavours and textures. I recommend making almond feta-like cheese to crumble on top, but as it needs to be made a day in advance, it's not the end of the world if you don't manage. There is a good selection of vegan cheeses these days, so pick one up from your vegan-friendly deli instead.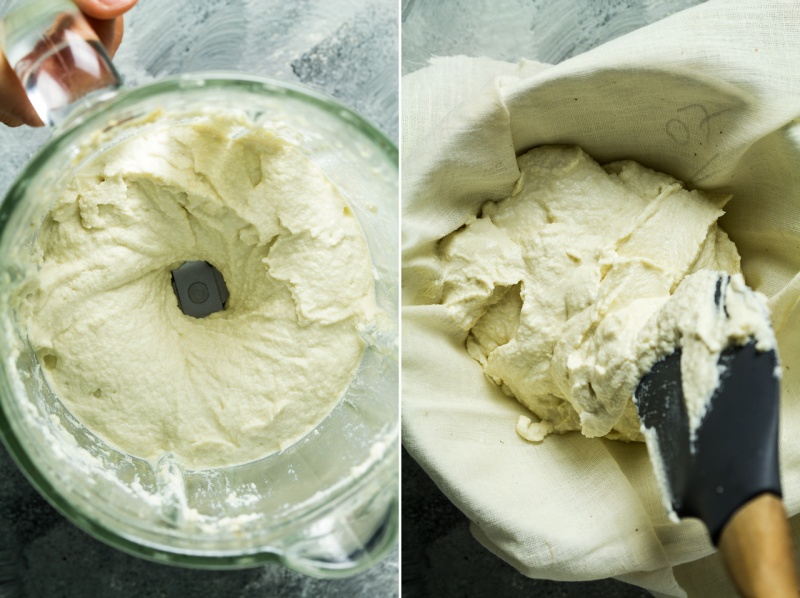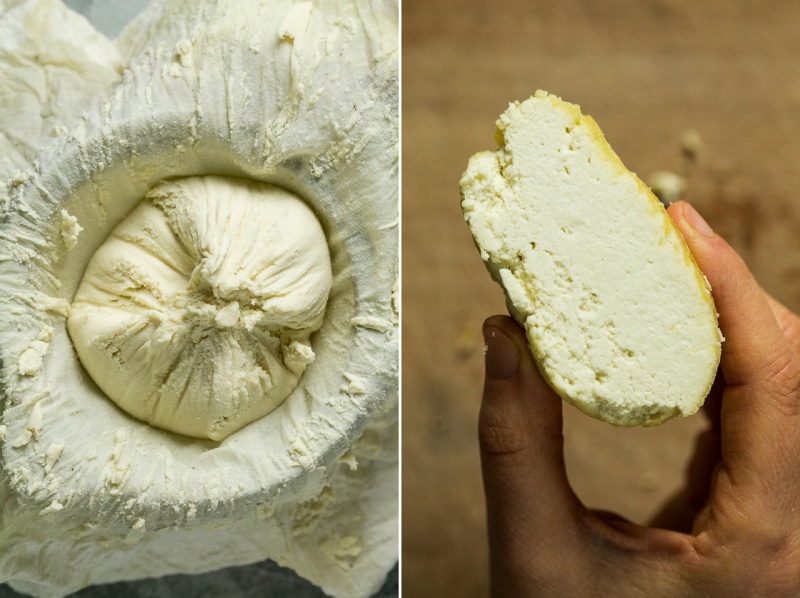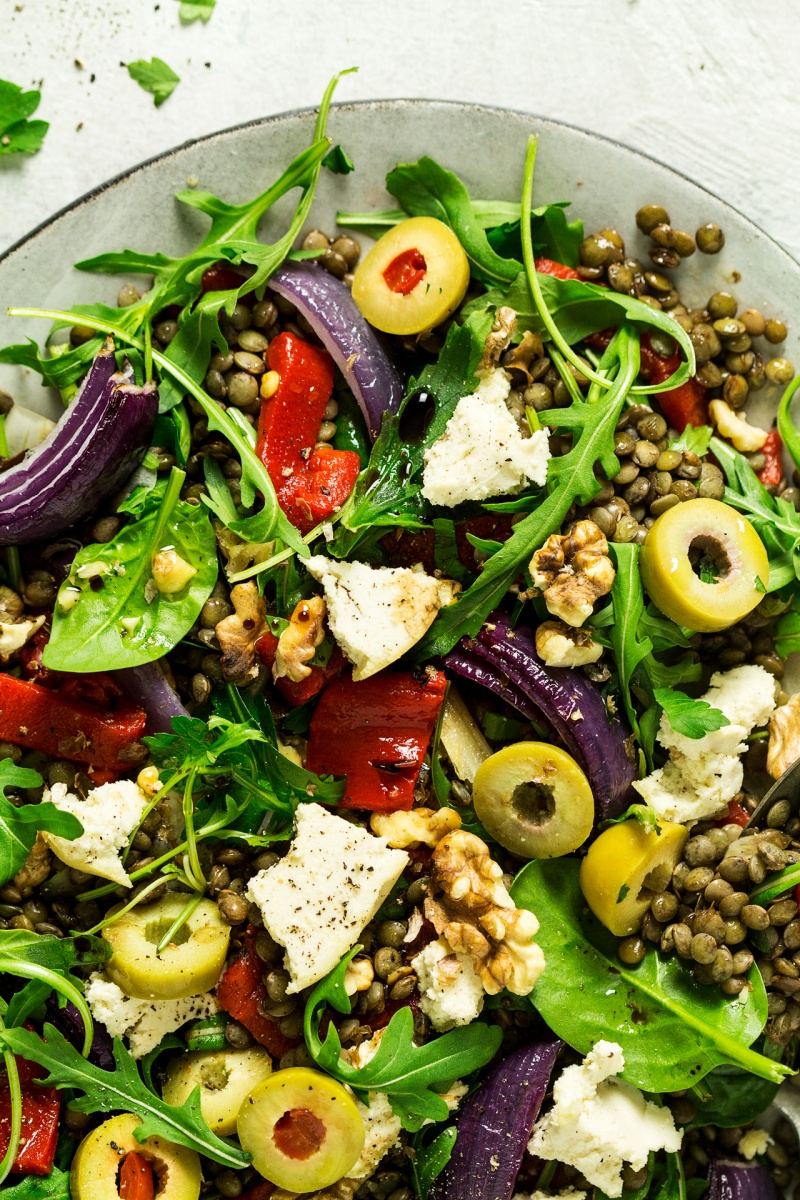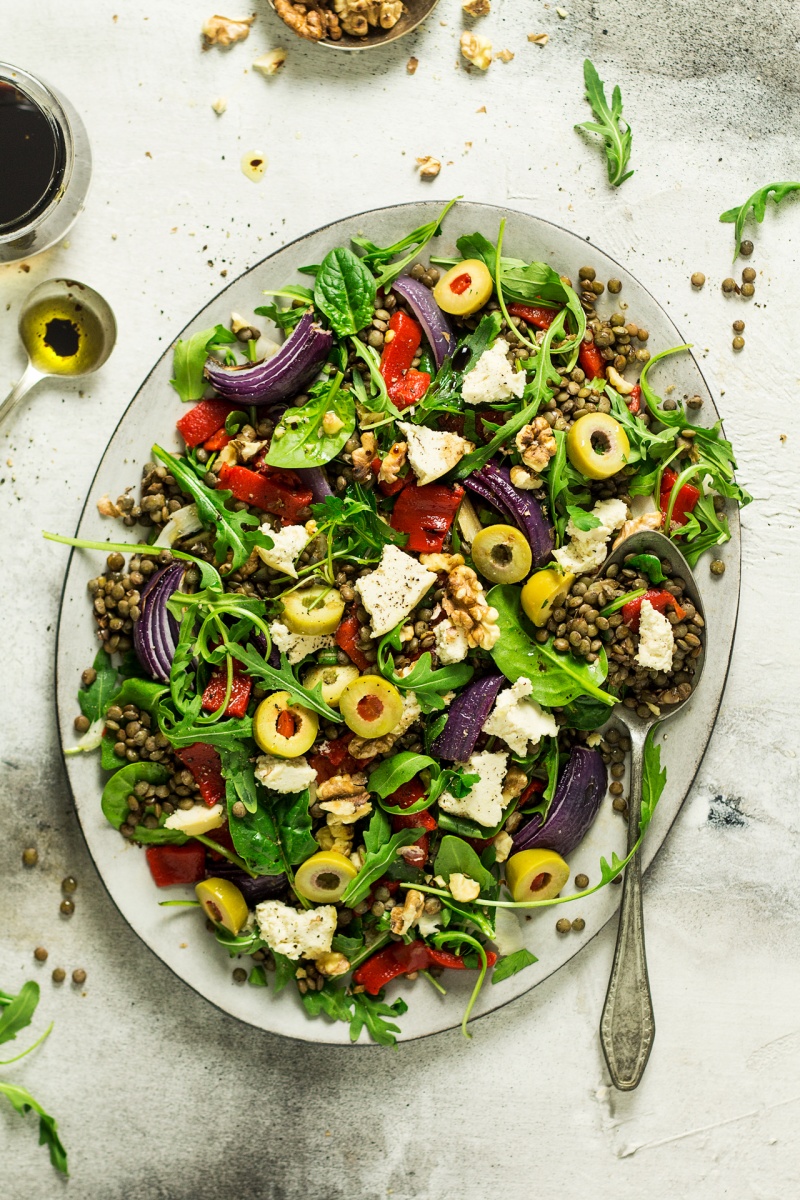 ALMOND FETA (needs to be made a day in advance)
100 g / 1 cup silvered* almonds
2 tbsp lemon juice or apple cider vinegar, adjust to taste
½ small garlic clove, sliced thinly
3 tbsp olive oil**
2 tsp white miso paste
1 tbsp nutritional yeast (optional)***
¾ tsp salt, adjust to taste
SALAD
200 g / 1 cup Puy lentils, rinsed well
1 red onion
olive oil
salt and pepper, to taste
¼ cup walnuts, dry roasted
50 g / 2 oz baby spinach
50 g / 2 oz baby rocket / arugula
100 g / 3.5 oz fire roasted peppers, chopped
8 green olives, sliced
handful of fresh parsley, chopped finely
DRESSING
2 tbsp extra virgin olive oil
2 tbsp balsamic vinegar
½ small garlic clove, grated
salt and pepper, to taste
METHOD
ALMOND FETA (needs to be made a day in advance)
Place almonds in a small bowl and cover with boiling water. Set aside for 30 minutes to soak. Rinse afterwards.
Place the lemon juice, sliced garlic, olive oil, a good pinch of salt, 1-2 tbsp of water (or unsweetened almond milk if you have any to hand) and rinsed almonds in an upright blender.
Blend until smooth, use a spatula to return the mixture that stays on the walls of your blender back to the centre. The mixture will eventually get really thick and the blender will struggle. I have a little trick to combat this, but please be very careful as it requires you to have the lid off while the blender is running. I slide my spatula flat against the wall of the blender and ever so slightly push the mixture into the centre, which sort of feeds it back into the blades again and prevents an air bubble from forming underneath the surface. I keep on doing that while the mixture is blending, being extra careful that I go nowhere near the blades. This technique allows me to get the mixture super smooth and creamy, but use it at your own discretion.
Taste and adjust the amount of salt and lemon juice to taste. Add miso and nutritional yeast at this point if using. Don't worry if the mixture tastes quite strong at this point, it will mellow out during the next two stages of preparation.
Line a sieve with a piece of cheesecloth and place over a bowl. Place the cheese mixture inside the cheesecloth. Bring the corners of the cheesecloth together to form a ball. Squeeze very gently to allow the excess water to drip away. Place the sieve in the fridge overnight to allow the mixture to thicken and for the excess moisture to drain away. At this point the cheese will be creamy but still fairly soft / wet – perfect for spreading on a bagel, but if you prefer slightly firmer cheese, I recommend drying it out in the oven (see next step).
Place the drained cheese ball in a greased ramekin and bake in a 160º C (320 º F) oven for about 30 minutes. Allow it to cool down completely before cutting.
SALAD AND DRESSING
Heat up the oven to 200° C / 390° F and line a baking tray with a piece of baking paper.
Cook the lentils until al dente – cooked but still slightly chewy, as opposed to overcooked and mushy.
Peel your onion and cut into wedges. Coat in 1-2 tsp of olive oil and bake in the pre-heated oven for about 15 minutes. Season with salt and pepper.
While the onion is roasting, toast walnuts in a dry pan until fragrant and lightly browned in places. Move them about the pan the entire time as they burn easily.
Mix all the dressing ingredients together.
Combine the cooked lentils, baby spinach, rocket, roasted red peppers and roasted onion wedges in a big bowl.
Dress the salad. Sprinkle with chopped parsley, sliced olives, roasted walnuts and dot with almond feta.
NOTES
*You could also use
almond meal
, in which case skip soaking.
**All cheese has a high fat content, so adding olive oil enhances the creaminess of this plant-based specimen. You can substitute this with water or unsweetened almond milk if you follow an oil-free plant based way of eating, but be aware of the fact that this substitution will render your cheese less creamy and indulgent.
***Nutritional yeast will give the 'cheese' a cheesy taste, but it isn't necessary.
My almond cheese recipe has been adapted from this recipe.