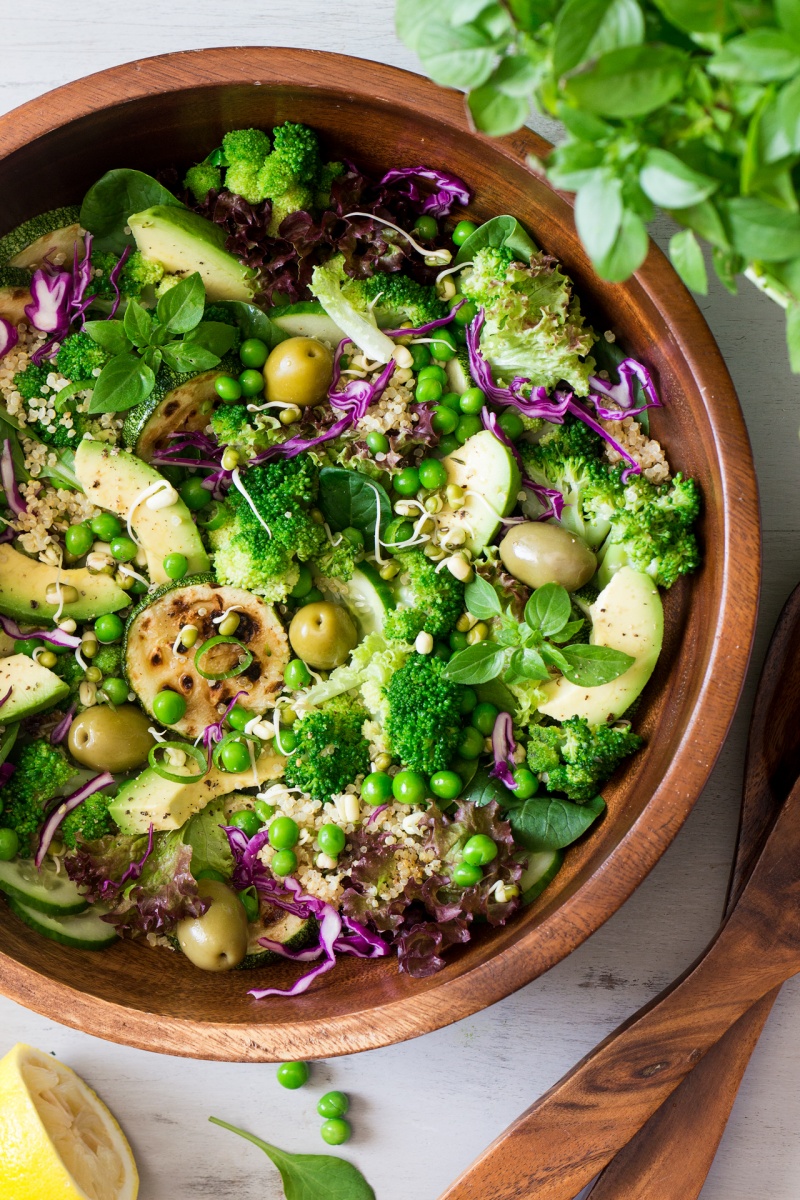 Following a bit of an ice-cream sandwich splurge at the weekend, I've decided it's time for a bit of food penance so today I'm all about 'oh-so-good-for-you' quinoa superfood salad.
I happen to love vegetables, so when I say 'penance' I don't really mean it very literally – there is no suffering involved – maybe apart from an occasional sugar craving, which is my big bugbear, I'm the first one to admit.
This ultra green salad is packed with so much fibre (and a whole wealth of other goodness) that keeps me full for ages and significantly reduces my sweet cravings. As you can see, I went for quite a few vegetables here as I'm a very visual eater and wanted as many shades of green as I could get in, but if that sounds like too much effort, feel free to adapt this dish to whatever you happen to have on hand – anything green goes!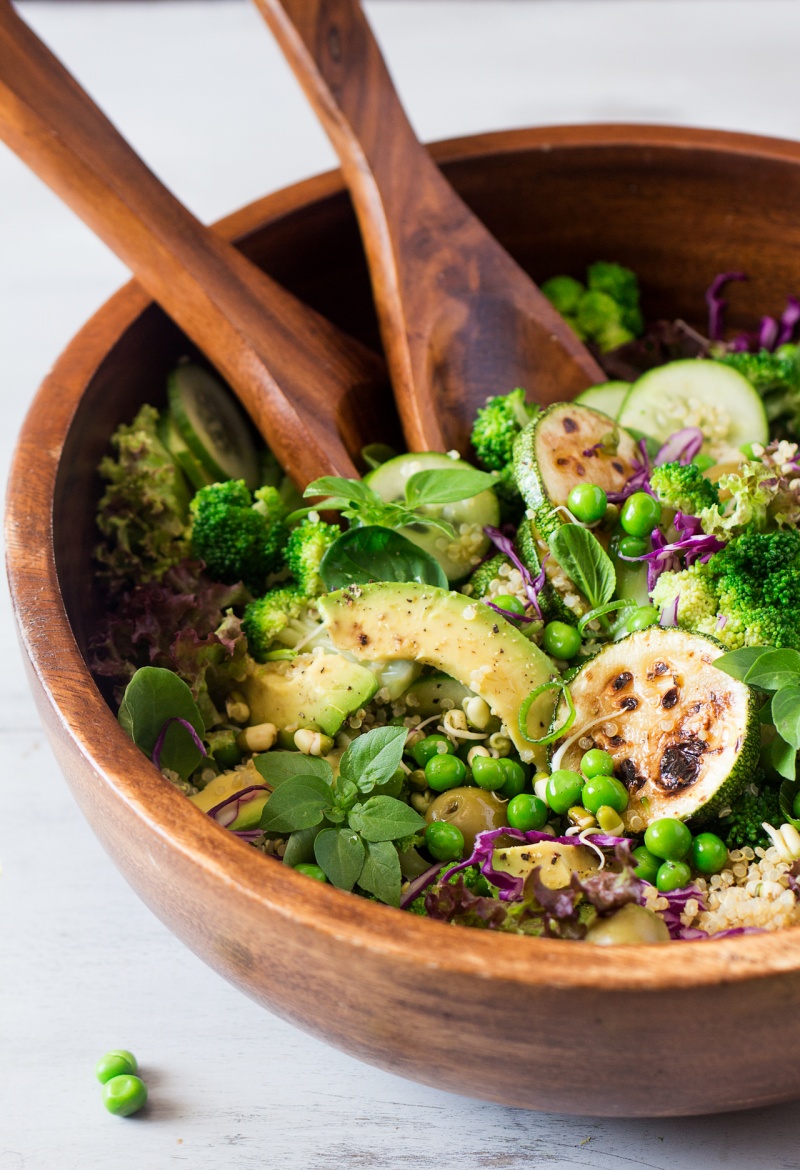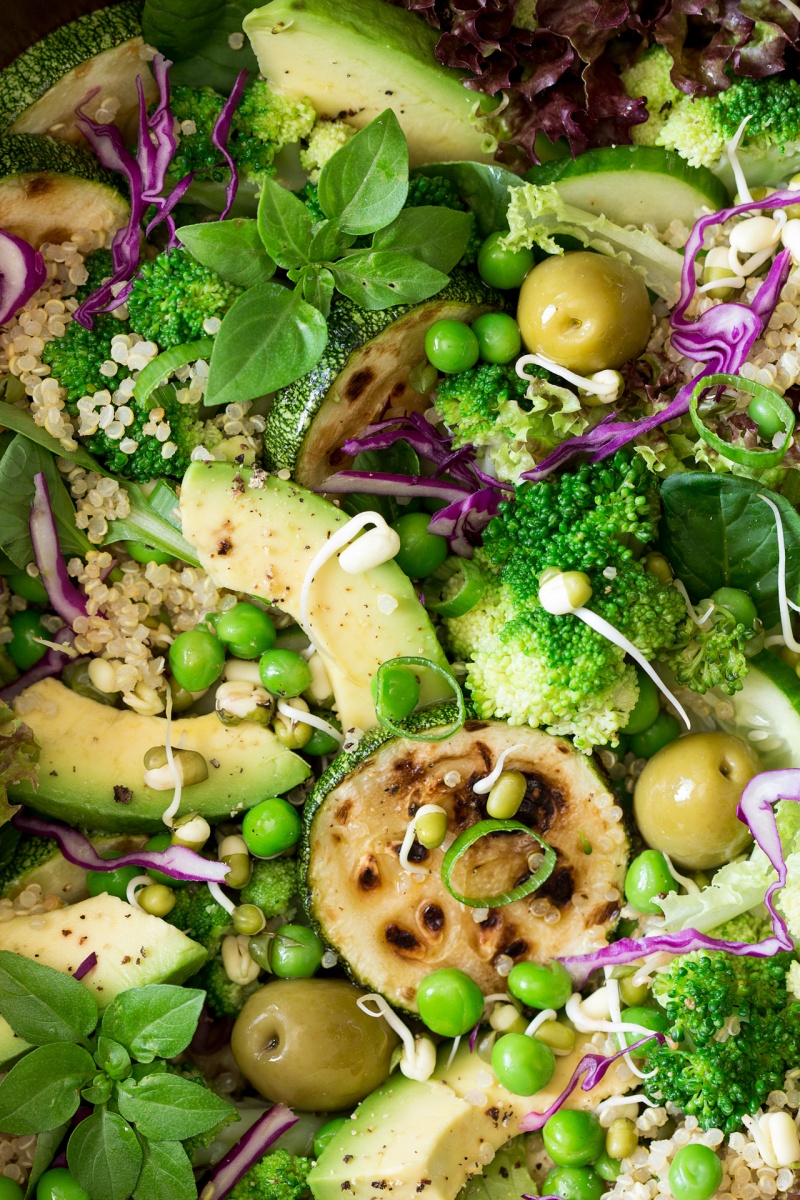 1 cup quinoa
approx. 100 g / 3.5 oz green salad (I used baby spinach and lollo rosso)
½ large avocado, sliced
small wedge of red cabbage, shredded thinly
small broccoli*, divided into florets
½ cup frozen peas (or fresh if available)
small cucumber, sliced
½ cup mung bean sprouts (or other sprouts)
1 zucchini / courgette
1 large spring onion, sliced thinly
10 green Kalamata olives, pitted and quartered
a handful of mint and basil leaves, chopped finely
DRESSING
3 tbsp extra virgin olive oil
3 tbsp lemon or lime juice
½ roasted or raw garlic clove, grated finely
1 tsp chilli paste / a pinch of flakes (optional)
salt and pepper, to taste
METHOD
Rinse quinoa and place it in a small pot that you have a glass lid for. Add a few pinches of salt and 1.5 cups of water (prefect quinoa ratio is 1:1.5), cover with a lid and bring to boil. Once the water boils, decrease the heat to low-medium and let the quinoa simmer until all the water has been absorbed. To check, tilt the pot slightly, keeping the lid firmly on. If you see no water seeping out from under the grain, it means you are good to go. Switch off the heat completely and let quinoa sit on a hot hob (with lid firmly on) for another 5 mins to finish off cooking in its own steam. Once ready, cool it down completely before adding it to the salad as otherwise the salad leaves will wilt.
Bring a pot of water to boil. Prepare a bowl of cold water with a few ice cubes and set it next to the stove. Once the water boils, add broccoli florets and frozen peas and cook for about 90 seconds. Once the time is up, drain the vegetables and immediately plunge them into the cold water so that they retain their beautiful colour. Place on a sieve to drain well. Lightly season with salt and pepper before adding to the salad.
Prepare zucchini by either turning it into zoodles (use a speed peeler for wide ribbons) or slicing it and grilling it on a grill pan. If grilling, brush each slice with a bit of olive oil, season with salt and pepper and arrange on a hot (that's important) grill / griddle pan. Once the slices are browned on one side, turn them over and let them brown on the other side.
Mix all the dressing ingredients together and set aside.
Just before serving, combine all the salad ingredients in a large bowl. Drizzle the dressing over and scatter spring onions, sprouts and herbs on top.
NOTES
*I blanched my broccoli florets for this salad, but boiling them, steaming, grilling on a griddle pan or dividing into bite-size florets and leaving them raw will work just as well.