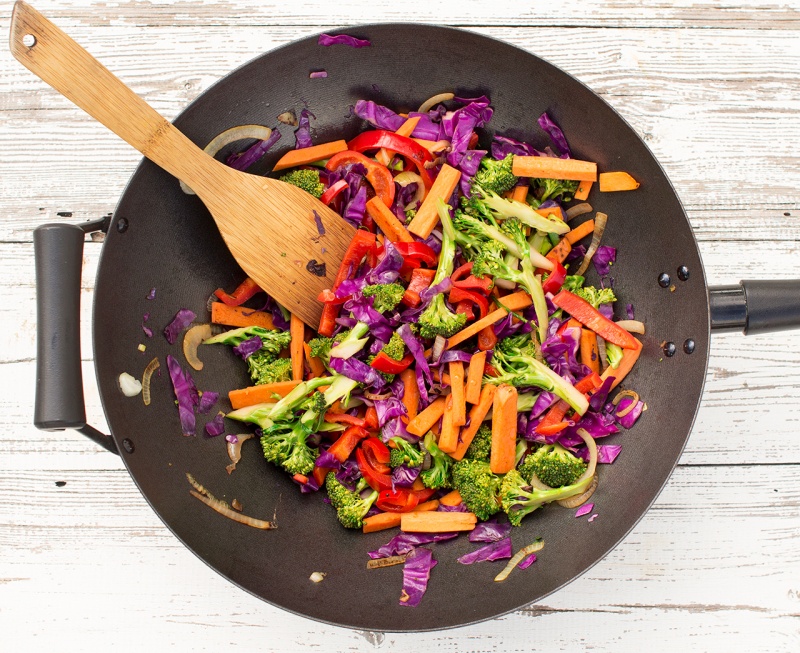 Following Tuesday's Pancake Day debauchery, I was pancaked out and felt the desire to eat a big helping of vegetables. Now what is the easiest way to do that (apart from a salad – which needs the weather to go up a few degrees – in my book)? A stir-fry!
This stir-fry with peanut sauce is easy, quick, delivers a satisfying crunch and, thanks to all the fibre; leaves your tummy happily full. I've called this stir-fry 'rainbow' as it's so colourful that it is bound to put a smile on your face even if the day is grey (or, Duncan: "your team is losing in the cricket").
All these amazing bright colours are the nature's way of saying 'eat me, I'll do you good'. I am a very visual eater so it doesn't take much to convince me to eat something brightly coloured (and I don't mean Haribo, although it did use to be the case).
The quiet star of the dish is a spicy peanut sauce, which draws on Thai influence. It has a bit of a kick from chilli and ginger, sweetness and earthiness from peanuts and pleasant tang from lime juice.
This dish is super easy and flexible. If you don't have sweet potato, for example, swap it for carrot matchsticks instead. If you are one of these poor souls who are allergic to peanuts, swap the peanut butter for an almond one. It'll work just as well. Chop, stir, fry and enjoy!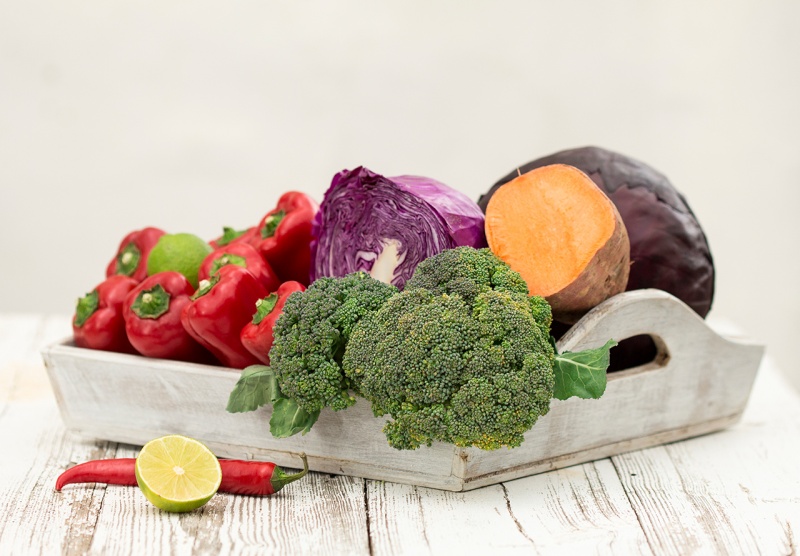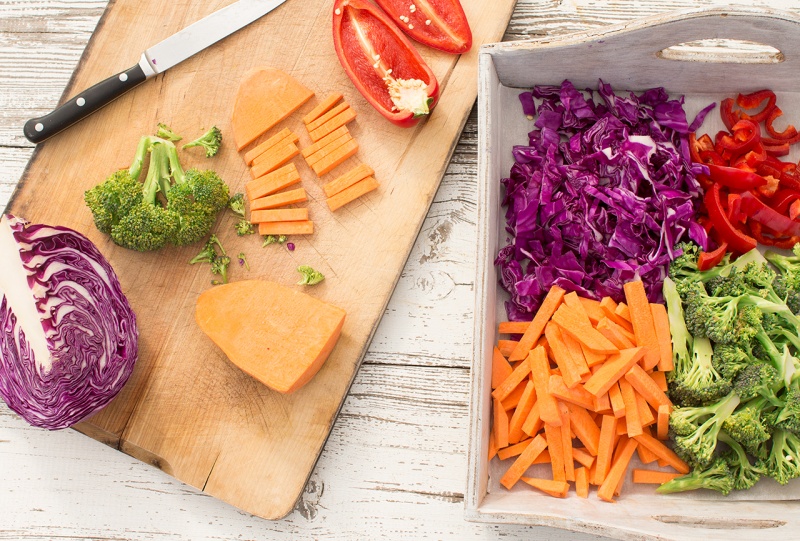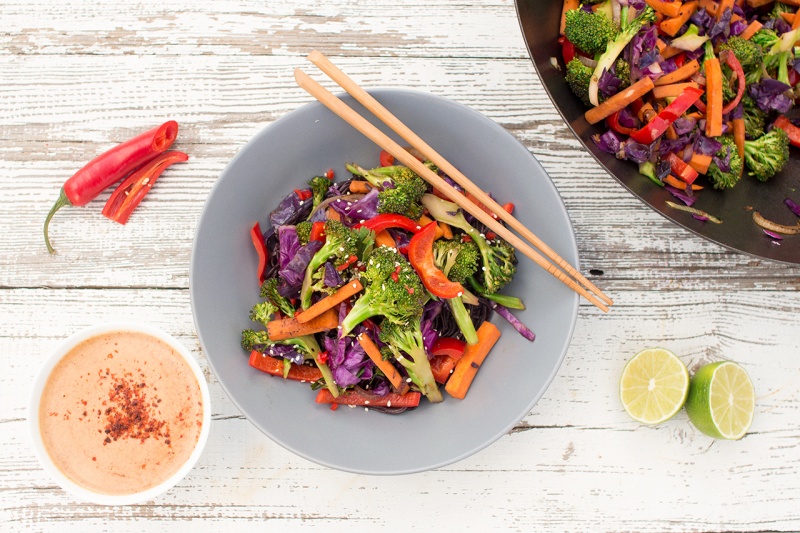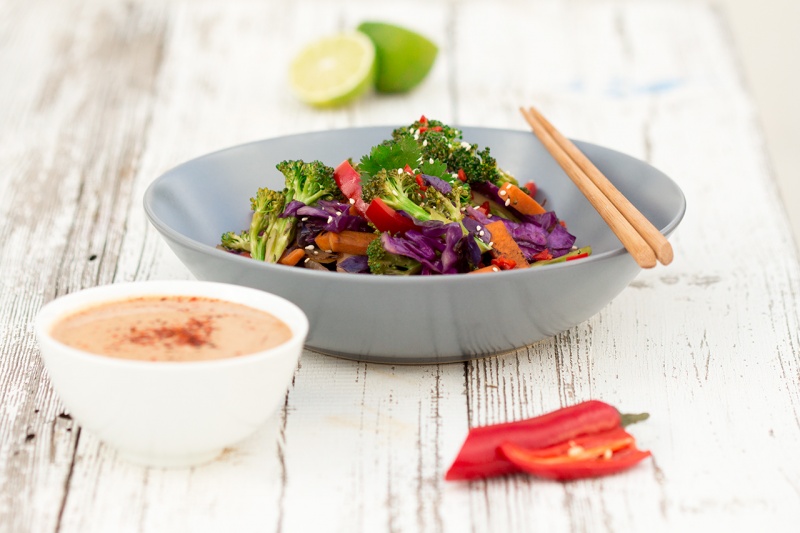 small onion, sliced
¼ red cabbage, chopped finely
2 small red peppers, cut into strips
½ large sweet potato*, chopped into matchsticks
½ broccoli head, chopped into small pieces
dash of tamari (for gluten-free version) or soy sauce
squeeze of lime
dash of sesame oil
1-2 tbsp oil for frying (I used sunflower oil)
brown rice/rice noodles, to serve
fresh coriander, to garnish
sesame seeds, to garnish
PEANUT SAUCE
2 heaped tbsp natural peanut butter**
1 tbsp tamari (for gluten-free version) or soy sauce
2-3 tsp Sriracha or chilli flakes to taste
2 tsp ginger, finely grated
1 small garlic clove, pressed
2 pinches of brown sugar
juice of ½-1 lime
¼ + 1/8 cup water
METHOD
In a pot, combine peanut butter with ¼ cup water. Keep on whisking until you get a homogeneous sauce-like consistency. Add in remaining sauce ingredients apart from the remaining 1/8 cup of water. Finally add in 1/8 cup of water slowly to achieve the consistency you like. I like this sauce to be quite runny as it coats vegetables and rice/noodles better. If you prefer a thicker consistency, just reduce the amount of water. Set aside and heat it up gently a few minutes before serving the dish.
Heat up a wok or a large frying pan. Once hot, add in oil and swirl it around so that it coats the wok  evenly. Add in all the vegetables in the following order, leaving 1-2 minutes between each addition: onion, sweet potato, broccoli, red pepper and cabbage. Stir the contents of the wok the entire time. Add in a few splashes of tamari or soy sauce, sesame oil and a few squeezes of lime to the vegetables. Continue cooking the veg until they are still slightly crunchy but not raw.
Heat up peanut sauce on a very low heat – don't let it boil – just warm it up gently.
Serve stir-fry vegetables over noodles or rice with a serving of warm peanut sauce and a garnish of fresh coriander and sesame seeds.
NOTES
*You can use carrots instead.
**I used all natural (no sugar, salt or palm oil) peanut butter. If you cannot get one, you can make your own following this recipe.