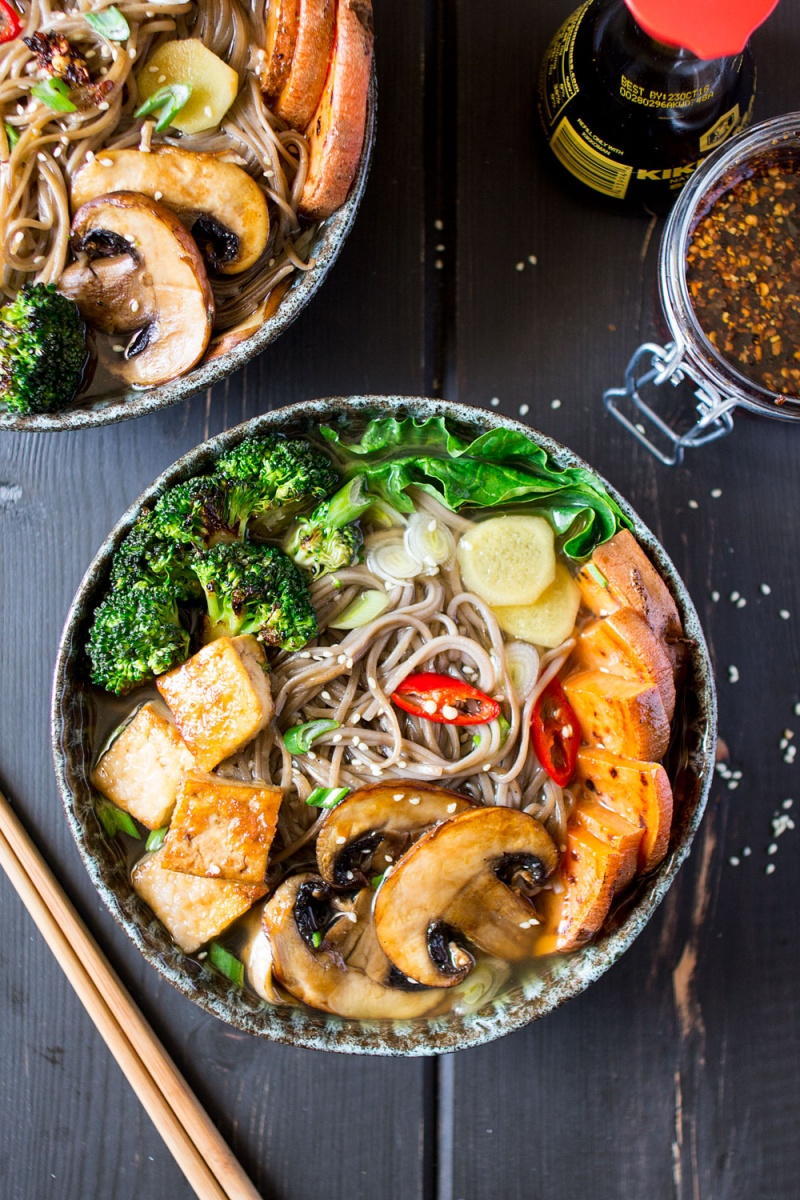 Even though the sun is shining as I type this and the insanely cold, northern wind has gone away for a few days, it has been pretty chilly here lately. When the weather is like this we tend to work loads to compensate for all the time we will HAVE to take off when the beach season finally commences.
We've been working away and drinking insane amounts of fresh ginger and lemon tea. There is nothing like a ginger kick (rum is good too, but not conducive to getting any work done 😉 ) when you're feeling cold.
This new found love of mighty ginger has inspired me to make a pot of Asian-style, ginger-packed broth for dinner. An aromatic broth with oodles of noodles, plenty of char-grilled seasonal vegetables and some tofu is pretty much what the doctor has ordered at this time of the year when the weather is still a bit on the temperamental side.
One minute you may find yourself leaving your house in flip-flops cos 'Yay, spring is here!' and the next experience a serious bout of teeth chattering because you are way under dressed (this is by no means based on personal experience 🙂 ). At times like this your immune system will surely be grateful for any help it can get! This is why I have created this delicious vegan ramen.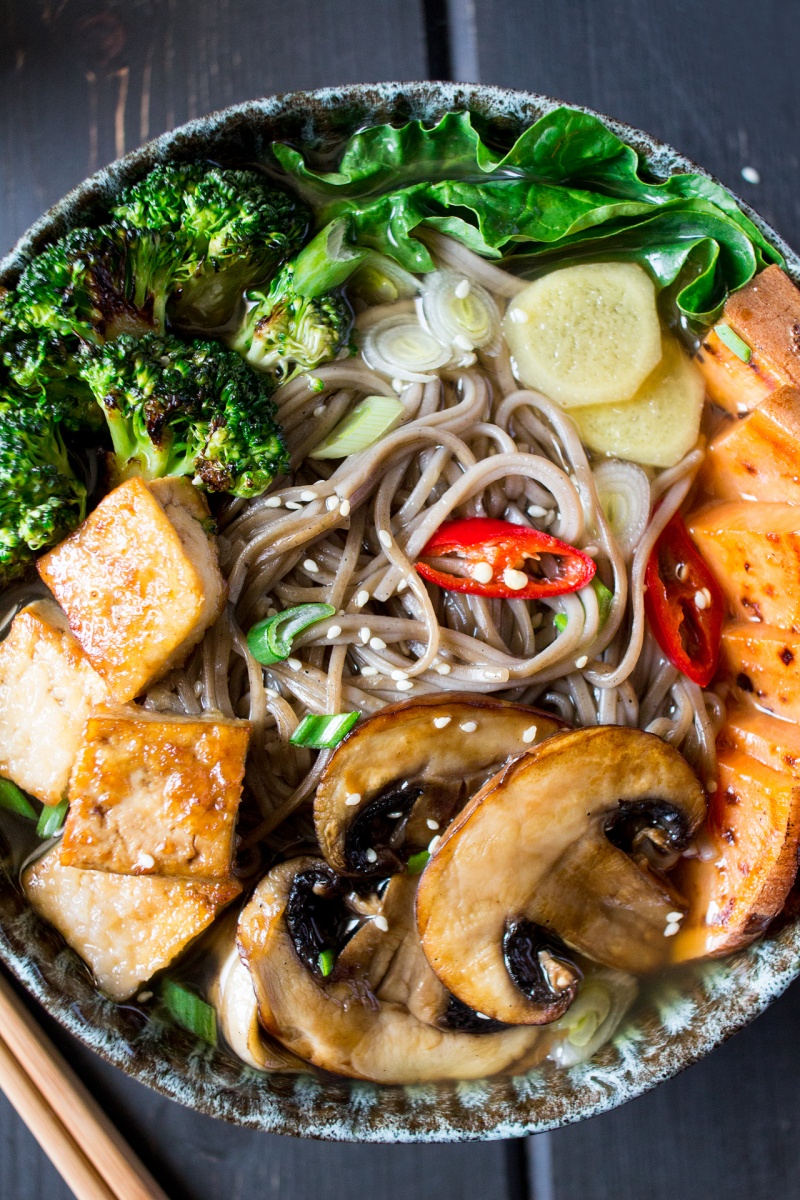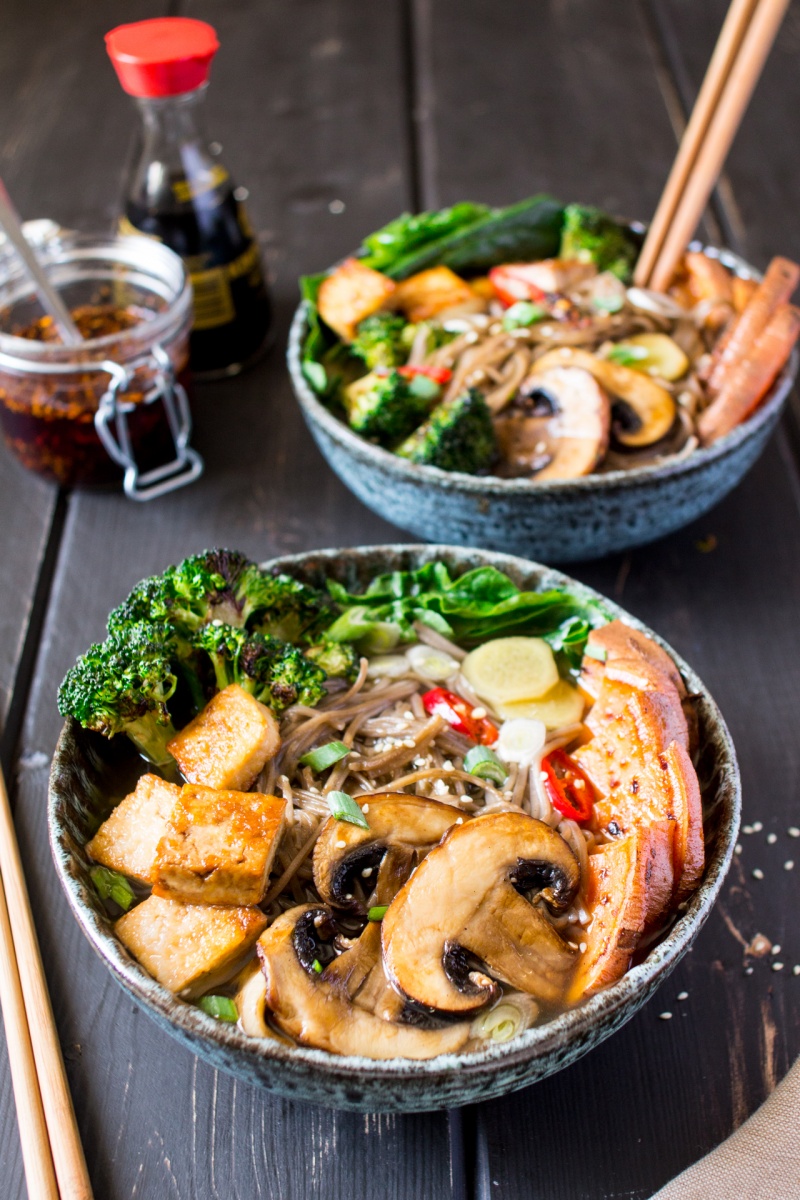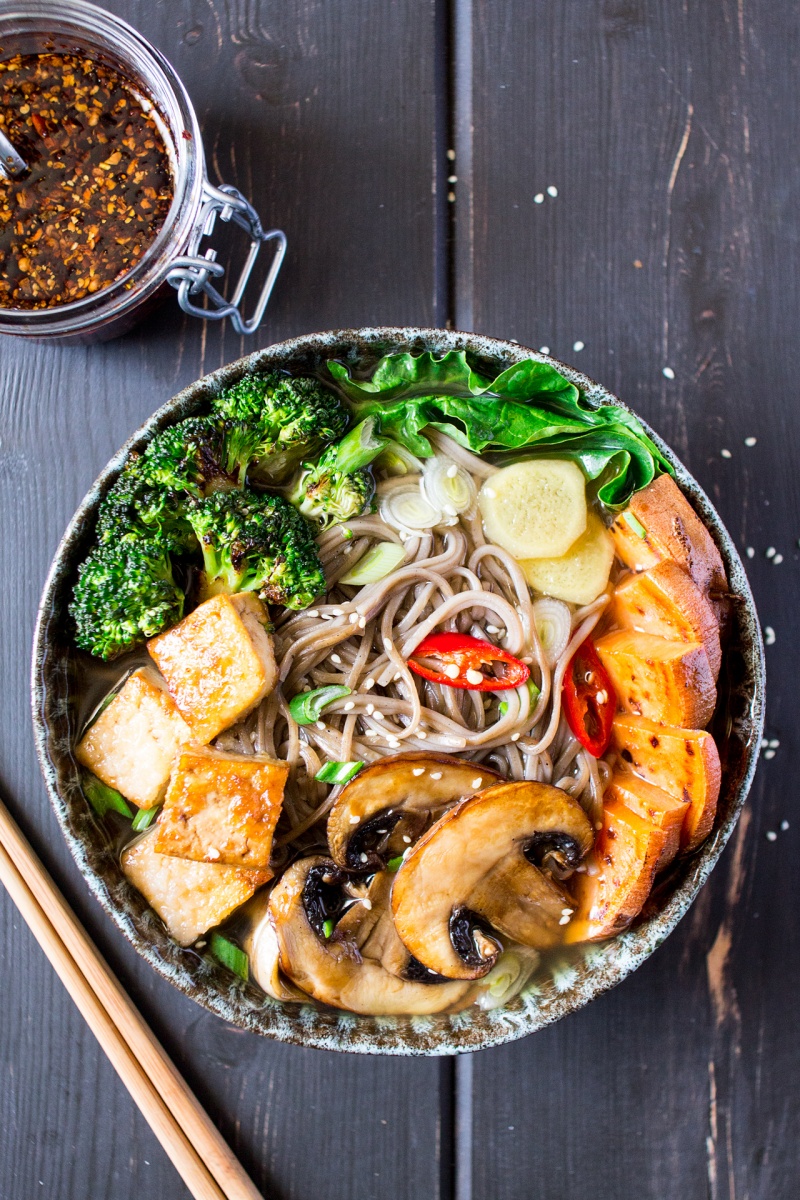 BROTH
4 Chinese cabbage leaves, roughly chopped
3 celery stalks, washed and cut into large chunks
3 medium carrots, washed and cut into large chunks
½ large fennel bulb
2 spring onions, roughly chopped
small onion, cut in half
4 garlic cloves, peeled and crushed
½ sheet of kombu (15 cm x 5 cm / 5 in x 2 in )
large knob of ginger (50g), peeled and sliced
a handful / 10 g of dried mushrooms, rinsed (I used porcini)
a bunch of fresh coriander stalks, rinsed well
2 tsp black peppercorns
GARNISHES AND SEASONINGS
cooked noodles (GF if needed), 80 g per person (I used buckwheat soba)
½ head of broccoli, divided into larger florets
1 sweet potato, peeled and sliced into ½ cm / 1/8 in slices
a few mushrooms (I used small chestnuts), sliced thickly
200 g firm or extra firm tofu (optional), pressed*
2 tbsp cornflour / cornstarch (optional)
oil (I used peanut, for frying)
sesame oil
about 3 tbsp soy sauce or tamari (if GF), more taste
2 tbsp red miso paste (choose gluten-free miso for GF version)
1 tbsp rice vinegar
1 tbsp mirin (sweet Japanese wine) or 1 tsp of maple syrup
½ raw garlic clove, finely grated
a few extra slices of fresh ginger
2 spring onions, sliced
sesame seeds, to garnish
chilli oil or sauce (like Sriracha), to taste
METHOD
To prepare the stock, chuck all the broth ingredients into a large pot (with a lid) with 10 cups / 2½ litres of water. To intensify the flavour, I charred fennel and onion (cut in half) on a griddle pan. I brushed cut side with a little oil before pressing it into the hot pan to achieve a nice caramelisation. This is an optional step, but I reckon it gives the broth an extra depth of flavour. Put the lid on and bring the stock to a gentle boil and then simmer for about 60 minutes. Once cooled, put the broth through a sieve squeezing all the goodness out of the cooked vegetables. Do not throw away kombu or dried mushrooms, just chop them into smaller pieces and set aside.
Cut your tofu into equal size pieces. Place them in a shallow dish and marinate in some soy sauce (or tamari). After a few minutes, flip them to the other side to make sure it's seasoned evenly.
Combine 2 tbsp of frying oil with 2 tsp of sesame oil and 2 tsp of soy sauce and brush sweet potato slices, mushrooms and broccoli with it. Heat up a griddle pan and cook vegetables on a hot griddle pan in batches. Alternatively, you could bake your sweet potato slices and broccoli in the oven and sauté your mushrooms in a pan. If you go down that route, heat up your oven to 220° C / 425° F, spread sweet potato and broccoli on a tray ensuring that individual pieces aren't touching each other and bake broccoli for about 10-15 mins and potatoes for 20 mins. To sauté mushrooms, heat up 1 tbsp of oil in a small pan, chuck in sliced mushrooms and sauté on a medium heat until soft and lightly caramelised. Season with soy sauce to taste.
If frying tofu, remove it from the marinade and sprinkle with a little cornstarch. Fry in 1-2 tbsp of hot oil (I used peanut) until golden on both sides. Blot on a piece of kitchen towel. You could also bake it, in which case skip cornflour and spread marinated tofu on a paper-lined baking tray and bake it in a 180° C / 355° F oven for about 30-40 mins, flipping once half way through the baking.
Cook your noodles almost al dente according to the instructions on the packet. It's worth undercooking them a touch as they when they get immersed in a steaming hot broth they'll soften a little more.
Put the bowls into a warm oven to heat them up for serving.
Start warming up the broth. Season it with soy sauce, miso, vinegar, mirin and a touch of raw garlic and a few extra slices of ginger. Warm it up gently, you want to serve it hot but do not let it come to boil.
Place a cluster of noodles, a few bits of tofu, sweet potato, broccoli and mushrooms a bit of shredded kombu and dried mushrooms in each soup bowl. Pour hot soup on top. Garnish with sliced spring onions, sesame seeds and chilli oil if you like your vegan ramen spicy. Tuck in while it's nice and hot!
NOTES
*To press the tofu without a tofu press, wrap your tofu in a paper towel, place it on a plate and weigh it down with something heavy (like a can of coconut milk, for example). Once the paper towel becomes wet, change it for a new one. Repeat a few times until the paper towel stays almost dry. Pressed tofu is tastier as it absorbs flavours better.