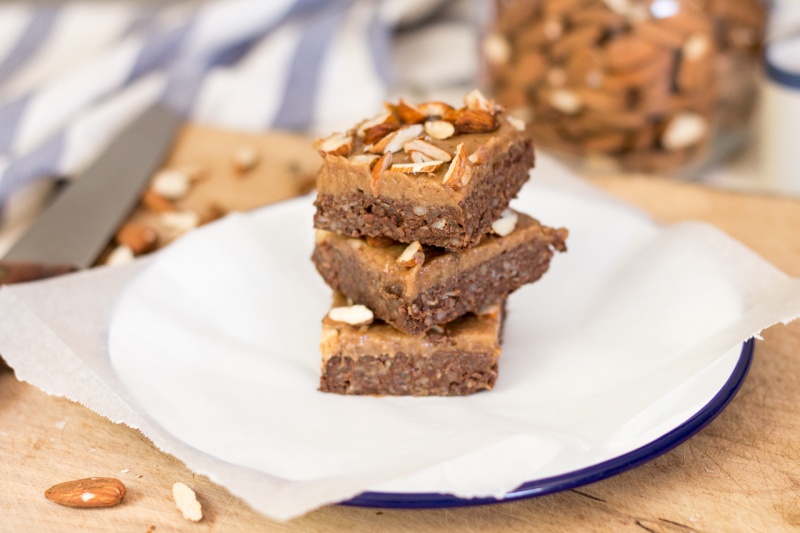 This recipe is an ideal hot weather treat that is perfect for placating your sweet tooth when you are on a bit of a health kick. Don't get me wrong, these brownies aren't diet food. They are, however, made out of nutrient-dense ingredients such as almonds, pumpkin seeds, raw cacao powder and naturally sweet dates and are healthy, unless you 'inhale' an entire tray in one sitting. At the bottom there is a rich chocolate layer and at the top is an indulgent salty caramel made out of dates – it's this property of turning into a sweet caramel-like substance that has earned dates the nickname of nature's caramel. These puppies require no baking and I'm pretty sure you could put them together with your eyes closed. As an added bonus, they taste great straight from the freezer on a hot day.
I've been meaning to make them for a while, but Duncan has been a bit unconvinced about them to begin with. He doesn't think they deserve to be called 'brownies' as they do not resemble the decadently chocolatey gooey in the middle cake that all chocoholics go crazy about. Given his scepticism, I was therefore very surprised that when I opened the freezer I found considerably fewer brownies left than I remembered putting in. Predictably, our cat gets the blame (Duncan: 'it was definitely cat').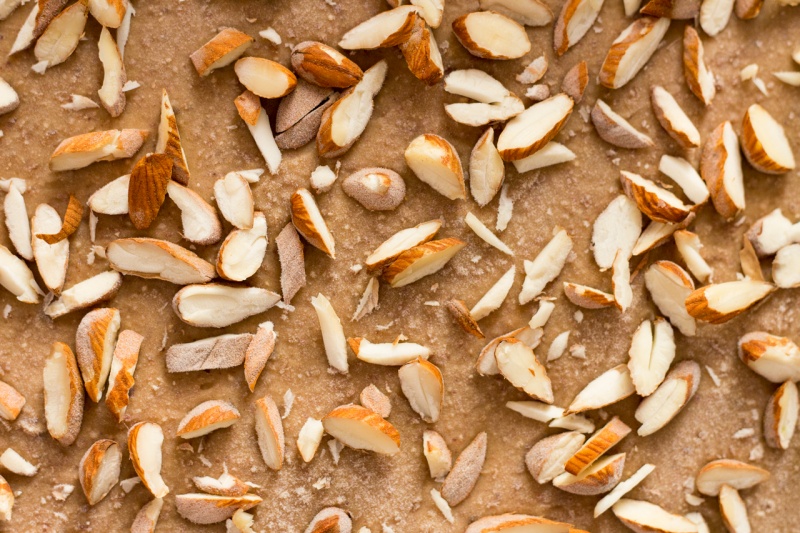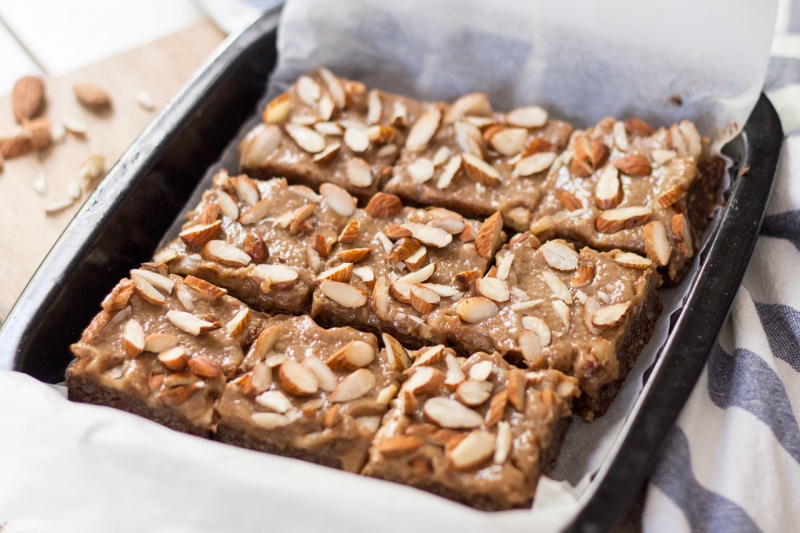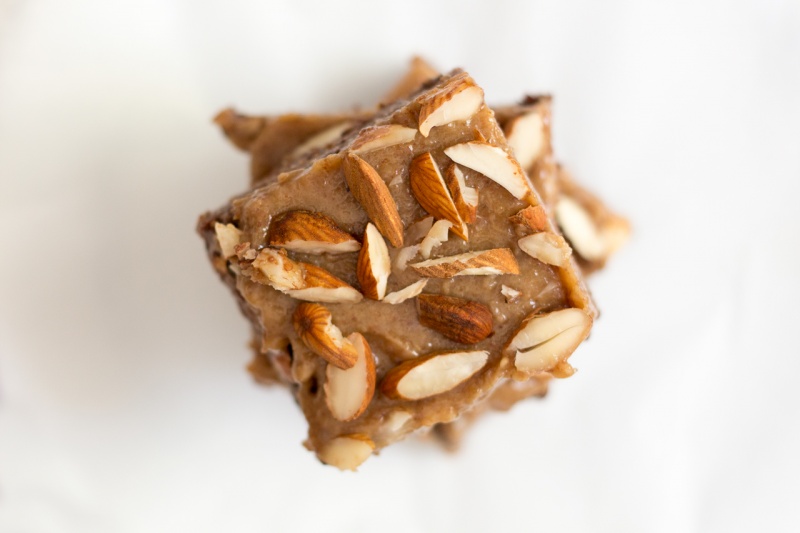 400 g dates
150 g pumpkin seeds (shelled)*
150 g almonds
½-¾ tsp fine sea salt
½ cup raw cacao
4 tbsp / 60 ml espresso (optional)
1/8 cup smooth (all natural) almond butter
1 tbsp / 15 ml coconut oil, refined is preferred (optional)
20 g chopped almonds, to garnish (optional)
METHOD
Pit the dates. Soak them in a warm water to soften unless you are lucky to have Medjool dates, which are naturally quite sticky.
Line a tray with baking paper. I used a 20 cm by 15 cm tray.
Process pumpkin seeds and almonds into a coarse meal. Transfer them both into a big mixing bowl.
Put soaked dates (without water) into the food processor with a good pinch of salt and about 2-3 tbsp of coffee (use just enough to get a smooth paste) and process until you get a smooth date paste. I used coffee as it naturally enhances chocolate flavour, but if you don't like it, you can use water instead.
Measure out 150 ml (½ cup + 1/8 cup) of date paste and set aside for the frosting.
Transfer the rest of the date paste into the mixing bowl with ground pumpkin seeds and nuts and combine into a 'dough'.
Add ½ cup of sifted cacao and work it into the 'dough'. I found that it is best to use your hands (unless you have a very good food processor), plus it's also easier to judge if the paste isn't too dry. If you find it too dry, add another 10 ml of coffee (or water), but do it gradually so that you only add as little moisture as necessary.
Spread the brownie 'dough' in the lined tray, pressing it down well and into the corners. Make sure the base layer is even. Pop it into the freezer to set.
Clean your food processor. Put 150 ml of date paste back into the food processor with almond butter and ½ tsp of salt (you can add more to taste). Add 1 tbsp of water to make it more spreadable. You can also add 1 tbsp of coconut oil if you want the top to be a bit less tacky after it has set, but that's absolutely not necessary. Process until you get a smooth, spreadable salted caramel.
Take the base layer out of the freezer and spread salted caramel on top. Sprinkle with chopped almonds if you wish. Put into a freezer for 2 hours before cutting.
NOTES
*Almonds are expensive so to minimise the damage, I used shelled pumpkin seeds too. Pumpkin seeds are also very high in iron and as I need to keep an eye on my iron levels, I figured that incorporating them into raw brownies is a nice way to sneak some more iron into my diet. If you don't have them or don't like them, feel free to use walnuts, pecans or double the almonds instead.