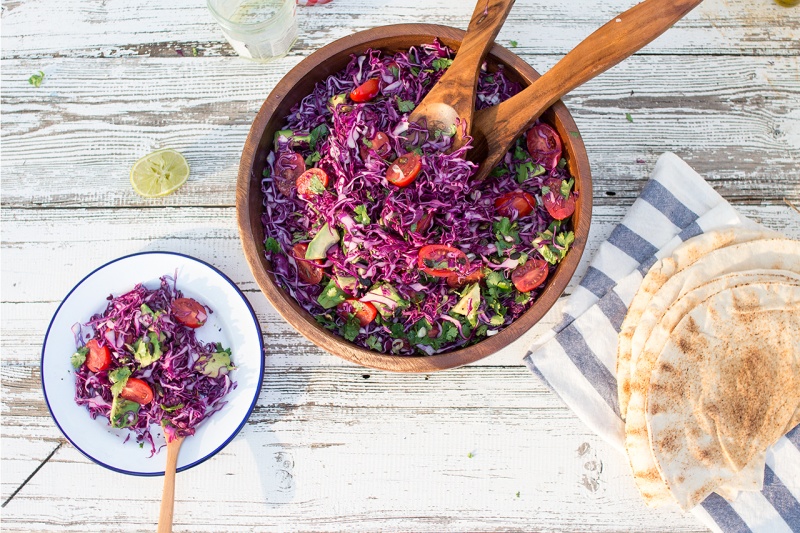 Following last week's decadent chilli chocolate tart recipe, which involved quite a few testing rounds, I felt the need to do "food penance" and have more salad this week – except that I love salads! I went for a red cabbage and avocado salad. Finely shredded red cabbage delivers a satisfying crunch and those creamy avocados add contrasting softness. It also gets a tad of sweetness from cherry tomatoes (which are usually much sweeter than their full-sized brethren) and nice citrusy notes from lime dressing and tonnes of fresh coriander. For me, it's a perfect balance of flavours and textures and it is really easy to make. Provided you have a cabbage shredder at your disposal and a jar to quickly whip up a dressing, preparation shouldn't take more than 20 minutes!
Making this salad reminds me about my very first encounter with avocado, which must have happened when I was about 15 years old. They were a bit of a rarity (and oddity) in Poland, when I was growing up. I was very keen to try one so I got one at a considerable expense. Once I took the first bite I realised that I really didn't like it. I thought it lacked taste and found it really greasy. Since I felt bad about throwing it away, I mashed the rest of it up with a fork and put it on my face (!) as a nourishing facial and did not buy them again until many many years later. I now love avocados, or "avos" (as my inhouse Aussie calls them) and we eat them regularly in salads, on toast, mix them into sauces, dressings and even in desserts. I am amazed what a versatile ingredient they are. It's funny how your taste buds sometimes need a bit of convincing and growing-up isn't it?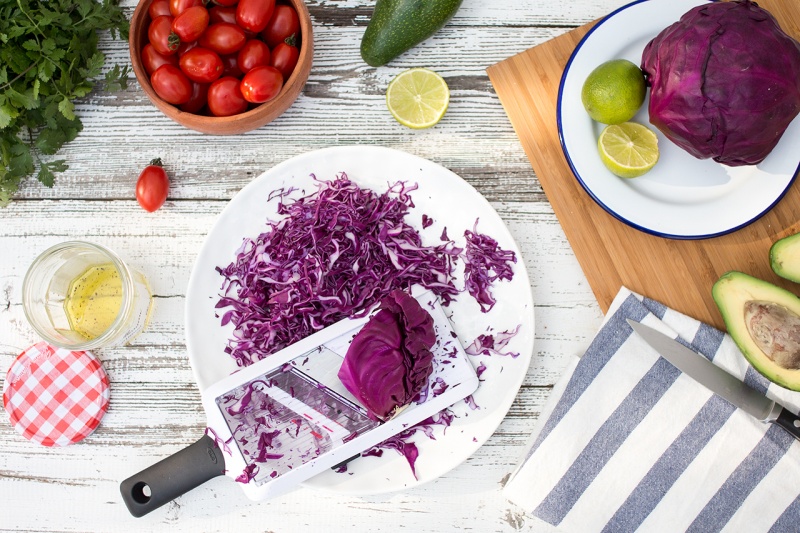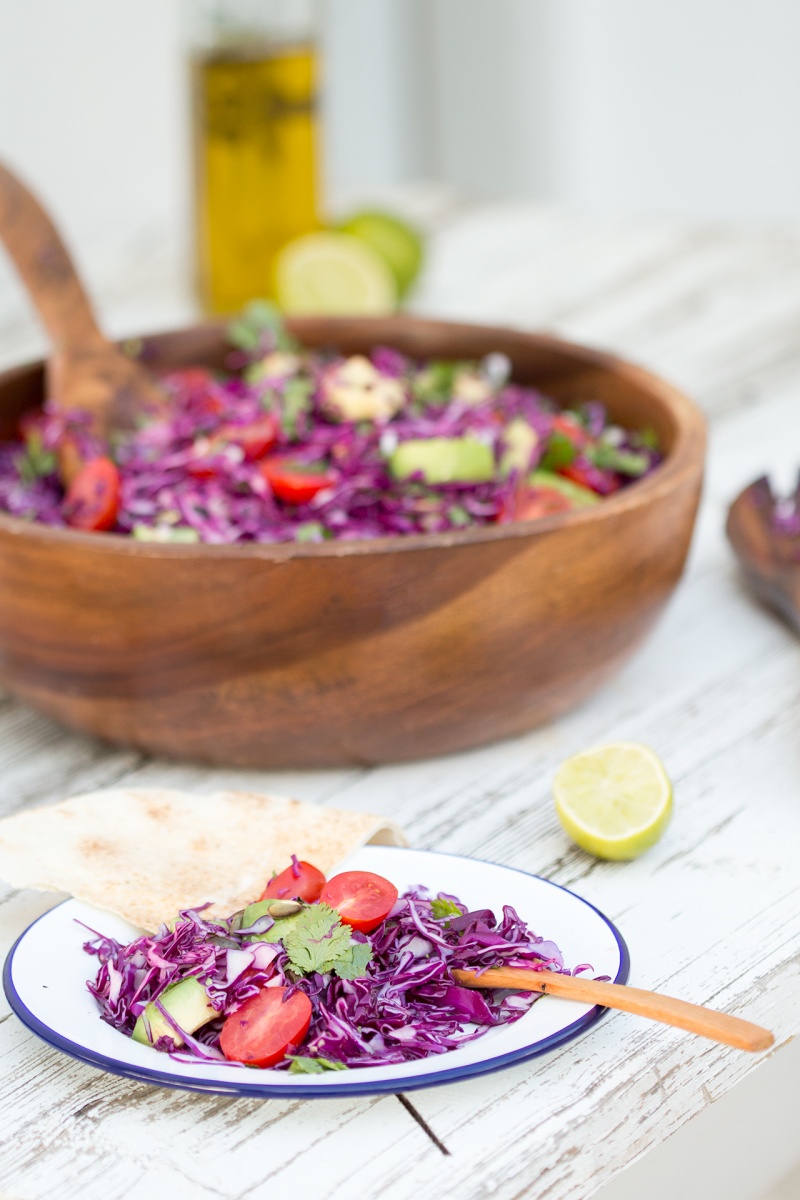 SALAD
1 medium red cabbage
2 ripe avocados
30 cherry tomatoes
2 spring onions
small bunch of fresh coriander, chopped
2 handfuls of pumpkin seeds
DRESSING
5 tbsp extra virgin olive oil
4 tbsp lime juice
1 small garlic clove, pressed
salt and pepper, to taste
METHOD
Pick outer leaves of your cabbage and dispose of them. Shred the cabbage finely using a shredder (or chop it finely with a knife instead). Wash cherry tomatoes and slice them into halves. Peel your avocados, de-stone them and chop into a large dice. Wash and chop your spring onions finely.
Heat up a dry skillet or a pan. Once the pan gets hot, place pumpkin seeds on it and lightly toast them (keeping a close eye on them the whole time). Toss the seeds regularly to prevent them from burning. Once toasted, sprinkle a pinch or two of salt onto them and mix it in.
In a big mixing bowl, combine cabbage, chopped avocados, tomatoes, spring onions and coriander. Using your hands mix everything together gently so that the avocado doesn't turn to mush.
In a jar with a lid, combine all dressing ingredients. Go easy on the salt or leave it till you've poured the dressing over the salad (as it is easier to adjust then). Screw the lid on and shake the jar repeatedly to emulsify the dressing.
Pour the dressing over the salad and mix in with your hands. Adjust salt and pepper to your liking, sprinkle the salad with toasted pumpkin seeds and serve.