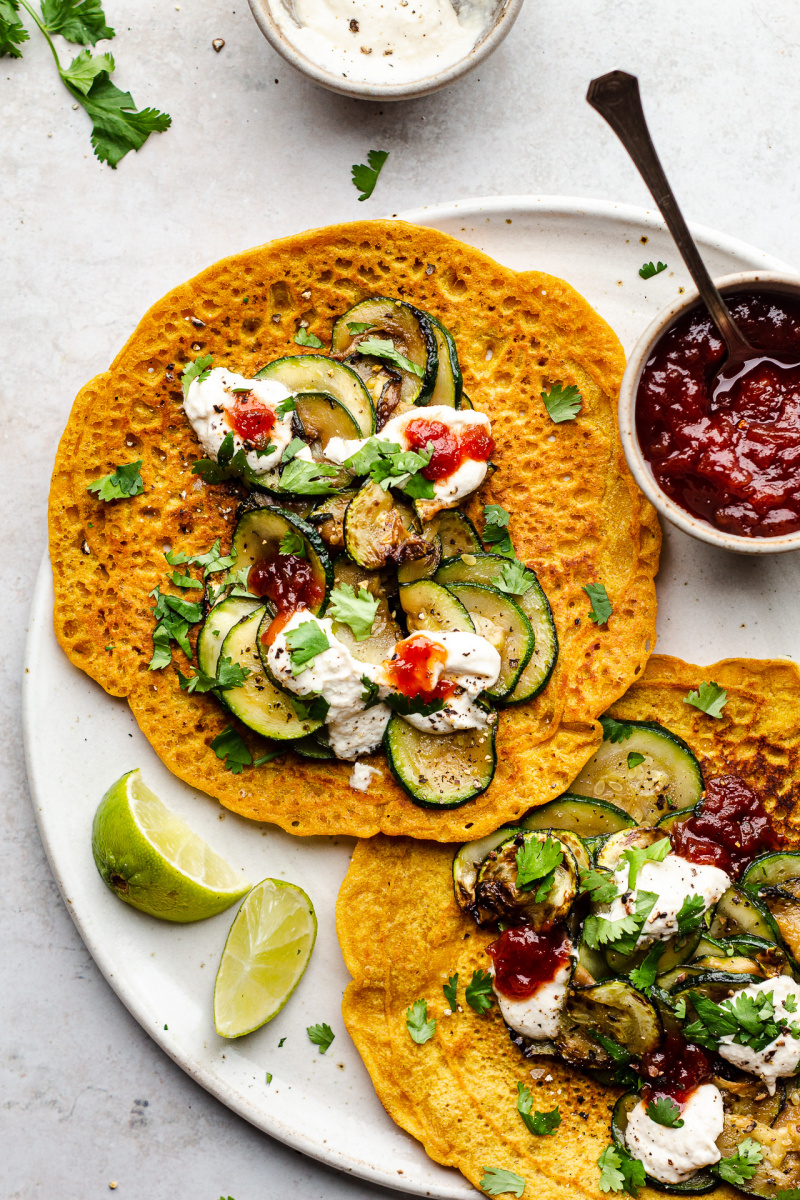 While I've always been someone who enjoys sweet breakfasts alongside my morning coffee, I have recently tried switching to more savoury options in a bid to limit my sugar intake. These split red lentil pancakes are easy to make, delicious and thanks to slow-releasing red lentils, they will keep you full for ages afterwards. Lentils are also a great source of plant protein so that's an added bonus if you are an athlete or lead a physically demanding lifestyle.
These red lentil pancakes hail from Indian subcontinent and are akin to South Indian dosa in their method of preparation although they are far less fussy as the batter is only made up of one type of soaked ingredient and does not require time consuming fermentation. You do need to remember to soak your well washed (the water needs to run almost clear on your last rinse) split red lentils in plenty of water the night before and that's it. The lentils need to get rehydrated to the point that you are able to squash them between your fingers easily. While you can probably get away with a shorter soaking time, I recommend giving it enough time as a lengthy soaking makes the lentils easier to digest too.
Once rehydrated blend them with your choice of aromatics and spices and some water to obtain a pancake batter that is sort of a halfway house between French crepes and thick breakfast pancakes.
Not only are they easy and quick to make, they are also super flexible. I served mine with garam masala seasoned sautéed zucchini, some homemade cashew cream, coriander and shop-bought chutney, but they will work just as well with curried potatoes (like a dosa), sautéed spinach, sautéed garlicky tomatoes, baked cauliflower or broccoli florets. They are one of these dishes that can be eaten for any meal, breakfast, lunch or dinner and any leftover batter can be frozen too, which is an added bonus. We have feasted on these a lot this past week and I hope you'll enjoy them too.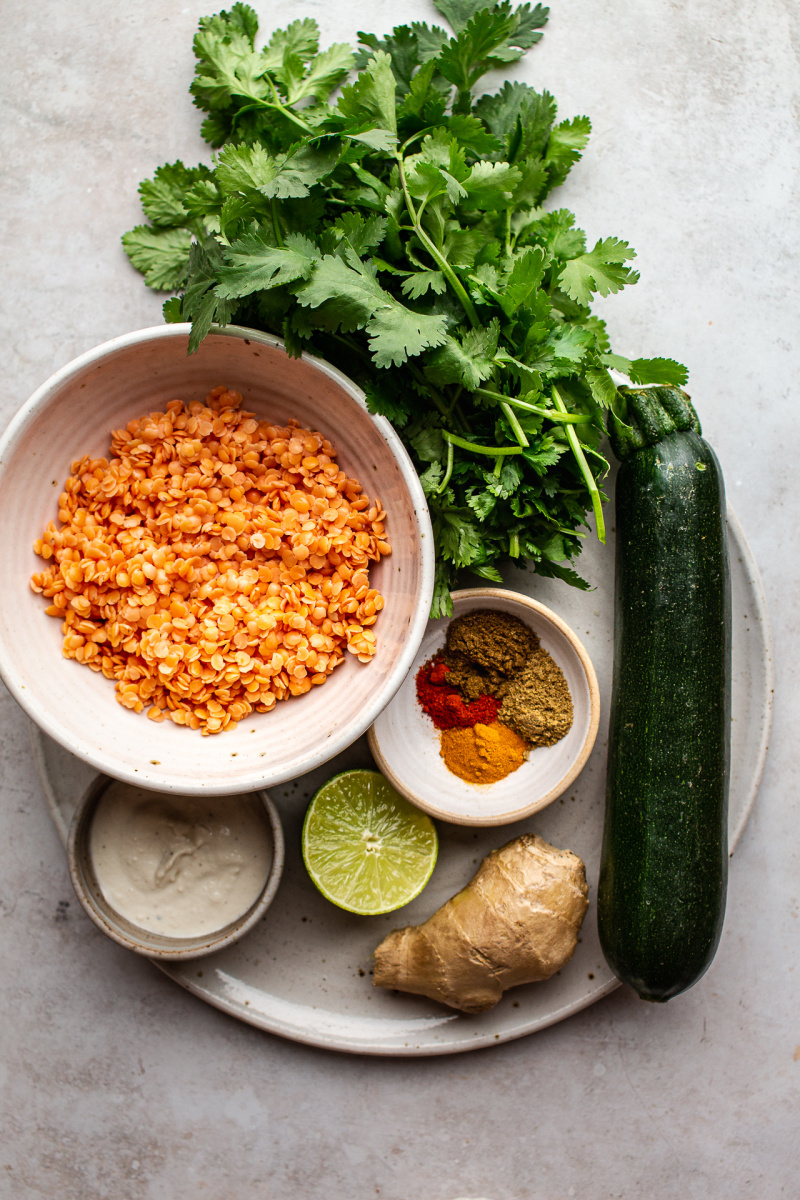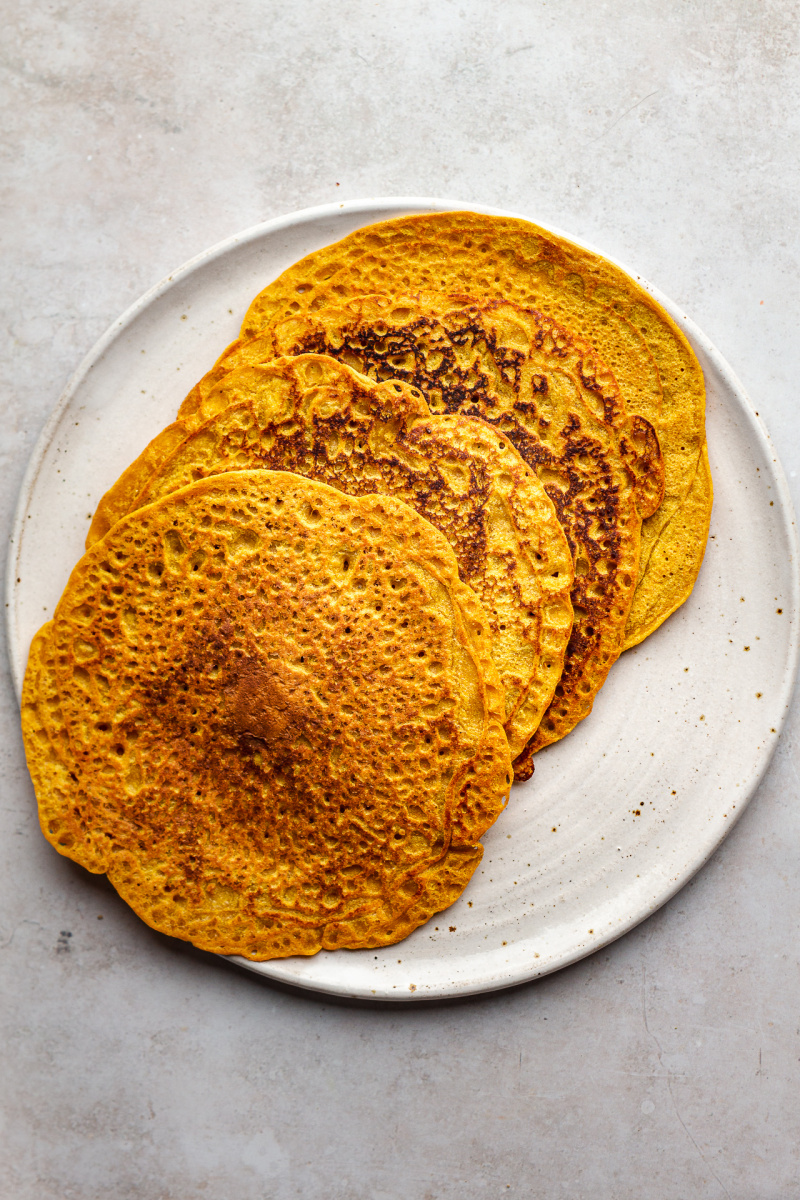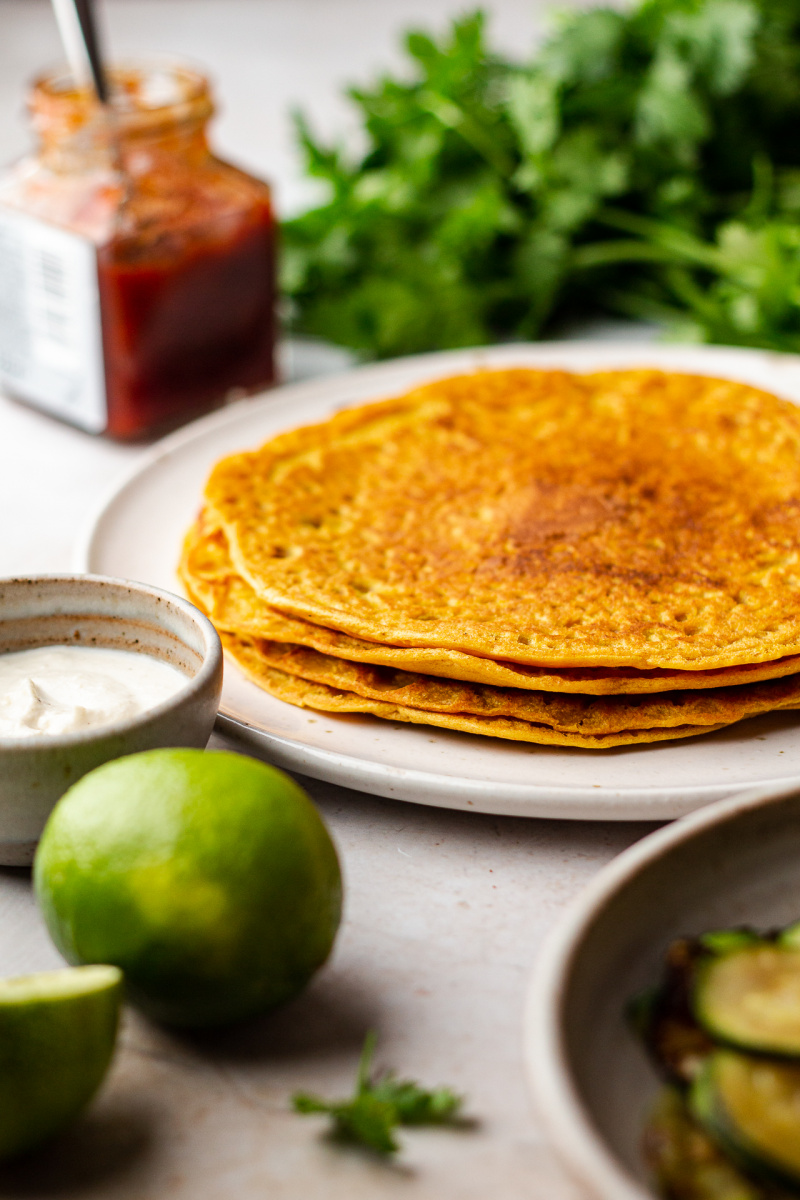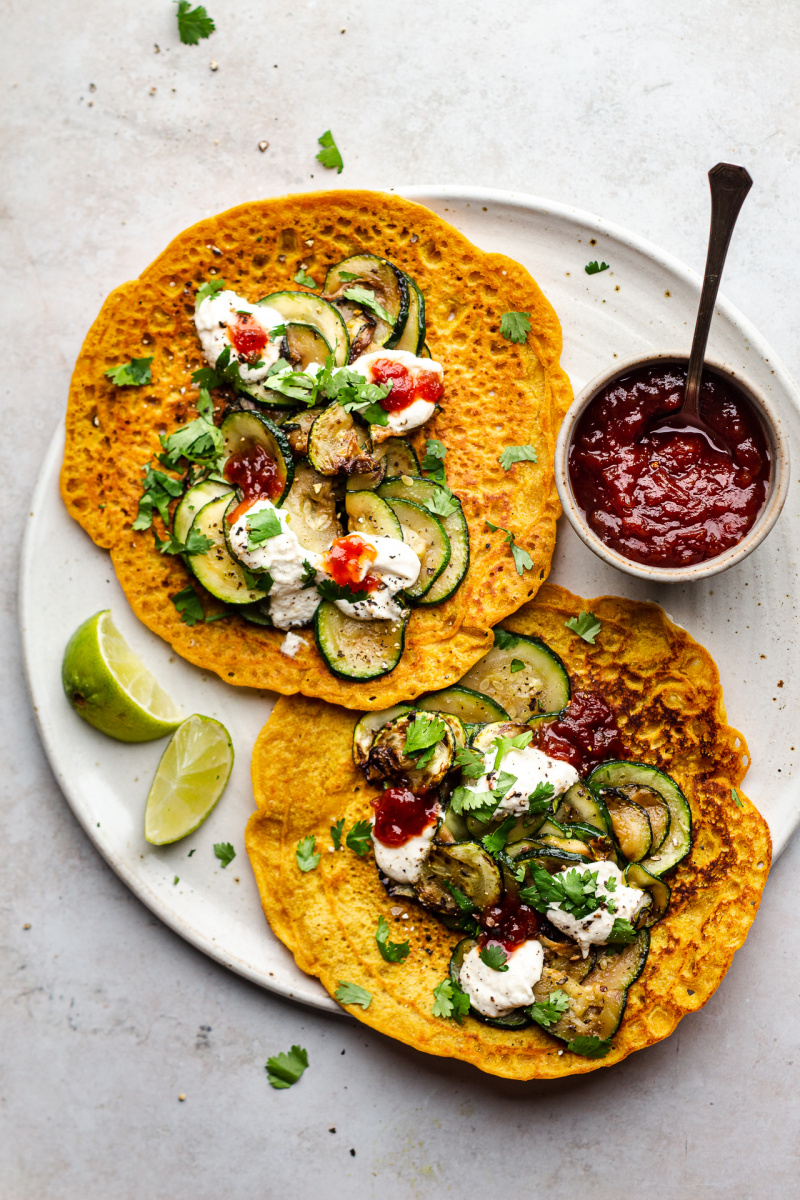 PANCAKES
165 g / 1 cup red split lentils*, soaked overnight
1 tsp salt
1 tsp baking powder
1 tsp ground cumin
1 tsp ground coriander
1 tsp ground turmeric
½ tsp ground chilli powder, adjust to taste
1 small garlic clove
a thick slice of ginger
4 tsp chickpea flour
vegetable oil, for frying
TOPPINGS
15 ml / 1 tbsp mild olive oil
2 zucchinis, sliced thinly
salt, to season
½ tsp garam masala
vegan yoghurt / cream (or see below)
shop bought chutney (I used tomato and chilli)
small bunch of coriander / cilantro, chopped
HOMEADE CASHEW CREAM (optional)
70 g / ½ cup raw cashews, soaked overnight
½ lime, zest and juice (about 2 tbsp)
salt and pepper, to taste
METHOD
Drain and rinse soaked lentils.
Place them in a blender together with the rest of the ingredients (apart from oil) and approximately 240 ml / a cup of water. Process until smooth, the batter should be pourable but a little thicker than crepe batter. You may need to add a touch more (up to 60 ml / ¼ cup more) water if it's too thick.
Heat up 1 tbsp of oil in a stainless steel frying pan. Add sliced zucchini and toss them in the warm oil to coat. Sauté them, stirring frequently, until translucent and charred in places.
Season with salt and garam masala at the very end, set aside.
Heat up a non-stick pan on a low-medium heat, brush it with a bit (1 tsp is enough if you're using a non-stick pan) of oil using a silicone brush.
Pour ¼ of the mixture onto the hot pan and use the back of the spoon to spread the mixture out in a circular fashion – the pancake should be a bit thicker than a crepe. Cook each pancake for about 3 minutes on one side and then flip. Cook for 2 minutes on the other side. Take care not to overcook the pancakes as they will be dry.
Keep the cooked pancakes in a stack in a warm oven while making the rest.
Fill with zucchini, dollops of vegan cream / yoghurt, favourite chutney and heaps of fresh coriander / cilantro.
HOMEADE CASHEW CREAM (optional)
If making your own cashew cream, place drained cashews, lime zest and juice, salt and pepper and about 60 ml / ¼ cup water in a small blender (I use a Ninja blender for this).
Blend until smooth. If using a standard blender you may need to make a double quantity.
NOTES
The pancake batter can be frozen – if you intend to freeze it, skip the baking powder and add it just before making the pancakes.
*Make sure to rinse really well, in several changes of water – until the water runs almost clear. Only then soak.
Pancakes are adapted from this recipe.