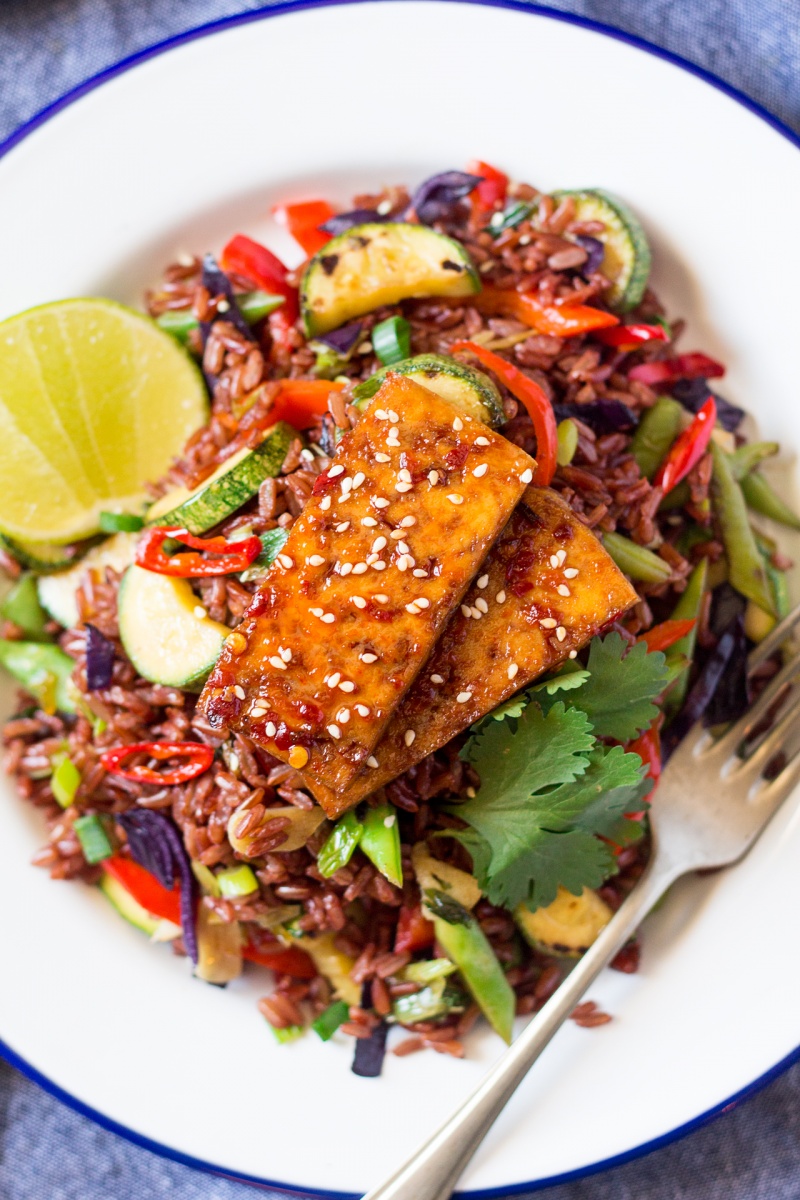 I was planning to make a cake for today as we have something to celebrate, but the weather was soooo lovely over the weekend that I failed to go fruit and veg shopping in time and had to make a meal from what I had in my fridge instead. I know, I sacrificed food for a fresh layer of tan – outrageous 😉 .
Instead, I made a simple vegetable stir-fry with spicy tofu and red Thai rice. It may not have the fireworks of the cake I was planning on, but it's a filling and healthy dish that makes a great lunch, dinner or cold work lunch too, so hopefully you are not too cross with me. The cake will happen soon, promise!
If you are wondering what the heck it is that we're celebrating, let me fill you in. In fact, I've been dying to tell someone about this as we've been keeping it rather quiet over the past year in an effort not to jinx it and also because we've had a few curve balls thrown in our wake.
At some point the whole project looked rather tentative. We've told our parents but we are pretty sure they had no idea what we were on about 😉 . Duncan and I have put our heads together and have just launched a little WordPress theme store with two, to begin with, quality themes specifically aimed at food bloggers, like ourselves.
Over the past 16 months since we launched this blog, we've both learned an awful lot about food blogging and we've really cherished the opportunity to pass that knowledge on. So if you or someone you know have been thinking about setting up a food blog or about upgrading their existing blog's look and feel and you like what we did, get in touch! Duncan, who is the technical mastermind behind the store, would love to hear from you and I will be relieved too that he finally has other people to discuss IT with and I can simply go back to working on my cakes ;).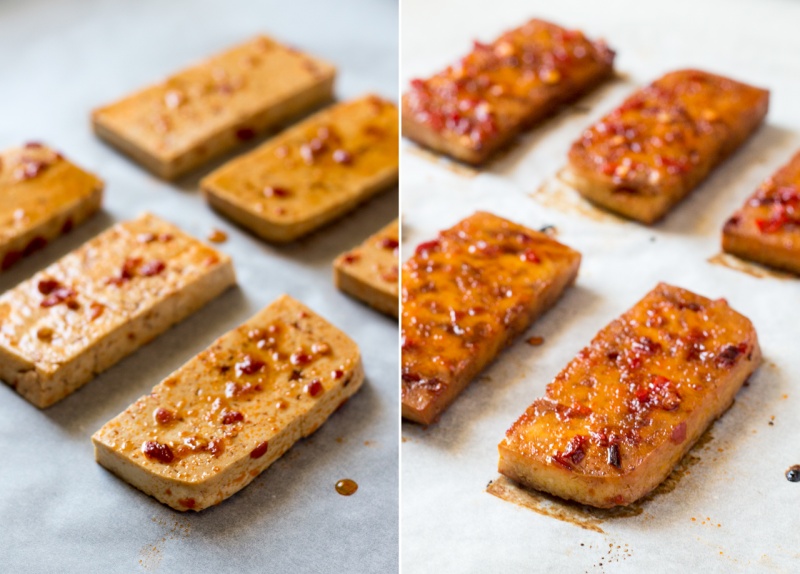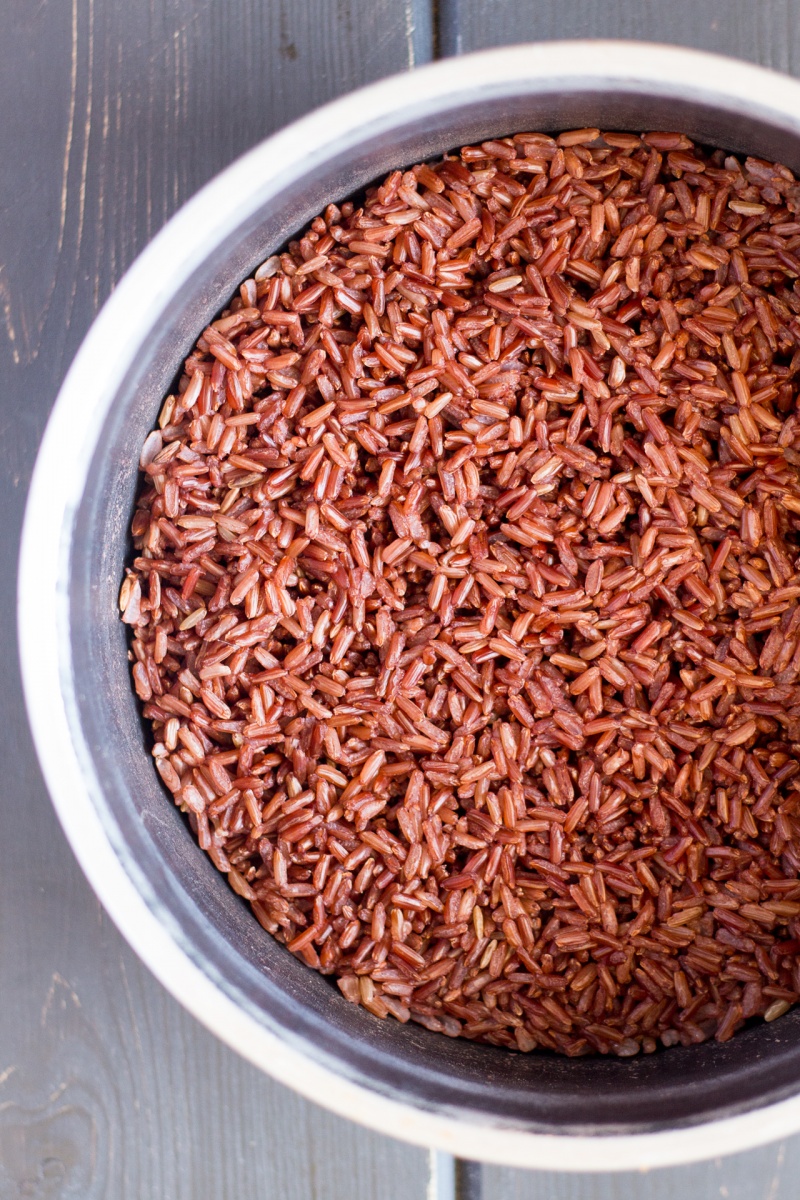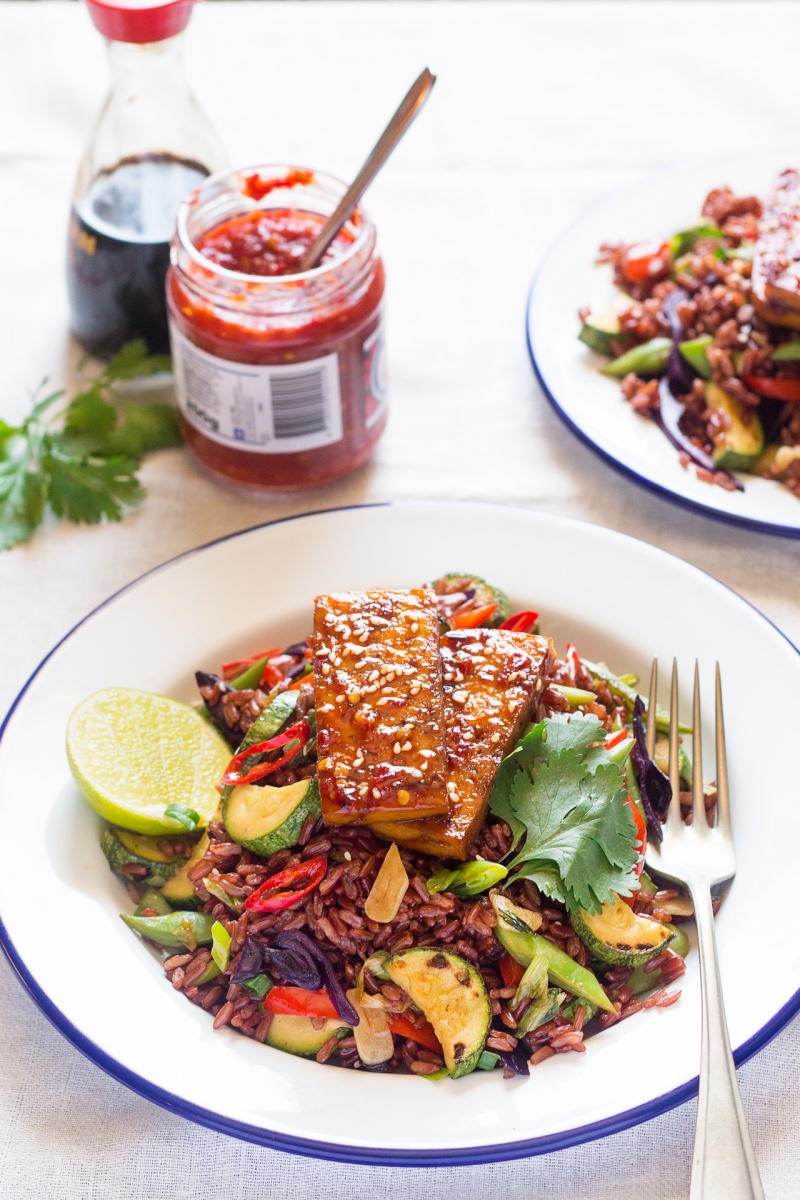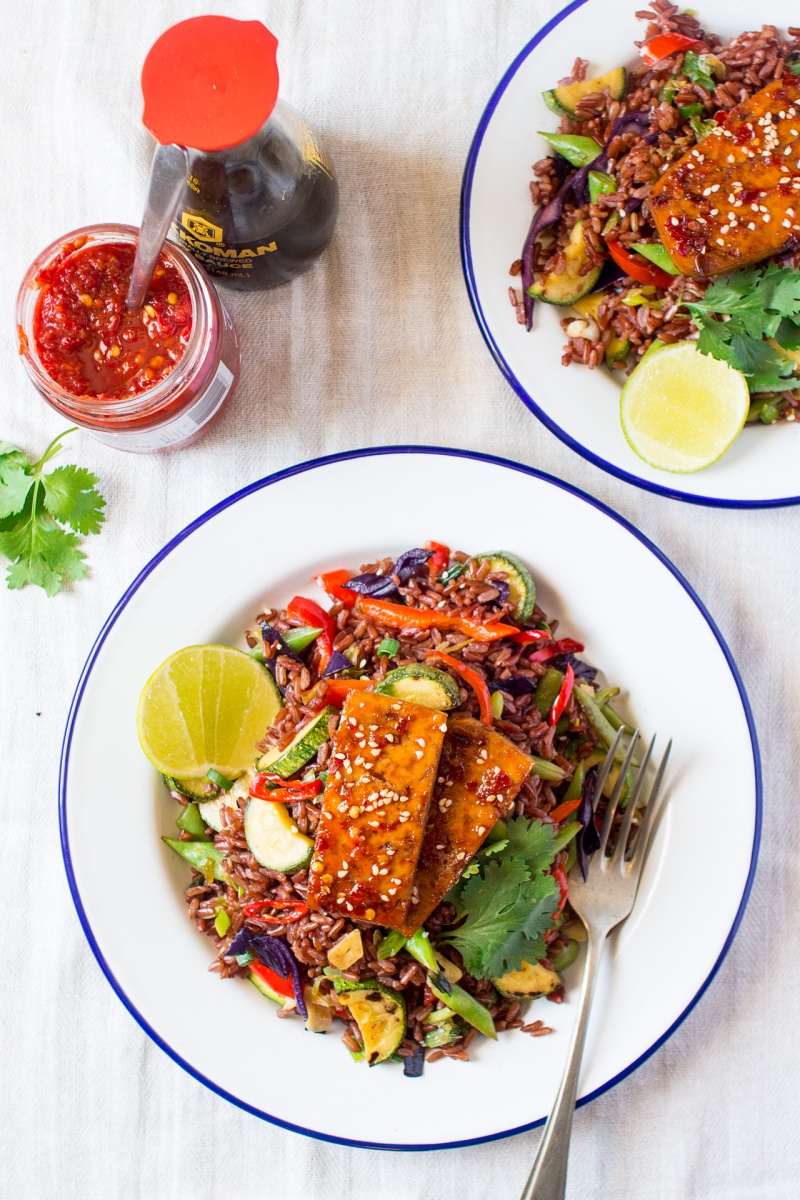 1 cup rice (I used Thai red rice)
2 tbsp peanut oil (or other high smoke point oil)
3 spring onions, sliced
2 garlic cloves, finely sliced
1 hot red chilli, finely sliced
a large handful of green beans, cut diagonally
a wedge of cabbage, shredded finely
1 red pepper, finely sliced
3 baby courgettes, sliced
tamari or soy sauce
sambal oelek (Indonesian chilli paste), to taste
1 lime
TOFU
200 g firm or extra firm tofu, pressed*
3-4 tsp sambal oelek (chilli paste), adjust to taste
2 tbsp tamari or soy sauce
2 tbsp maple syrup
2 tbsp of lime juice
4 tsp neutral tasting oil
1 garlic clove, finely grated
sesame seeds, to garnish (optional)
METHOD
Rinse rice well and put it on to boil. I used Thai red rice and even though it does say on the packet to cook it in 1:2 or 1:3 rice to water ratio, I only use 1:1.25 ratio, as I like my rice grains separate and not overcooked, and it works a treat. I put it in a pot with a see through lid. I let the water come to boil and then turn the heat right down (setting 2 out of 6). I check that all of the water has been absorbed by tilting the pot slightly and seeing if any water is seeping out. Once the water has been fully absorbed, I switch the heat off but KEEP THE LID ON. I set the rice aside and cook it in its own steam. It works a charm. This is how my gran taught me to cook white rice when I was little and it works great on red rice too.
Mix all the marinade ingredients together and adjust the spiciness to your taste. Cut the tofu into your favourite shapes and place in a bowl with the marinade, turning tofu over from time to time.
Pre-heat the oven to 175° C / 345° F and line a baking tray with a piece of baking paper.
Place the tofu on the baking tray and bake for about 25-30 minutes, turning once half way through. Once baked, brush with the remaining marinade to infuse it with more flavour.
Heat up a wok or a large frying pan. Pour 1 tbsp of oil and heat it up until it is almost smoking. Add spring onions, garlic and chilli.
Stir-fry until spring onion softens. Transfer to a separate plate, leaving as much oil on the wok as you can.
Heat up another tablespoon of oil and stir fry your veggies in the following order (leaving a minute or two between each addition): beans, courgettes, cabbage and red pepper.
Once your veggies are almost cooked but still quite crunchy, return spring onions, garlic and chilli back to the pan and add cooked rice.
Stir-fry on low-medium heat until rice is warm, season with tamari (soy sauce), chilli paste and lime juice to taste.
Divide between two plates, top with baked tofu. Serve with lime wedges.
NOTES
*To press the tofu, you either need a special tofu press or you can do it with a bunch of kitchen towels and a heavy weight. Wrap your tofu in a paper towel, place it on a plate and weigh it down with something heavy (like a can of coconut milk, for example). Once the paper towel becomes wet, change it for a new one. Repeat a few times until the paper towel stays almost dry. Pressed tofu is tastier as it absorbs flavours better.