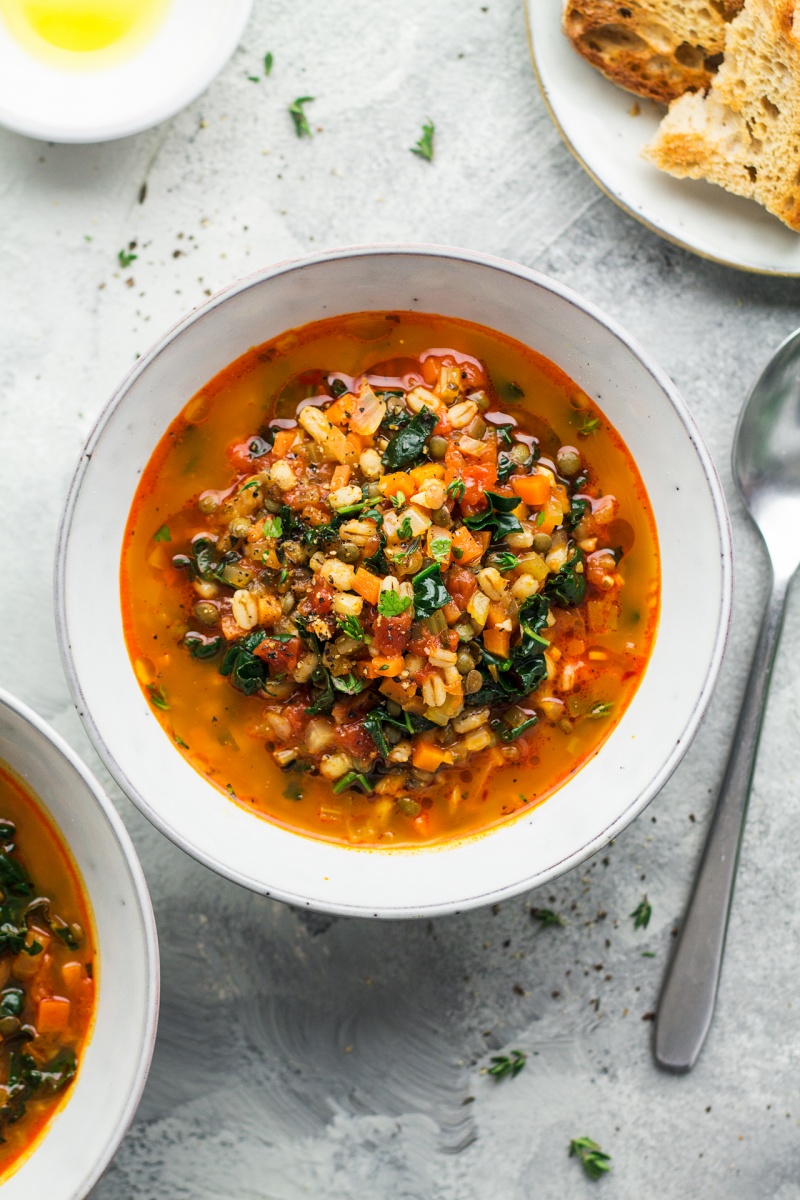 Is there anything better than a pot of hot chunky soup when the temperatures outside fall close to freezing? I think not and so this version of ribolitta has been percolating on my stove pretty much non-stop this winter. As soon as we scrape the pot, I chop up some more veggies and stick another portion on.
The beauty of this soup is that it doesn't require much prep or any hard-to-get ingredients either. You don't need to make stock in advance as the stock IS the soup. There is no waste, as all the stock veggies that usually end up in the compost, get eaten with the soup itself. I love serving it with a bowl of sourdough croutons, which I make by cubing a few days old sourdough and pan frying it in a bit of olive oil with a good pinch of salt.
As I am a bit of a control freak when it comes to photos, I felt that chopping all the veggies into a really fine and uniform dice for the photoshoot would give me a better looking soup (don't judge 😛 ) and that does take ages, but normally, I don't bother. I go for a large dice on all the veggies, which saves a lot of time.
I also tend to vary the soup a little each time I make it. Sometimes I'll add cooked chickpeas instead of lentils, sometimes borlotti beans. Often I swap out fresh parsely or thyme for dry Italian herbs and when I do use thyme, I will add a jarred roasted Romano pepper to the mix. Cooked potatoes, shredded savoy cabbage or wilted spinach also make nice variations. That way, we don't get bored that easily of having the same soup on repeat.
It's a perfect thing to have handy when you get home late from work or from a run or other type of workout outside. It hugs you like a warm blanket and provides the buckets of nourishment you need at this time of the year to build up your defenses against colds and other seasonal afflictions.
I am definitely of the opinion that prevention is better than cure, so I try to make sure that we eat as varied and healthy diet as we possibly can. Well, with the exception of some (okay, A LOT) of dark chocolate, which I don't seem to be able to wean myself off completely…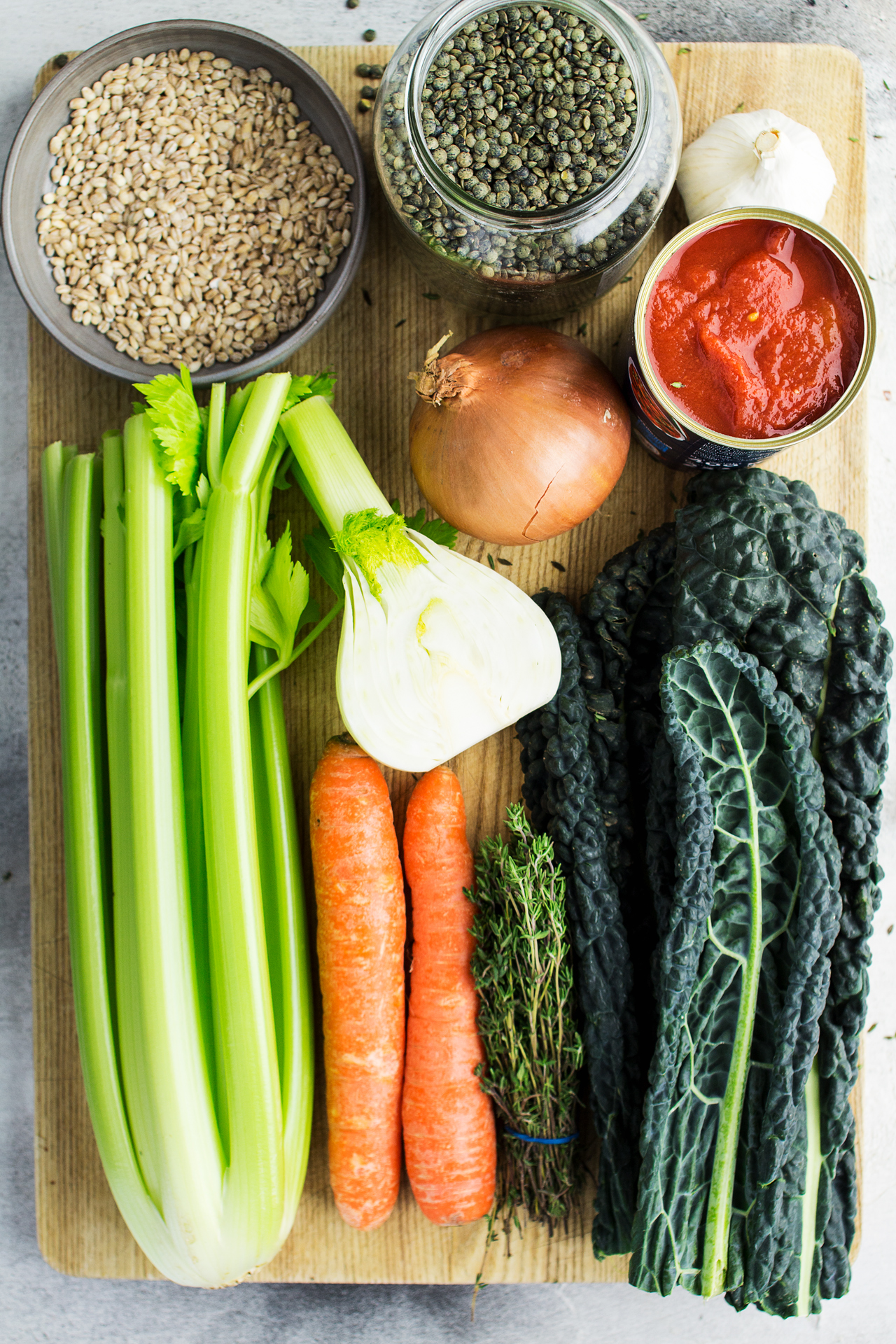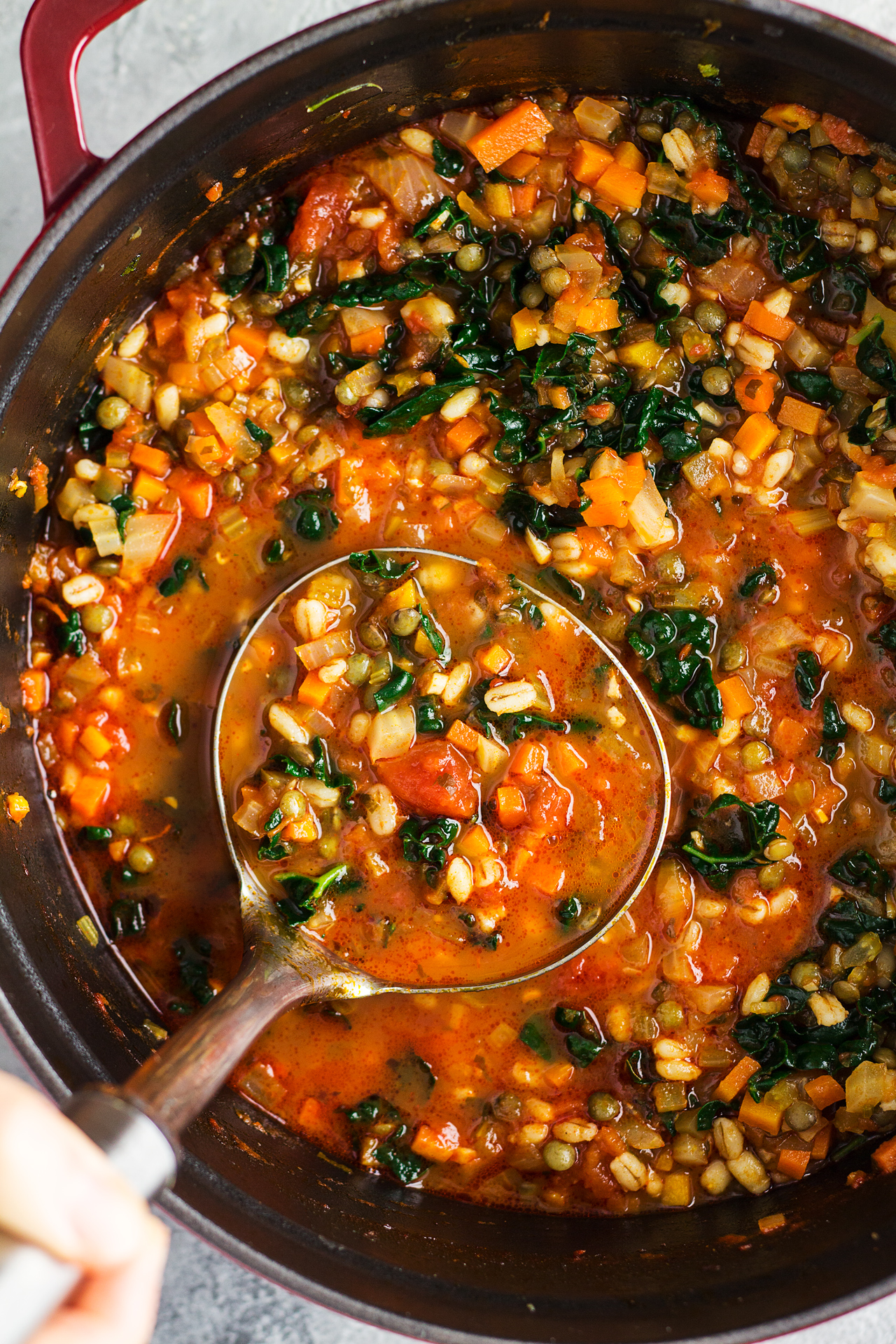 2 tbsp / 30 ml extra virgin olive oil, plus more to drizzle
1 medium onion, diced
3 celery stalks, diced
1 large carrot, diced
¼ large fennel, diced
4 large garlic cloves, finely diced
2 bay leaves
15 g / 0.5 oz fresh parsley, finely chopped OR a few springs of fresh thyme, leaves picked
½ tsp smoked paprika
¼ tsp chilli flakes (optional), adjust to taste
1¼ tsp salt, adjust to taste
2 x 400 g / 28 oz tins quality peeled plum tomatoes
100 g / ½ cup dry Puy (or green) lentils, rinsed
115 g / ½ cup pearl barley, rinsed (swap out for brown rice or potatoes for GF version)
100 g / 3.5 oz / approx. 6 leaves lacinato kale
black pepper, to taste
METHOD
Heat the oil in a large pot.
Once the oil gets hot, throw in diced onion, celery, carrot and fennel. Saute on a very low heat until soft (15 minutes), not letting the onion brown.
Next, throw in garlic, bay leaves and finely chopped parsley leaves or picked thyme leaves. Saute for another 5 minutes, stirring from time to time.
Mix in smoked paprika, chilli (if using) and salt. Adjust the amount of chilli to taste.
Chop the canned tomatoes roughly and add them to the pot together with 0.5 litres / 2 cups of water. Cover and simmer for about 30-45 minutes, until the tomatoes are falling apart.
Add in about 0.5 litres / 2 more cups of water, rinsed lentils and pearl barely. Cover the pot with a lid and simmer for about 30 minutes, until both the lentils and pearl barely are tender but not mushy.
Meanwhile, destem kale and chop into small, bite-size pieces. When lentils and pearl barely are almost there, add chopped-up kale to the pot and continue to simmer for the next 5 minutes or so.
Taste, adjust the seasoning.
Divide between bowls, drizzle each portion with a teaspoon of extra virgin olive oil and sprinkle with freshly ground pepper.
NOTES
This recipe has been adapted from this gorgeous, plant-based
cookbook
.