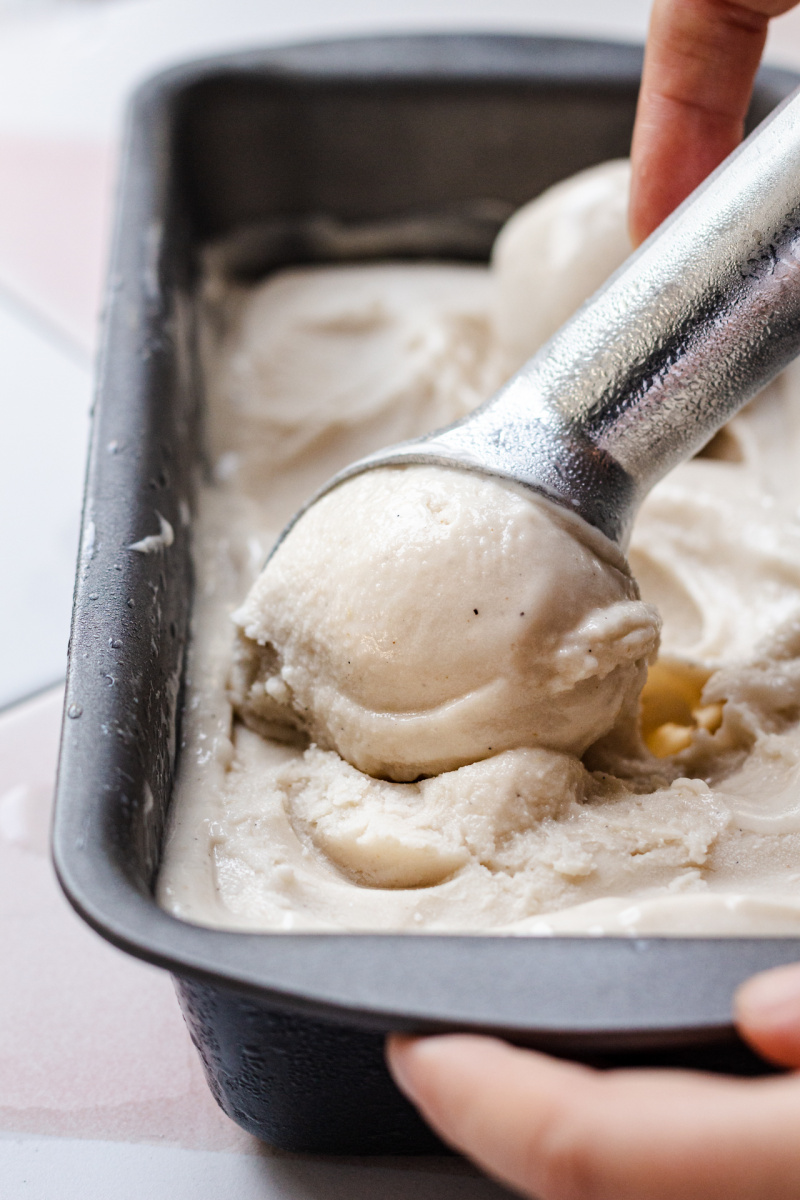 Happy Fridaaaaay! What a gloriously sunny and hot week it has been in these parts – finally!! It's been so hot that our diet has mostly consisted of iced coffees and gelato this past week, I am NOT ashamed to admit – it's been refreshing and delicious! Like I mentioned last week, I finally got myself an ice cream machine and despite my fears that I won't get enough use out of it, it's been on all the time as I found myself really into all this ice cream wizardry. Our freezer is full of half eaten vegan gelato samples 🙂 .
I love gelato and my recent trip to one of my favourite London gelaterias in the middle of vibrant Soho – Gelupo – reminded me just how much and inspired me to finally get myself an ice cream machine. It's a great gadget to have anyway but especially if you are vegan. Although there are more and more really good dairy and egg-free gelati and ice creams out there, the ingredients are often a bit of a mystery and if, like me, you want to know what you are putting into your body most of the time, it's great to have the freedom to create your own gelati from scratch. Plus it's a lot of fun!
To begin with I started with fruit sorbets as they are super easy to make, effortlessly vegan and a perfect way to enjoy all the fruit that's currently in season but then I decided to branch out and focus on coming up with a good neutral vegan gelato base that is creamy yet doesn't rely on coconut so much that it tastes of it. I was reading up on the art of gelato making a lot and brainstorming ideas on making creamy vegan gelato with Duncan and then he said 'how about rice?' to which I replied 'toasted' and from that we both made the leap to 'rice pudding gelato', which is what this gelato has effectively become.
I did some research afterwards and it turns out that rice gelato (gelato di riso) is actually an old-fashioned Italian gelato flavour – neither of us had any idea! My recipe is a departure from the traditional Italian recipe, firstly because I made my gelato vegan and also because of that I used the creamy property of rice to help me achieve that much needed creaminess, which sometimes gets lost when you make dairy-free gelato. I slow (over)cooked the rice and then blended it into the ice cream mixture to add both flavour and body to my gelato and pressed it through a sieve for a silky smooth finish.
I experimented with not blending all of the rice grains for some added texture and it works but I prefer the smooth version. I also toasted the rice to coax more flavour out of it and flavoured my gelato mix with spices reminiscent of a good rice pudding: vanilla, cardamom, cinnamon, orange peel and a dash of almond extract. The result is super creamy and delicious with a comforting flavour delivered to your palate through the medium of cold. This may sound bonkers, but it really works in my opinion and it isn't the kind of gelato you'll only want at Xmas. I've made several versions of this gelato and none of them have gone to waste. In the course of my trials, I've simplified the ingredients and altered their proportions to arrive at the creamiest of them all and I am really happy with the outcome and chuffed to be able to share it with you. I hope it will get a thumbs up from you too.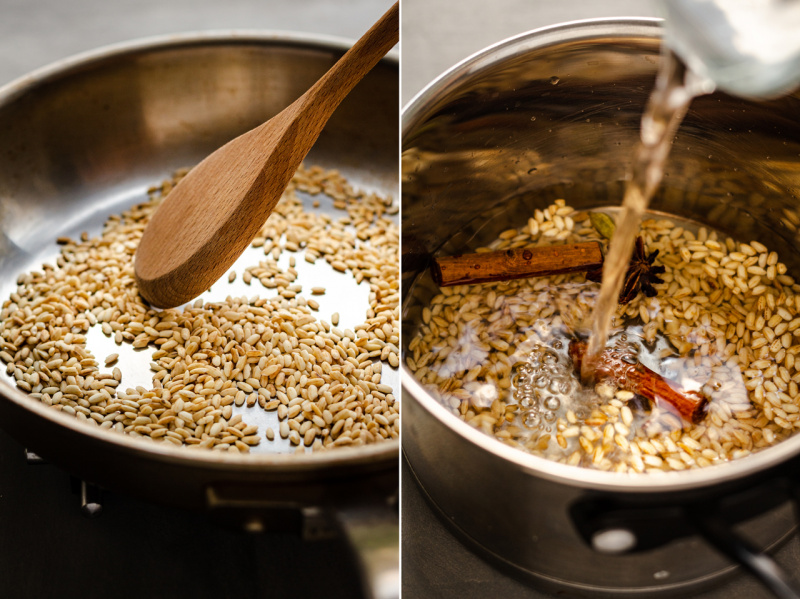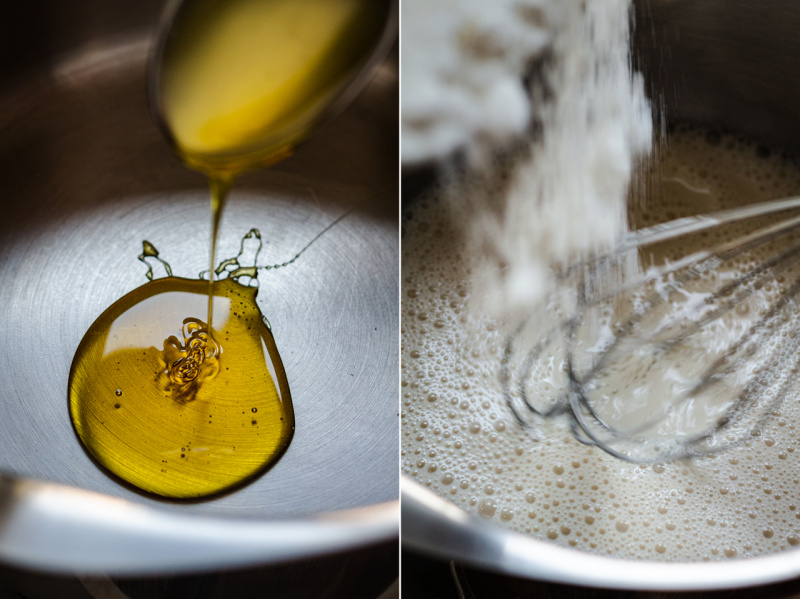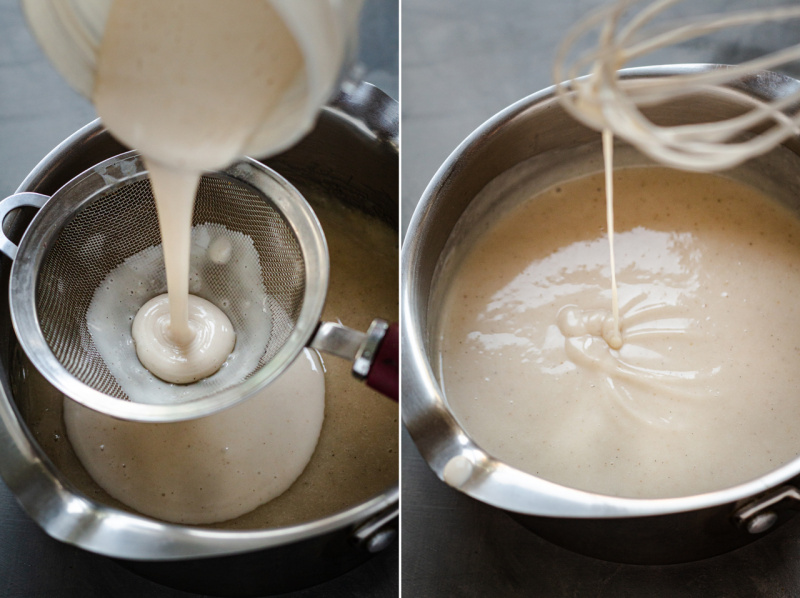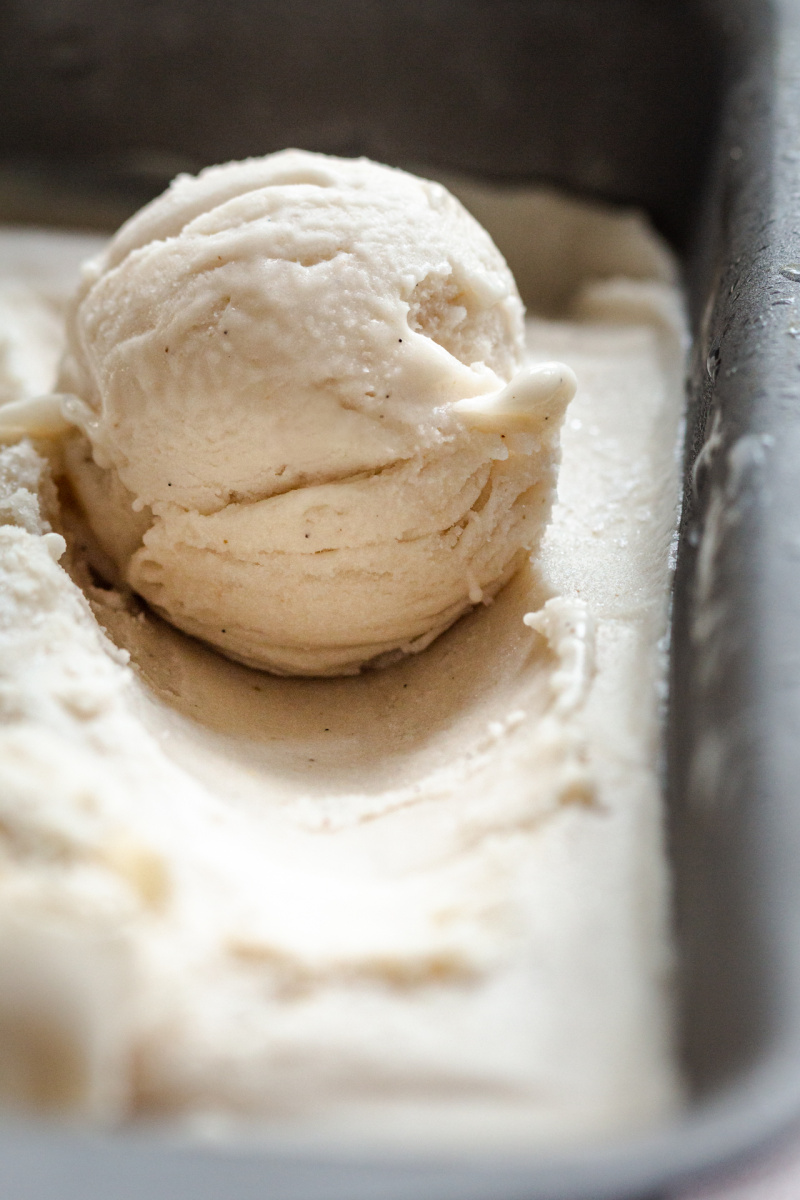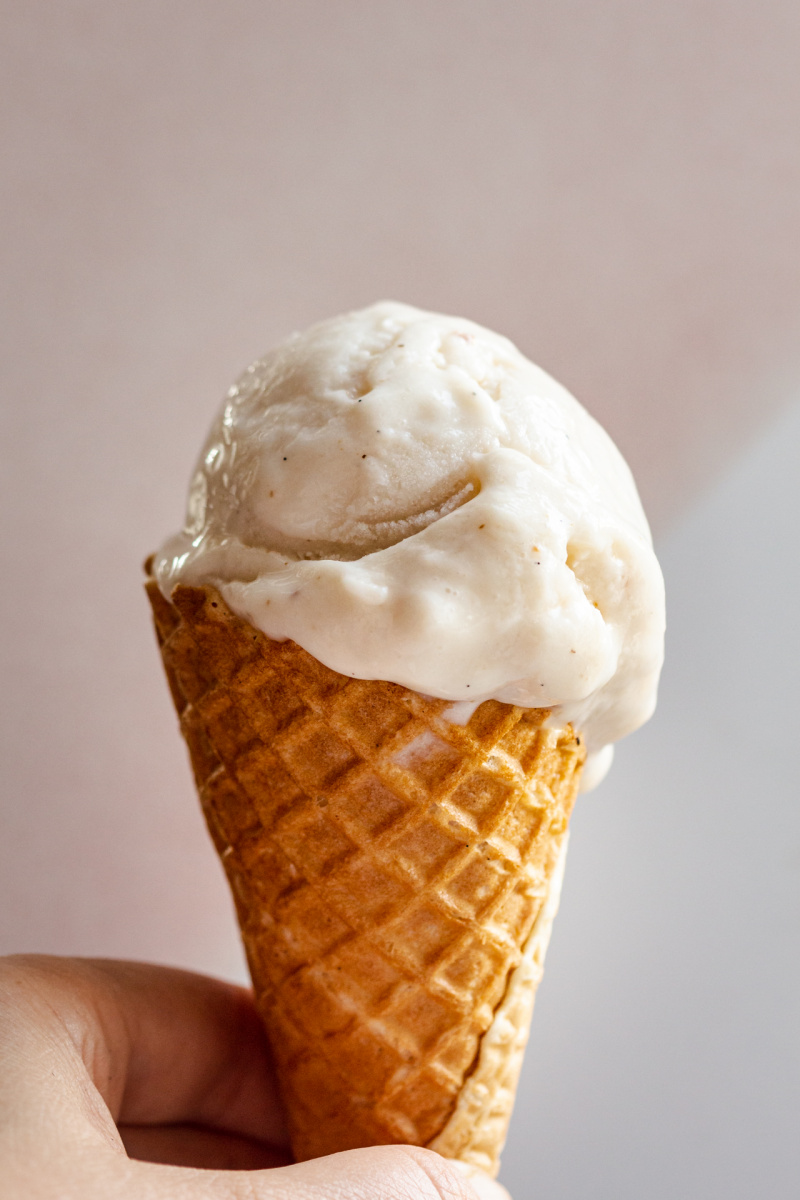 FLAVOUR BASE
50 g / ¼ cup risotto (arborio) rice
20 cm / 4″ cinnamon quill*
1 green cardamom pod, lightly crushed
2 strips of orange peel (optional)
150 g / 1 cup coconut cream*
1½ tsp vanilla extract or paste
1/8 tsp almond extract
1/8 – ¼ tsp ground cardamom, adjust to preference
BASE BIANCA
METHOD
If you have a machine without refrigeration, pop the ice cream bowl into the freezer a day before.
Toast rice on a dry frying pan, until golden. Stir frequently so that it does not burn.
Put toasted rice, cinnamon quill, crushed cardamom pod and orange peel (if using) in a small pot with a lid. Top with 240 ml / 1 cup of water.
Cover and simmer on the smallest burner, on a whisper of a flame until the rice has been fully cooked (in fact, you want it overcooked a touch), it will take about 20 minutes. Make the base bianca while the rice is cooking.
Once rice is ready, discard the spices and orange peel and transfer the rice to a blender. Add coconut cream, vanilla extract, almond extract and ground cardamom and blend until silky smooth.
Next, place a fine sieve over the base bianca (it's okay if it isn't fully cold) and sieve through the rice mixture to ensure a smooth texture. Mix the two really well then chill the mixture really well.
Once the mixture has been sufficiently chilled, prepare your ice cream maker according to the manufacturer's instructions.
Once the machine is ready, pour the cold ice cream mixture in and churn until you obtain a consistency of a soft serve gelato.
Transfer to an airtight box, stick a piece of baking parchment on the top of the mixture and freeze for 2-3 hours to reach the optimum consistency. Your gelato will become rock hard if it sits in the freezer beyond the optimal point so if that's the case transfer it to the fridge (not the kitchen counter as it will melt unevenly then) for about 45-60 minutes ahead of serving to ensure it's scoopable. Use a scoop dipped in cold water in between scoops.
BASE BIANCA
Place glucose or golden syrup in a pot with plant milk. Heat up until completely dissolved then bring to the boil.
Mix sugar and cornstarch in a small bowl. Once the glucose mixture comes to a gentle boil, gradually add in the sugar / cornstarch mixture while whisking the entire time.
Bring to the boil again and allow it to simmer gently for a few seconds until the mixture thickens. Allow it to cool down.
NOTES
*CINNAMON: Use Ceylon cinnamon quills if possible. If you don't have cinnamon quills, you can simply add ½-¾ tsp of ground cinnamon in step 4.
*COCONUT CREAM: I used a well refrigerated (so that I can scoop solids only) can of coconut cream, but you could also obtain the solids from well chilled cans – you'll need two I am guessing – of full fat (that's important) coconut milk that contains no stabilisers.
*(LIQUID) GLUCOSE: This ingredient adds body, creaminess, and stability to ice cream. You can sub it with corn syrup or golden syrup – they aren't exactly the same but they have glucose in them too so they will work.
*PLANT MILK: Any creamy (high percentage of nuts / grains) plant milk will work here, I tested soy and almond milk, my next choice will be rice or oat milk.