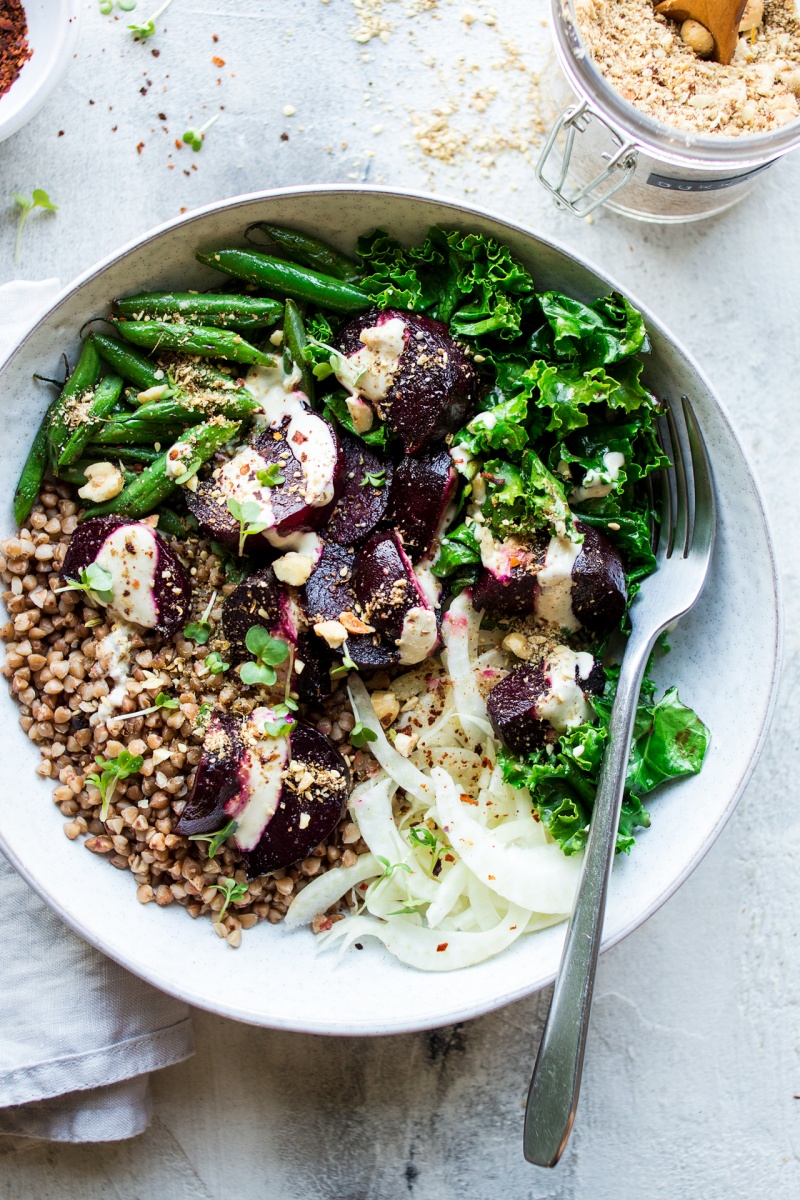 Thanks to everybody who sent me lovely messages of support after my Saturday post. I wasn't fishing for sympathy, but equally I wanted to keep things real and not pretend that I wasn't in the state of mind I was. It's one of these things. I sometimes wonder why I keep on coming up against the same issues over and over again, but then I remind myself that everyone's life has challenges and dealing with mental health issues seems to have been the card I drew. It could be better, but it also could be worse and I try to remember that. I have a supportive husband who always believes in me, even if I don't believe in myself and an affectionate cat who warms up my (perpetually cold) feet when I sleep, so I am a lucky lady, really.
Today's dish is a concoction inspired by things I used to eat in my childhood with some Middle-Eastern influences: tangy and creamy tahini sauce and a fragrant spice and nut mix – Egyptian dukkah (or duqqa). While making this recipe, I have made quite a discovery. Roasted buckwheat available in health stores in the UK is not the same as the roasted buckwheat that I am familiar with. They both look the same, but once cooked they are very, very different.
Ahead of the photoshoot, I scoured Bristol's health stores in search of roasted buckwheat groats and as I managed to find them in the second store I checked, I was chuffed. They looked right, so I didn't bother testing them until the day of the photoshoot. Yet when I attempted to cook them on the day, they turned into a nasty looking mash within 5 minutes, despite using the same cooking method I always have. I tried again just to be sure I hadn't made a mistake when measuring the water (I use 1:1.5 buckwheat to water ratio) and I got the same result. Growing more and more puzzled and desperate, I tried 2 more times (tweaking the method a little) hoping to achieve the correct texture, but no such luck.
I started questioning my sanity, so I asked Google and it turns out that other people have also noticed this when buying roasted buckwheat grouts abroad. I put my shoes and coat on and ran to a Polish deli nearby, which I suddenly remembered about. I came home and did another test with the Polish brand of roasted buckwheat and this time the buckwheat was cooked to perfection. Go figure. I am not sure where the difference lies exactly, I am guessing it must be the way the grouts are processed / toasted, but it is clear to me that the difference is massive. I would say that unless you can find Polish (or Russian – I used a few Russian brands while living on Paros), do not bother with roasted buckwheat unless tasteless gloopy mash is your thing. Once cooked, it should be light and nutty with distinctly separate grains. You can replace it with quinoa, barley or farro, but bear in mind that the last two are not gluten-free.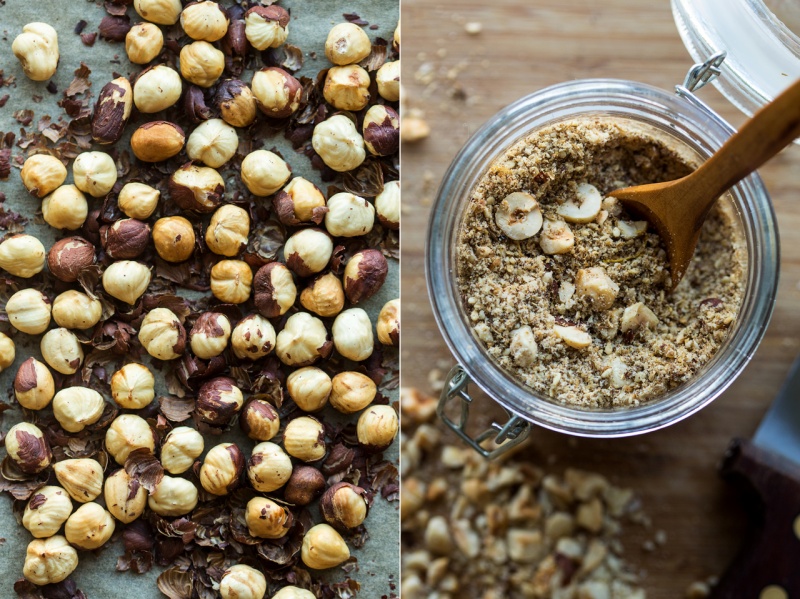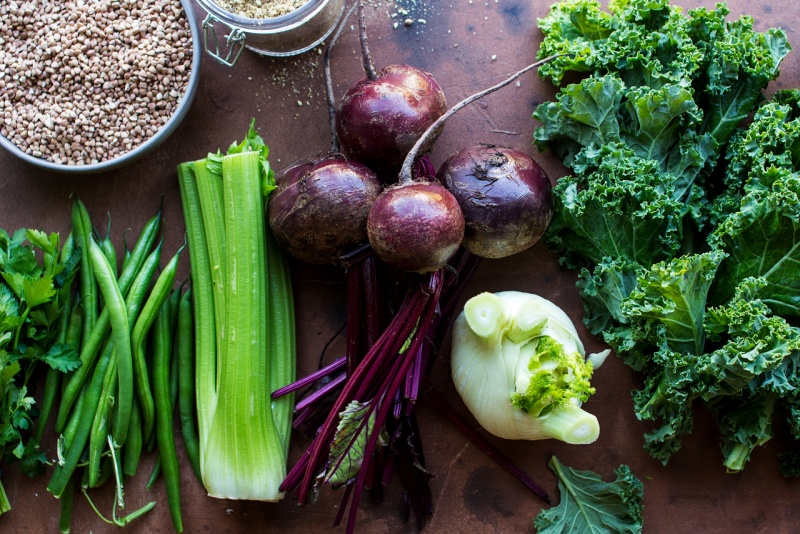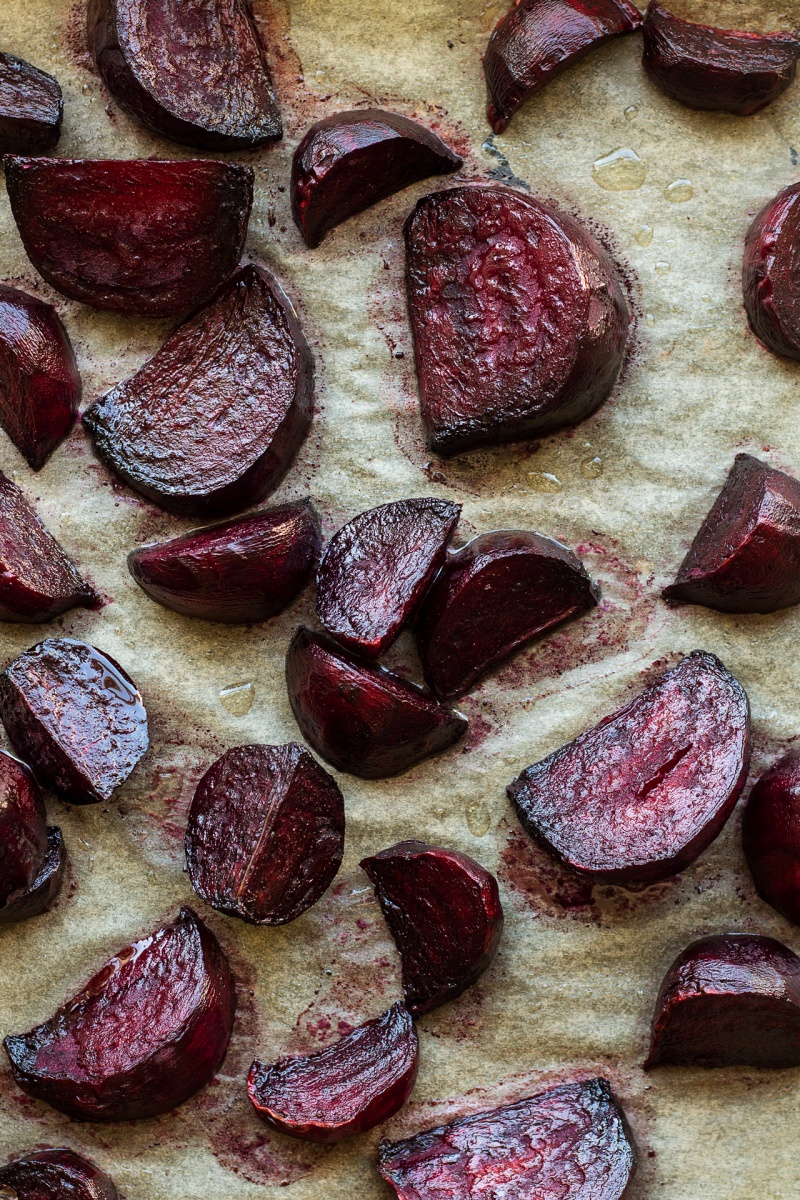 DUKKAH
75 g / ½ cup raw hazelnuts
30 g / ¼ cup raw sesame seeds
3 tbsp coriander seeds
1½ tbsp cumin seeds
1 tsp fennel seeds
1 heaped tsp coarse sea salt
12 black peppercorns
½-1 tsp chilli flakes (optional)
TAHINI SAUCE
2 tbsp tahini
1 small garlic clove, finely grated
water
juice of ½ small lemon, adjust to taste
salt and pepper, adjust to taste
REMAINING INGREDIENTS
300 g / 10 oz beetroots
2 tbsp olive oil
½ cup roasted buckwheat* (GF-certified if required) or quinoa
salt
100 g / 3.5 oz kale
100 g / 3.5 oz long green beans
½ small fennel or 2 celery sticks, thinly sliced
METHOD
DUKKAH
Preheat the oven to 180° C / 355° F and place the hazelnuts on a small baking tray.
Roast for about 7 minutes. Once roasted and cooled off, place them inside a kitchen towel and rub them between your hands to loosen up the skins.
Chop the skinned hazelnuts coarsely or pound them in a pestle and mortar, leaving some large chunks for texture.
Gently toast all of the spices and sesame seeds in a small frying plan, moving the mixture around frequently to prevent burning.
Take off the heat once the spices are fragrant and golden.
Once cool, place them in a spice grinder or pestle and mortar and crush them with some salt.
Mix the ground spices with the crushed hazelnuts and transfer them to a jar. Keep in a cool and dry cupboard.
TAHINI SAUCE
Place the tahini in a small bowl. Add the grated garlic and about 2 tbsp of water and lemon juice. Mix well.
Add more water. Stop short of the desired consistency and taste to make sure it doesn't need any more lemon juice before adding extra water. Season with salt and pepper. Set aside.
BOWLS
Increase the oven temperature to 200° C / 395° F. Peel the beetroots and cut each into 6 or 8 (if large) wedges.
Coat in 1 tbsp of olive oil. Sprinkle with salt and roast for about 20 minutes.
If you did manage to find Polish roasted buckwheat, place it in the pot with 1:1.5 buckwheat to water ratio. Cover the pot and bring the water to a gentle simmer. Once all of the water has been absorbed (about 10-15 minutes) – check by tilting the pot slightly – switch the heat off but do not take the lid off. Allow the buckwheat to rest for 5-10 minutes so that it finishes cooking in its own steam. Season with salt once done.
Meanwhile, chop the kale into bite-size pieces. Top and tail the beans and cut them into 3 segments.
Heat up a tbsp of olive oil in a wok (or heavy frying pan) and stir-fry the kale and beans for 2-3 minutes, until charred in places. Season with salt.
Divide the cooked buckwheat, kale, beans and sliced fennel or celery ribs between two bowls. Top with the oven-roasted beets. Drizzle with the tahini sauce and sprinkle with a generous amount of dukka.
NOTES
*I recommend finding a Polish (or Russian) brand of roasted buckwheat (known as kasza gryczna in Polish) as once cooked its texture is different and far superior (in my opinion) to what I was able to buy in a UK health store (which produced a soggy and mushy end result).