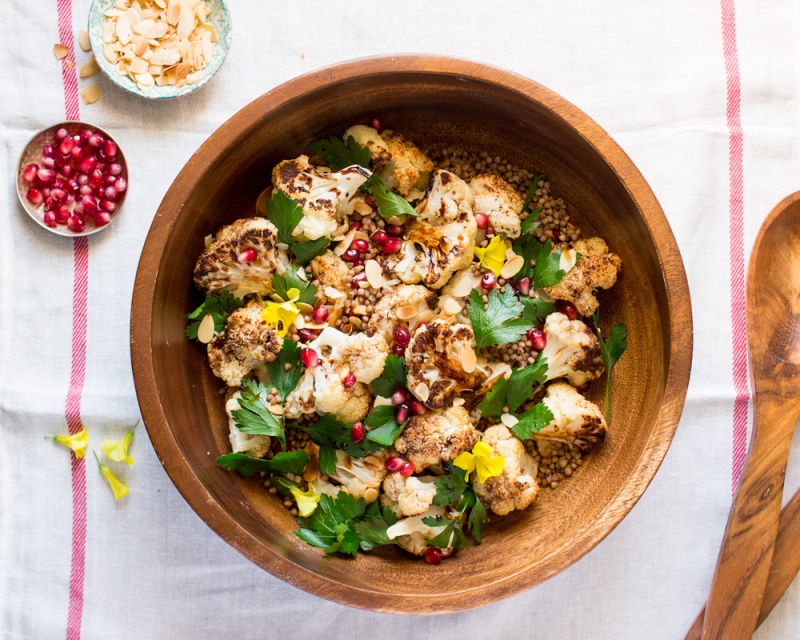 Today's dish is a simple lunch inspiration – a warm, jazzed-up roast cauliflower salad with a pleasantly sweet and tangy balsamic and maple syrup dressing. The dressing is a bit on the naughty side but it complements roast cauliflower so well that it would be a shame to do away with it.
Cauliflower is one of these vegetables that I was never too fond of as a child. In my home, it used to be served French or Italian style (not quite sure where it originated) – it was boiled or steamed and topped with brown butter breadcrumbs. I mean I didn't mind it that much but I wasn't looking forward to it much either. This is ironic as if butter was vegan, I would appreciate this subtle flavour combo much more now, I'm sure. Like mighty kale, cauliflower is enjoying a bit of a revival and people are much more adventurous when it comes to its preparation. My favourite way by far is coating it in spices and roasting it in the hot oven until fragrant and beautifully caramelised. This is exactly what I did here. To be honest, I had to stop myself from dipping roasted florets in balsamic-maple reduction or else this post would have zero pictures.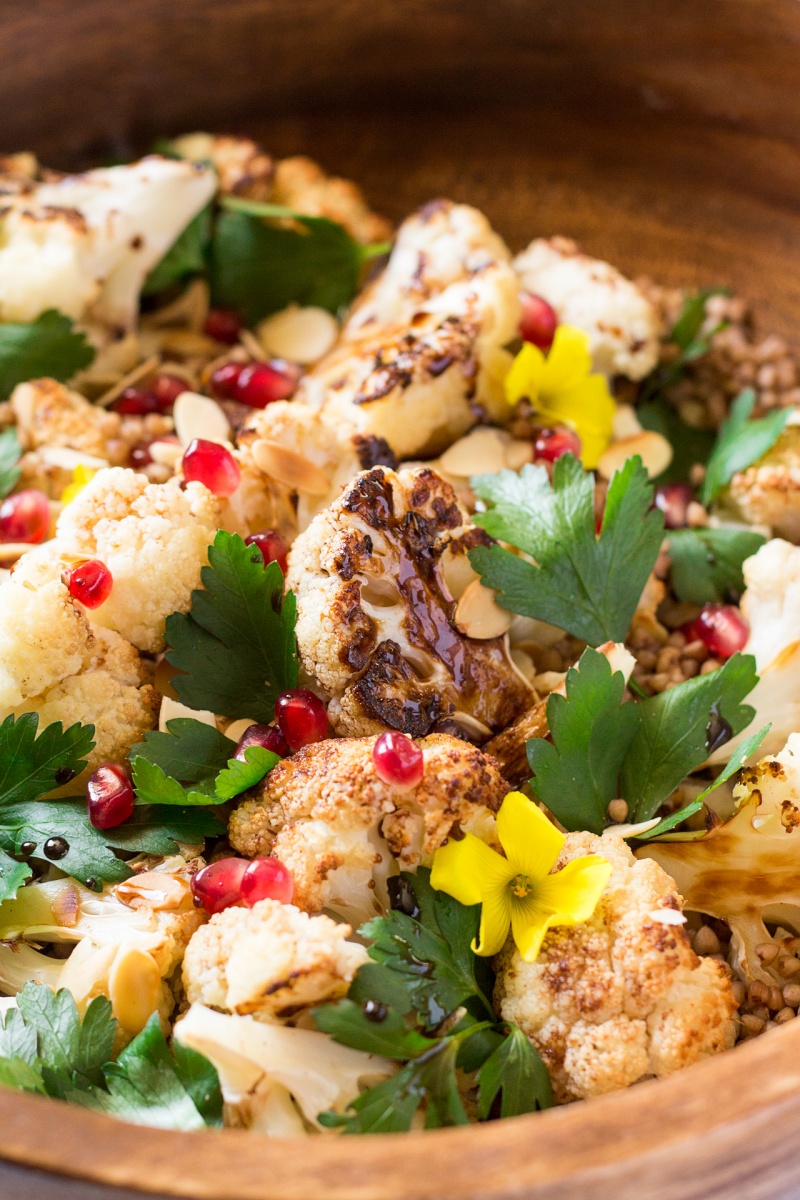 SALAD
1 large cauliflower
1 cup of roast buckwheat
seeds from ½ pomegranate
a large handful of parsley, chopped finely
2 handfuls of slivered almonds, roasted in a dry pan
½ tsp ground cumin
½ tsp ground cinnamon
1/8 tsp chilli powder
¼ tsp ground coriander
salt
olive oil
REDUCTION
6 tbsp / 90 ml balsamic vinegar
3 tbsp / 45 ml maple syrup
METHOD
Heat up the oven to 220° C / 430° F and line a baking tray with a piece of baking paper.
Combine all the spices and ¼ tsp of fine sea salt in a small bowl.
Divide cauliflower into large florets, coat it with olive oil and sprinkle with the prepared spice mix. Put seasoned cauliflower florets on the baking tray and bake for about 25 minutes or until cooked and nicely charred in places.
Carefully check buckwheat for small stones and debris (I advise against rinsing it though as it becomes mushy). Put buckwheat into a small pot with a glass lid and add 1 and ½ cups / 360 ml of water, cover with a lid and bring to the boil. Do not salt it until it's been cooked as salt negatively affects buckwheat's texture. Once the water comes to the boil, turn the heat down to low and cook on low heat until all the water has been absorbed (to check, tip the pot to see if water is coming out from underneath the buckwheat, but DO NOT LIFT THE LID). Once the water has been fully absorbed, rest the pot for another 10 minutes (with the lid firmly on) so that the buckwheat finishes cooking in its own steam. Salt to taste once ready.
Place balsamic vinegar and maple syrup in a small pot. Bring them to the boil and then reduce the heat to low. Continue simmering until the mixture reduces by about 1/3 and reaches the consistency of very runny honey (reduction will thicken considerably as it cools). Take off the heat and cool down. If you find that the cooled down mixture turns out too sticky, add a splash of water and return to the stove on a low heat. Take off the heat as soon as you get a homogeneous sauce.
Combine seasoned buckwheat and roasted cauliflower in a bowl. Generously sprinkle with chopped parsley leaves, pomegranate seeds, roasted almond slivers and drizzle with balsamic reduction.