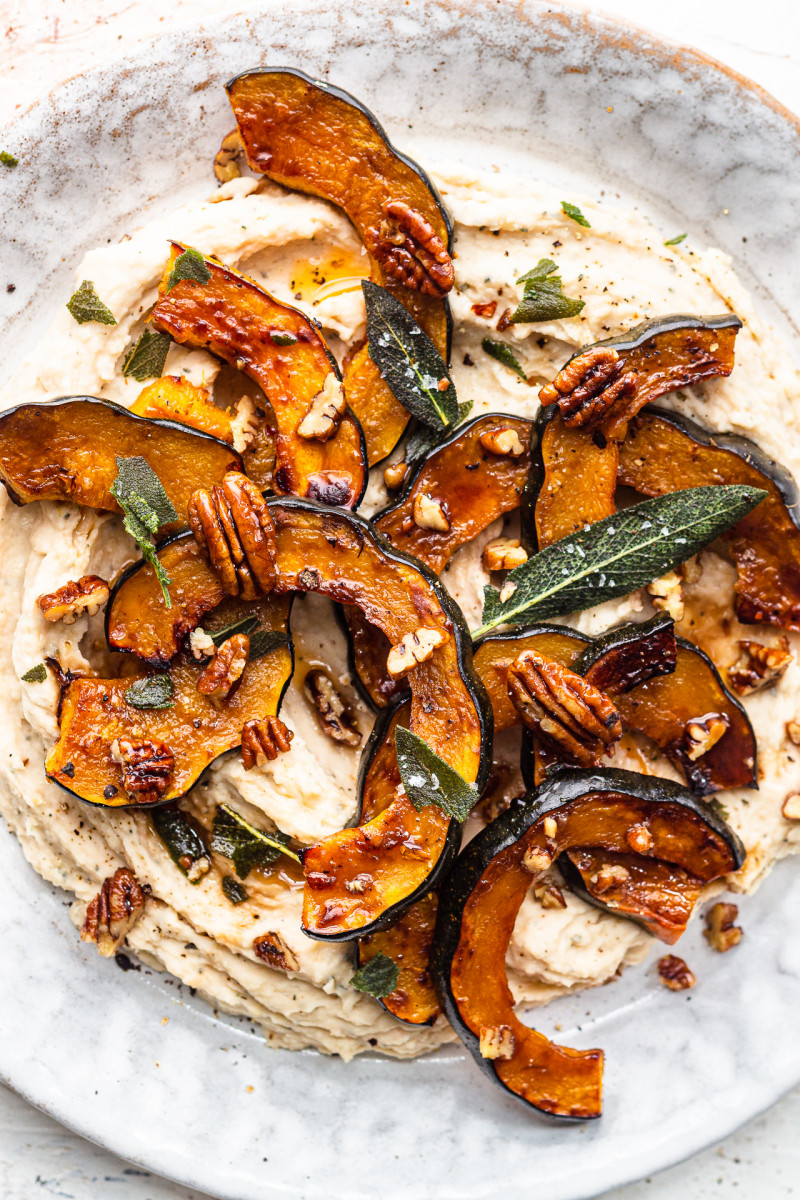 And just like that, it's November people! What? How? And since that means that Thanksgiving and Christmas are nearing dangerously close for comfort, I've decided to switch gears and get into the festive cooking already! Expect a lot of pumpkins, nuts and chocolate from me this year.
First up a beautiful savoury side dish that will not be out of place on your either Thanksgiving or Christmas table. It's beautifully caramelised acorn squash on a bed of creamy white bean mash, topped with crispy sage leaves and maple pecans. It's easy to make, delicious and looks the part too so I hope you'll consider making it this year.
MORE ABOUT THE INGREDIENTS
ACORN SQUASH: I used an acorn squash as I love the visual contrast between its orange flesh and dark green skin, which does not require peeling, but any firm fleshed eating pumpkin or squash will work just as well.
GARLIC: I used an entire head of roasted garlic cloves to flavour the mash. Even though it may seem like a lot of garlic, it really is not – roasting the garlic mellows it out and transforms its flavour. I recommend roasting more than one head of garlic at the same time and using the rest for other dishes.
BALSAMIC VINEGAR: if you can, it's worth investing in a good quality balsamic that's quite thick and syrupy and way more flavoursome. But if that's not possible, don't worry, the cheap stuff will work well enough too.
MAPLE SYRUP: I used a touch of maple syrup to contrast the acidity of balsamic in the glaze and a bit more to caramelise pecans. You could also use light muscovado if you prefer.
CANNELLINI: cannellini beans – also known as white kidney bean – make a beautifully creamy mash. I like to cook my own (you will need about 1¼ cup dry beans) but canned work just as well here. You will need two 400 g / 14 oz cans for this recipe.
SAGE: sage is a classic friend of pumpkin. I used some to flavour the mash and fried some leaves for the topping. You could use thyme or rosemary for the former and skip the later if need be.
PECANS: pecans caramelised in leftover sage oil, maple syrup and a touch of balsamic add a lovely sweet crunch to this dish. You could sub them with walnuts (or hazelnuts) if you wish or pumpkin seeds if you are cooking for someone with a nut allergy.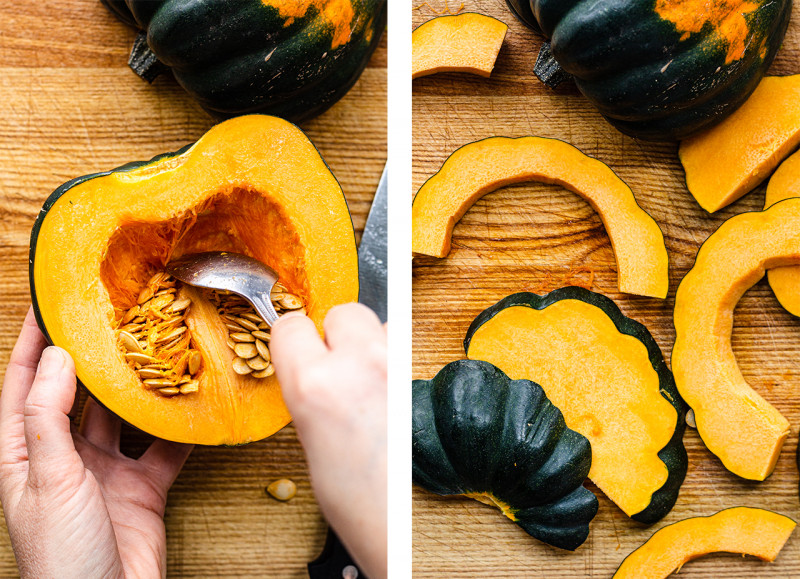 Core and cut your acorn squash into thick slices. The good news is that there is no need to peel it as after half an hour in a hot oven the skin will be nice and tender enough to eat.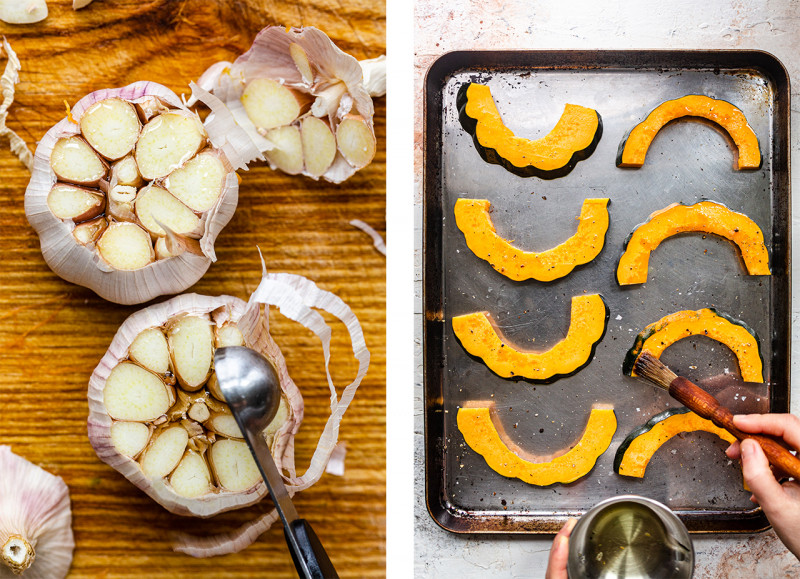 Prepare a head (or two, I like to roast some extra whenever my oven is on) garlic ready for roasting – we will use its sweet and gooey goodness to flavour the mash later. Brush the squash with olive oil all over and season before roasting.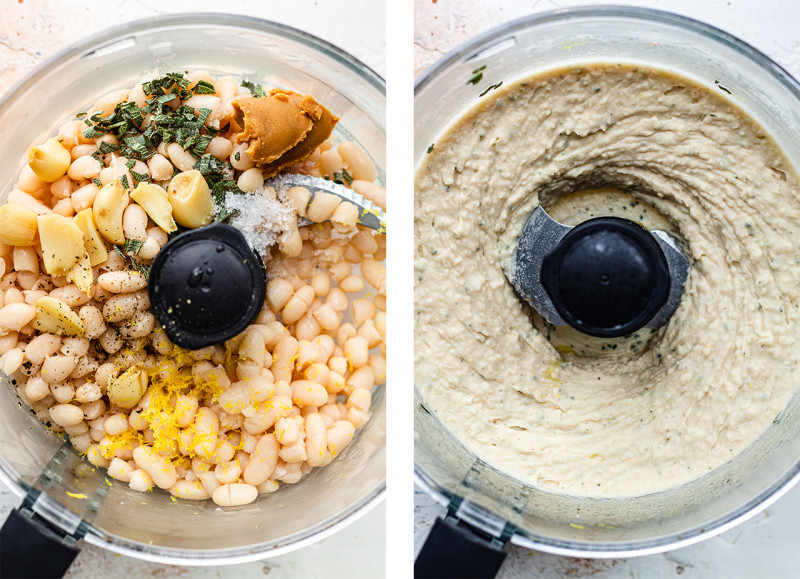 Place all the mash ingredients in a food processor or a powder blender and blend until smooth. You could use bean cooking (or canning) water to blend the mash smooth or extra virgin olive oil for extra indulgence – or a mixture of the two.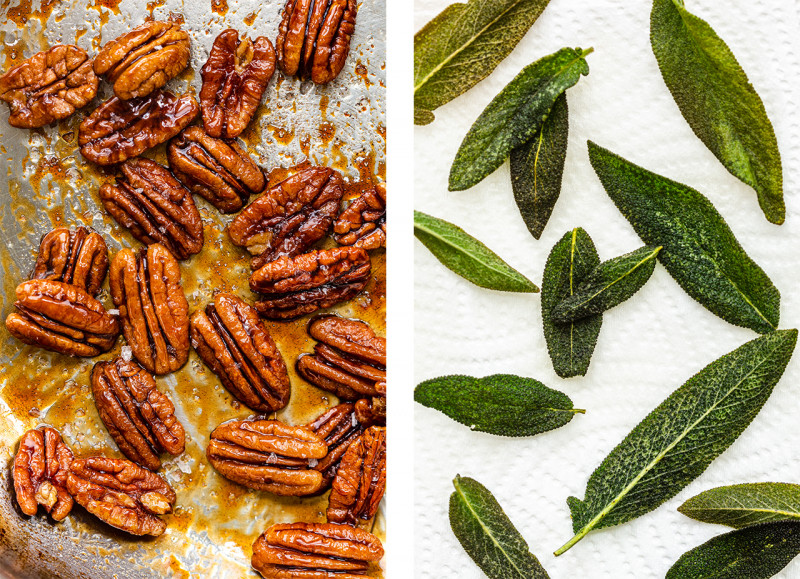 Finally, time for the garnish – fresh sage leaves fried in olive oil until crispy and pecans caramelised in maple syrup and balsamic, both delicious and easy and quick to make – in a single frying pan.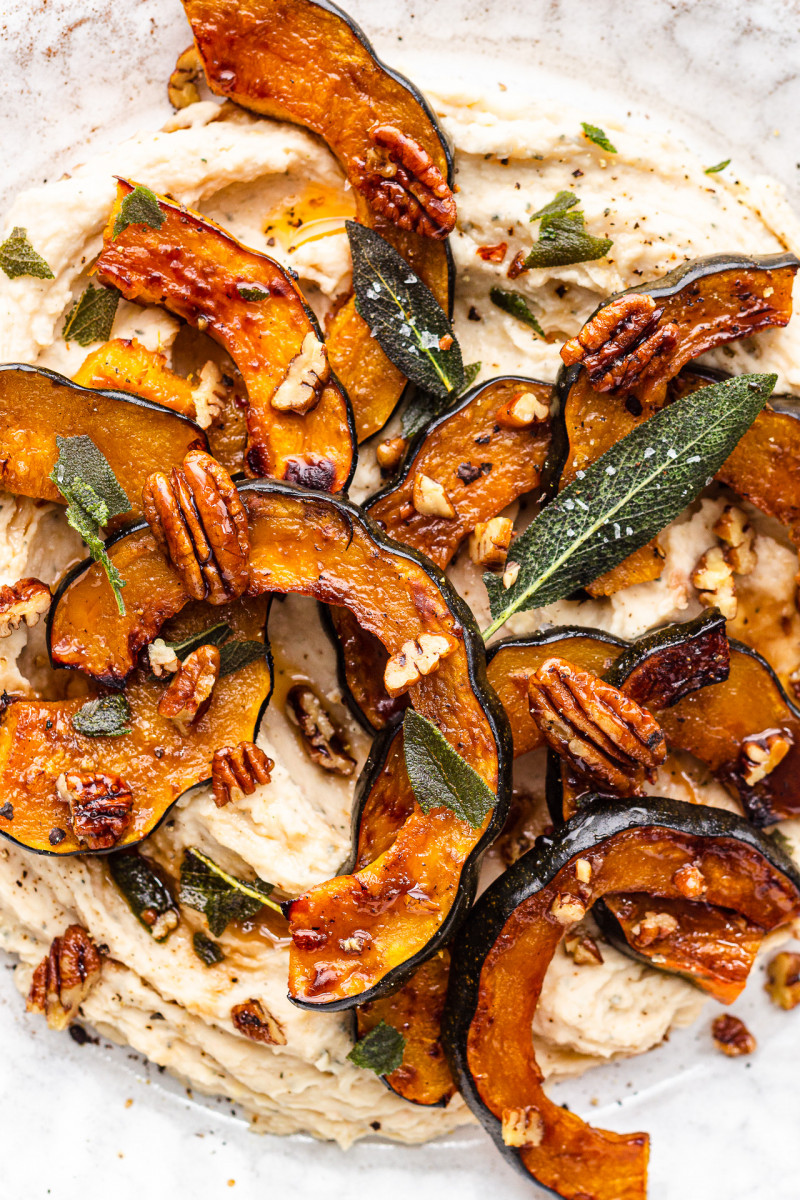 Once all the components are ready, pile the mash on a platter – use the back of a spoon to shape it nicely. Top the mash with caramelised acorn squash, leftover balsamic, crunchy pecans and crushed up sage leaves.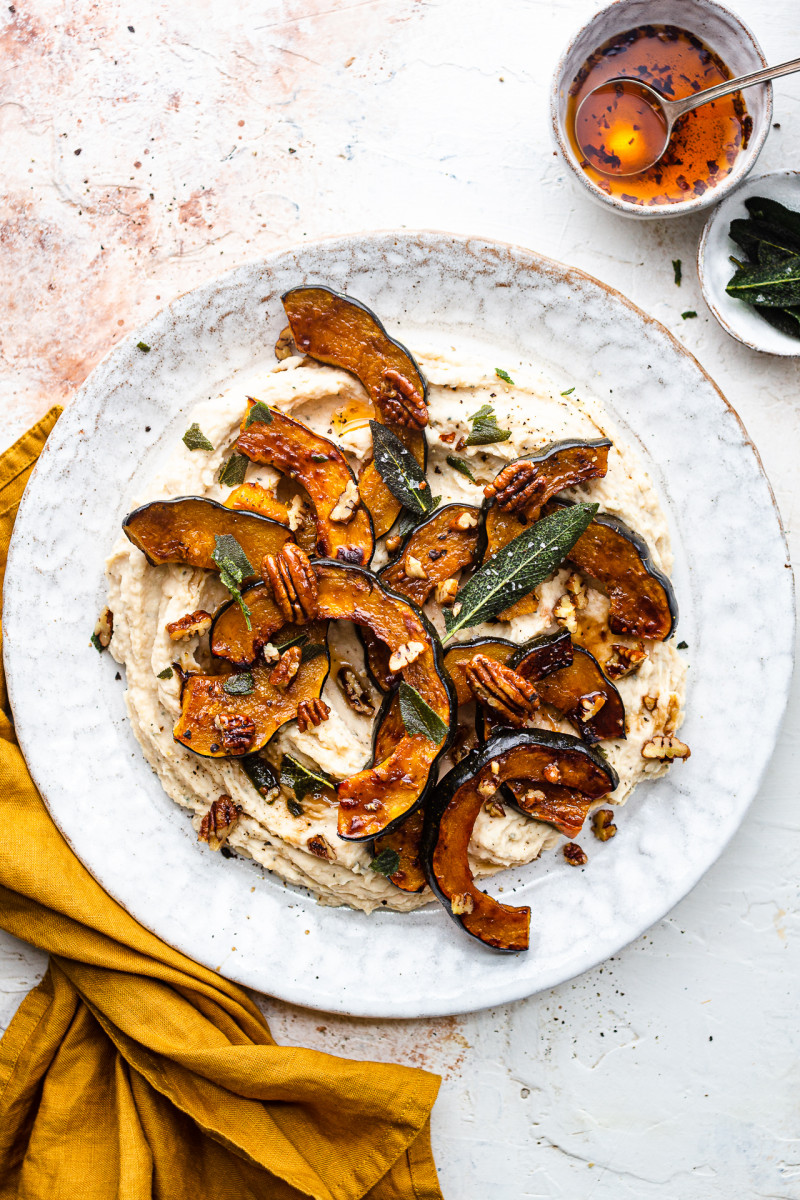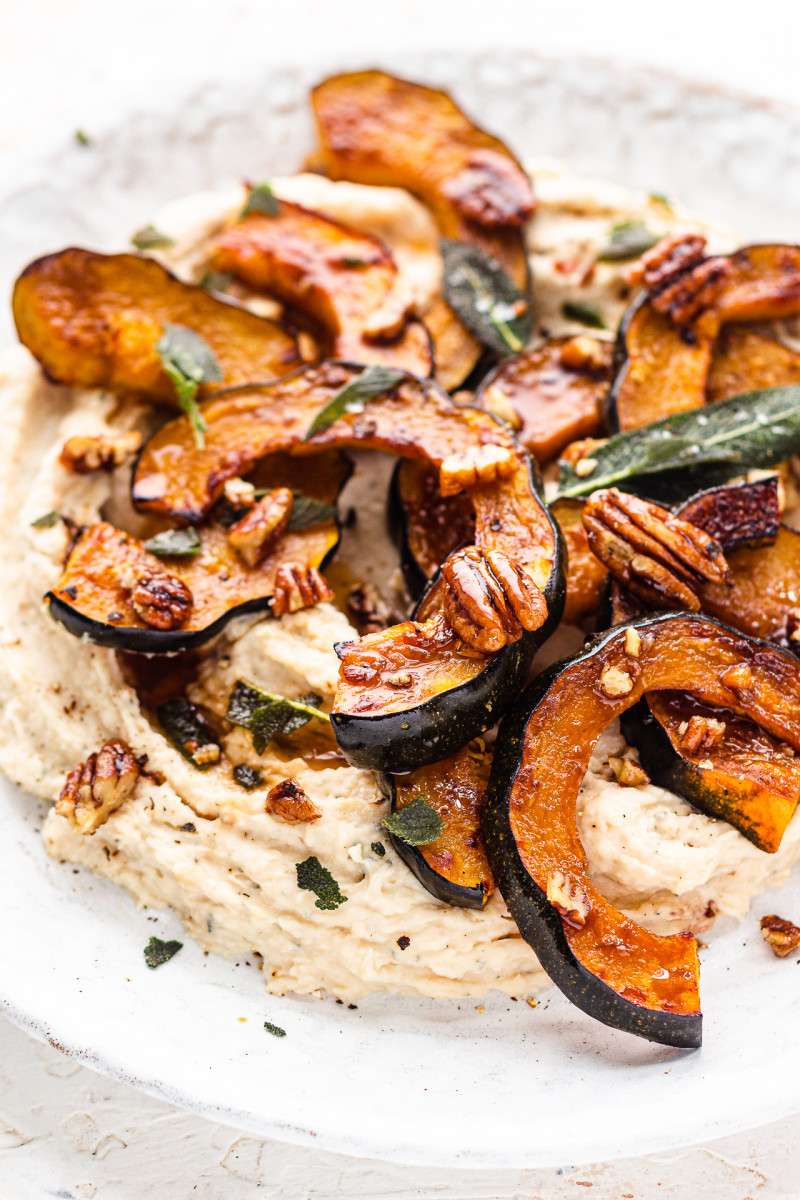 approx. 1kg / 35 oz (1 large) acorn squash*
20 ml / 1½ tbsp olive oil
30 ml / 2 tbsp balsamic vinegar
15 ml / 1 tbsp maple syrup
1 head of garlic
salt and pepper
WHITE BEAN MASH
500 g / 3 cups (2 cans) cooked cannellini beans
4 large sage leaves or 1 scant teaspoon dried
zest of 1 lemon + 30 ml / 2 tbsp juice
1 tbsp white miso paste* (optional)
¾ tsp salt, adjust to taste
black pepper, to taste
30-45 ml / 2-3 tbsp bean cooking water or olive oil
FRIED SAGE & PECANS
15 ml / 1 tbsp olive oil
8-10 sage leaves
10 ml / 2 tsp maple syrup
5 ml / 1 tsp balsamic vinegar
40 g / 1/3 cup pecans (or walnuts)
METHOD
Heat up the oven to 220° C / 425° F and grab two large baking trays.
Wash acorn squash, cut it in half lengthwise, scoop out the seeds with a spoon and slice into 1.25 cm / 0.5 " slices.
Brush the slices with 1 tbsp of olive oil all over, season with salt and pepper and spread on two baking trays, leaving plenty of room around each piece.
Cut the top of the garlic head (I like to roast a few at once) off to explose the cloves, drizzle with 1 tsp of olive oil, compeletely wrap the garlic in a piece of baking paper and then foil and put on the tray next to the pumpkin.
Bake for about 15 minutes, then mix balsamic and maple syrup in a small bowl and brush it onto the squash on both sides (keep leftovers for drizzling at the end). Carry on baking for another 5-10 minutes, until soft and caramelised.
Check on the garlic, if the cloves are soft and semi-translucent, carefully remove it from the oven. If not, carry on roasting it for 5-10 more minutes.
WHITE BEAN MASH
Place drained cannellini beans, roughly chopped up sage leaves, lemon zest and juice, miso, salt, pepper and cooking / canning bean water (or good olive oil for a more luxurious texture) in a food processor (or power blender).
Once roasted garlic is cool enough to touch, squeeze all of the cloves into the food processor.
Process the beans until creamy and smooth, adding more cooking liquid (or olive oil) and salt if needed.
FRIED SAGE & PECANS
Heat up a tablespoon of olive oil in a small frying pan on low heat.
Add sage leaves and fry for a couple of minutes until crispy, then lift them out of the oil with a fork and place on a piece of paper towel to drain. Sprinkle with a little salt.
Add maple syrup, balsamic and pecans to the sage oil left in the pan. Stir well to coat, allow to simmer for 2 minutes or so until the sugar gets all bubbly, then remove from the pan and sprinkle with salt. Once cool chop up roughly.
ASSEMBLY
Transfer the mash to a large platter, flatten it into a swirly mound using the back of a spoon.
Place roasted pumpkin pieces on top, sprinkle with chopped pecans and fried sage leaves (crushed in your hands).
Drizzle leftover balsamic & maple on top.
NOTES
*ACORN SQUASH: you could use a different eating pumpkin/squash with firm flesh instead, but the roasting time may vary a little and you may want to peel it (if using, for example, butternut squash).
*MISO PASTE: make sure to look for gluten-free miso paste (based on chickpeas, brown rice etc.) if cooking for someone with gluten-intolerance.