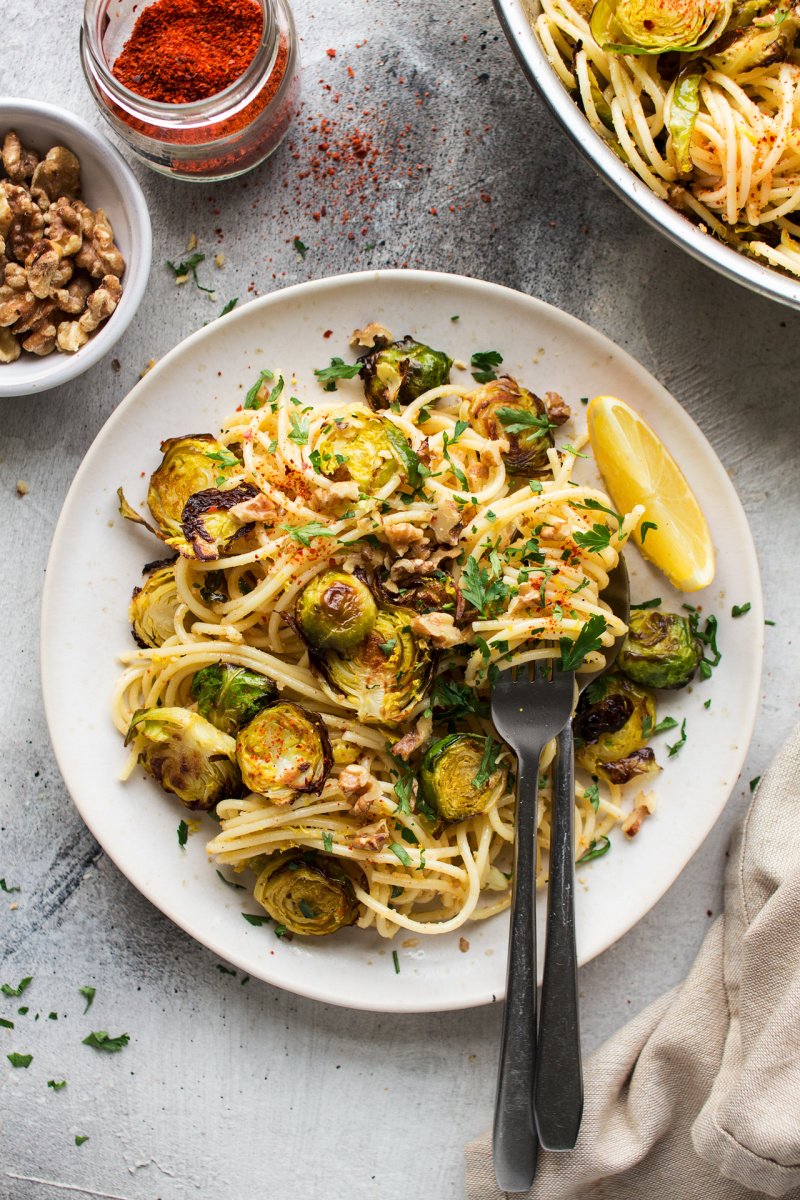 Apologies that you haven't heard from me for a week. As you probably know from Instagram or Facebook, I've been struck with some kind of nasty superbug that I could not shake off for ages. Last Saturday saw me so ill that we were considering going to Accident and Emergency, which we decided against in the end as we were pretty sure that exposure to the outside cold and lots of hospital germs would not be helping the situation.
Man, I don't remember last time I've felt so wretched, it has been years! It's Tuesday evening and I am finally beginning to feel a bit more human. I am really excited about being able to do everyday things again, like cooking myself a proper meal. It's powerful how being confined to your bed gives you a renewed appetite for physical fitness and life's simple pleasures in general, isn't it?
Before I got ill, I got myself a new pair of trainers to do some HIIT workouts at home and I am looking forward to that immensely now, as well as to being able to resume my running routine. I need to remember not to be stupid and get into all that too hard and too soon, which is definitely the temptation when you feel like you've lost so much time.
I'm also looking forward to cooking and experimenting again. First up, I have a simple midweek pasta for you, inspired by the fact that brussel sprout season is coming to an end here in the UK and this dish of mine. I have tested this pasta with miso-slathered brussel sprouts originally and while it was delicious, I have decided to keep to basic Italian flavours here: garlic, lemon, chilli, smoked paprika – you get the gist. It's an easy pasta that might help you fall in love with brussel sprouts (again) 🙂 . Enjoy!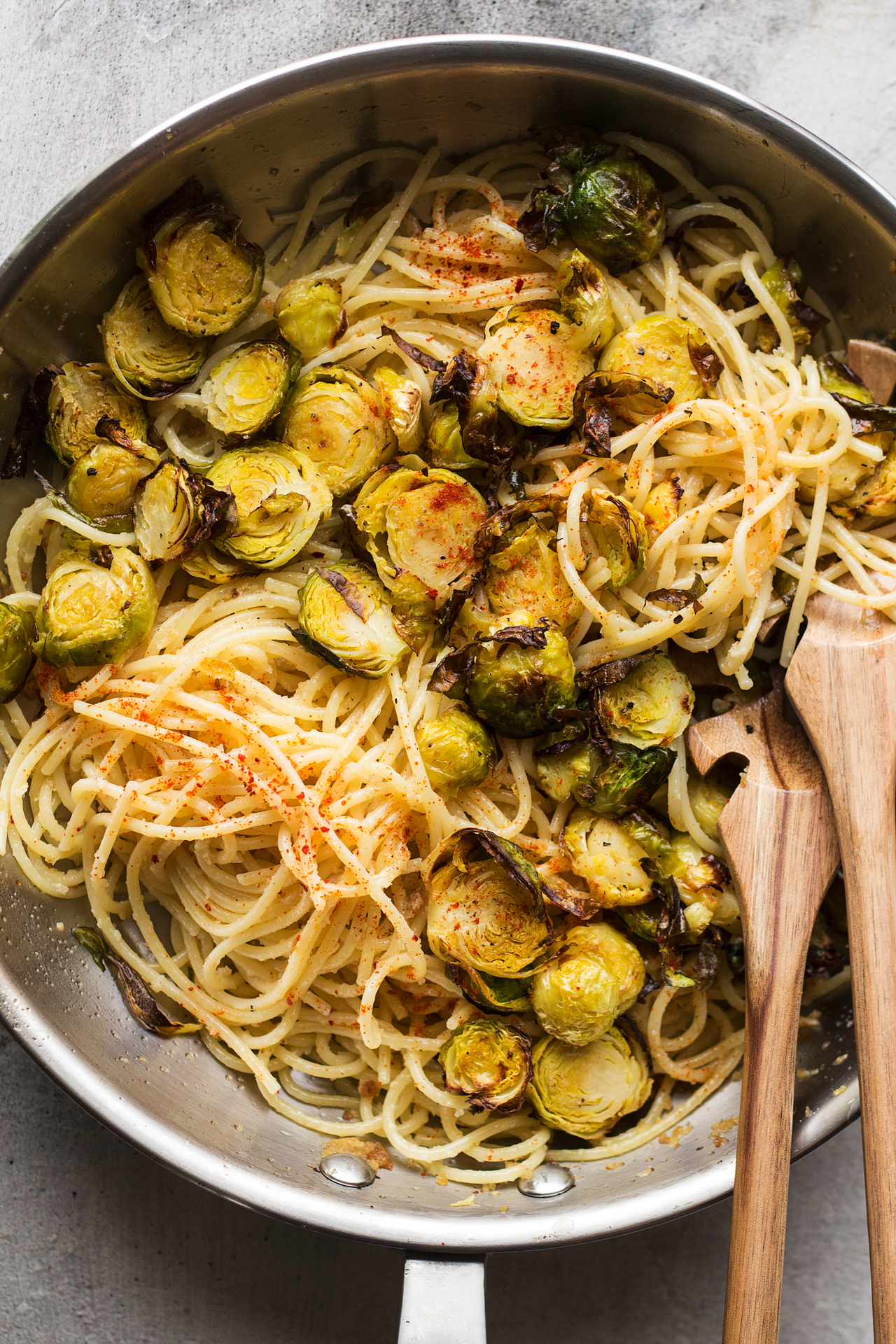 45 ml / 3 tbsp extra virgin olive oil, divided
2 garlic cloves, grated finely
250 g / 9 oz brussels sprouts
salt and black pepper, to taste
200 g / 7 oz spaghetti (GF if needed)
a good pinch of chilli flakes, more to taste (optional)
2 tbsp breadcrumbs*
1 tbsp nutritional yeast (optional)
80 ml / 1/3 cup vegan cream (like Oatly or soya cream), optional
juice of ½ lemon, plus zest of whole unwaxed lemon
¼-½ tsp mild smoked paprika
chopped parsley, to garnish
2 tbsp chopped roasted walnuts, to garnish
METHOD
Put 2 tbsp of olive oil and 2 grated garlic cloves in a small bowl. Set aside to infuse.
Preheat oven to 200° C / 390° F and grab a large baking tray. Grease it lightly with olive oil if you wish, but there is no need to line it with paper.
Clean your brussels sprouts (I tend to take the outer leaves off if they are very knackered and cut the very end of the stem off) and slice each sprout into 4 equally thick slices in the direction of the stem.
Coat sliced sprouts in 1 tbsp of olive oil, spread on the baking tray making sure the slices don't overlap as much as possible. Season with salt and pepper and allow them roast for about 15-20 minutes (until lightly charred in places), giving them a good stir after 10 minutes.
Cook the pasta al dente following the instructions on the packet saving 60 ml / ¼ cup of cooking water just before you drain your pasta.
Heat up a heavy bottom frying pan on low heat. Once hot, add in the garlic-infused oil and a pinch of chilli flakes (if using).
Gently cook the garlic for about 2 minutes, stirring the whole time, but do not allow it to brown as it will make your pasta taste bitter. If the garlic is sizzling too aggressively, turn the heat off (or take the pan off the heat if not using gas) and allow it to cook in the residual heat.
Add breadcrumbs, nutritional yeast and a good pinch of salt and allow them to cook in with the garlic oil for another minute or so.
At this point, you can add vegan cream or creamy plant milk to make this dish more indulgent.
If not using cream, whisk enough of pasta cooking water (you may not need all of it) to emulsify all the ingredients into a thick sauce. Season with lemon juice and then toss the drained pasta in the garlicky oil.
Season with lemon zest, smoked paprika, salt and pepper and stir in the roasted sprouts.
Divide between two plates, sprinkle with chopped parsley and roasted walnuts.
NOTES
*If I have any stale quality sourdough, I tend to slice / cut it small and allow it to air dry in a paper bag for a few days. I then pound it in my pestle and mortar to transform it into quality breadcrumbs. Voilà – food waste averted 🙂 .