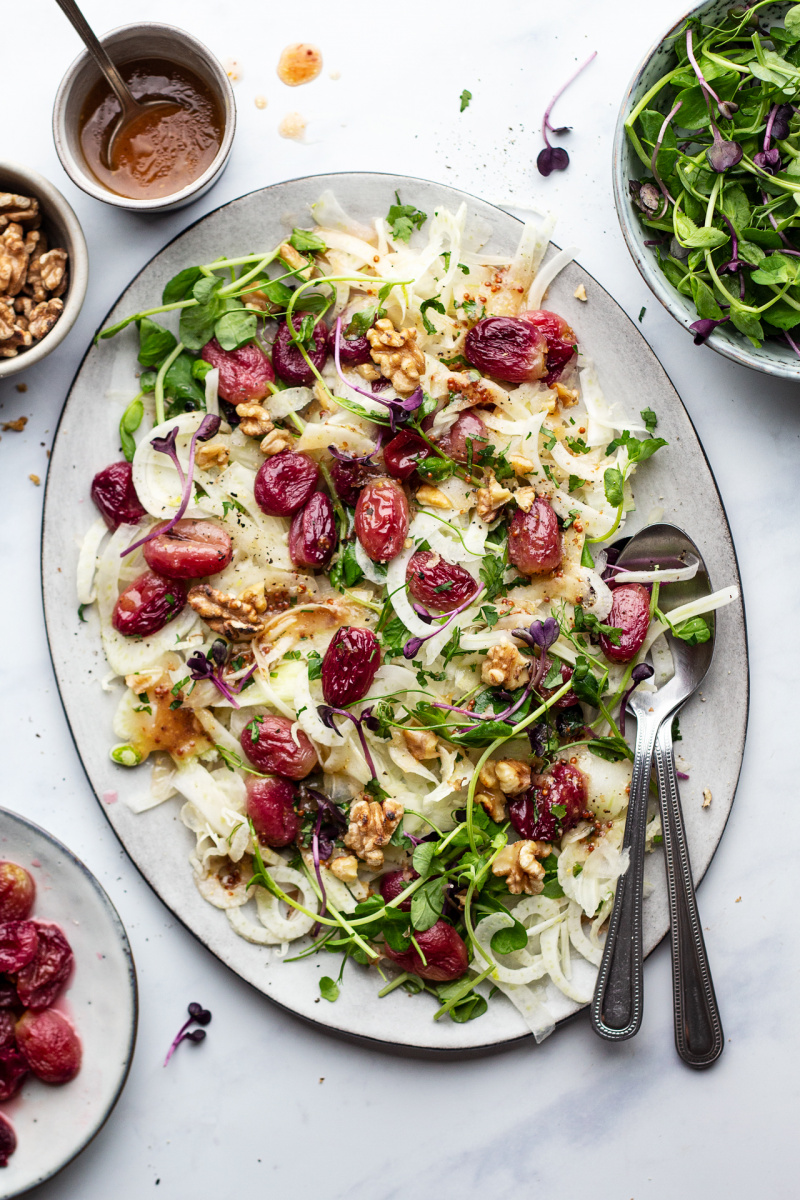 Today's recipe is a simple yet delicious roasted grape and fennel salad that I've been meaning to make for at least a year and since I've been seeing lots of beautiful fennel bulbs in shops lately, I've finally decided that now is the time. When I go through my recipe notes I realise that I have many recipes like that. Recipes that I enjoy and intend to share, but somewhere in between coming up with the concept and buying ingredients for the photoshoot I manage to talk myself out of the idea entirely… I decide that it's not good enough. That's something I do all the time. Duncan is always on me not to judge myself so harshly, but it's so imprinted on my brain that it's as automatic as breathing…
My therapist has helped me see that it is just a habit I developed in order to protect myself when I was a child and now that I am a fully grown adult (on paper at least), and I have 100% control over my own life, I need to work on getting rid of it. It makes me miserable and keeps me in the hold of depression and anxiety. I'm learning to recognise my own thoughts, challenge them and overhaul this toxic way of thinking, little by little. It's a difficult and painful process but I take solace from countless neuroscientists who confirm that the human brain has a great degree of plasticity and that cultivating good habits (including thinking) guarantees positive change. That's my personal project for the next year, year and a half (however long it takes). I know it is worth giving it everything I've got.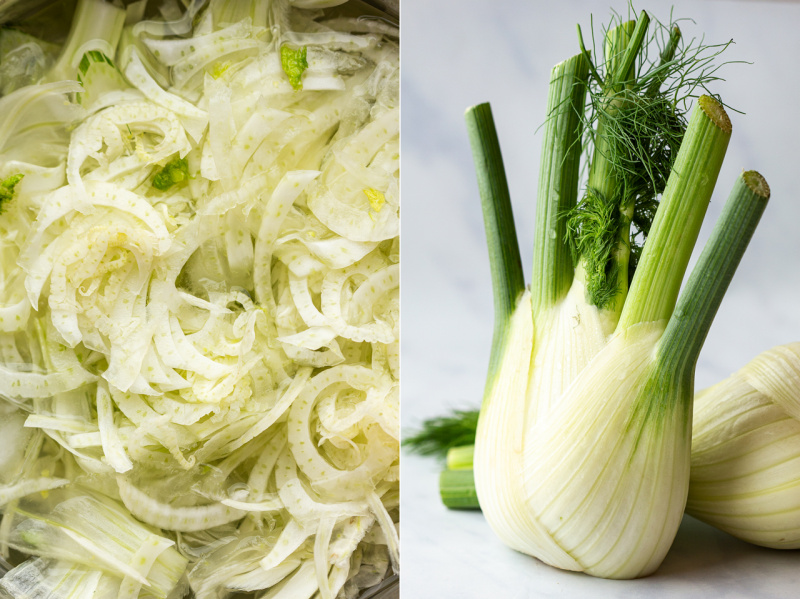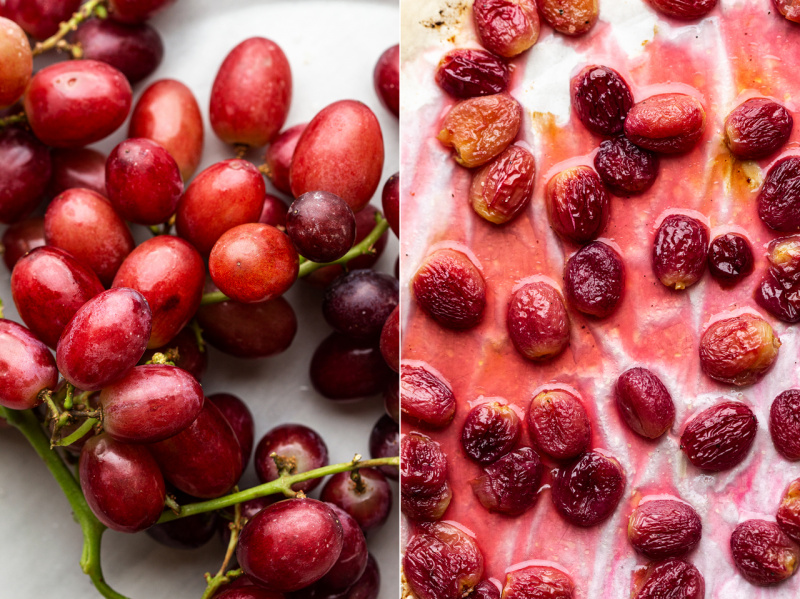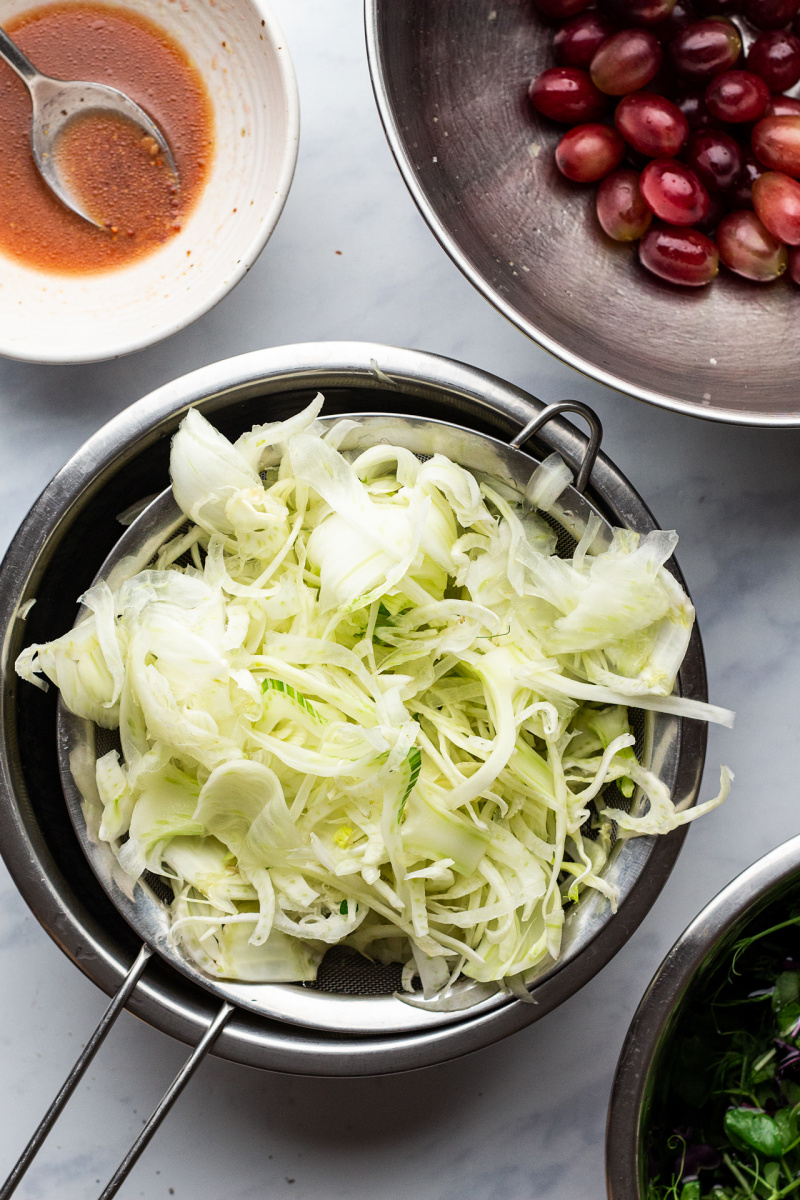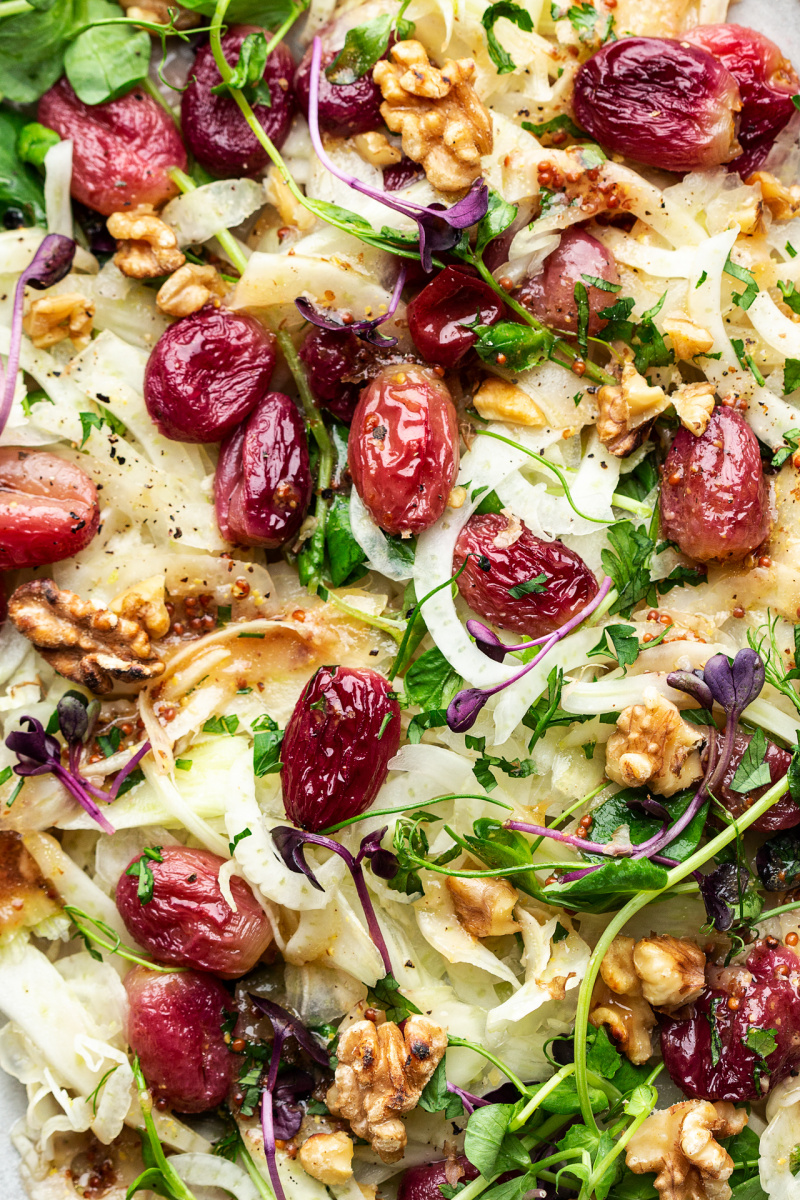 SALAD
a handful of walnuts
250 g / 9 oz red grapes
250 g / 9 oz fennel (1 large)
a handful of peppery greens: rocket / arugula, pea shoots, radish shoots
fresh parsley, finely chopped
DRESSING
30 ml / 2 tbsp extra virgin olive oil or 1 tbsp walnut or cashew butter (for oil-free version)
sea salt and black pepper, to taste
2 tbsp lemon juice
1 tsp white / shiro miso paste
2 tsp wholegrain mustard
1 small garlic clove or ½ small shallot, finely grated
METHOD
Roast walnuts on a dry frying pan, tossing frequently so that they don't burn. Alternatively, heat up the oven to 180° C / 350° F and spread the walnuts on a baking tray. Toast for about 8 minutes, until golden and fragrant. Be aware that this second method works better for a larger quantity (2-3 cups) of nuts. Allow them to cool and chop roughly.
Increase the oven temperature to 220° C / 425° F. Coat clean grapes in 1 tsp of olive oil, season with salt and pepper and place on a small baking tray. Roast for about 15-20 minutes, until the grapes become soft and get juicy.
Slice fennel on the smallest mandolin setting or slice it thinly by hand, using a sharp knife. Place sliced fennel in a bowl of ice-cold water with 2 tsp of lemon juice to prevent oxidisation. Set aside for 10-15 minutes, fennel will become crispier and nicer to eat.
Mix all of the dressing ingredients together in a small bowl. If using walnut / cashew butter instead of oil, add approximately 1 tbsp of water to thin the dressing out a little. Once the grapes come out of the oven, add the grape juice that gathers at the bottom of the baking tray into the dressing to balance it out with some natural sweetness.
Drain sliced fennel well. Place it in a mixing bowl with your choice of greens and stir through half of the dressing.
Transfer to a serving platter, dot with roasted grapes and crushed walnuts and sprinkle with chopped parsley.