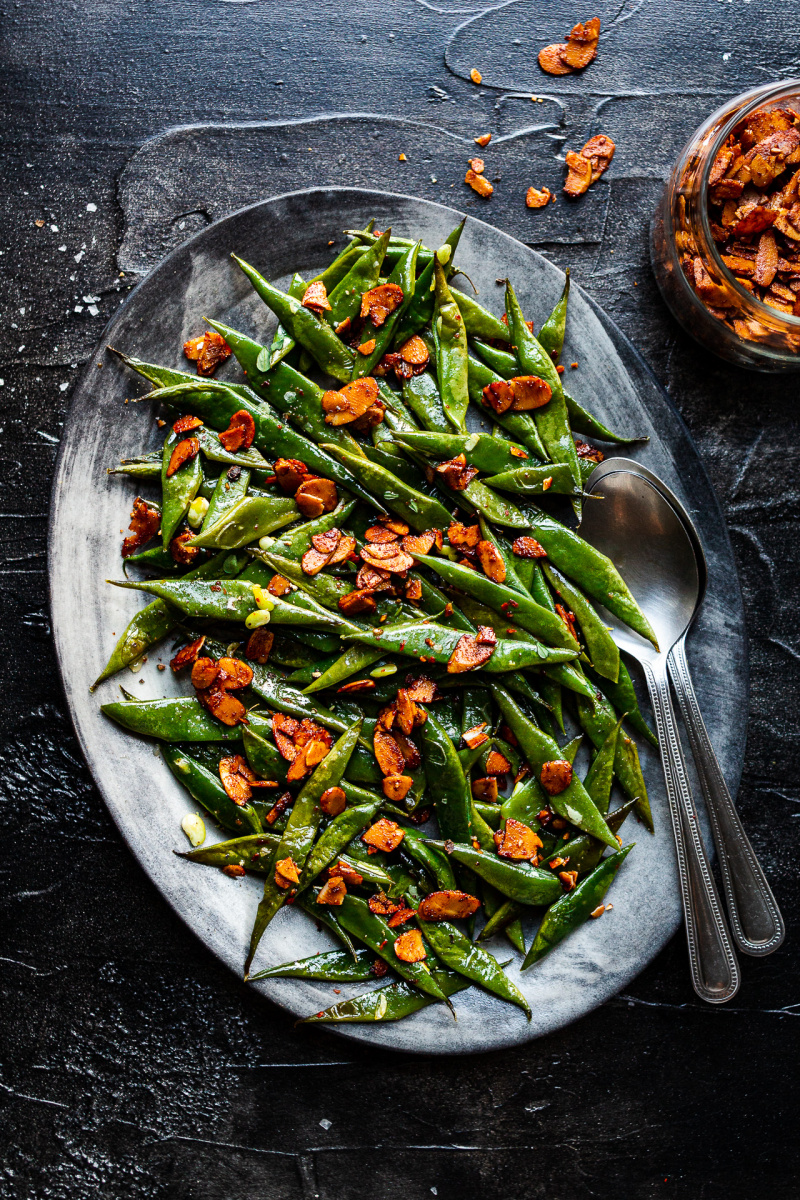 Do you also find it a struggle to cope with short, dark days and have a constant snacking impulse out of the desire for comfort, or is it just me? While there is a lot to love about this time of the year, I intensely dislike how little daylight we get these days and how the days dissolve into the nights. It makes me SAD (literally).
I got myself one of these sunrise alarm clocks in a bid to banish my phone from the bedroom because, like a lot of people these days, I show some signs of being addicted to my phone at times, especially first thing in the morning as mornings have never been my thing. I had high hopes for this move, but unfortunately the purchase has turned out to be an unmitigated disaster.
While the sunrise light feature is lovely, there is no way that alone will wake me up from slumber so I have to rely on the accompanying alarm. They all sound pretty nice and inoffensive in principle, the sound of a cat purring (I could not believe my luck) and chirping birds do seem like great sounds to wake up to, if not for the fact that they are SOOOOO loud. Whoever designed this thing must have assumed its potential consumers live in sprawling mansions and the alarm clocks is positioned in the fire escape. So the past two weeks, I have been getting startled by the sound of a tiger (not a cat) purring into my ear first thing and that gets me anxious right off the bat. The result that is literally the total opposite of what I was hoping for.
On another note, I bet that some of you are knee deep in planning your Thanksgiving dinner so I am rushing in with some cooking inspiration. Here is an easy, healthy and delicious side to offset all of the sumptuous centrepieces, pies and other desserts you will probably be having. This green bean dish is an alternative to the traditional green bean casserole, which I hear can be a bit stodgy. It's easy to prepare and utterly additive too. I bake my beans in a hot oven until cooked through and blistered a little and garnish them with addictive almond bacon bits, which can be made a few days in advance if you wish. They provide lovely, contrasting crunch and little pops of saltiness and smokiness. I hope you'll appreciate this lighter take on this Thanksgiving side.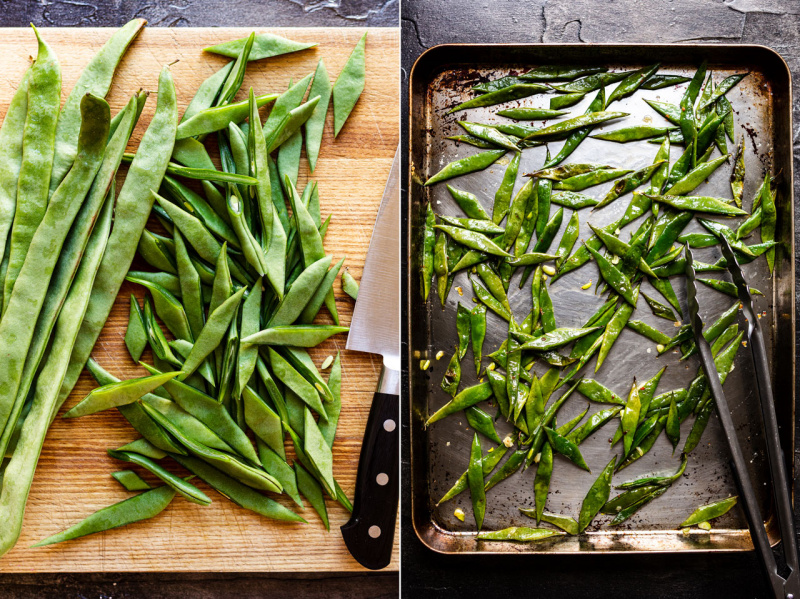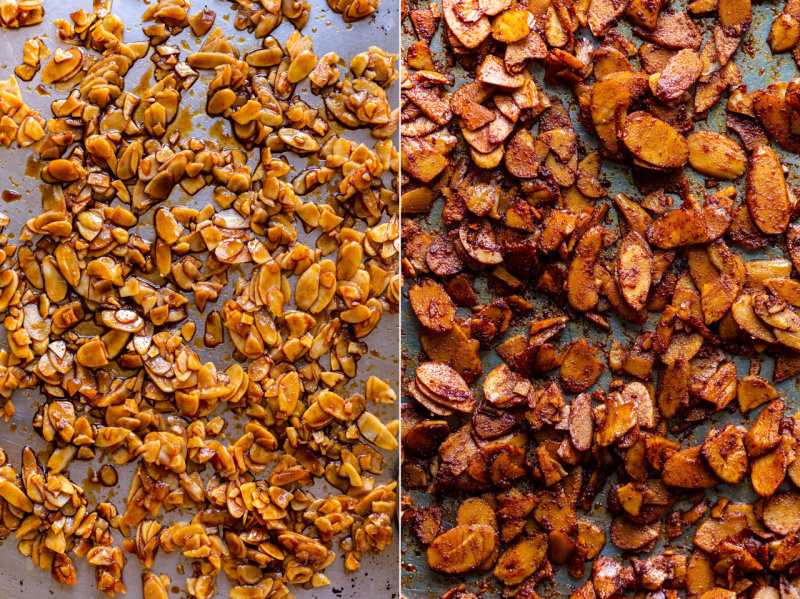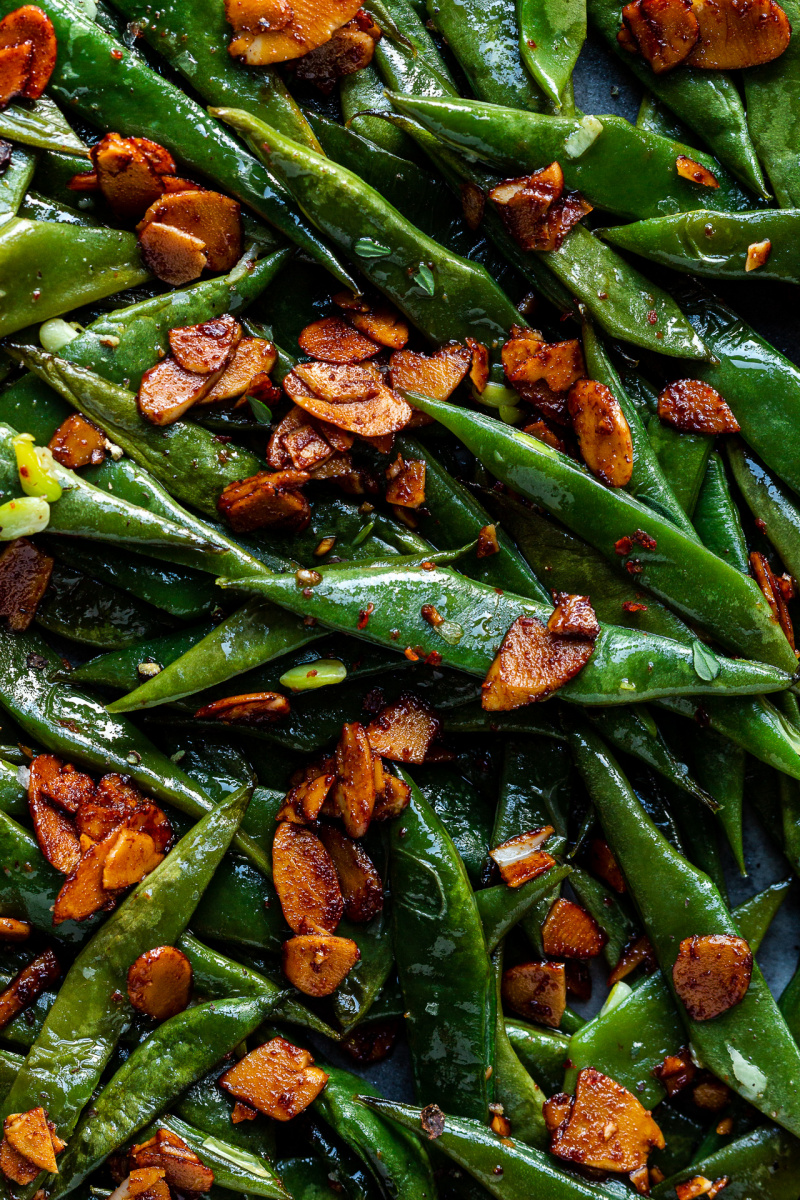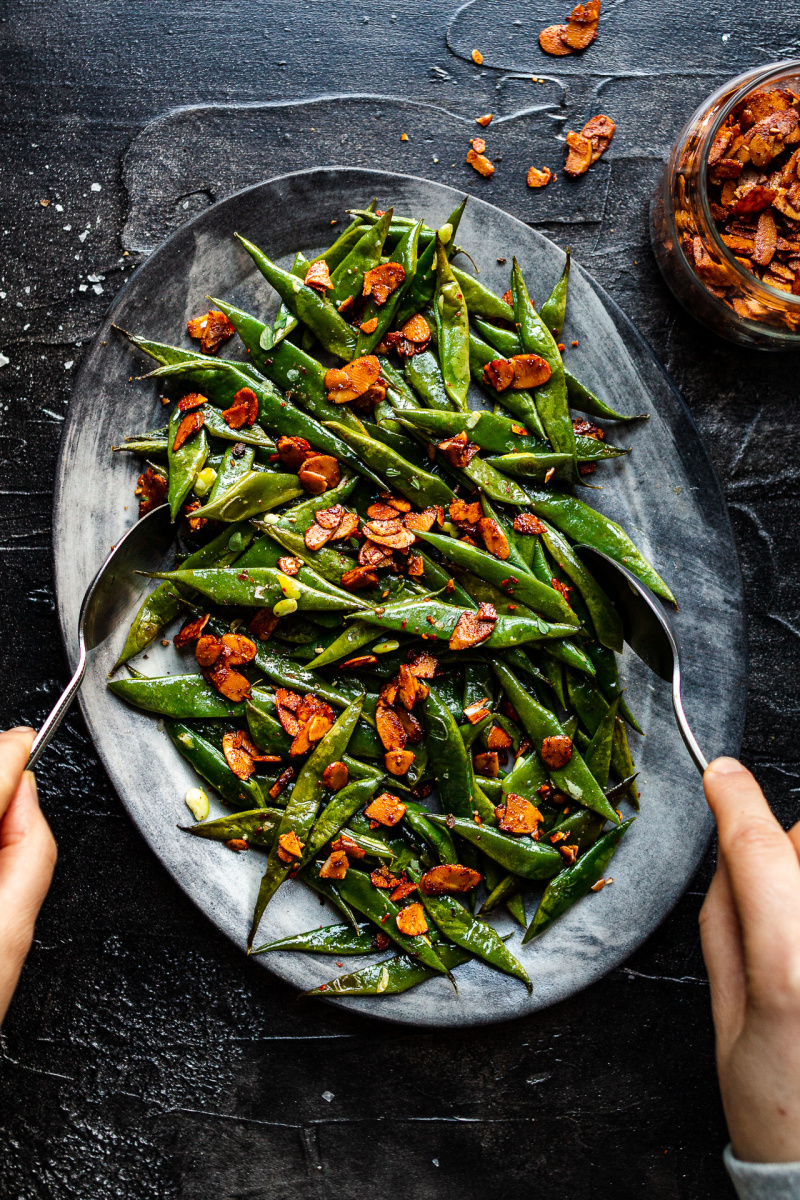 ALMOND BACON
20 ml / 4 tsp olive oil
20 ml / 4 tsp maple syrup or sugar
30 ml / 2 tbsp all purpose soy sauce or tamari (if GF)
½ tsp tomato concentrate/paste (comes in a tube)
1 tsp smoked sweet paprika
100 g / 1 cup almond flakes
REMAINING INGREDIENTS
350 g / 12½ oz runner or green beans
20 ml / 1½ tbsp olive oil
salt and pepper
1 finely minced garlic clove (optional)
METHOD
ALMOND BACON
Heat up the oven to 120° C / 250° F (regular setting, no fan).
Mix the first five almond bacon ingredients in a medium bowl until homogenous. Add the almond flakes in and stir well to coat. Allow them to marinade if you have time.
Spread marinated almonds on a large baking tray and bake for about 30 minutes, giving the almonds a good stir at the halfway point.
Remove from the oven when the excess moisture has evaporated, the almonds will still be a little soft when hot but they will crisp up once out of the oven. Once completely cool, store them in an airtight jar to keep them crispy.
BEANS
Heat up the oven to 225° C / 435° F (regular setting, no fan). Top, tail and de-string (unless stringless) the beans. If using runner beans, cut them into thick strips on the diagonal.
If roasting beans in the oven, coat them in olive oil and season with a little salt and pepper (remember that almond bacon contributes saltiness).
Spread the beans on a large baking tray. Roast them for about 15 minutes (or a couple of minutes less if using green as opposed to runner beans), giving them a good stir halfway through the baking time and stirring minced garlic (if using) through them at this point.
Alternatively, heat up half of the oil in a large frying pan / wok and stir-fry the beans until soft and blistered in places. Remove from the pan and stir-fry the other half of the beans in the remaining oil. You could also steam them until tender (about 5 minutes) if seeking a healthier option.
ASSEMBLY
Place seasoned beans on a large platter, sprinkle with almond bacon and serve.
NOTES