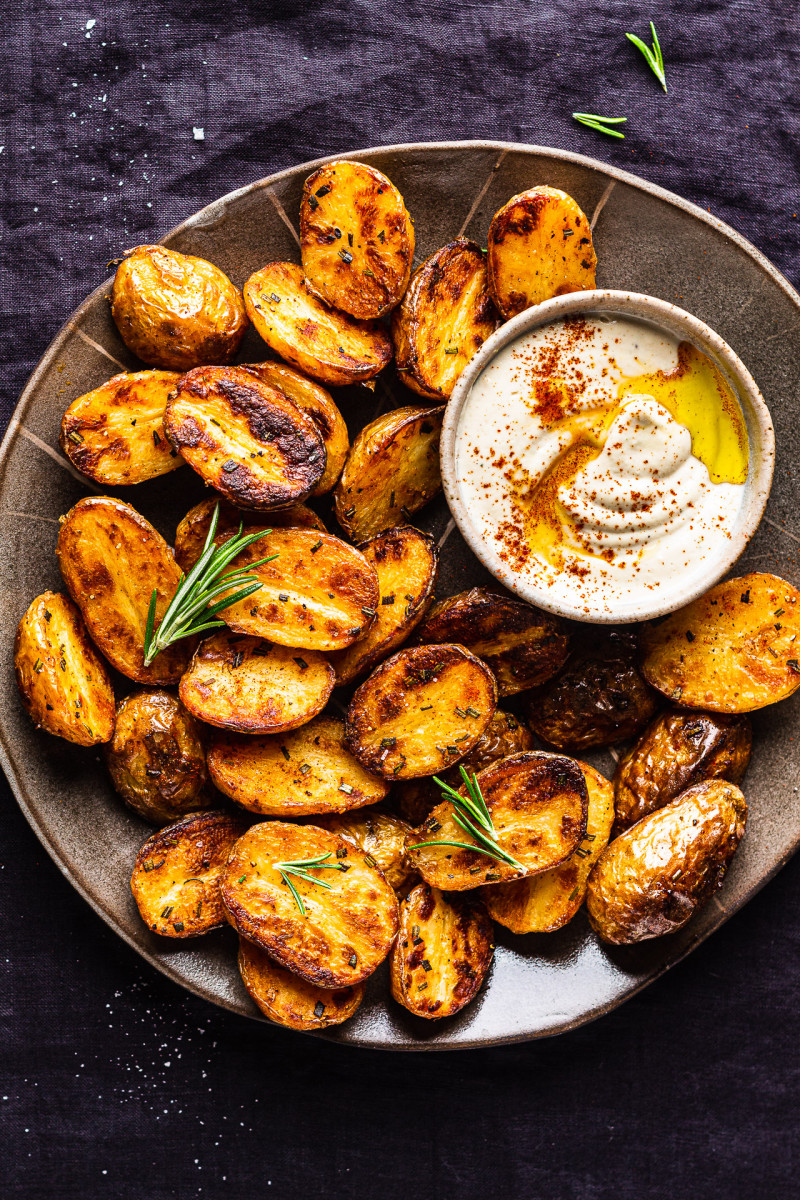 Sometimes all you are after is some simple comfort and there are few things I enjoy as much as a plate of warm new potatoes. Simply boiled and served with a sliver of vegan butter and sprinkling of dill – something I used to hate as a kid and something that now reminds me fondly of my late gran who took no 'no' for an answer – or roasted in the oven and served with a bowl of good dip.
If that sounds good to you, you will appreciate this simple recipe for roasted new potatoes with a rosemary garlic dip. It comes together quickly and painlessly and makes for a delicious comforting side dish or stand-alone snack. You can also turn them into a delicious lunch – today we had them alongside garlicky spring greens and some lemon tofu.
MORE ABOUT THE INGREDIENTS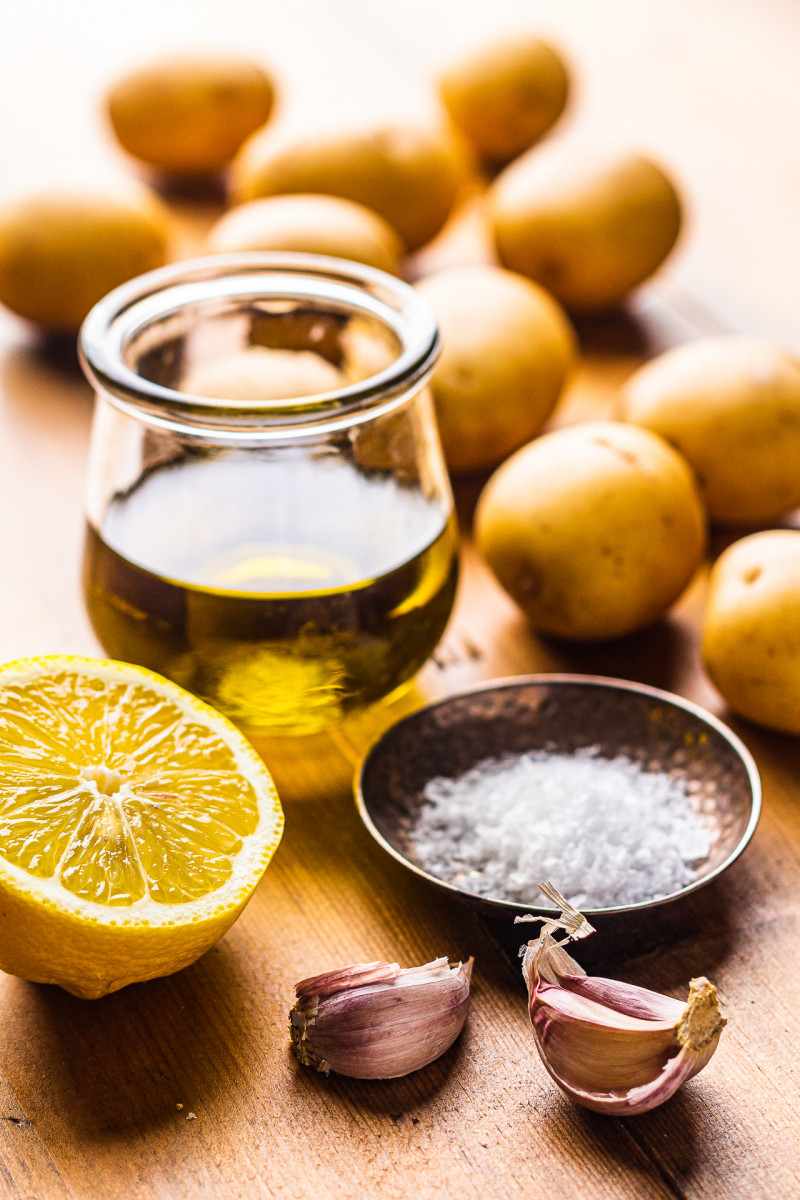 There aren't many ingredients needed to make this simple dish. Here is everything at a glance.
NEW POTATOES: the type of potatoes you'll want for this recipe is new potato that is high in starch. In the UK, Maris Piper is the most popular variety of potato that fits the bill. Look for potatoes that are labelled as suitable for roasting. Starchy potatoes do best roasted, while waxy potatoes do best in salads. All purpose varieties claim to be suitable for both but for this dish, I recommend seeking out starchy variety. You want the potatoes to be small and similarly sized so that they cook and then roast at the same rate.
OLIVE OIL: I used cooking grade olive oil to coat the potatoes in before roasting them in the oven. You don't need much (about a tablespoon) but it makes a big difference to the final texture.
ROSEMARY: I used fresh, finely chopped rosemary to roast the potatoes in and added some more to the dip to give it a hint of rosemary flavour. You could use dried if that's all you have, but remember that dry herbs tend to be more potent to use sparingly at first and add more if needed.
SMOKED PAPRIKA: I also added a dusting of smoked (milk) paprika to my potatoes for a hint of smoky flavour. I often use a shop-bought roasted potato spice mix (which tends to have smoked or sweet paprika in it) instead so if that's something you have on hand, use that.
CASHEWS: I used raw cashews as a base for my rosemary and garlic dip. You could use hulled sunflower seeds instead or a thick, neutrally flavoured dairy-free yoghurt if that's what you prefer.
GARLIC: I roasted an entire head of garlic alongside the potatoes and added it to the dip. Roasting the garlic changes its flavour profile – it makes it sweeter and more mellow – there is no harsh flavour that you get from using raw garlic. You can add fewer cloves if that suits your palate better or if you like the taste of fresh garlic, add a fresh clove or two alongside the roasted cloves for more punch.
WHITE MISO: A little bit of miso adds more depth to this simple dip. You could use any miso you like (red miso is stronger than white so you may want to use less) or replace it with some nutritional yeast if you don't have any. If you want to keep this dish gluten-free, be sure to use miso that is not based on wheat, but on a gluten-free grain (millet, brown rice, chickpeas as some of gluten-free miso bases available).
LEMON: I added a squeeze of lemon to the dip to give it a touch of acidity. Use as little or as much as you like – I found 2 tbsp to be just right.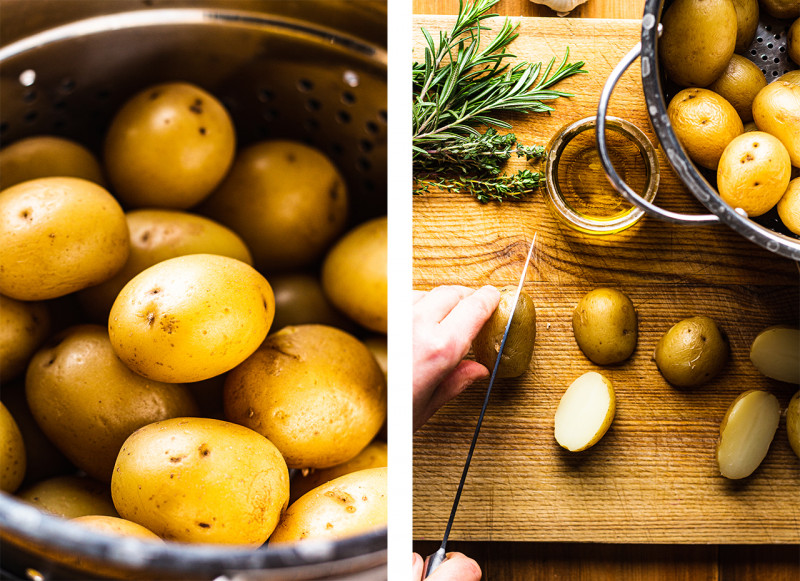 Clean your potatoes (no need to peel them) and parboil for 8 minutes, then cut in half lengthwise.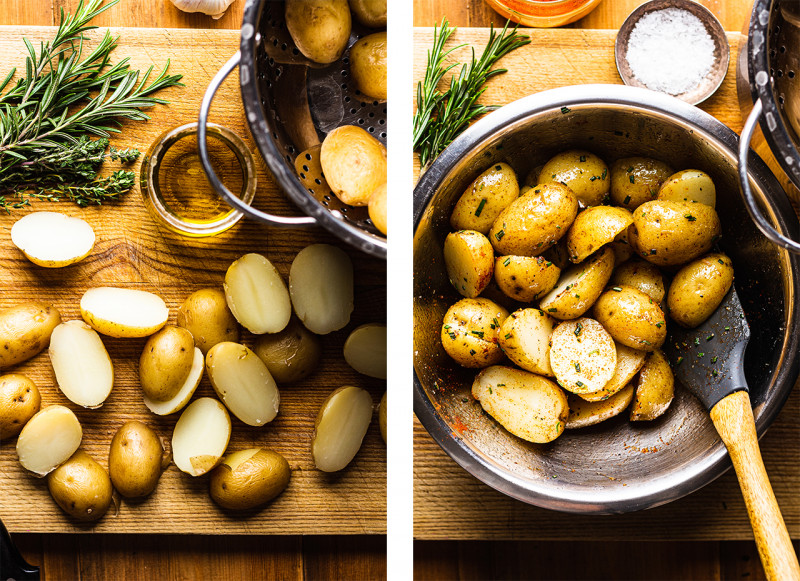 Coat your potatoes in olive oil and season with rosemary, smoked paprika, salt and pepper or perhaps a ready made potato seasoning – that's what I use when I am lazy.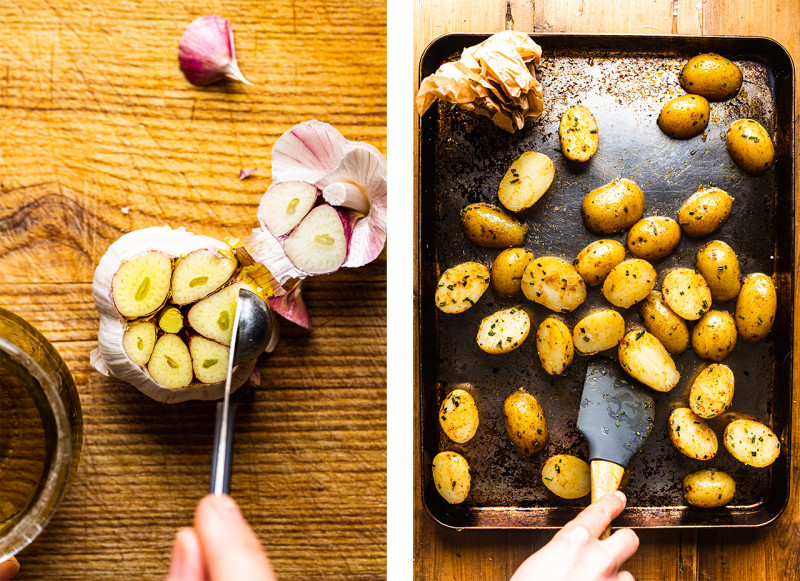 Prepare garlic for roasting by cutting the top of the head of and drizzling the exposed cloves with a small amount of olive oil, then wrapping tightly. Bake potatoes and garlic on the same baking tray until the potatoes are soft and have golden-brown undersides and the garlic is translucent and soft all the way through.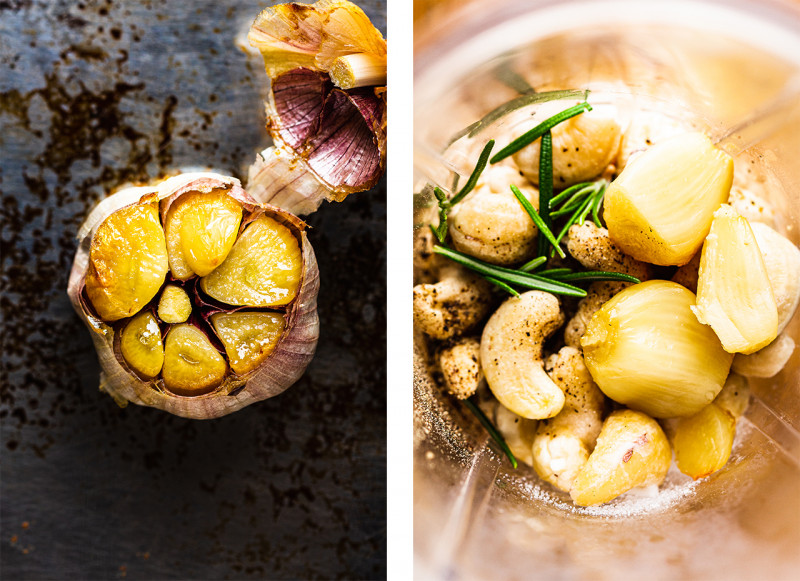 Whizz roasted garlic cloves with the remaining ingredients for a quick dipping sauce and enjoy with warm potatoes as a snack or part of a larger meal.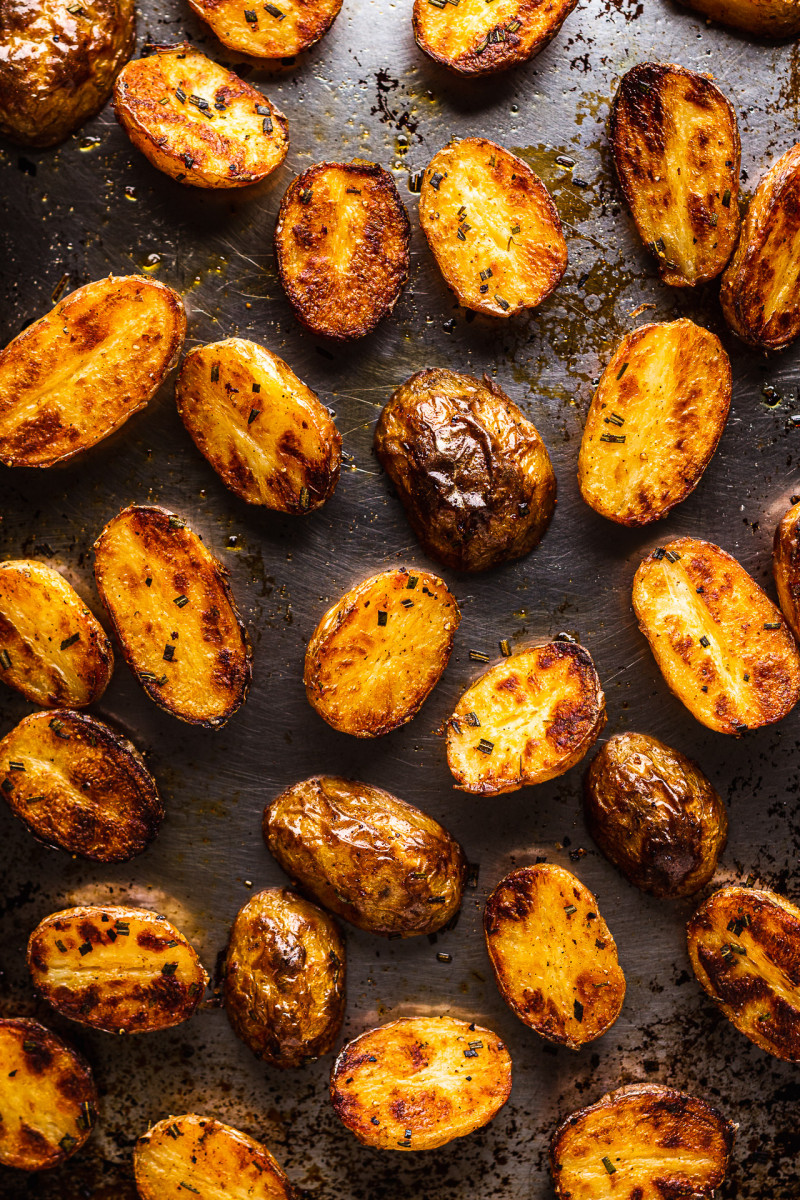 FREQUENTLY ASKED QUESTIONS
CAN I MAKE THIS DISH IN ADVANCE?
Yes, you can parboil the potatoes, cool them and keep in the fridge for a few (3-4) days and only just roast them on the day. The dip can be made in advance and kept in a jar for up to 3 days or frozen. I freeze it in an ice-cube container and defrost a few cubes as necessary.
WHAT WOULD YOU SERVE WITH IT?
You can serve it as part of a large sharing meal or make it into a simple lunch. How about teaming it up with garlicky spring greens (collard greens) and your favourite tofu? I had it for lunch today with this lemon tofu, which I baked on the same tray.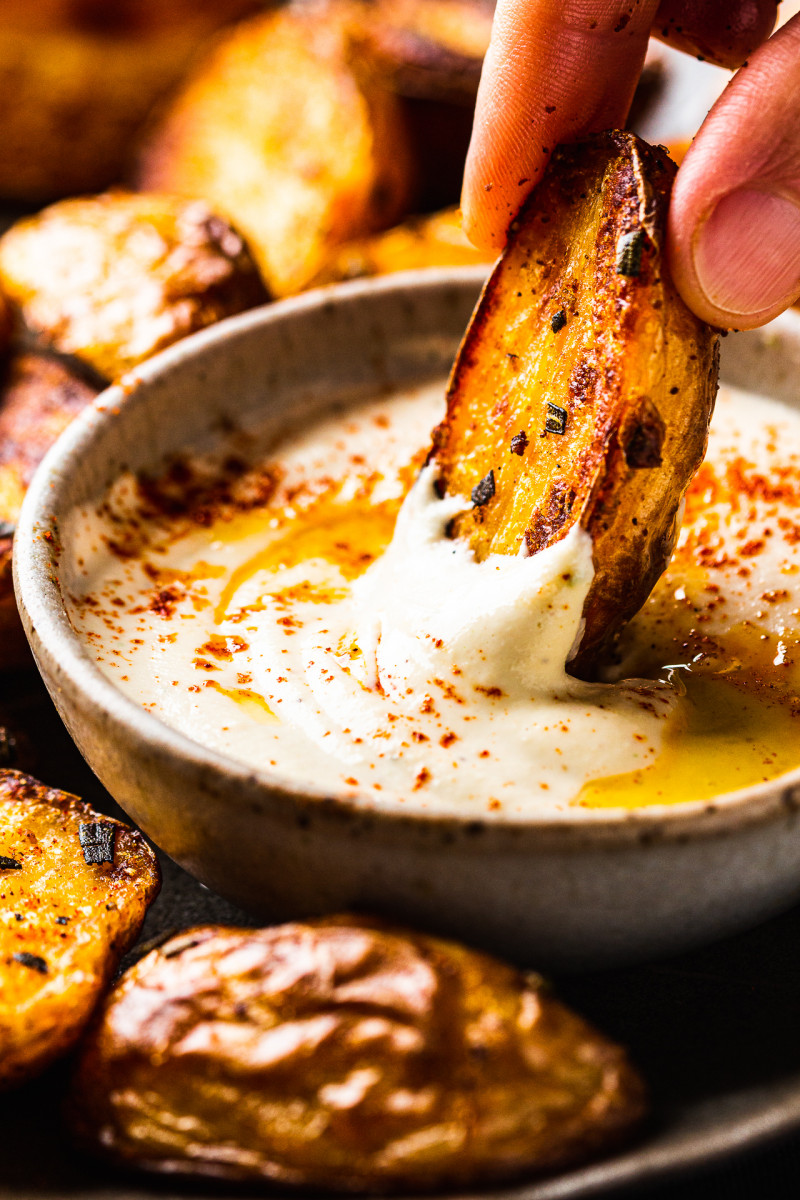 ROASTED NEW POTATOES
750 g / 26.5 oz small starchy new potatoes (I used Maris Piper)
15 ml / 1 tbsp olive oil, more if desired
1 heaped tbsp chopped rosemary (1 large sprig)
½ tsp smoked (mild) paprika
salt & pepper
ROSEMARY GARLIC DIP
1 head of garlic + 5 ml / 1 tsp olive oil
130 g / 1 cup cashews or sunflower seeds, soaked*
approx. 100 ml / 7 tbsp water or plant milk
8 g / 1 heaped tsp white miso paste
30 ml / 2 tbsp lemon juice
1 sprig of rosemary, leaves picked
salt & pepper, to taste
METHOD
Heat up the oven to 220° C / 430° F (or 200° C / 390° F with fan function on) and grab a large baking tray.
Put a medium pot of water onto boil, clean your potatoes (no need to peel them) and par-boil them for 8 minutes.
Drain the potatoes, leave them in the colander until cool enough to handle then cut into half lengthwise.
Cut the top of the garlic head off to expose the top of the cloves, drizzle with 1 tsp of olive oil and wrap the entire head in double layer of baking paper or one layer of kitchen foil.
Coat potatoes in olive oil, sprinkle with chopped rosemary, smoked paprika, salt and pepper.
Arrange potatoes on the baking tray cut side down, place wrapped garlic next to them and bake for about 20-25 minutes – until the undersides are golden brown – some potatoes may be ready before others depending on their size and location in the oven.
Flip the potatoes to the other side and carry on baking for another 10-15 minutes until cooked through.
Place drained cashews, water, squeezed out garlic cloves, miso paste, lemon juice, rosemary leaves, salt and pepper in a small blender, blend until creamy smooth – depending on your blender you may need to add a touch more water.
Enjoy the potatoes hot from the oven, dipped in the rosemary garlic dip.
NOTES
*CASHEWS/SUNFLOWER SEEDS: soak them in boiling water to soften for at least 20 minutes or in cold water for several hours. Alternatively use 1½ cups of thick vegan yoghurt with neutral flavour and no water unless necessary.