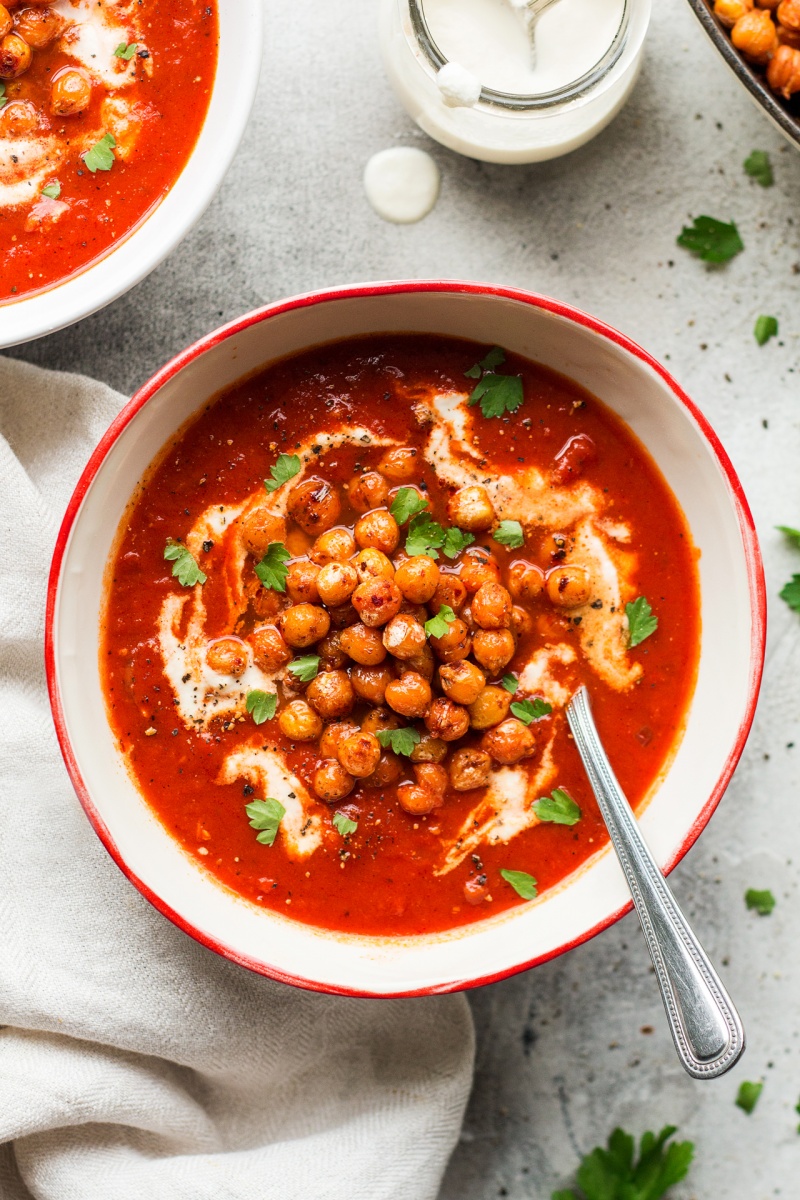 I don't know about you, but I consider the soup season to be officially open!! It's so cold and gloomy outside that I am beginning to struggle to find enough light for my photography. Today, I started considering dusting a studio lamp off. The trouble is, I really don't like shooting with an artificial light, so I am persevering with greyish cloudy sky for now. Luckily for me, this roasted red pepper and garlic soup is assertive enough to be able to just pull it off, I think.
This week I have decided to take control of my low mood and so far so good. As Duncan gave me a lovely waterproof running jacket for my birthday (which has single handedly robbed me of an excuse for not running when it's raining a little) and as running always seems to put me in a good mood, I am attempting to lace up my trainers pretty much every day this week and see how things go.
Not only is this a ploy to flood my sometimes tortured brain with a dose of daily endorphins, it will also offer a bit of a redemption, as with Thanksgiving and Xmas getting dangerously close, I've been baking an awful lot lately and totally failing at even a semblance of restraint when 'taste testing' (it's a tough job and someone's gotta do it). To get back into running the main thing I have to combat is my inherent lazy streak, which often wins the internal dialogue and I also need to take care not to get injured. I already do 15 minutes of yoga daily and I run in the soft ground of the local woods, so I am hoping to keep the shin splints at bay.
This simple roasted red pepper and garlic soup is a perfect thing to tuck into when you get back home from running in the cold. It packs a punch of flavour and it's surprisingly quick and easy to make (if you don't count garlic roasting waiting time). If you don't have time to roast your garlic, simply dice up 3 cloves and sauté them in the pot after your onions are nice and translucent. I served my soup with a mound of harissa roasted chickpeas, but crusty toasted sourdough will also make a perfect companion.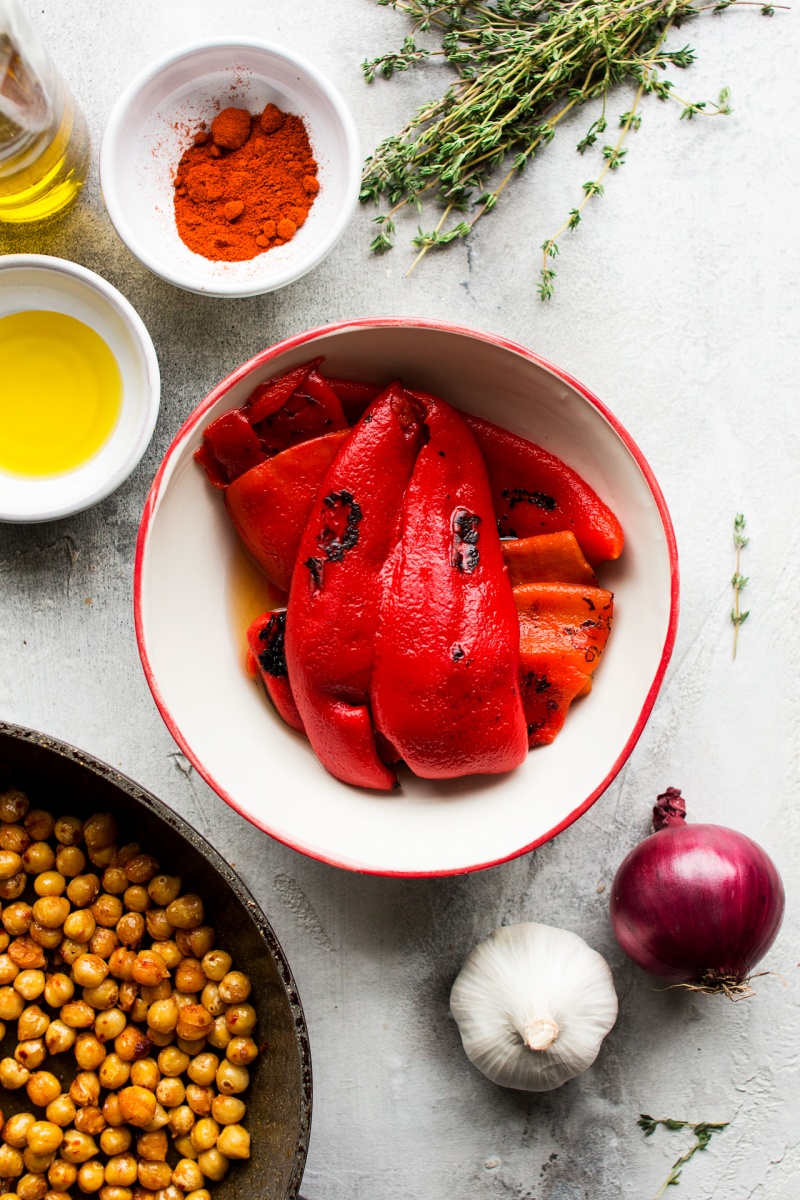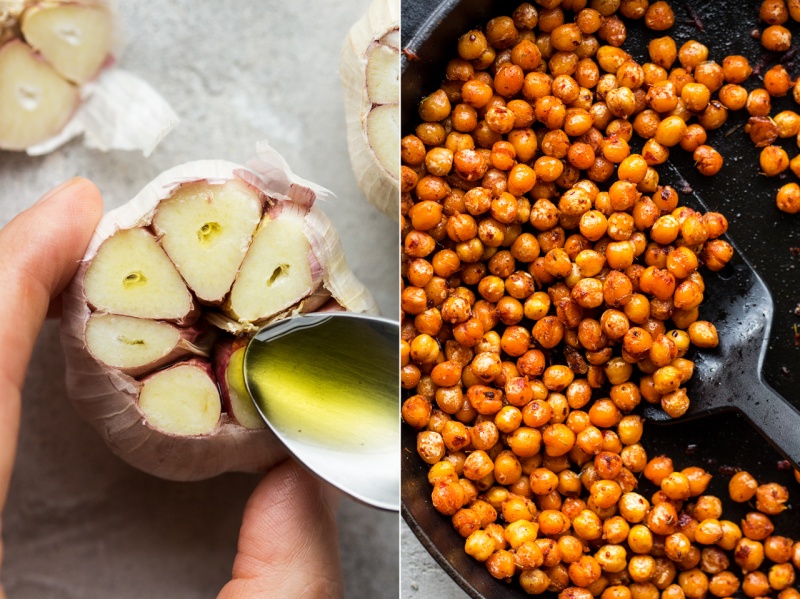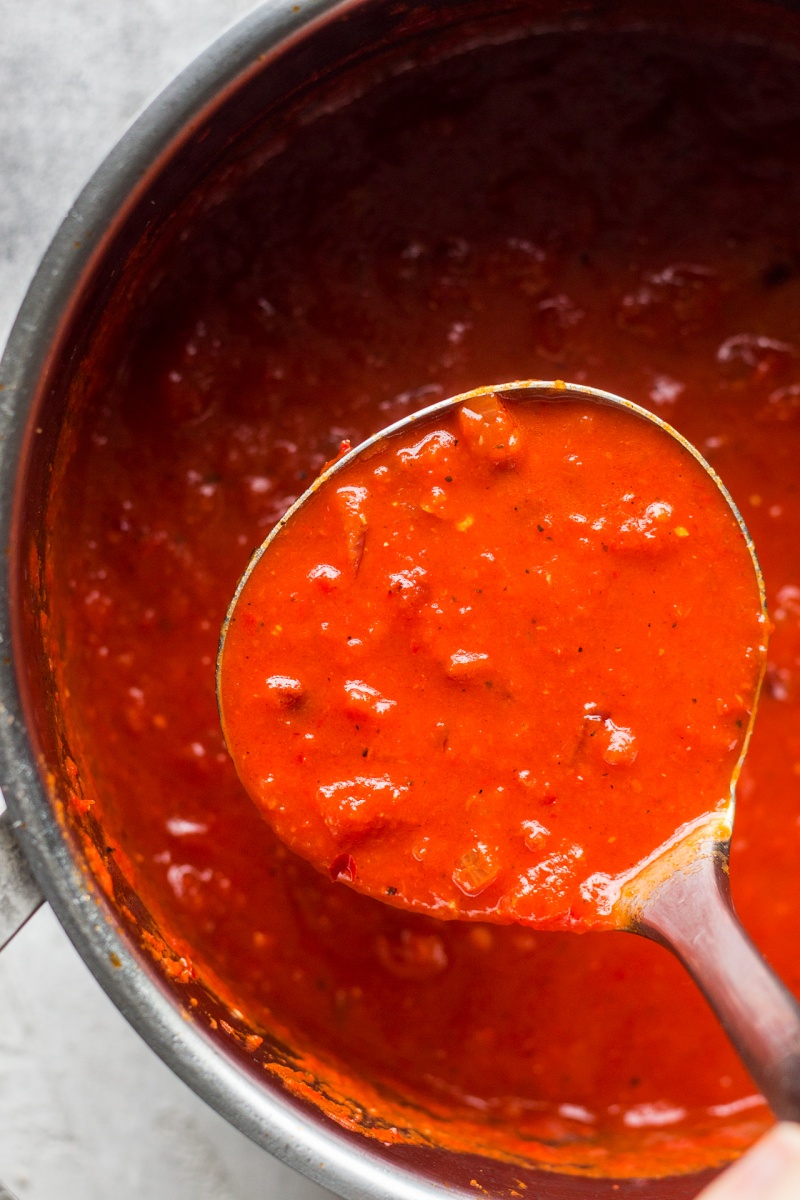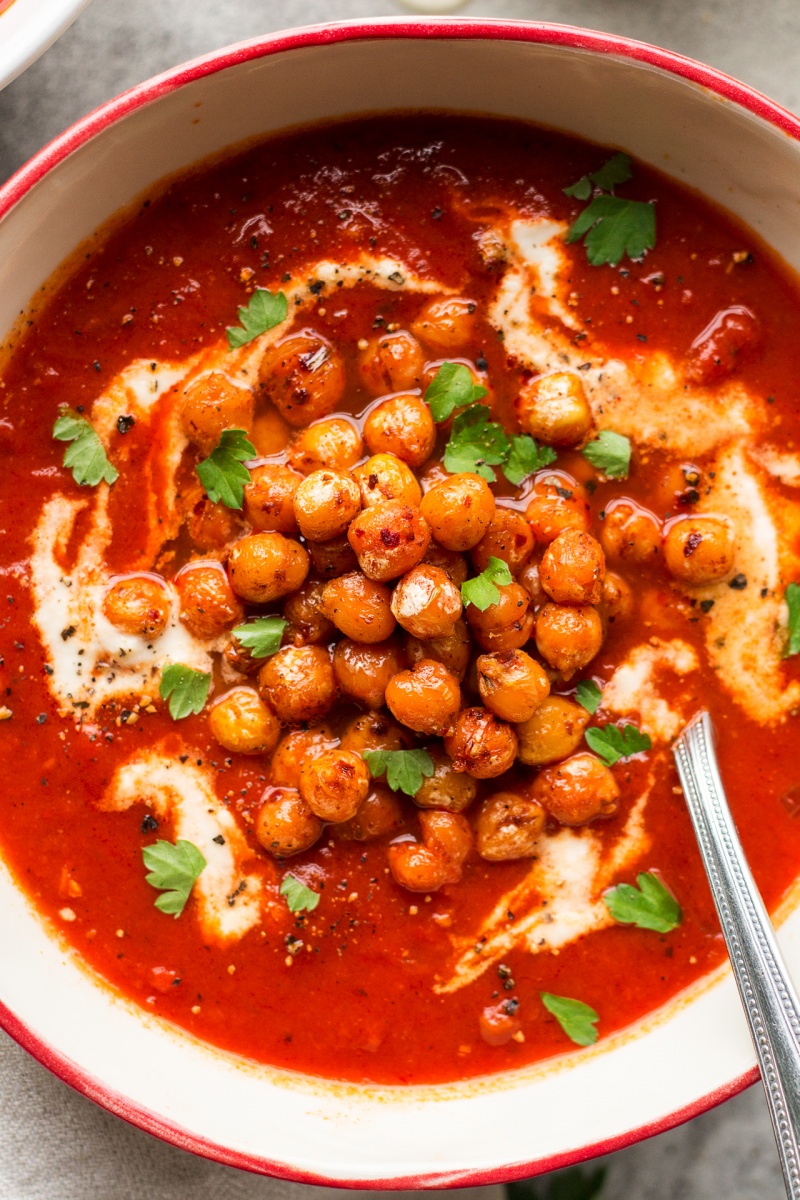 HARISSA ROASTED CHICKPEAS
2 cups cooked chickpeas (about 1 cup dry)
1 tbsp olive oil
2-3 tsp harissa paste (oil drained)
salt, to taste
SOUP
1 head of garlic
2 tbsp extra virgin olive oil
1 small red onion
¾ tsp smoked paprika
1 tbsp harissa paste
1 x 400 g / 14 oz can quality chopped tomatoes
2 sprigs of fresh thyme or a pinch of dried
½ tsp salt, adjust to taste
pepper, to taste
180 g / 6 oz fire-roasted peppers in a jar (I used 2 large)
2 tsp date syrup, sugar or 1-2 Medjool dates, adjust to taste
240 ml / 1 cup veggie stock or a veggie stock cube
vegan cream, shop-bought or homemade, to garnish (optional)
fresh parsley, to garnish
METHOD
HARISSA ROASTED CHICKPEAS
Drain the chickpeas, spread them on a large plate or tray and allow them to air dry, if you have time. If you are in a rush, blot them on a clean kitchen towel or paper towel.
Heat up a heavy-bottomed pan on a medium-high heat. Pour 1 tablespoon of olive oil in the hot pan and wait a few seconds for the oil to heat up.
Chuck the drained chickpeas into the hot oil. Stir the chickpeas from time to time so that they don't burn.
Mix the harissa paste (let the oil drain away for a few seconds after measuring it out, a fork is useful here) into the chickpeas and sprinkle them with salt.
Keep on roasting the chickpeas until they are evenly coated in harissa. Taste and adjust the amount of salt if necessary. Take off the heat and set aside.
SOUP
Preheat the oven to 205° C / 400° F.
Cut the top off the garlic and drizzle the exposed cloves with a little bit of olive oil.
Wrap the garlic in a piece of foil covering the entire bulb and stick it into the oven for about 40 minutes, until the cloves get soft and sticky.
Heat up 1 tbsp of oil at the bottom of a medium size pot.
Add the diced red onion and fry on a low heat until almost translucent, stirring from time to time.
Mix in the smoked paprika and harissa paste. Fry them off gently for another minute on a low heat, stirring frequently.
Add the chopped tomatoes, thyme, salt and a good grind of black pepper.
Place the drained roasted peppers into a blender and add the squeezed roasted garlic flesh. Blend until smooth with a splash of water if needed. You could also add a sticky Medjool date to balance the flavours if you'd rather avoid adding sugar.
Add roasted red pepper and garlic puree to the tomatoes. Allow the mixture to come to a gentle simmer.
Add a splash of stock / water to achieve the consistency you like and adjust the spicing to your taste. I've added a bit of homemade date syrup to balance the acidity.
Divide between two bowls. Serve topped with the spiced chickpeas, vegan cream (optional) and fresh parsley.