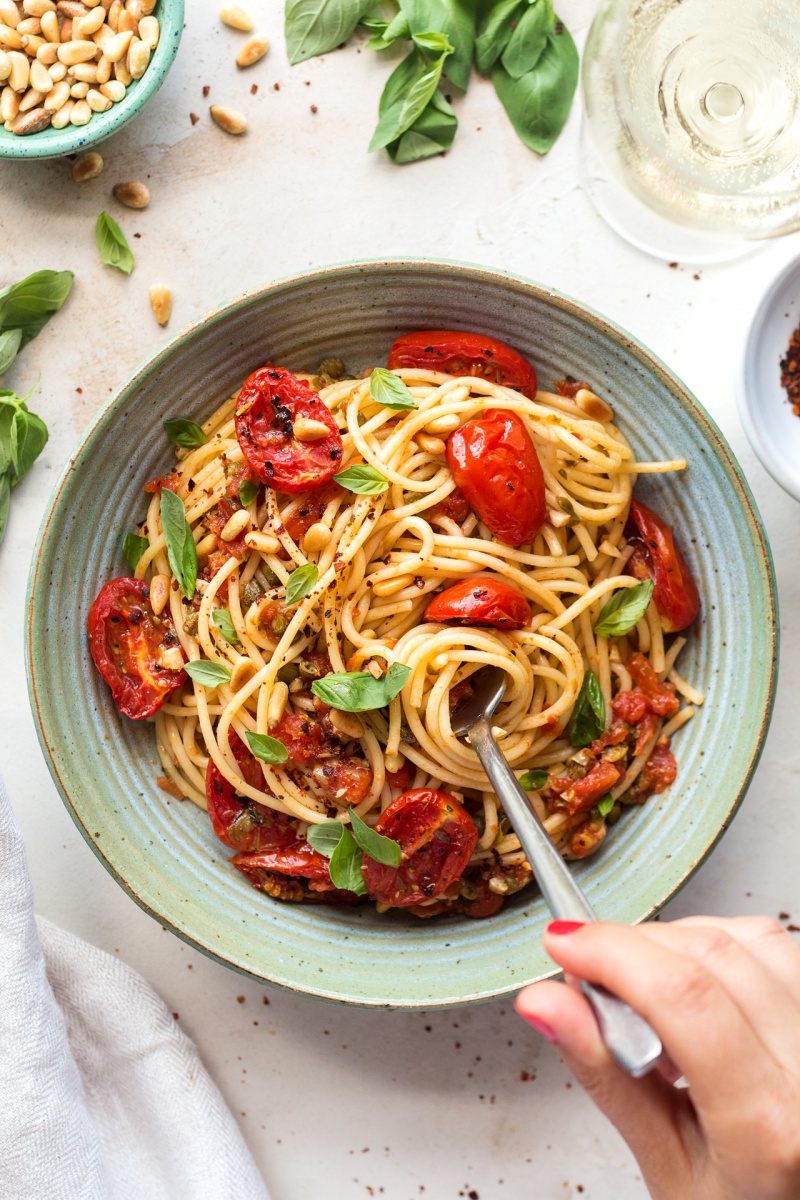 Today, I'm coming at you with a simple, midweek, roasted tomato pasta with basil that I've been making a lot lately. I am so in love with my hammock that any excuse to cut down on the time spent in the house is welcome and this puppy takes less than 30 minutes to make so…I'm sure you are getting my gist…
Duncan is laughing at me as ever since we put the hammock up, I've been pretty much glued to it. I'm even in it now as I write this 🙂 . I've always wanted to own a hammock, but somehow never had the space for it or it simply seemed like maybe it's a waste of money, as I won't get to use it much. So I never got one for myself. Ever since Duncan got one for my birthday two years ago, I look forward to what I call 'hammock weather' every year and, once it comes, I install myself in the hammock and I'm reluctant to leave it, especially if I happen to have a good book on hand 🙂 . I don't even mind that when I close my eyes to go to sleep, everything seems to sway ever so gently.
On another note, in case you are wondering what happened to our dream house that I wrote about on Friday, we did not get it, but actually we are not gutted at all. We went there again on Friday evening to have another look at the area and we both realised that despite the house being surrounded by parkland and some allotments, you can hear quite a lot of noise from a distant motorway overpass. That realisation cooled us off completely and we decided not to go back with another offer. It's such a big decision that we want to love the place we choose and we are sure a little more patience will pay off eventually.
So like I said, this pasta is easy and quick to make and delicious thanks to the summery combination of grape (plum or cherry) tomatoes, which tend to be sweeter and more flavourful than their full-sized sisters and fragrant basil. It's best eaten al fresco (tastes even better in a hammock, I tell ya 🙂 ) seasoned with some good late summer evening conversation and perhaps a few sips of wine. As for dessert, strawberries with coconut yoghurt and my recent oil-free granola is what I am into right now. I cannot recommend it enough 😛 .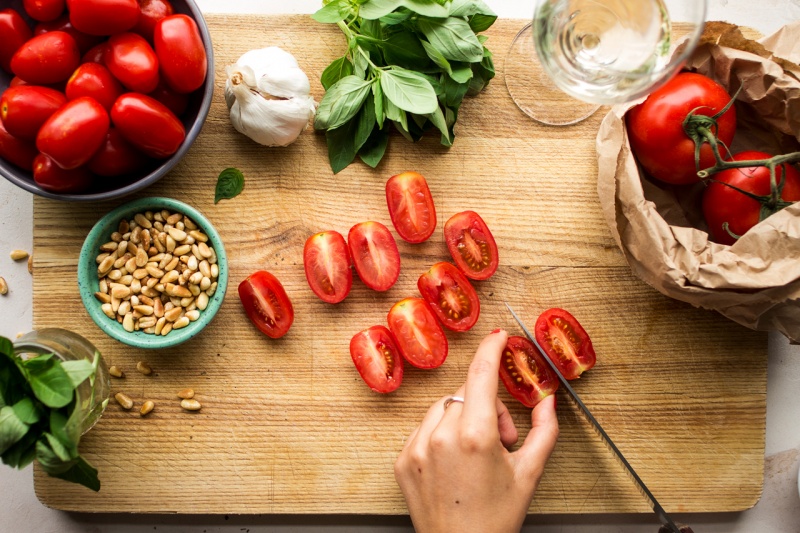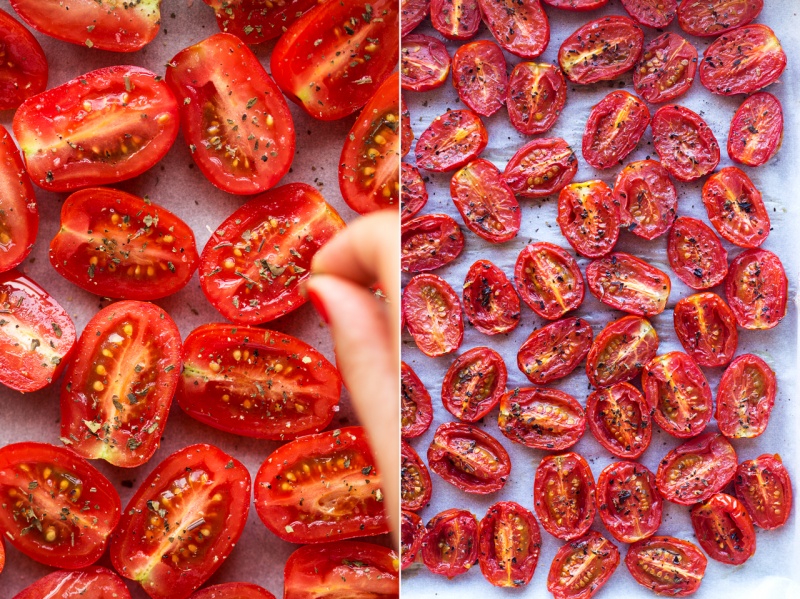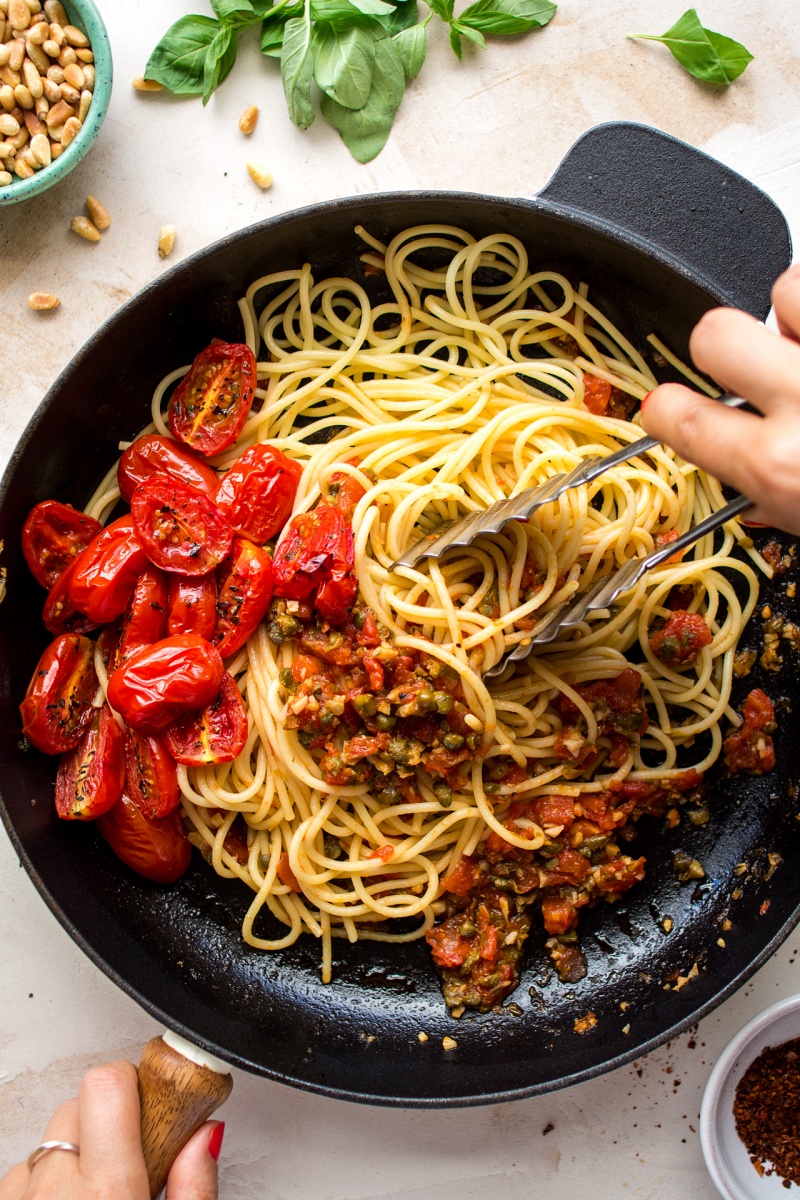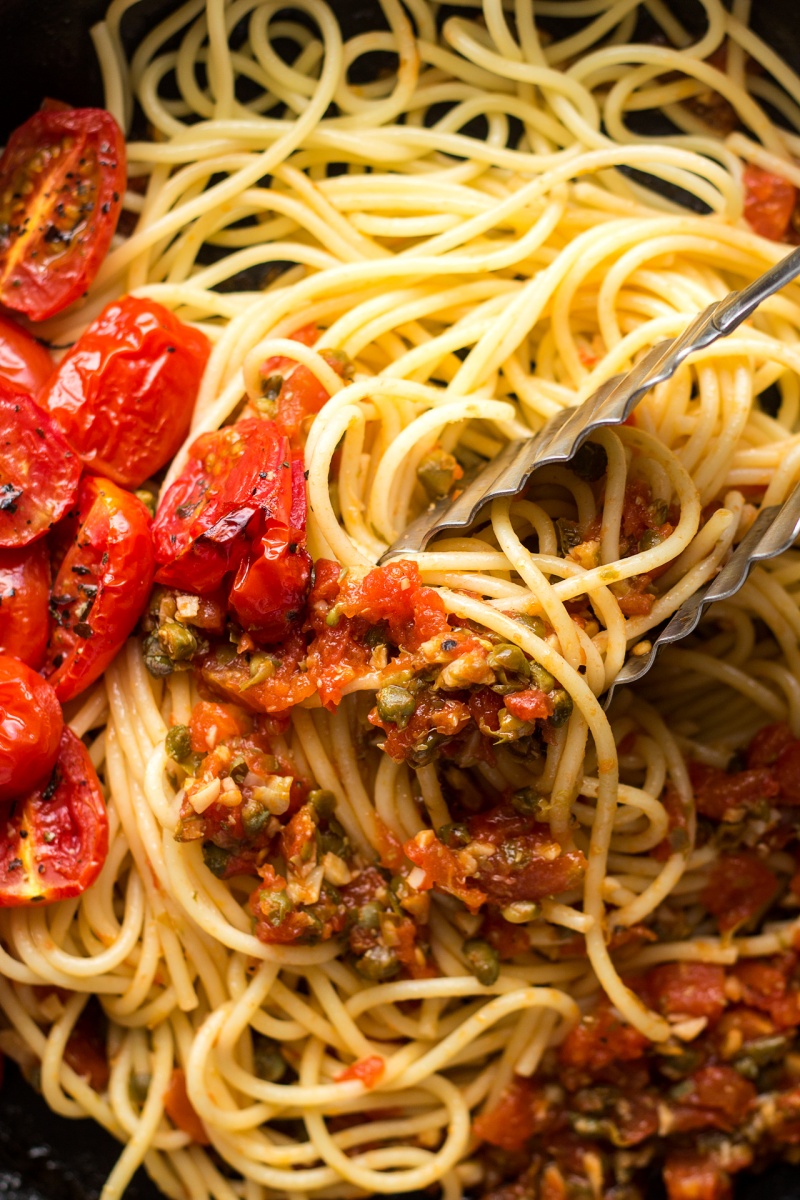 200 g / 7 oz grape, plum or cherry tomatoes (10 tomatoes)*
2-3 tbsp / 30-45 ml extra virgin olive oil
½ tsp dried basil
salt and pepper to taste
200 g / 14 oz spaghetti (GF if needed)
2 tbsp pine nuts
2 garlic cloves, diced very finely
2 medium ripe tomatoes (or ½ can), peeled and diced finely
a few sprigs of fresh basil
2 tbsp capers in brine, chopped
¼ cup / 60 ml white wine (optional)
a pinch of chilli flakes (optional)
METHOD
Preheat the oven to 200° C / 390° F and get a medium size baking tray ready.
Halve the tomatoes and arrange them on the prepared baking tray, cut side up. Brush the exposed flesh with a little olive oil, sprinkle with dried basil, salt and pepper. Bake for about 20 minutes, until soft and juicy.
Cook the pasta al dente following the packet instructions.
Heat up a small frying pan on low-medium heat. Once hot, add the pine nuts and dry-roast them until golden, stirring them regularly as they tend to burn easily. Remove them from the pan and set aside.
While the pine nuts are toasting, heat up 2 tbsp of olive oil in a large pan on a very low heat.
Throw in the diced garlic and fry it on a very low heat, stirring frequently, until the garlic releases its aroma, but do not allow it to brown as it will taste bitter.
Add the diced tomatoes, a couple of sprigs of basil, capers and white wine (or water if not using wine).
Simmer gently for about 15 minutes so that the tomatoes to cook a little and excess moisture cooks out. Add a splash of more liquid (water or pasta cooking water) if the pan starts to look too dry while the tomatoes are still raw.
Season with a pinch of chilli and black pepper and salt, but be careful, as, depending on the brand, the capers may provide enough saltiness. Remove the wilted basil from the sauce at the end of simmering.
Once the sauce is ready, add the cooked pasta and oven roasted tomatoes to the pan. Toss the pasta in the sauce. Taste and adjust the seasoning.
Serve topped with toasted pine nuts and shredded basil leaves.
NOTES
* I recommend filling the entire tray and using the left over tomatoes in salads and lunch bowls.