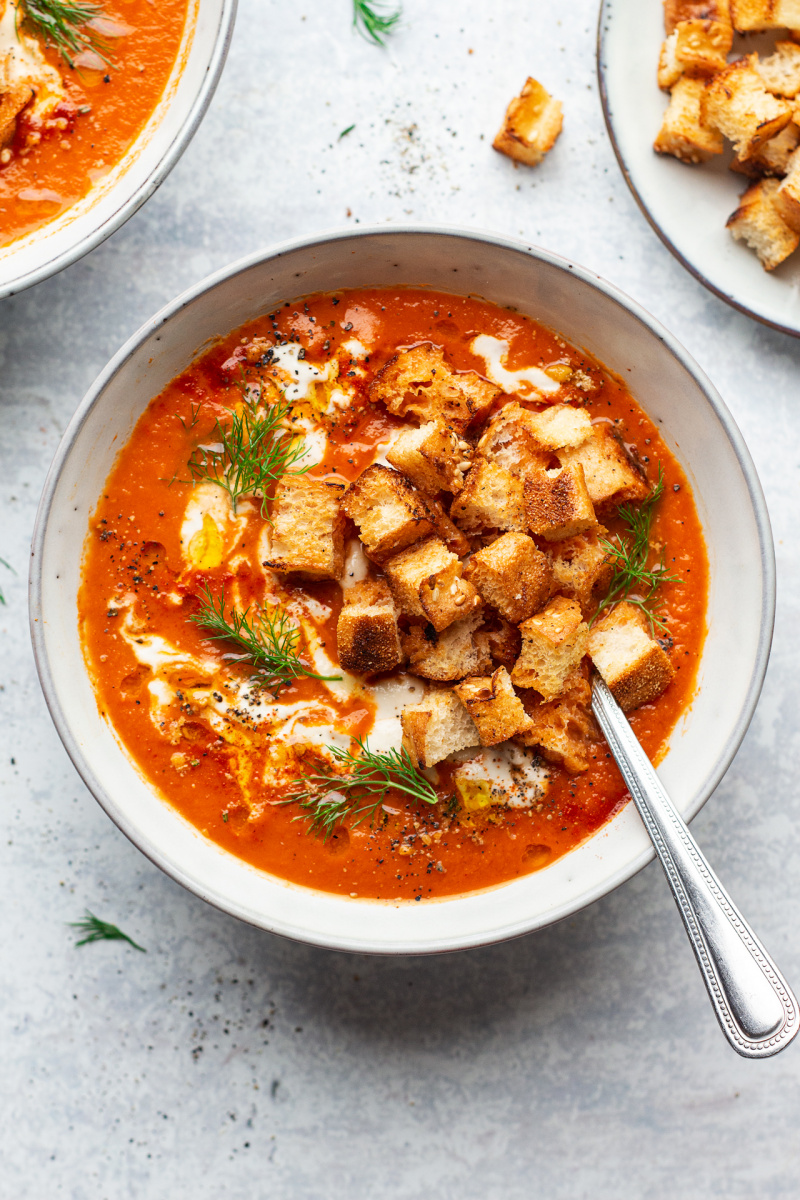 While I am taking a bit of a break from eating nothing but soups as I am finally able to enjoy more solid food again, there is a particular soup recipe that I enjoyed while I was getting used to braces. I asked you on Instagram and Facebook if you fancy the recipe and quite a few of you were keen, so here it is!
This soup came about from the fact that I didn't quite anticipate how much I won't be able to chew in my first week of braces and bought way too many raw veggies as I got too carried away veg shopping, as usual. I had these two super handsome fennel bulbs, which I would normally add to pasta or throw into a salad, staring at me vacantly every time I opened the fridge and I really didn't want them to go to waste.
They sat there with half a zucchini and a bunch of cherry tomatoes so I've decided to throw all of that into a baking tin to roast it nicely until soft and caramelised and then blend into a creamy, slightly smoky and spicy soup. The result was really super tasty and I've made it a couple more time since, especially that fennel is in season here right now – I keep on seeing really handsome specimens in my local supermarket.
The original recipe was a touch more involved as I sauteed onion and garlic in olive oil separately, but for the sake of simplicity and to keep this soup as hands off as possible, I simplified the process by roasting the onions and garlic in the oven, alongside fennel and cherry toms. If you are after something more filling, add some homemade croutons, spiced chickpeas or seeds as a topping or serve with a hefty slice of grilled bread. Delicious, filling and healthy.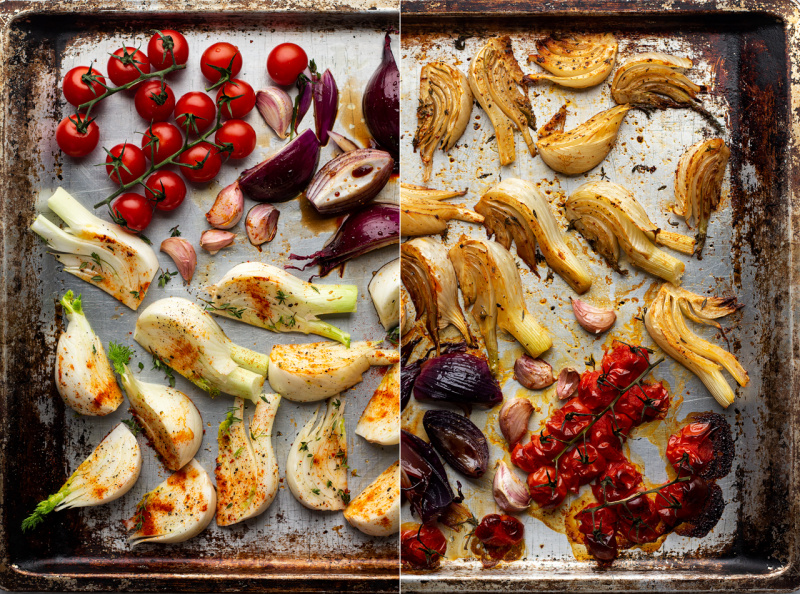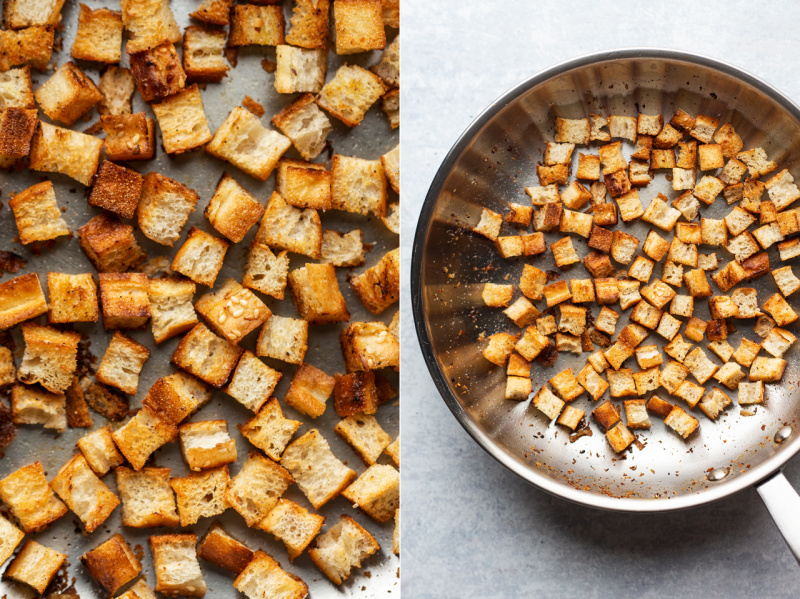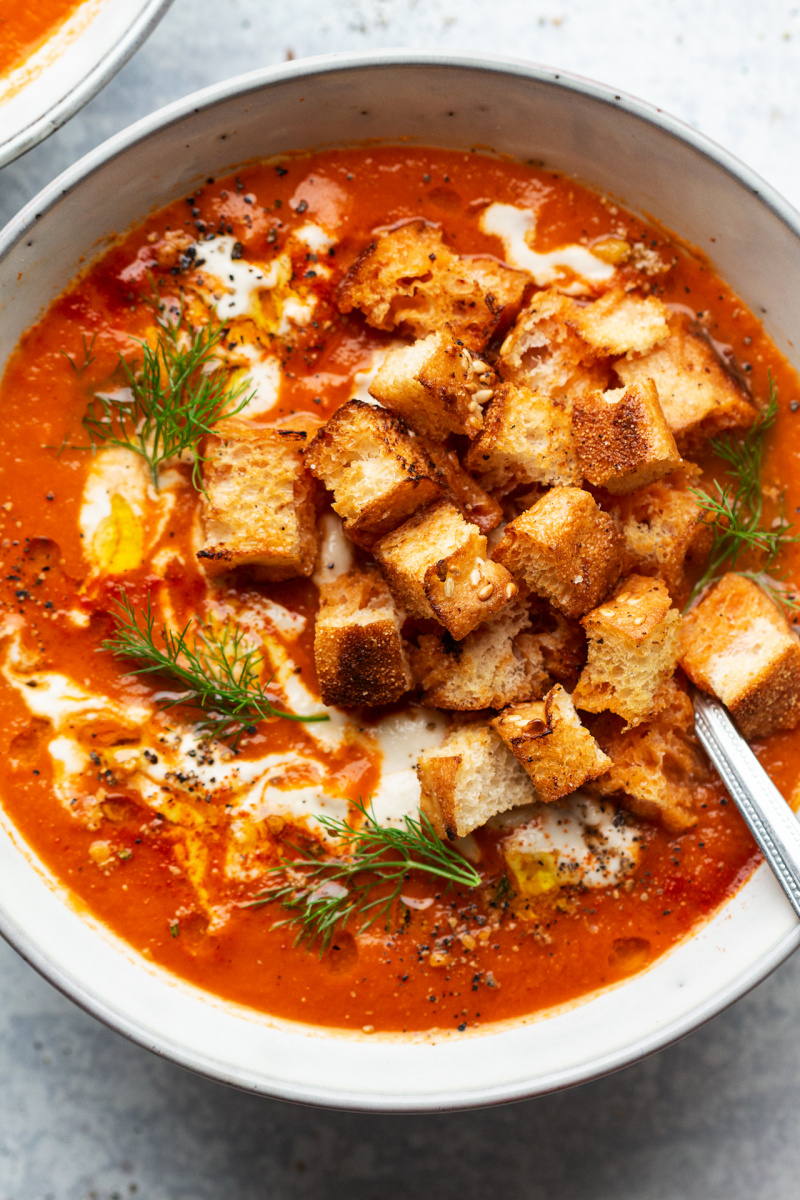 2 fennel bulbs, cut into eighths
1 onion, cut into quarters
200 g / 7 oz cherry tomatoes on the vine
½ head of garlic
2-3 tbsp / 30-45 ml extra virgin olive oil, plus more to drizzle
1 tbsp balsamic vinegar
4 fresh thyme stalks, leaves picked or ½ tsp dried
salt, adjust to taste
black pepper, to taste
½-1 tsp sweet smoked paprika
½ tsp cumin
¼ tsp chilli flakes (optional), adjust to taste
1 x 400 g / 14 oz can quality peeled plum tomatoes
750 ml / 3 cups veggie stock or a vegan stock cube dissolved in hot water
1 roasted jarred pepper (optional)
1 tsp sweetener (I use homemade date syrup), adjust to taste (optional)
CROUTONS
2 slices of quality stale bread (I recommend sourdough or Turkish pide, which is what I used this time)
1 tbsp olive oil
fine sea salt
METHOD
Heat up the oven to 200° C / 390° F and grab a large baking dish or tray. Use a larger tray (ignore the first photo – I used it as it looked nice) and ensure there is a bit of space around each piece of fennel to get more caramelisation.
Coat (or brush if wanting to use less oil) fennel, onion, cherry tomatoes and garlic cloves in olive oil and drizzle the onions in balsamic vinegar. Scatter with thyme leaves, sprinkle with salt, pepper, smoked paprika, cumin and chilli if using.
Roast for about 25-30 minutes (flipping onto the other side half way through) until fennel is soft and caramelised on both sides.
While the veggies are roasting, place squashed canned tomatoes and 1 cup of stock in a large pot. Allow it to come to boil and simmer, covered until tomatoes fall apart.
Transfer all the roasted veggies (deglaze the pan with hot water and add that too) to a blender with some stock, simmered tinned tomatoes and a jarred pepper (if using). Blend until smooth.
Transfer to back to the pot you used to cook canned tomatoes, warm up and season to taste, with more salt, pepper, balsamic or sweetener if needed. Dilute with a bit more stock if needed.
Serve with swirl of cashew cream on top and homemade croutons or spiced chickpeas for more substance .
CROUTONS
Cut the bread into an even dice. I went for small 0.5 cm / 0.2″ cubes.
If your bread is fresh, like mine was, toast it on a dry stainless steel pan first until dry and barely toasted. Otherwise the croutons will be greasy.
Once the cubes of bread are dry, remove them from the pan and wipe the pan with a clean kitchen towel.
Return the pan to the stove and heat up the oil slowly. Once the oil gets hot, throw the bread cubes in and immediately coat them in the hot oil.
Allow the bread to toast slowly in the pan, tossing it around from time to time. Season with a good pinch of salt and set aside for the soup.
NOTES