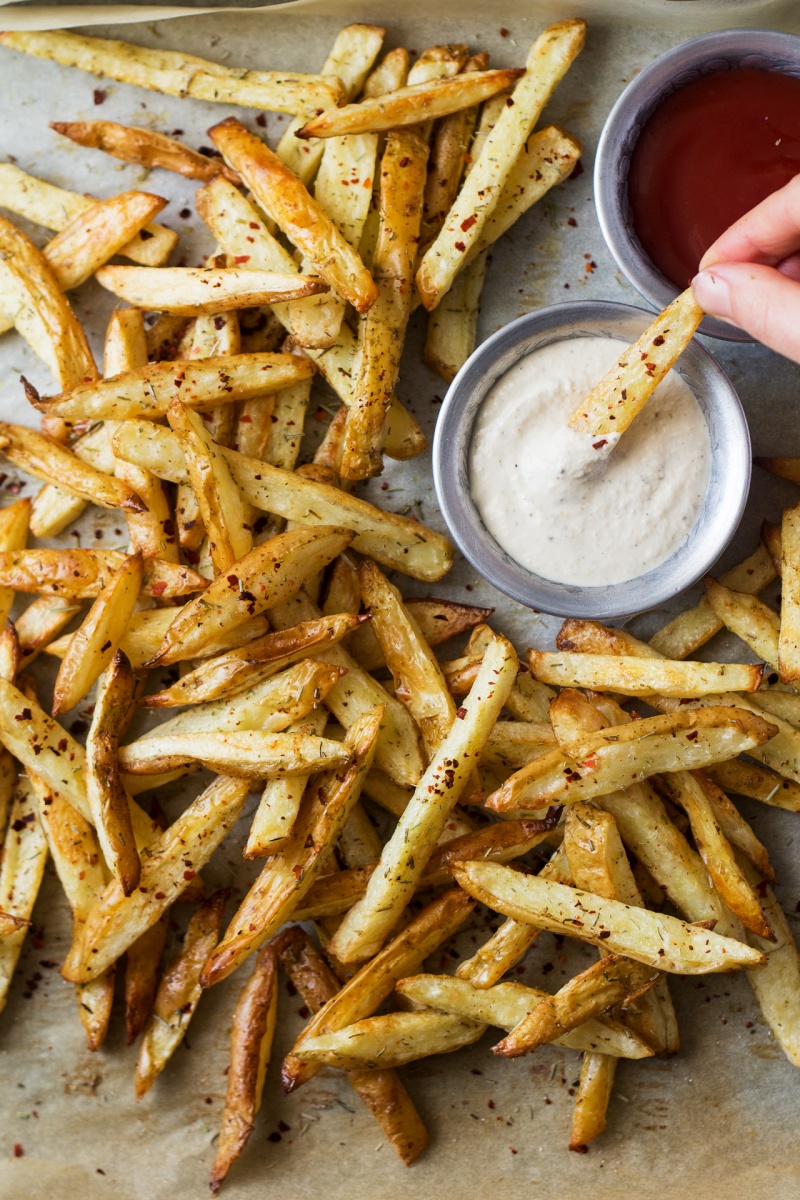 Lately, my favourite midnight snack is crispy rosemary fries with a roasted garlic dip (me) or ketchup (Duncan, who says that his childhood motto was 'ketchup on everything'). I know, I know, eating too close to your bedtime isn't really a good idea and perhaps I should not endorse it here… But we all have these moments when we had a healthy and light dinner, say 3 hours before going to bed, and then suddenly we find ourselves on a cliff hanger of Breaking Bad and we really want to find out what happened next but dinner is a distant memory and we're getting peckish.
That's when my rosemary fries come to the rescue – there is so little prep involved (ketchup will do) and they are so satisfying. Plus, aren't potatoes (and fries by extension…?!) one of the most nutritionally complete foods 😉 ? You might have heard of Andrew Taylor, an Aussie who spent an entire year eating just potatoes in a bid to combat his food addiction and lose weight. We listened to his interview on Rich Roll's podcast (check it out here) and found it really positive and inspiring.
Anyway, if your evening eating is a bit more under control than mine, you can simply have these for lunch with a big green salad. They smell so good that even my resident kitchen helper, Lupo, felt compelled to check them out. Who am I kidding? In four short weeks, she went from a bag of skin and bones to a relentless food beggar and thief. She begs and steals from much bigger cats as if we weren't feeding her enough and she does manage to fool us at times even though we're definitely feeding her as much as she should eat (and more).
The other day, I dropped a cube of sweet potato on the floor and she was inspecting it within seconds. Sweet potato must have met her 'stringent' food standards as she wolfed it down before I was able to stop her. She seemed happy enough, but I bet she was swearing at our veganism under her breath – "where is the fwish, hooman?" 🙂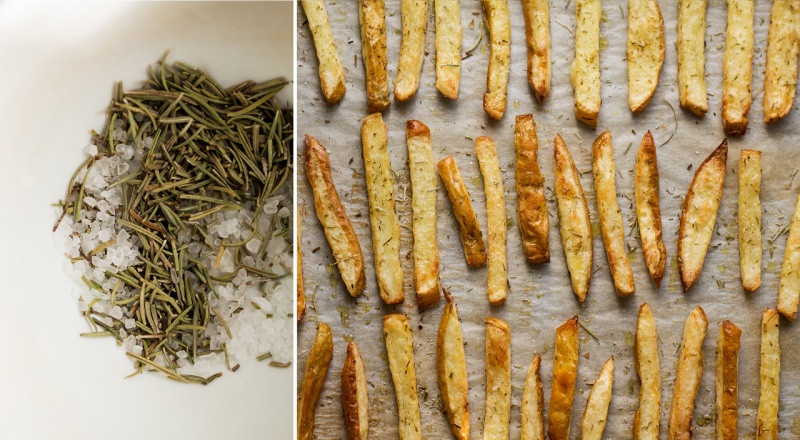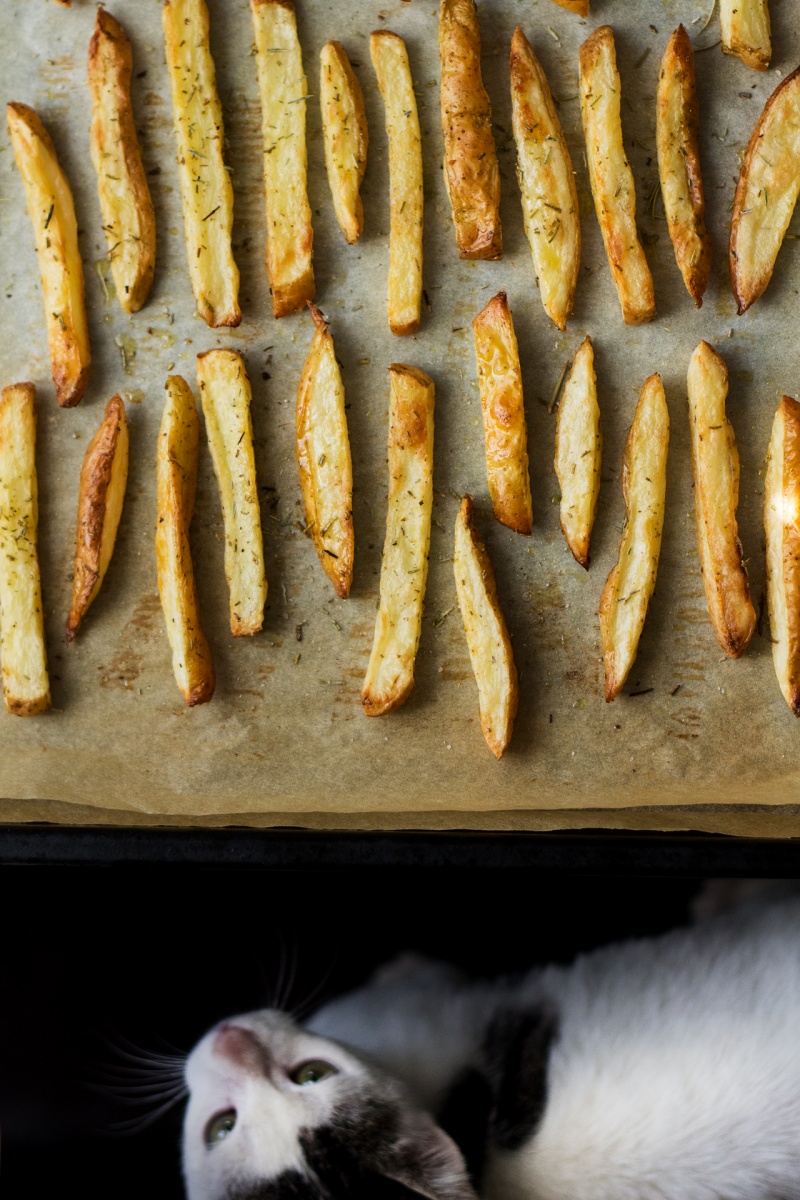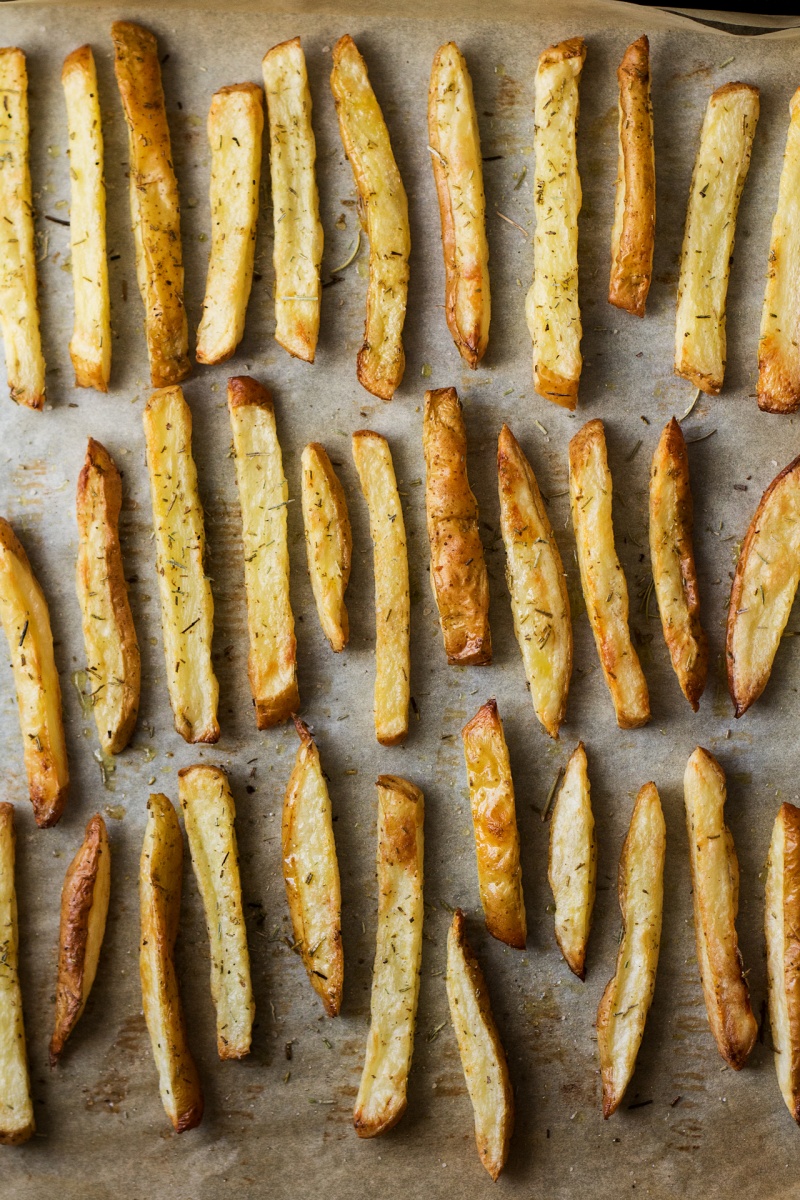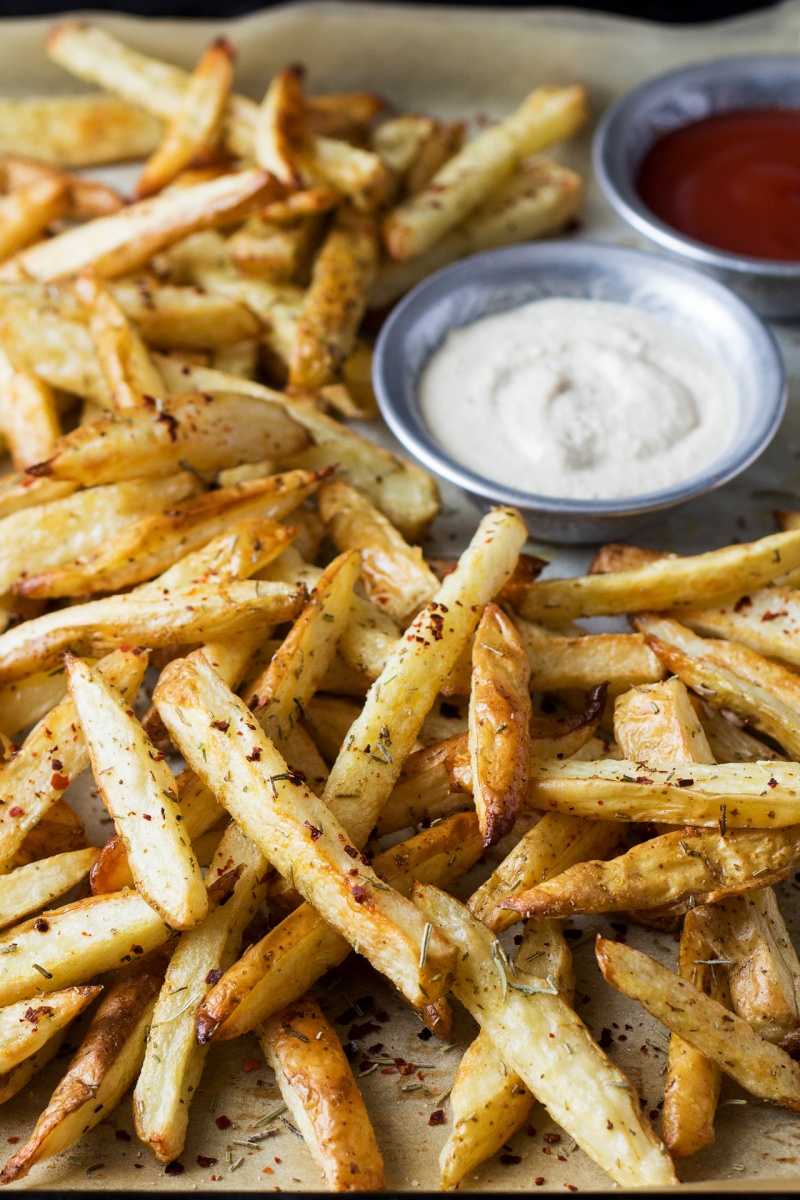 FRIES
500 g / 17.5 oz (3 medium) starchy variety potatoes*
1 tbsp olive oil
½ tsp coarse sea salt
2 tsp dried rosemary
medium hot chilli flakes (I used Turkish pul biber)
ketchup, to serve (optional)
ROASTED GARLIC DIP
½ cup raw cashews, soaked overnight
15-30 ml / 1-2 tbsp lemon juice
1 tbsp nutritional yeast (we recommend this brand)
¼ tsp dried rosemary, crushed into a fine powder
3 large garlic cloves
¼ tsp fine sea salt, adjust to taste
white (or black) pepper, to taste
METHOD
If you have new potatoes, scrub them (peel them otherwise) really well and cut into 1.25 cm / 0.5″ wide batons. Try to make them as even as possible so that they cook evenly.
OPTIONAL: Plunge the cut fries into a bowl of cold water and let them sit in it for at least 30 min. Soaking will get rid of excess starch and result in crispier fries. Rinse the potatoes after soaking and blot them dry (that's important!) with a paper kitchen towel.
Place about ½ tsp of coarse sea salt and 2 tsp of dried rosemary in a pestle and mortar and grind them together into rosemary salt.
Place dry potato fries in a bowl. Drizzle with 1 tablespoons of oil and use your hands to coat. Season with a pinch or two of rosemary salt you prepared earlier.
Pre-heat the oven to 220° C / 425° F and line a baking tray with a piece of baking paper.
Place potato fries on the baking tray in a single layer and make sure fries do not touch each other as otherwise they will end up soggy. The more space they have around them the crispier they will turn out.
Bake for about 30-35 minutes. 20 minutes in, gently turn the fries to the other side. If you have some small fries in between larger ones, they will be done sooner so you may want to take them out a bit earlier. Sprinkle with more rosemary salt if needed and some chilli flakes (if using).
Serve hot with a side of roasted garlic dip and / or ketchup.
ROASTED GARLIC DIP
Set a small pan on a medium heat and place 3 garlic cloves (skins on) on the hot frying pan. Roast them (it takes about 10 minutes) until they get lightly charred on the outside and soft on the inside. Turn them to the other side regularly so that they don't burn. Alternatively, you could also place them in the oven with your fries and remove after about 10 minutes. Peel after roasting and discard the skins.
Rinse cashews, chop them roughly (you can skip chopping if you have a powerful blender) and place them in an upright blender with roasted garlic cloves, lemon juice, nutritional yeast and enough water to enable the blender to process the cashews into a thick dip. Add water gradually and be sure to scrape the walls of the blender and the lid with a spatula from time to time to return the stray mixture back to the blender.
Season with salt, pepper and more lemon juice to taste.
NOTES
*POTATO variety is important, in the UK the best variety for this purpose is Maris Piper and in the US, it's Russet. You want starchy potato type that it's best for baking and frying, not all purpose and certainly not the waxy variety.
*SOAKING: whilst soaking the potatoes renders superior results when frying them in oil, I am not 100% certain it is worth it for baking. I have compared the two preparation methods side by side and the difference is minimal.