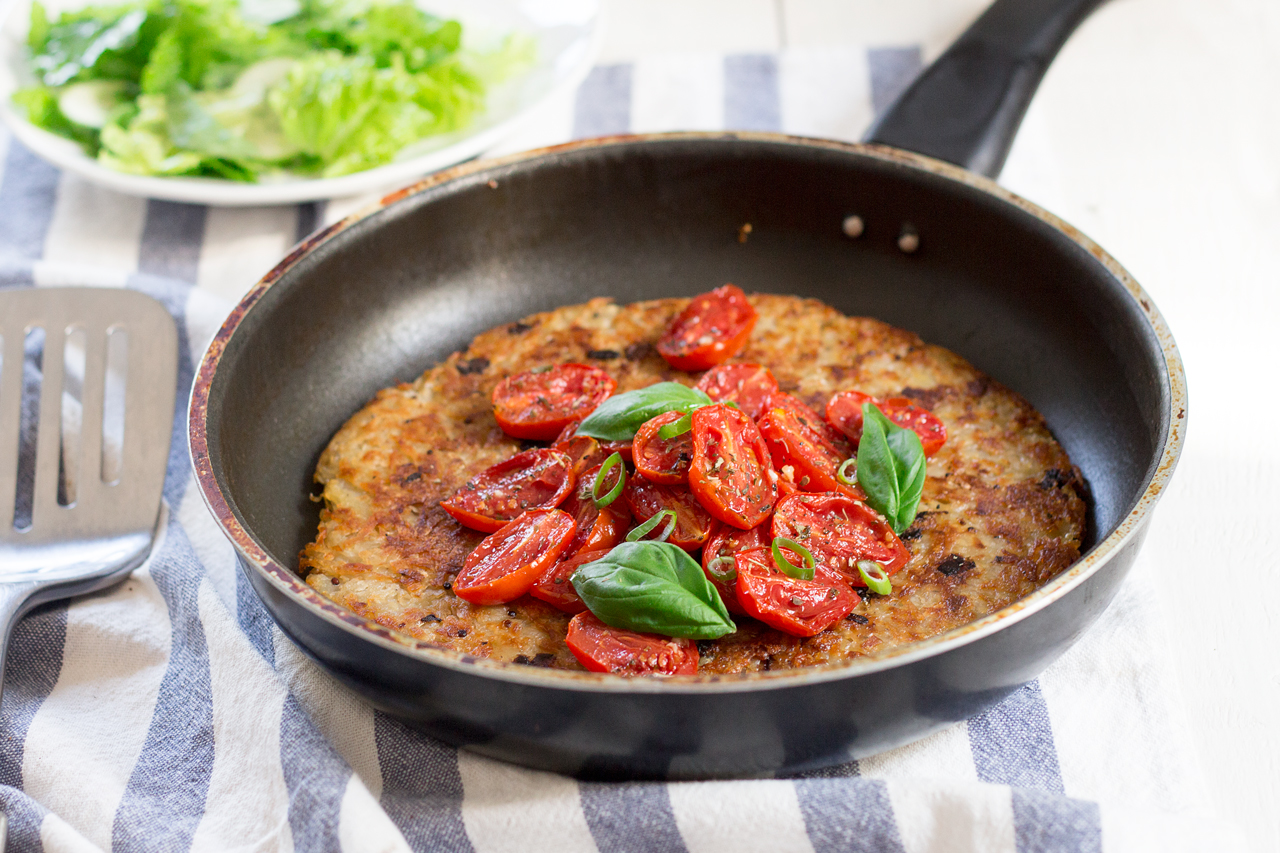 Shredded potato Rösti is a dish that hails from picture-perfect Switzerland, yet it feels strangely familiar to me. I guess it's because it's very similar to my dad's all time favourite – Polish potato pancakes ("placki ziemniaczane"), which you may know as "latkes". Both these dishes are quite similar in terms of simple, everyday ingredients and the preparation method. What I like about rösti though is that it allows you to go easy on the oil if you feel that way inclined (frying good, crispy "latkes" on that little oil is a challenge) and it takes care of itself and lets you get on with other stuff. Latkes are quite needy, you need watch over them and make sure you flip them in time or else they burn to a cinder, whereas rösti is like a grown-up, mature latke. You simply set the pan on low heat, nest the potato mixture in it and can safely walk away for at least 20 minutes. I like that, especially that I always multitask in my kitchen – making more than one dish at once.
Since it is summer after all and you may be like: 'why is she making a potato cake in the middle of summer?' I paired my rösti with a very vibrant and summery topping. A tray of sweet and plump cherry tomatoes, brushed with a little garlic oil and basil and roasted until tender. Yum. This dish makes a perfect summer dinner with heaps of fresh green salad. It is substantial enough that you won't go to bed hungry yet light enough that you will sleep easy. It has become one of the Lazy Cat Kitchen household staples!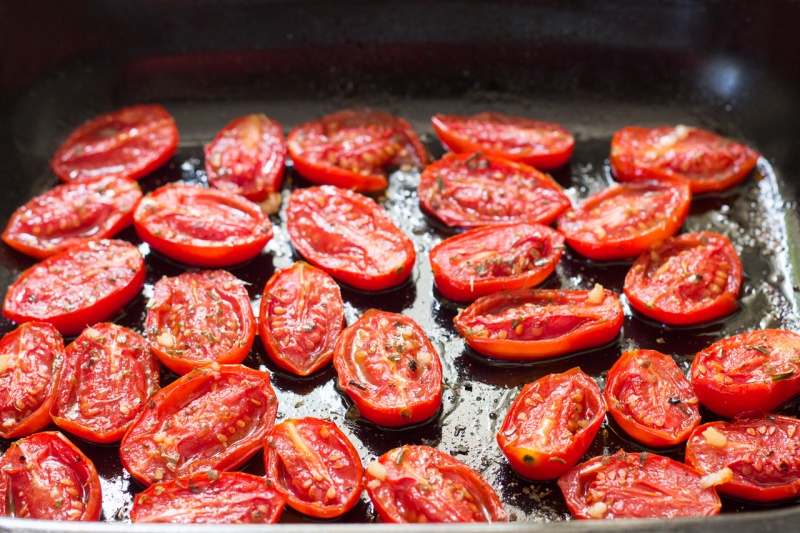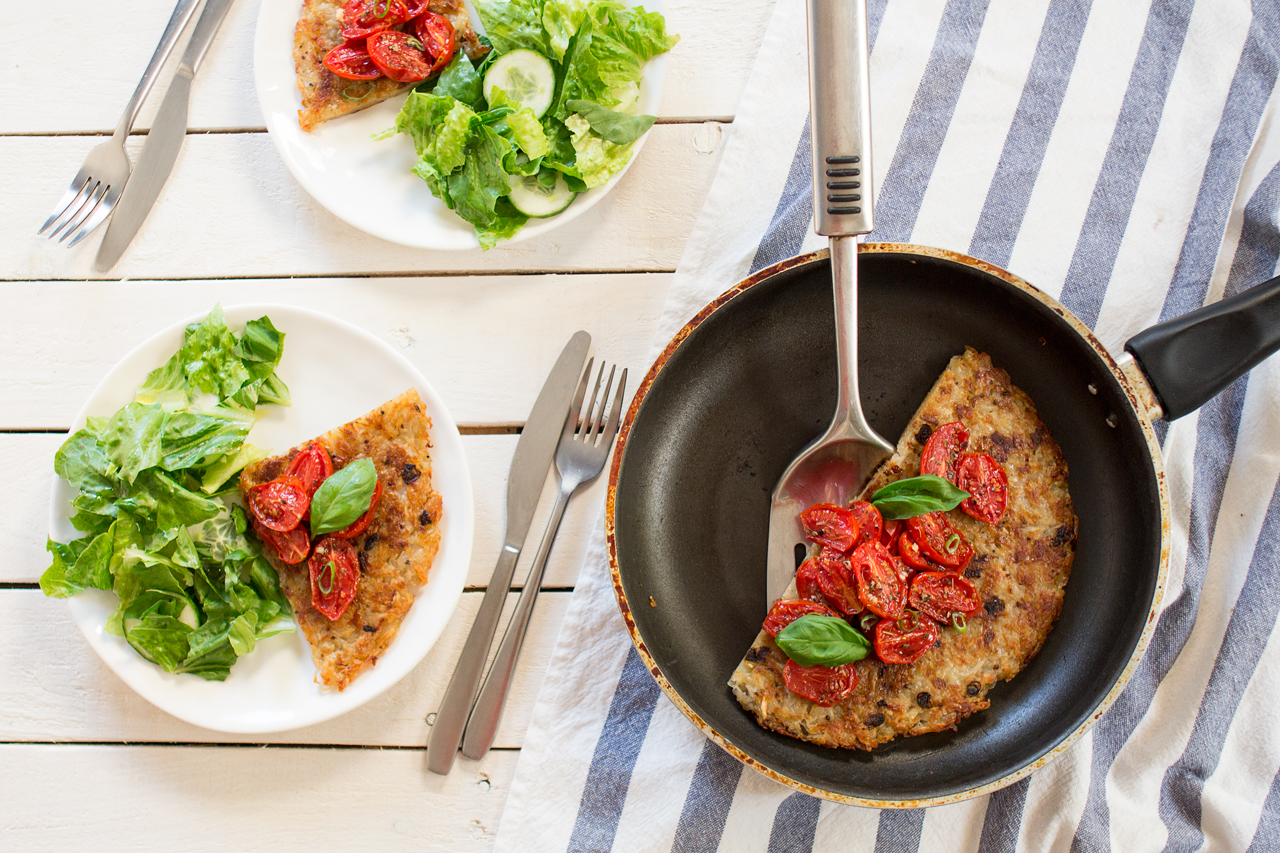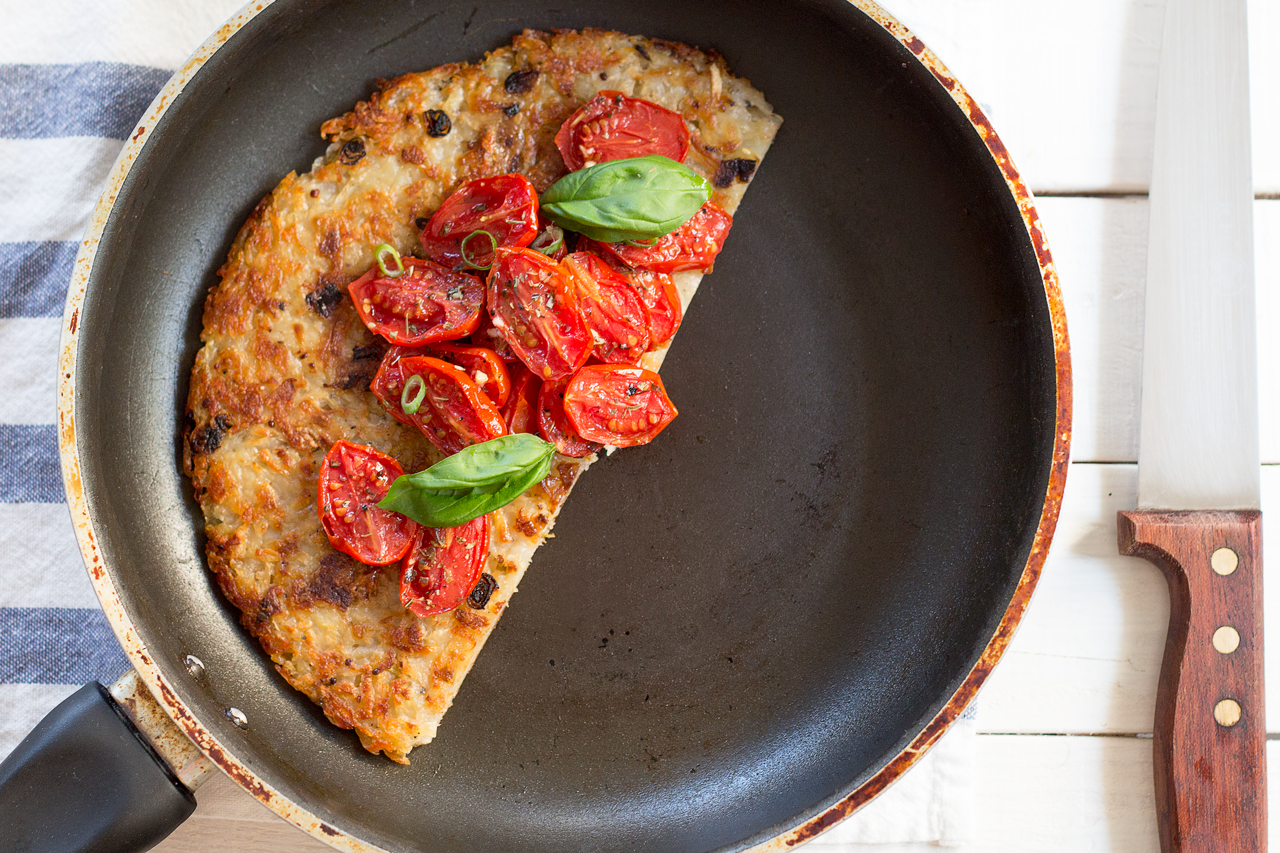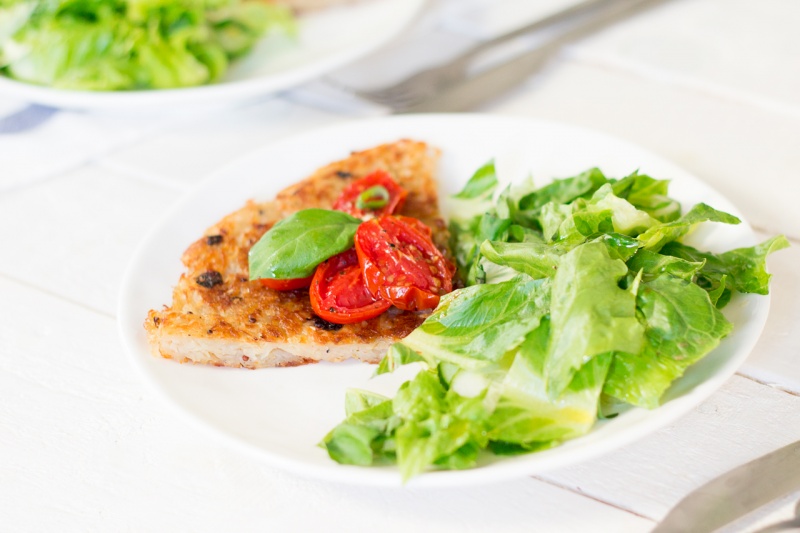 RÖSTI
4 medium potatoes, coarsely grated
1 large spring onion, finely sliced
2 tsp wholegrain mustard
1 tsp fine sea salt
ground pepper, to taste
15 ml / 1 tsbp olive oil
TOPPING
20 large cherry tomatoes
2 pinches of dried basil or oregano
½ small garlic clove, pressed
½ tsbp olive oil
ground pepper
ground sea salt
a handful of fresh basil, to garnish (optional)
METHOD
Mix 1 tsp of salt into the grated potato and put it in a sieve placed over a bowl. Leave it to drain for about 30 mins.
After 30 mins, squeeze the water out of the potato with your hands and place it in a mixing bowl. Mix in sliced spring onion, mustard and season with black pepper.
Heat up a non-stick pan on the stove. Once warm, brush the pan with 1 tbsp of olive oil. After a minute (once the oil gets warm) start layering the rösti. Put the rösti mixture in a pan gradually so that it is spread evenly. Once it's all in the pan, press it down well with a spatula. Cook on a very low heat (I used setting 2 out of 6) for about 25-30 mins on one side, until it's nicely brown.
Set the oven to 200º C / 390º F and while the rösti is cooking, cut all the cherry toms into halves and place them on a baking tray cut side up. In a bowl, mix ½ tbsp of olive oil, minced garlic and dried basil and brush the tomato tops with it. Sprinkle with a touch of salt and pepper. Bake for 20 mins.
After your rösti has been cooking for 25 mins on one side, flip it over by placing a large plate (upside down) on top of the pan and turning the rosti into the plate and then slipping it back to the pan. Cook the other side for another 25-30 mins.
Serve the rösti hot, topped with warm garlicky tomatoes and fresh basil and a simple green salad if you like.