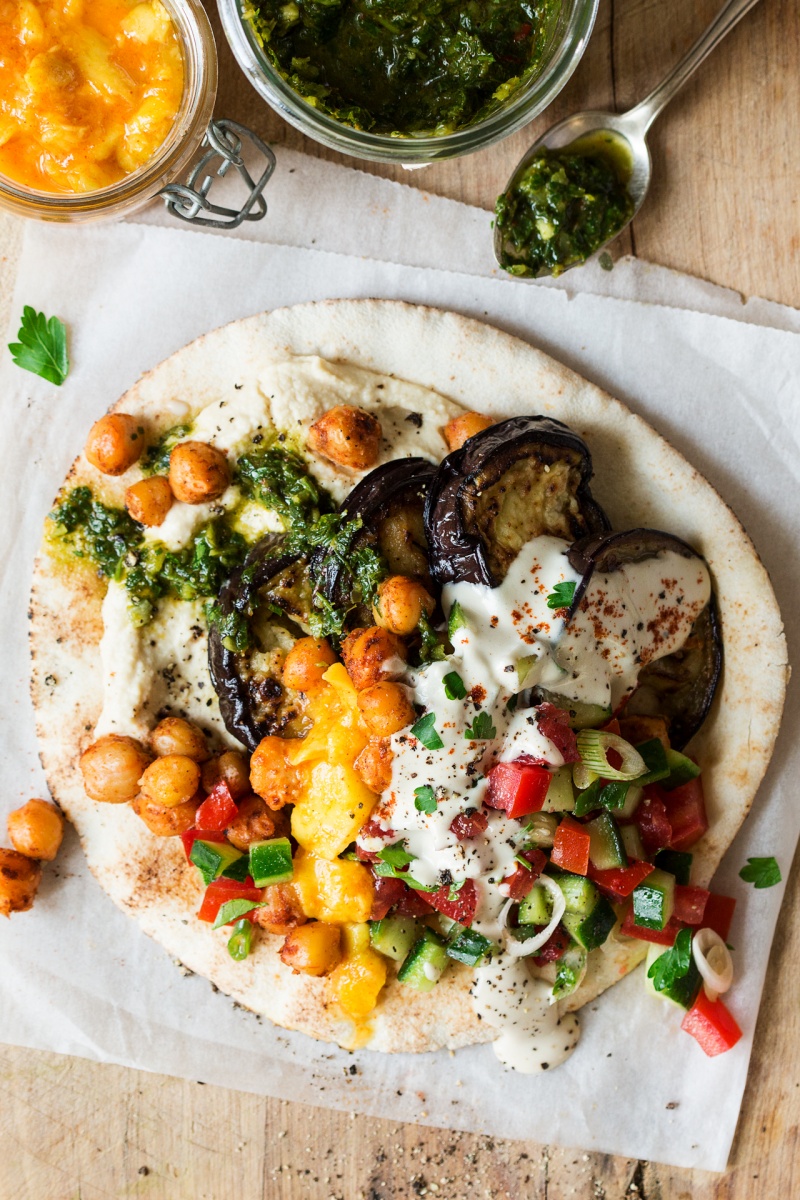 I've been ogling sabih in Yotam Ottolenghi's book Jerusalem for a while now, but I was missing some ingredients and so I never got round to making it.
Then a few weeks ago I got a message from one of my readers (I cannot believe anyone reads my stream of consciousness 😉 ), Golan, who was visiting Paros. Duncan and I met up for coffee with him and his partner, Danny, and that meeting put a big simile on my face. They were both very nice and easy to talk to and they were into good food so we had plenty to talk about. They were also so kind that they brought me a huge jar of delicious tahini straight from Israel. I can easily get tahini here, but the one I got from them was so much more delicate and creamier than any of the Greek ones I've tried. Frankly, I am happy to eat it with a spoon with a touch of maple syrup or pomegranate molasses mixed in. So now that I have this luscious tahini and the savoury mango pickle, which I managed to get my hands on while in Athens, I've had to put both of them to a good use, quick! My thoughts turned to a sabih…
To me, this sandwich feels like such a perfect metaphor for Israeli food. Each group of Israeli immigrants brought something to the table – fried aubergine and hard boiled egg (which I substituted with spicy chickpeas), came from Iraqi immigrants. Fragrant, herbaceous and very spicy zhoug sauce, which Ottolenghi explains as Middle-Eastern ketchup, was brought by Yemenite Jews. Salty and vinegary mango pickle was also introduced by Iraqi Jews but it is derived from Indian cuisine, with its classic flavours of mango, turmeric, mustard and fenugreek. Finally, a simple chopped salad (a version of which is found pretty much everywhere around the Mediterranean Sea) and tahini sauce are Israeli staples.
This melting pot of a sandwich is a bit of revelation in my books. The simple components come together in a meal bursting with flavour! It's so easy to make too! Granted, it does require quite a few ingredients and processes, BUT you can make pretty much each component in advance and assemble the sandwich on each day of the week. There are so many palate-tingling flavours in there that you won't get bored.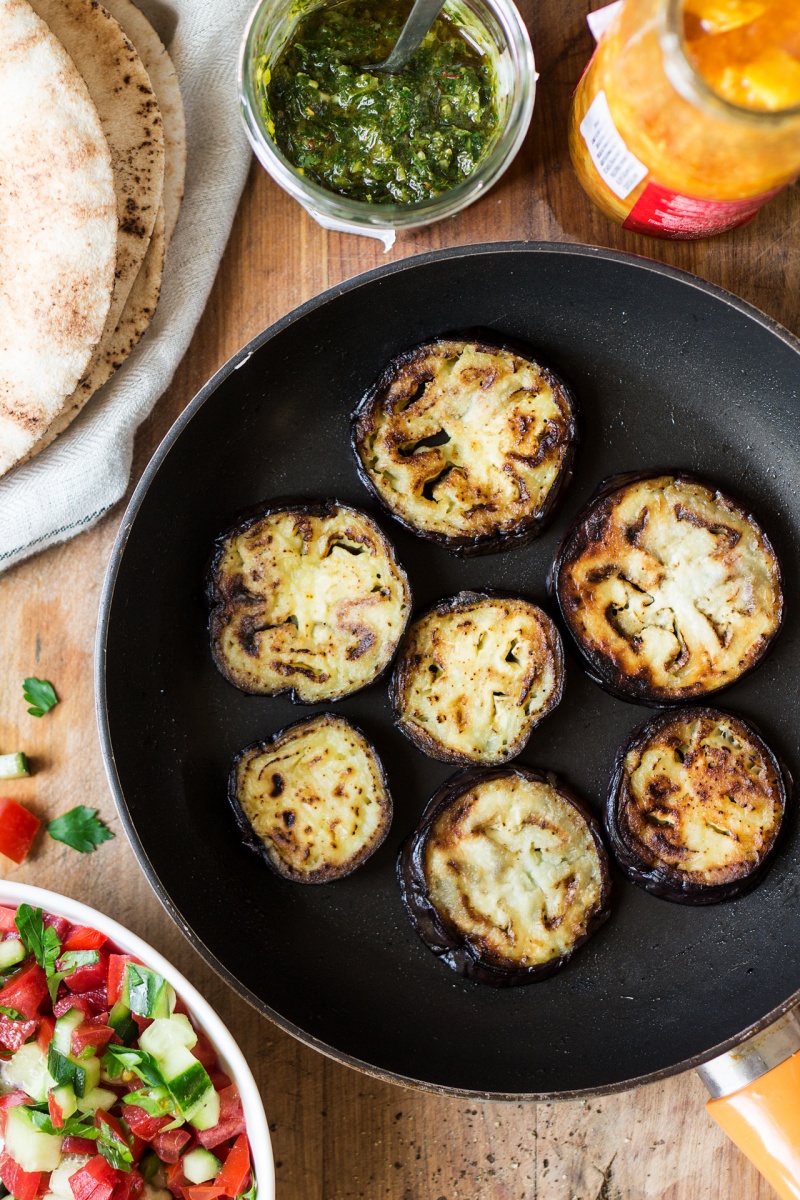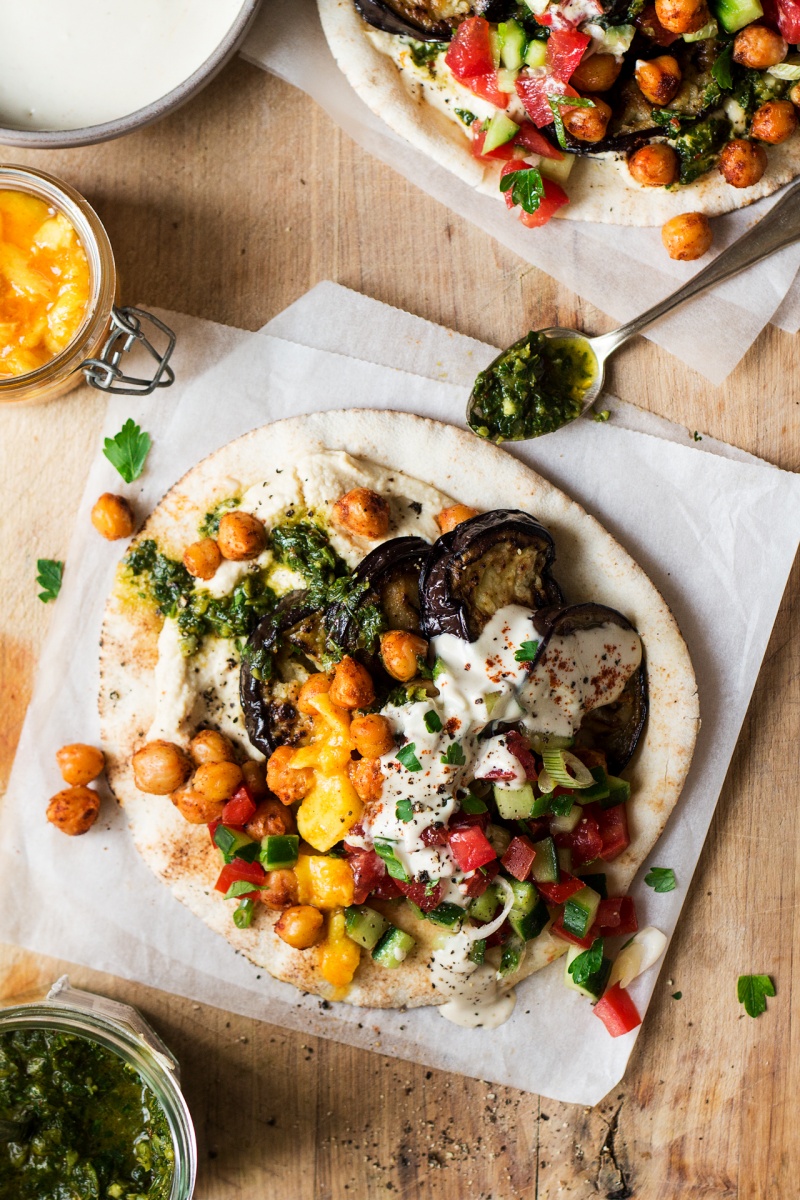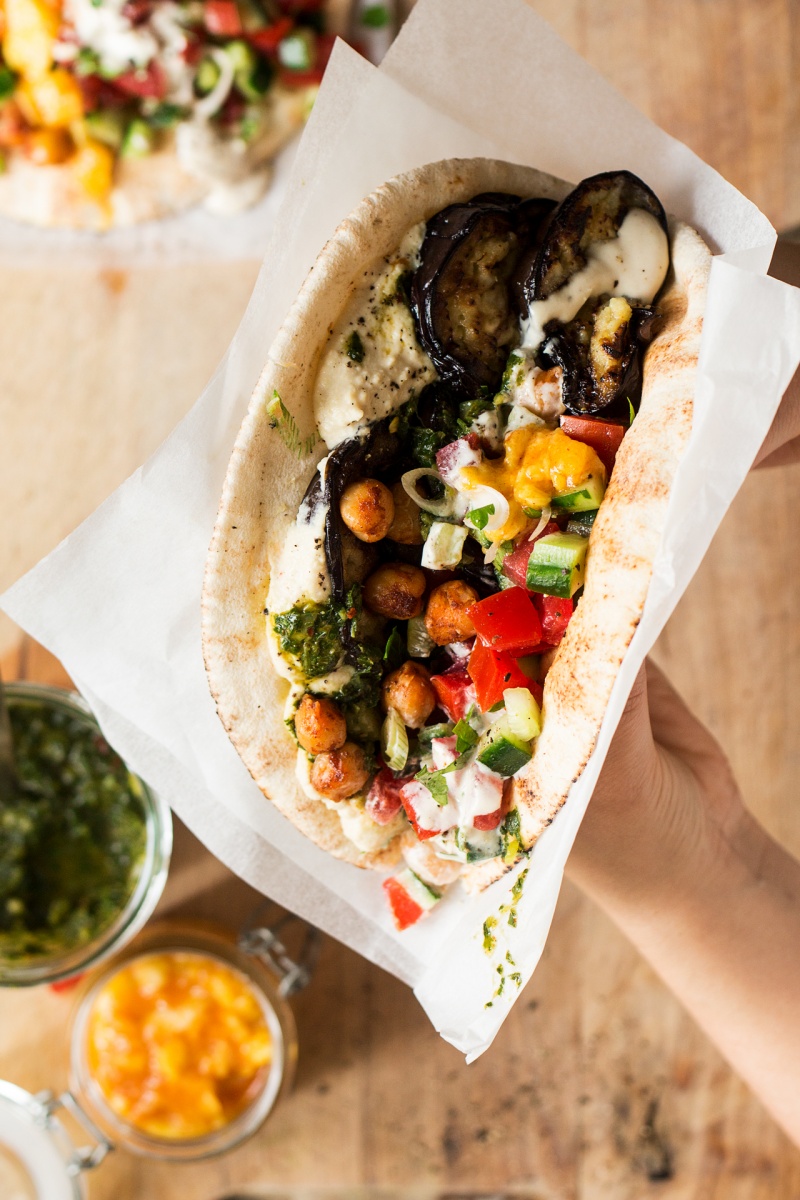 FRIED AUBERGINE / EGGPLANT
SPICY CHICKPEAS
2 cups cooked chickpeas, drained well
2 tbsp olive oil
1 tsp cumin
1 tsp smoked paprika
½ tsp chilli powder, adjust to taste
fine sea salt, to taste
ZHOUG (spicy herb condiment)
35 g / 1 cup packed fresh coriander leaves
20 g / ½ cup packed fresh parsley leaves
1-2 hot green chillies
½ tsp ground cumin
¼ tsp ground cardamom
¼ tsp ground cloves
a pinch of sugar
½ tsp salt
black pepper, to taste
4 tbsp extra virgin olive oil
2 tbsp lemon juice
2 tbsp water
TAHINI SAUCE
60 ml / 4 tbsp tahini
2 tbsp lemon juice
½ large garlic clove, grated
1 tsp maple syrup
salt & pepper, to taste
ISRAELI SALAD
1 Lebanese cucumber
2 ripe tomatoes
1 medium spring onion, sliced
a few stalks of parsley, chopped finely
1 tbsp extra virgin olive oil
lemon juice, to taste
REMAINING INGREDIENTS
savoury mango pickle (also known as amba)
4 round pitas (GF if necessary)
classic hummus (recipe here), optional
METHOD
FRIED AUBERGINE / EGGPLANT
Cut aubergines into 2.5 cm / 1″ slices. Sprinkle with salt on both sides and set aside for 30 minutes for any excess moisture and bitterness to go.
After 30 minutes, wipe the salt off with a piece of kitchen towel. Blot the slices on the kitchen towel until completely dry.
Heat up a medium non-stick pan with 1 tbsp of oil. Meanwhile, sprinkle the first batch of sliced aubergine with a thin layer of cornstarch – this is optional and not a traditional thing to do, but it minimises the amount of oil the aubergine soaks up during frying and gives it a nice, delicately, crispy texture on the outside. Repeat with the remaining aubergine slices as the first batch finishes frying (sprinkling cornstarch in advance makes aubergine get slippery so wait till just before you are ready to place it on a hot pan).
Once the oil gets medium-hot, place the aubergine slices on the pan and fry them gently until they are browned (about 3-4 min), then flip them to the other side and continue in the same manner. Once you are done with the first batch, continue with the remaining batches adding oil as needed.
SPICY CHICKPEAS
Make sure your chickpeas are completely cooled (if you cooked them yourself from scratch) and drained.
Mix all the spices together with a few pinches of salt in a small bowl.
Heat up a heavy-bottomed pan on a medium-high heat. Pour olive oil on the hot pan and wait a few seconds for the oil to heat up.
Chuck the drained chickpeas into the hot oil and roast the chickpeas for a few minutes, until lightly browned here and there. Make sure you stir them often.
Stir the spice mix in and coat the chickpeas in it. Take the pan off the heat and allow the spices to finish off roasting in the residual heat (ground spices can burn really easily and become bitter). Check the seasoning and set aside.
TAHINI SAUCE
Place the tahini in a small bowl. Add enough water to achieve a creamy and almost pourable consistency sauce – the amount of water depends on the type of your tahini. Mix the two together vigorously.
Season with garlic, maple syrup, salt, pepper and lemon juice (adjust acidity to your palate). Set aside.
ZHOUG
Place coriander, parsley and deseeded chilli in a food processor along with a clove of garlic and all of the spices.
Process, drizzling in some olive oil (I used about 4 tbsp), water and lemon juice (if you like). Take care not to overprocess as this sauce is meant to be a bit on the chunky side (it's traditionally made by hand).
Season with salt, pepper and a pinch of sugar.
ISRAELI SALAD
Core tomatoes, discard the seeds and chop the fleshy part into a small dice.
Place diced tomatoes and cucumber into a small bowl, mix in sliced spring onions and chopped parsley. Dress with a squeeze of lemon and a tablespoon of olive oil. Season with salt and pepper to taste.
ASSEMBLY
Top warmed-up pitas with hummus (if using), fried aubergine, spicy chickpeas, Israeli salad and condiments (tahini sauce, zhoug and mango pickle).
NOTES
This recipe (the zhoug recipe, in particular) has been adapted from the Yotam Ottolenghi cookbook
Jerusalem
– one of my favourite cookbooks.