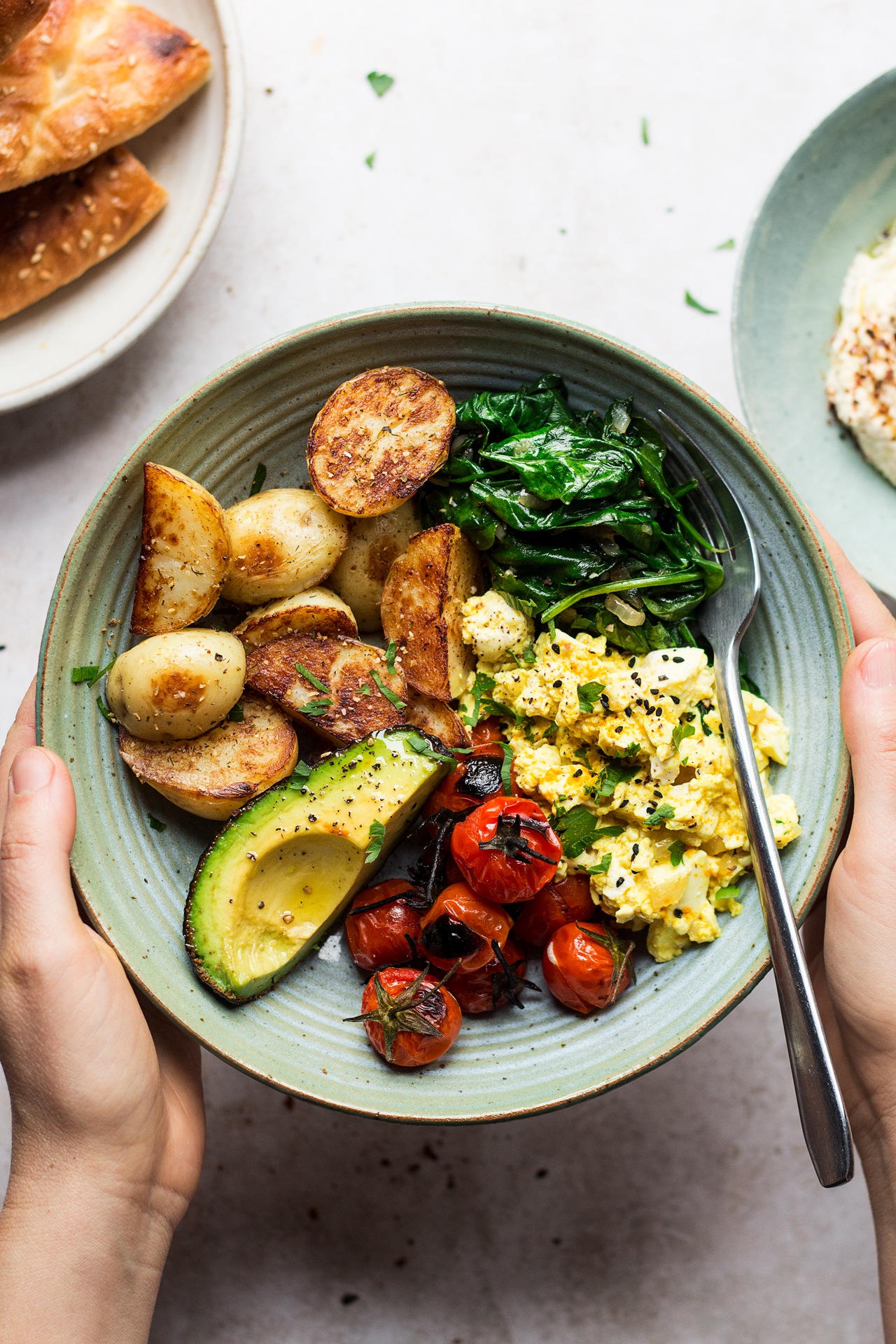 What an exhausting long (it was a four day Bank Holiday here in the UK) weekend this has been! We have spent it almost entirely doing wall prep (3 days!!) and painting (1 day) our guest bedroom and we were dead people walking at the end of yesterday. When we ventured out for dinner last night, we were so tired that we were barely able to keep our eyes open.
It was really hard work, but it paid off – the room already looks ten times better and it's not even finished yet. We are nearly done with the ceiling and the walls (the 3rd and final coat of paint goes on tomorrow), but the skirting boards and the radiator will need to wait until our guests leave, as we don't want to poison them with paint fumes. My brother and his partner are visiting us this Friday and, especially after the weekend we've had, we are really looking forward to spending some relaxing time with them. We have not seen each other for ages and they recently returned from some exciting travels, so we cannot wait to catch up and hear all they've been up to.
While Duncan and myself are more into sweet kind of breakfasts, I know that my brother especially prefers a savoury brekkie. So I've been thinking about what I could make for him and this simple vegan breakfast bowl is what I came up with. It's a dish that marries a lot of leftovers together and it isn't worse for it.
I used already cooked and cooled potatoes, which I pan-fried in a little olive oil. I charred some cherry toms under a hot grill until they split open and became jammy and delicious (beware as they stay dangerously hot for ages!!). I wilted some spinach that wasn't fresh enough to put in a salad anymore and finally made vegan scrambled eggs from some silken tofu, flavoured with aromatics and magical black salt, which due to its high sulphur content, makes tofu taste like eggs.
It may sound very niche and fancy, but it's a staple of Indian cuisine, so if you live in the UK, a well-stocked Indian-run corner store is a great place to get it. While it's called black salt (or kala namak), it is dusty pink when ground up fine, so keep your eyes open for that. This dish is filling, full of contrasting textures and flavours and super quick to put together. It will make an awesome savoury breakfast or brunch and I am hoping that it will make our non-vegan guests happy.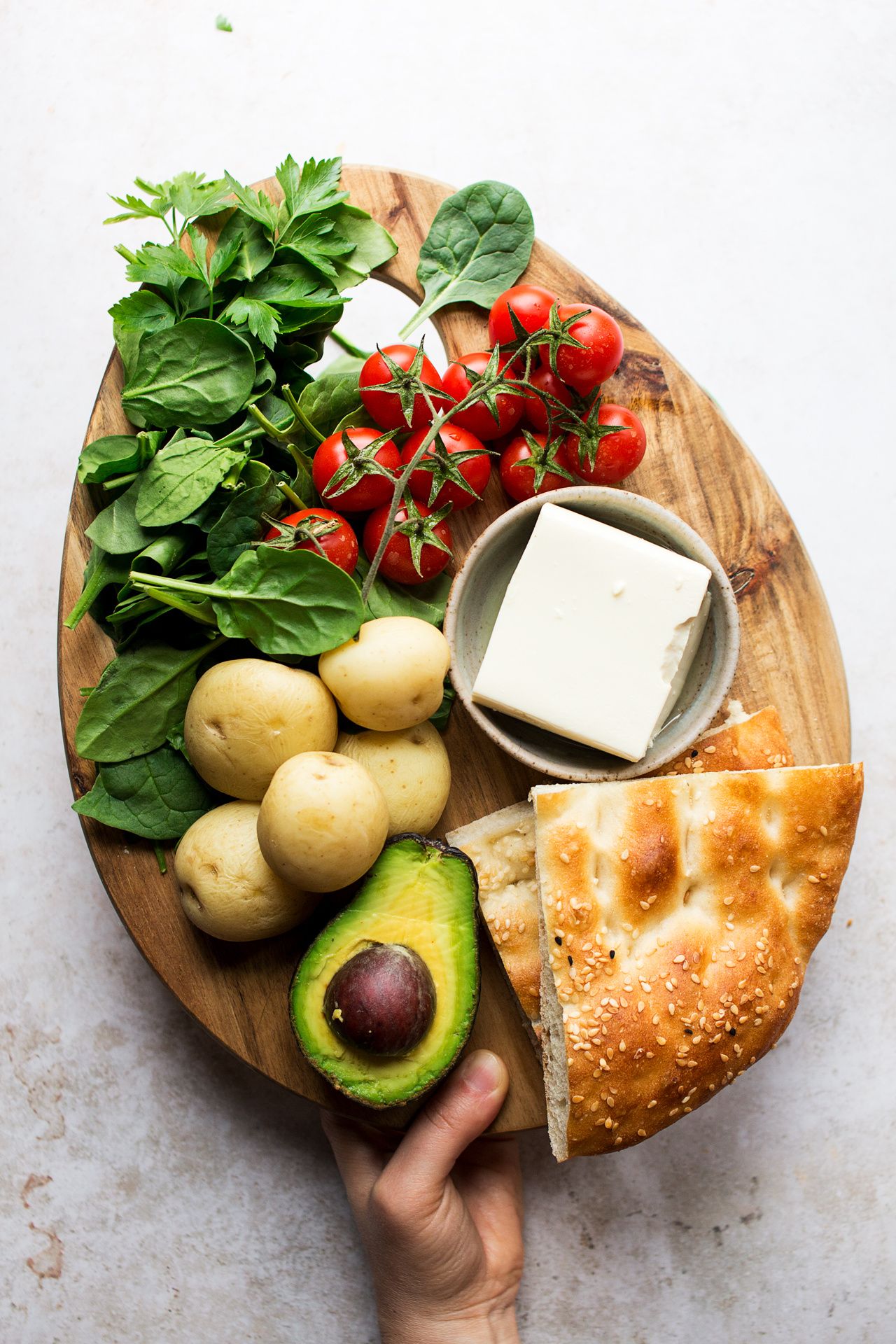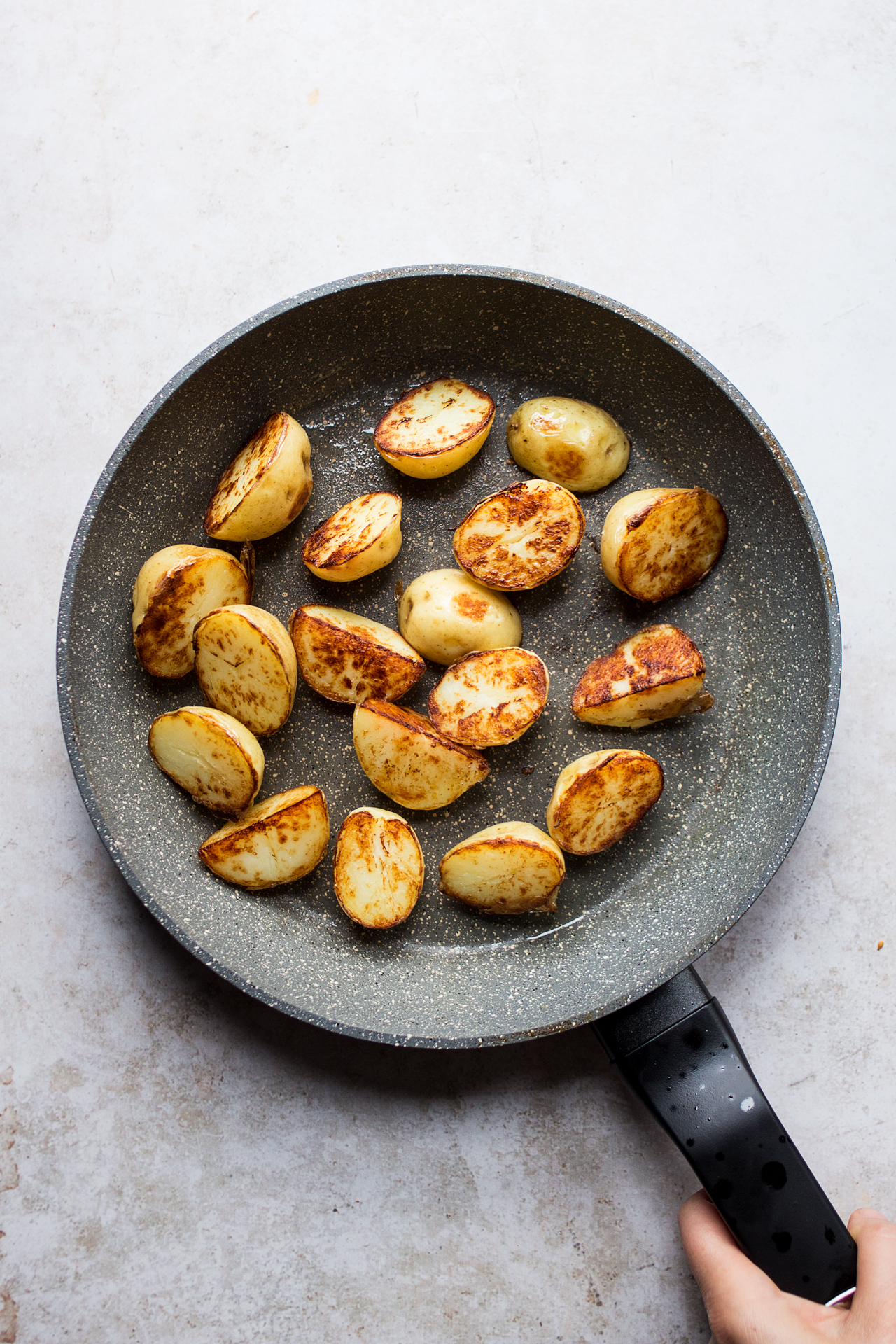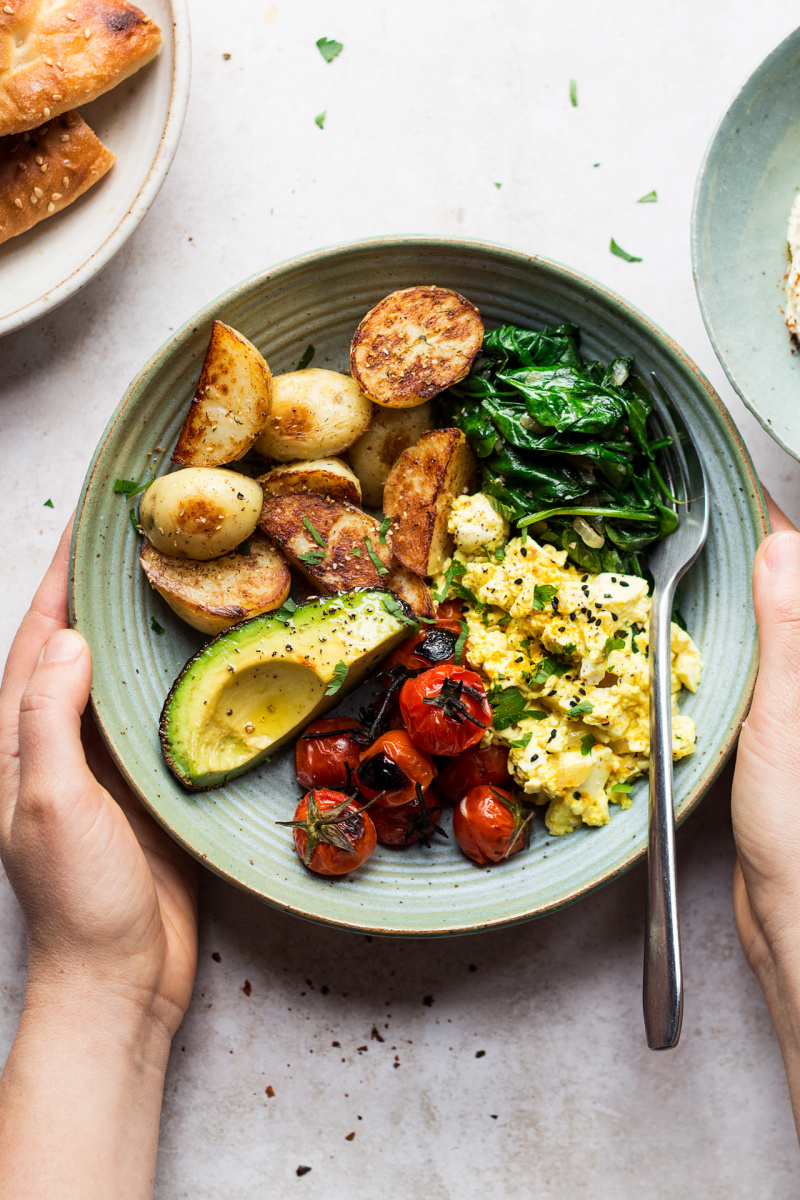 olive oil
a bunch of cherry tomatoes on the vine
250 g / 9 oz cooked and cooled small potatoes, halved
salt to taste
black pepper, to taste
100 g / 3.5 oz baby spinach
1 large shallot, finely diced
1 garlic clove, finely diced
300 g / 10.5 oz silken firm tofu (I use Clearspring)
¼ tsp turmeric, adjust to taste
¼ tsp black salt (has eggy taste), adjust to taste
½ ripe avocado, cut in half
METHOD
Brush tomatoes with a little oil (keeping them on the vine if you can) and place them on a small baking tray. Stick them under a grill / broiler for 5-10 minutes, until their skins burst and the tops char a little. Season and set aside.
Heat up 2 tsp of olive oil on a small frying pan. Place cold potatoes, cut side down on the hot oil and allow them to fry gently until nicely browned. Season with salt and pepper.
Place spinach on another pan with a splash of water. Allow the spinach to wilt using gentle heat. Move it around the pan with a pair of tongs. Season and lift wilted spinach out of the pan, draining any excess water away.
Heat up a tablespoon of oil in a pan (I reused the one I used to wilt the spinach) and fry diced shallot and garlic on a very gentle heat.
Once shallot is translucent and garlic fragrant (but not browned), add the drained tofu. Smash it a little with the back of a spoon. Season with turmeric, black salt (it will give it eggy taste) and pepper.
Divide all the elements (including the avocado) between two bowls and drizzle with extra olive oil if needed.