Today's sesame and ginger noodles is a simple mid-week supper recipe, which came about due to a serious bout of laziness on my part. I could not be bothered to go shopping and had to therefore ransack my cupboards in search of food stuffs I could throw together for a quick dinner.
I tried to make this dish with two types of rice noodles and with buckwheat soba since and although still delicious, I wasn't very keen on the texture these noodles brought to the dish. They tended to stick together and that aspect didn't work very well with a creamy (as opposed to an oil-based) sauce. Wholemeal spaghetti, on the other hand, has a smooth and slick surface and it worked a treat!
So as odd as it may seem, I would recommend using dried spaghetti instead of Asian-style noodles with this Asian-inspired ginger and sesame sauce. Trust me, it simply works better and there is no harm in getting different cuisines acquainted with each other, is there?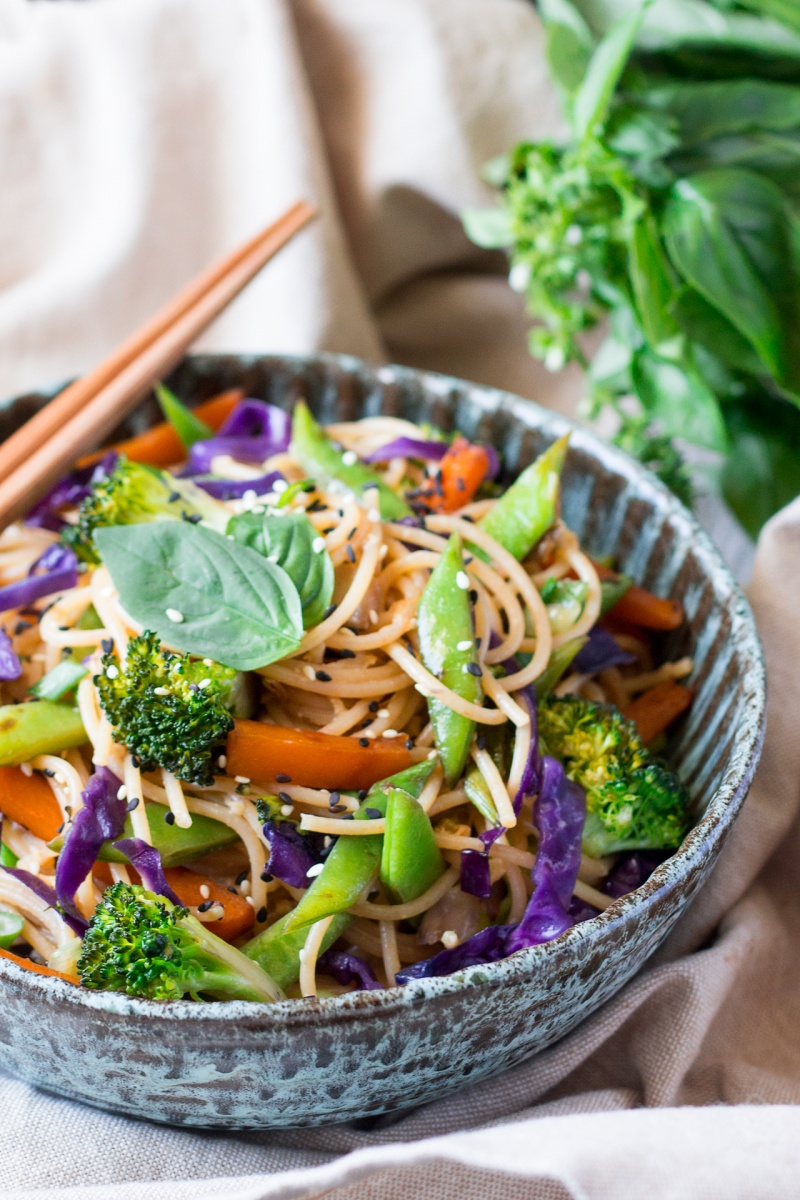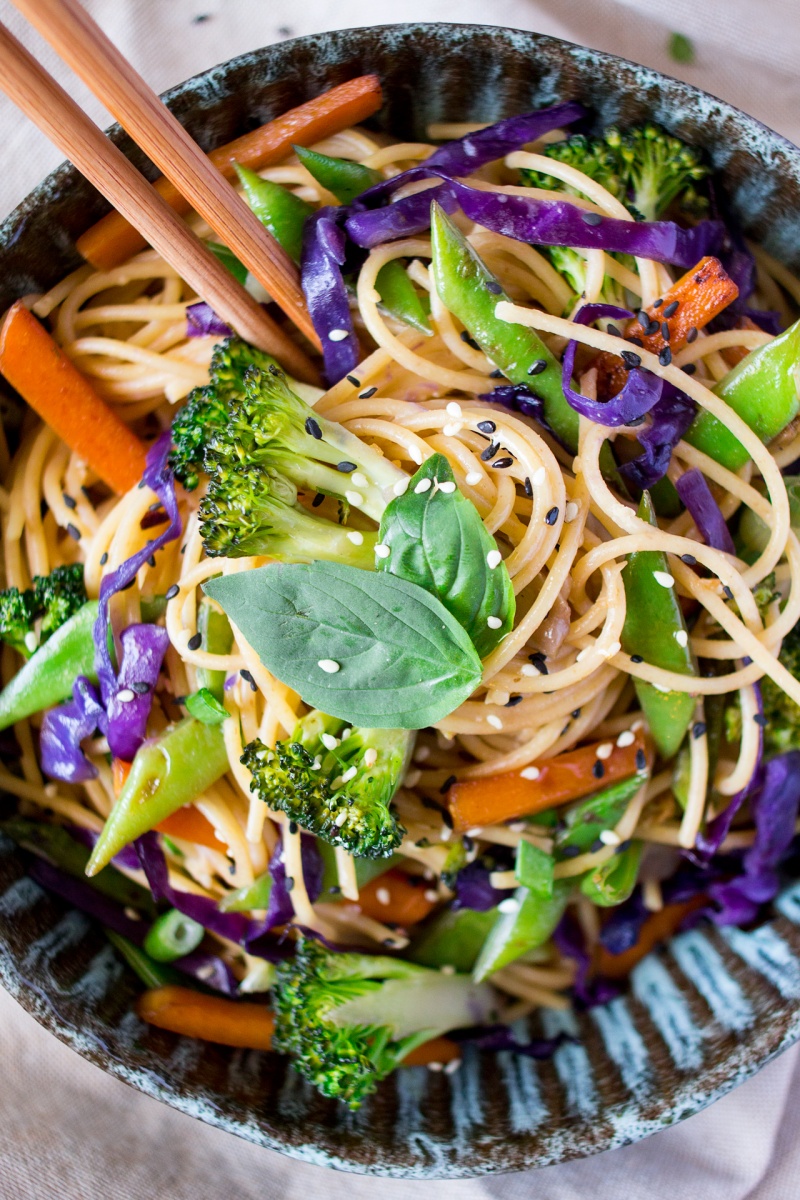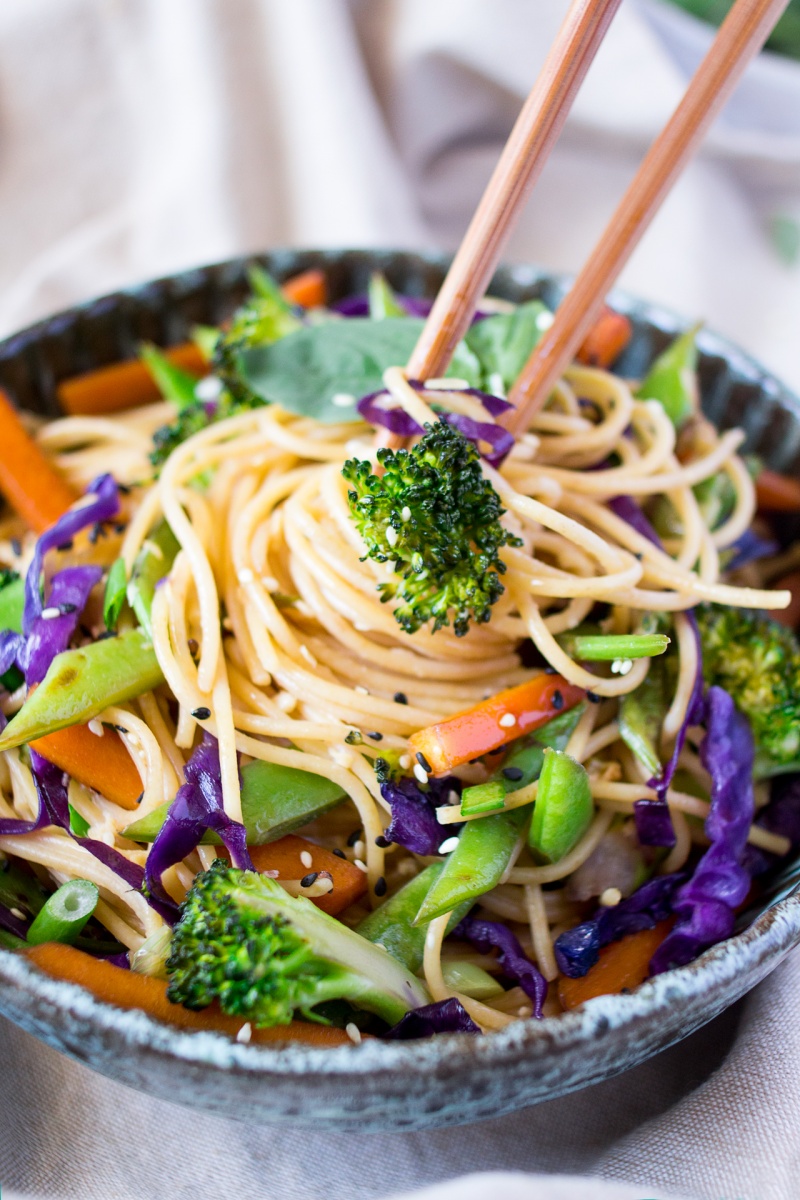 200 g wholemeal (gluten-free if necessary) spaghetti*
2 tbsp oil, for frying (I used peanut oil)
splash of soy sauce
2 spring onions, sliced finely
favourite veggies (I used cabbage, broccoli, butternut squash and runner beans)
SESAME-GINGER SAUCE
4 tsp finely grated ginger
1 large garlic clove, finely grated
1 tbsp rice vinegar or lime juice
4 tbsp / 60 ml / ¼ cup light, hulled, tahini
2 tbsp / 30 ml tamari or soy sauce
2 tsp maple syrup
1-2 tbsp / 15-30 ml water, to thin
METHOD
Mix grated garlic and vinegar and set aside for 5 minutes. Immersing raw garlic in acid first neutralises the raw garlic taste a little. Next add tahini, tamari (or soy sauce), maple syrup and ginger. Mix together well and add a bit of water (1-2 tbsp) to thin the sauce a little. Pour into a small pot and set aside.
Prepare vegetables for stir-frying by cutting them into uniform pieces so that they require the same amount of time to cook. What I mean by that is make sure all your broccoli florets are roughly the same size, but they do not need to be the same size as carrot matchsticks, for example. Apologies, I know this is obvious but just in case.
Set a medium pot of water on the heat. Bring the water to the boil.
Meanwhile, warm up 1 tablespoon of oil in a wok or in a non-stick pan. Stir fry spring onions until soft and remove them from the pan and set aside, on a small plate. Pour another tablespoon of oil into a wok and let it get hot. Stir-fry all the veggies until cooked but still crunchy. Start off with denser vegetables that require more cooking (butternut squash, broccoli, beans) and finish with those that hardly require any cooking at all (carrots, peppers, cabbage). Sprinkle with a dash of tamari (or soy sauce) towards the end of stir-frying time.
Cook pasta according to the cooking instructions.
While pasta is cooking, warm up the sauce – do not let it come to boil, just warm it up gently.
Drain the pasta, toss in warmed-up sauce, mix stir-fried veggies and spring onions in. Serve with a sprinkle of sesame seeds and (optionally) fresh herbs.
NOTES
*I've tried mixing this sauce with both rice noodles and buckwheat soba noodles, but I found that the noodles are too sticky and the resulting texture wasn't to my liking. Stirring it into wholemeal spaghetti was a game changer as the sauce clung to the noodles nicely without making them stick to each other so I recommend using wholemeal pasta in this dish.