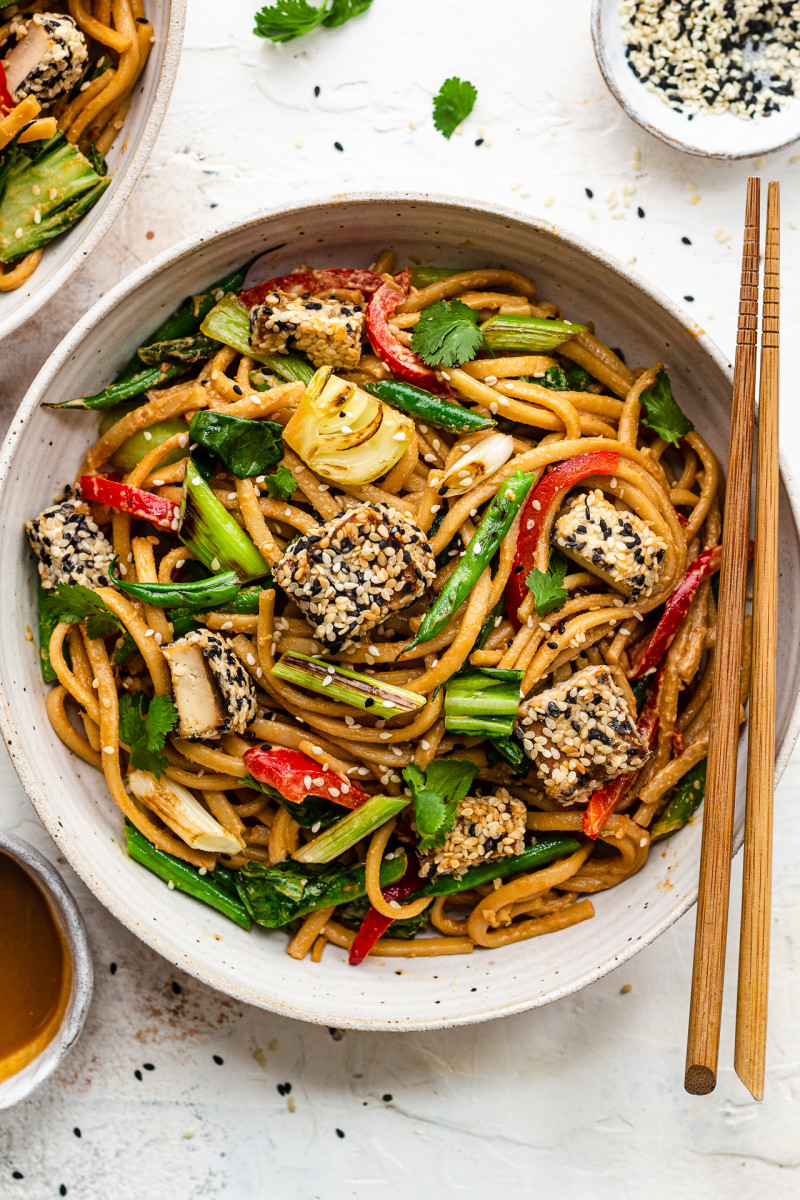 Happy Wednesday everyone. If you are feeling a little uninspired in the food department (happens to the best of us – raises hand!), I have been making a simple noodle stir-fry with a creamy sesame sauce lately that we've enjoyed so I thought I would share the recipe with you.
I love making it with whatever seasonal veg I've got going. At the moment, it's crunchy green beans and red peppers, but I've also made it with zucchini slices, corn, carrots – use whatever you like. I added crispy sesame tofu for a bit of crunch and extra protein here, but any ready made tofu will work just as well. Tofu is completely optional as the meal is satisfying and filling enough without it and if you want crunch, toasted peanuts or cashews will work well too.
CAN I MAKE IT IN ADVANCE?
Yes! Although this dish comes together quickly, you could totally make it a day in advance. Put the sauce in a jar and refrigrate for up to a week. Pre-chop the veggies the day before and keep them in an air-tight container in the fridge – they do well enough – and you could also precook the noodles at a pinch but make sure to undercook them by good 2-3 minutes and stir a teaspoon of sesame oil through them once drained to keep them nicely lubricated and stop them from sticking too much.
The only thing I don't recommend is baking the tofu the day before as it does lose its crispness so it's best to bake it before serving.
CAN I USE DIFFERENT NOODLES
Yes, but be sure to use something sturdy with a bit of body, like udon. I don't recommend buckwheat soba, for example, as they fall apart too easily. If you can eat wheat, wholehwheat spaghetti or linguine works well too. For gluten-free option, go for flat rice noodles in size L.
CAN I MAKE IT OIL-FREE?
Yes, certainly you can. Skip toasted sesame oil in the sauce and steam your veggies instead of stir-frying them. In fact, I often do that when I want a super light option.
I'M ALLERGIC TO SESAME
You could use peanut butter or almond butter instead. In fact, this recipe is an adapation of my satay noodle recipe.
CAN I FRY THE TOFU
Yes, it does well both in the oven or fried in oil so pick the version that you prefer. Here are some other ideas – tofu steaks and onirigrazu – for this kind of tofu.
2-3 PORTIONS? HOW MANY PEOPLE DOES IT SERVE REALLY?
Look, this dish can safely feed 3 people, but because I am married to a sport obessed human who runs every single day and if he has to skip running because of illness, for example, it makes him sad 'in a way that even patting the cat can't fix' – his words, in my house it's one meal for both of us. I get 1/3 and gets 2/3 and that goes pretty much for all our meals. I know, I know… given that we both contribute to food shopping in equal measure, I might have drawn the short straw…. 😉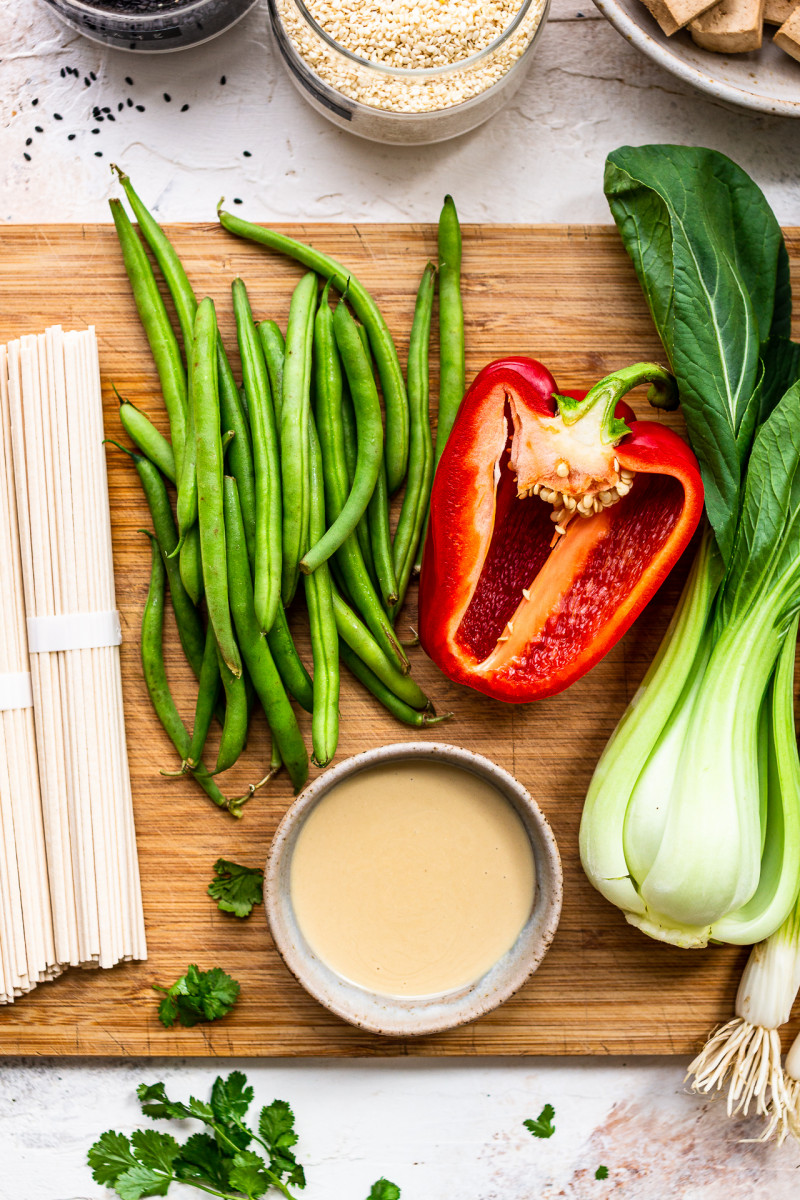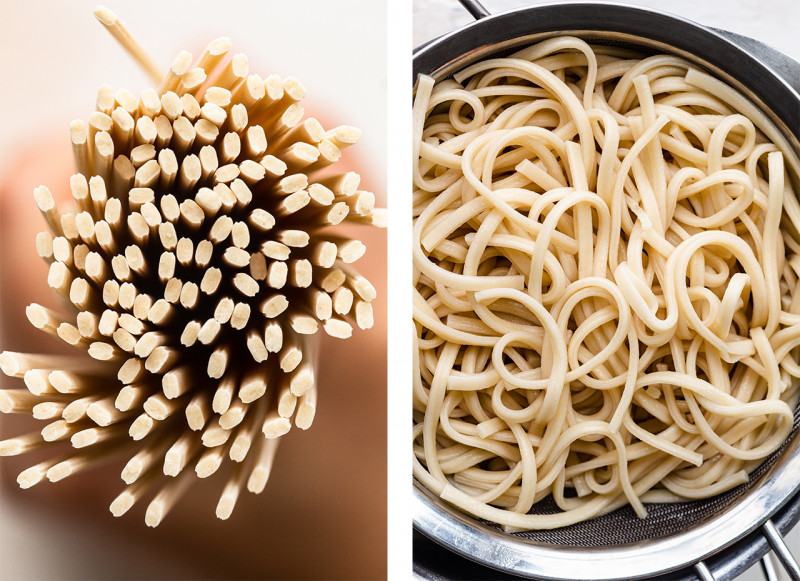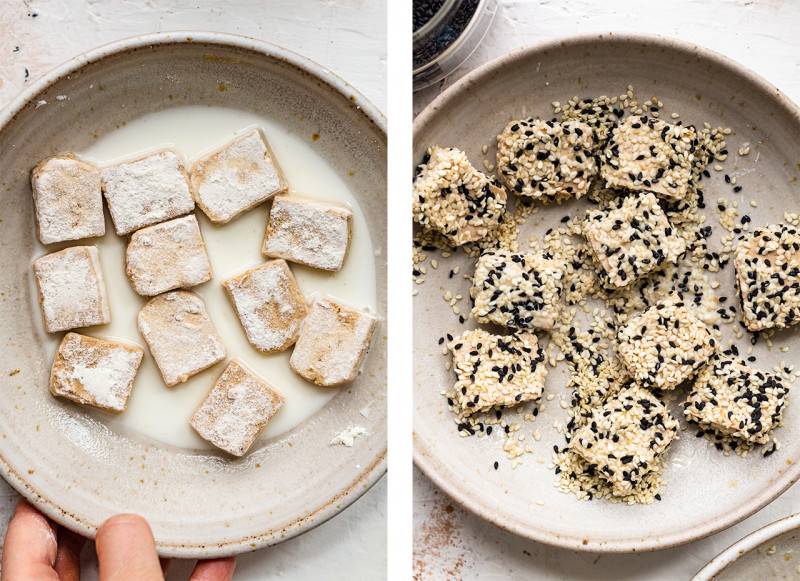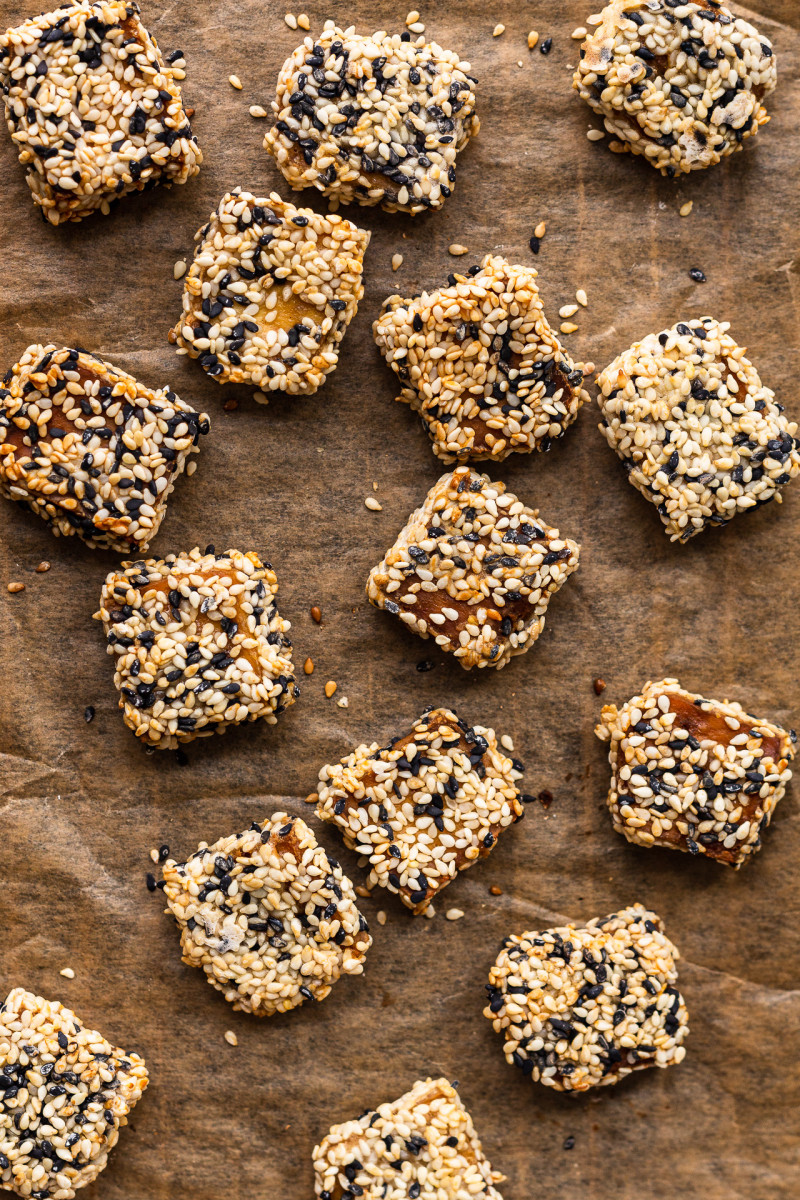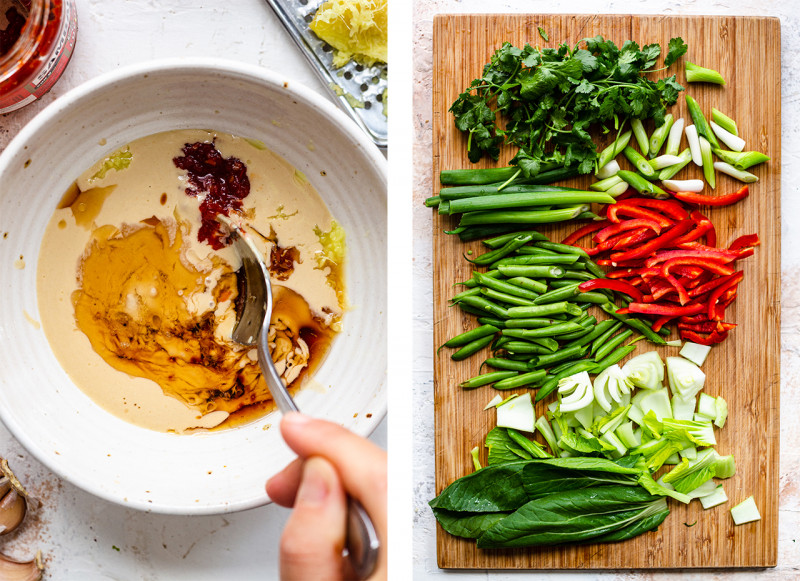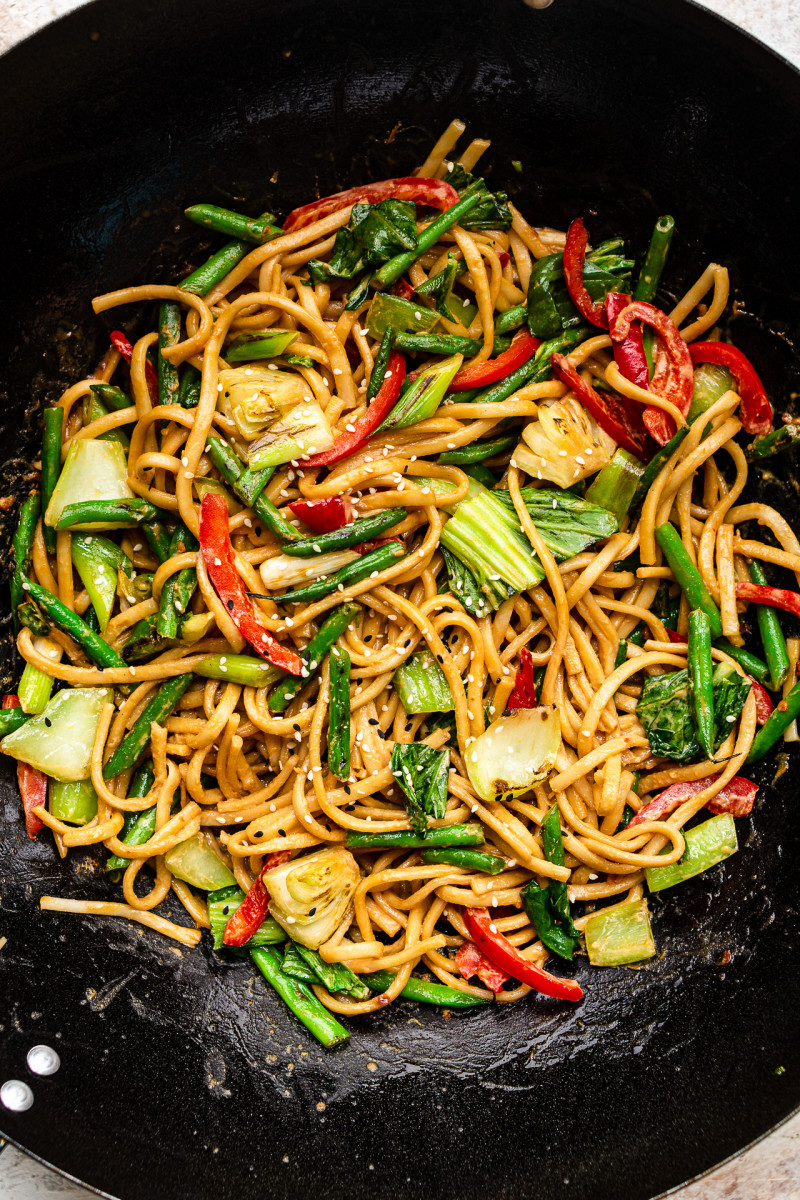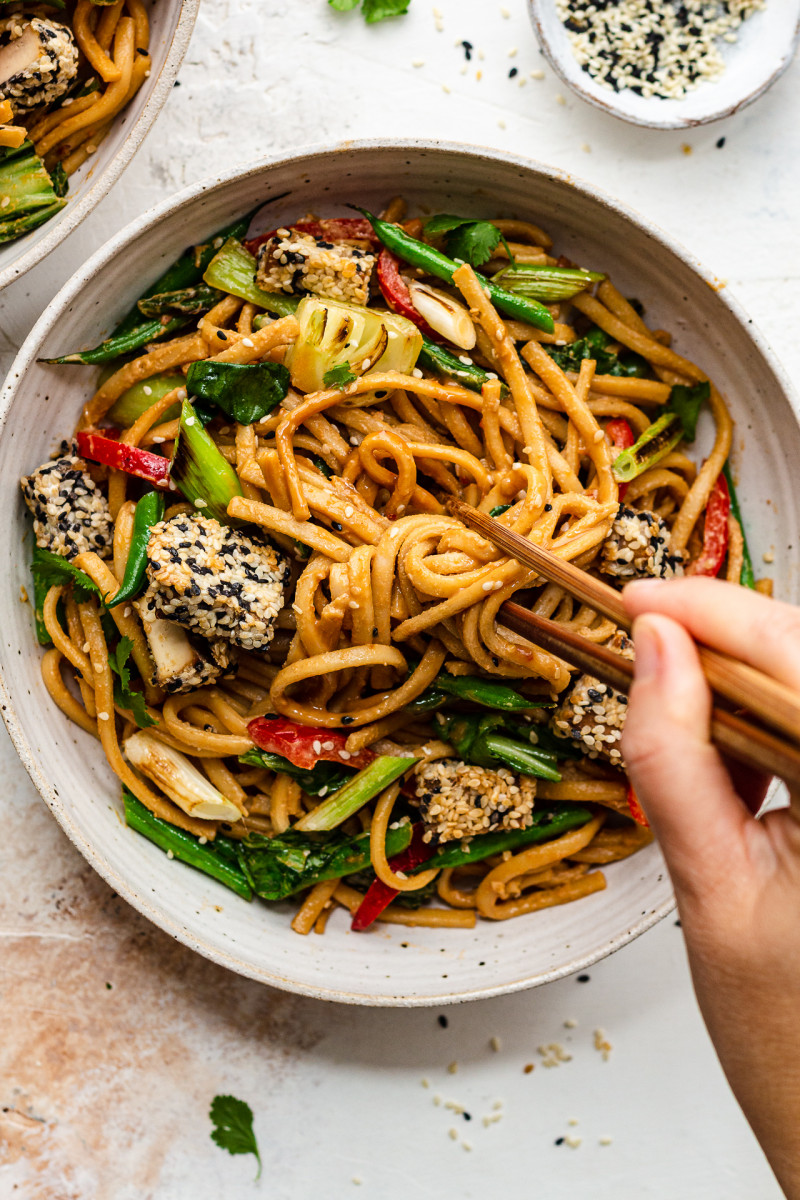 SAUCE
STIR-FRY INGREDIENTS
200 g / 7 oz dry udon noodles* or wide rice noodles (for GF option)
10 ml / 2 tsp stir-fry oil (I use rice bran)
1 bok choi
½ bell pepper
100 / 3.5 oz green beans
3 spring onions / scallions
chopped coriander, to garnish (optional)
SESAME TOFU (optional)
200 g / 7 oz your firm tofu, pressed
10 ml / 2 tsp soy sauce
approx. 22 g / 3 tbsp cornstarch
4 tbsp sesame seeds
METHOD
Mix all the sauce ingredients and 15 ml / 1 tbsp of water together in a small bowl until smooth, set aside.
Cook your noodles according to the instructions on the packet, but drain them 60 seconds before they are fully cooked so that they don't overcook in the wok later. Save 60 ml / ¼ cup of cooking water.
Cut the beans into bite size pieces, pepper into thin strips, quarter the bok choi and then cut into bite size pieces (keep leaves separate).
Cut white and light green parts of spring onions/scallions into 1.25 cm / 0.5″ pieces. Slice spring onion tops thinnly and use for garnish.
Heat up a wok on a medium heat until just smoking. Add 1 tsp of oil and allow it to get hot.
Add in green beans and turn the heat up a little. Stir-fry for 2 minutes.
Push green beans to a side, add another teaspoon of oil and add white parts of bok choi, red pepper and white and light green parts of spring onions and stir-fry for 90 seconds.
Finally, add in chopped bok choi leaves. Stir-fry for another 30 seconds.
Transfer the veggies on to a large plate. Add a small splash of noodle cooking water and seasame sauce into the wok, allow it to bubble for 15 seconds before adding in cooked noodles. Coat the noodles in the sauce, return stir-fried veggies. Stir to combine.
Divide between bowls. Top with sesame tofu (if using), garnish with sesame seeds, sliced spring onion tops and coriander.
SESAME TOFU
Cube pressed tofu and place in a flat bottomed bowl along with soy sauce. Give the tofu a good stir, marinate for at least 30 minutes.
Prepare three shallow bowls. First with 1 tbsp of cornstarch, the second with 2 tbsp cornstarch well mixed with 3 tbsp of water and the third with sesame seeds.
Pre-heat the oven to 200° C / 390° F and line a small baking tray with a piece of baking paper.
Roll marinated tofu into cornstarch ensuring all sides are thinly coated.
Dip each tofu piece in cornstarch and water mixture.
Finally, press each tofu piece into sesame seeds to coat.
Arrange on the baking tray and bake for 20-25 minutes, turning once halfway through. Alternatively, you could shallow fry it.
NOTES
*If using ready-cooked udon noodles, soften them in the wok in a splash of water BEFORE adding the sauce in.
*OIL-FREE: You can easily make this dish oil-free, to do so steam all of the veggies instead of stir-frying them and skip toasted sesame oil in the sauce.
*CORNSTARCH: if you would like an alternative to cornstarch, you can use regular or rice flour in the first bowl (step 2 and 4) and thick aquafaba or ground flax seeds mixed with water in the second bowl (step 2 and 5).
NUTRITIONAL INFO
*per 1 out of 3 portions (+ 150 kCal per tofu portion)