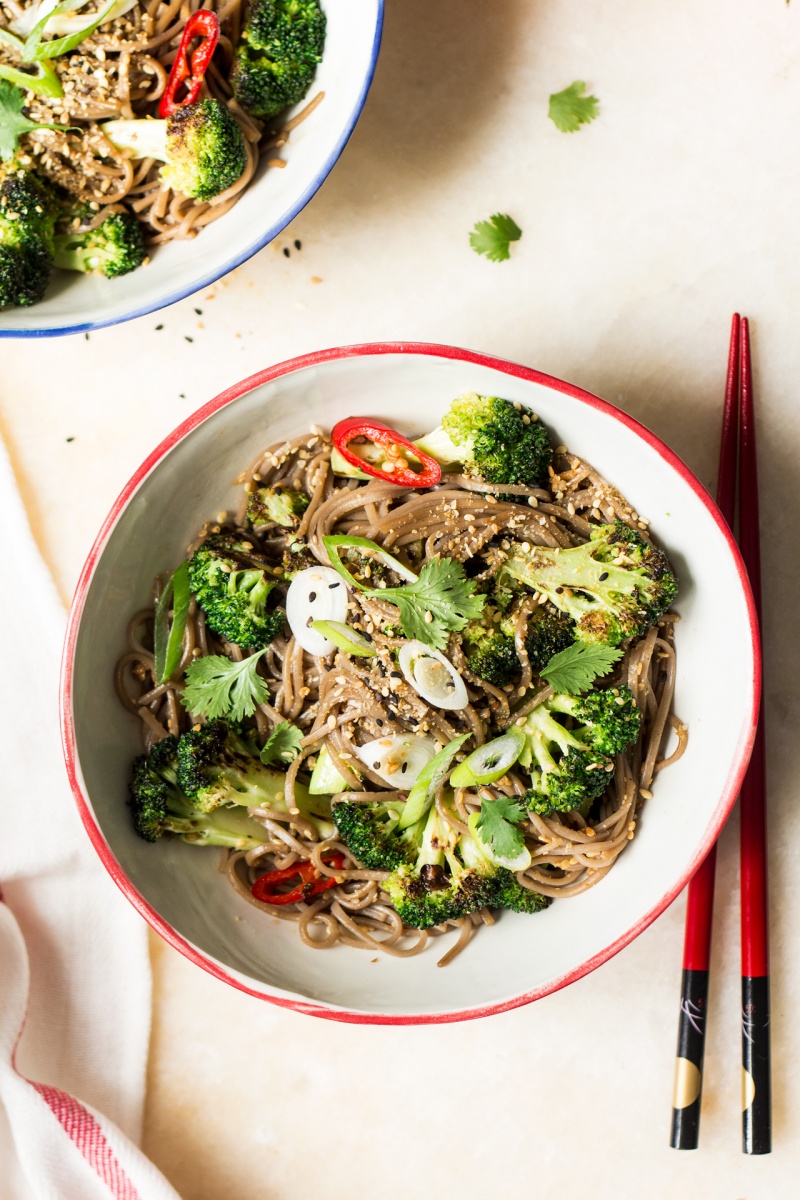 This week has been a challenging one as I've managed to injure my upper back carrying heavy shopping and I've been a bit cranky. I decided to go easy on myself in terms of cooking and we more or less stuck to the 'diet' of green smoothies for dinner every day this week. If there is such a thing as spinach deficiency, I am pretty sure we have it covered as my kitchen has turned into a spinach processing plant these days.
As I picked, sorted through and washed the muddy spinach leaves, I remembered how I used to only buy bagged spinach when I lived in London (I don't think there was any other option available anyway) and how I never knew what a spinach plant actually looked like. I mean I could recognise the shape of the leaves, of course, but I had no idea they grow in these little family size bunches. Mama spinach, dad spinach, grandparents and a few baby leaves at the bottom.
Our smoothie dinners started off as a bit of a lazy spell and a heatwave relief, but I grew to really like them. I find that I sleep better and wake up feeling a little bit lighter and more hungry.
I tend to have proper breakfasts and a fairly substantial lunch, like this sesame soba noodles with broccoli, so that I can run on the smoothie for the rest of the day. This dish is simple to prepare, filling and at its best eaten at room temperature, which is just as well as the thought of having a hot meal in this heat fills me with dread.
If you want to cut down your work further, instead of stir-fried broccoli, go for an array of thinly sliced raw veggies like carrots, peppers, red cabbage and cucumber. Anything goes, really! I hope you'll enjoy my sesame soba noodle bowls and do let me know if you would like me to share my green smoothie recipe on here.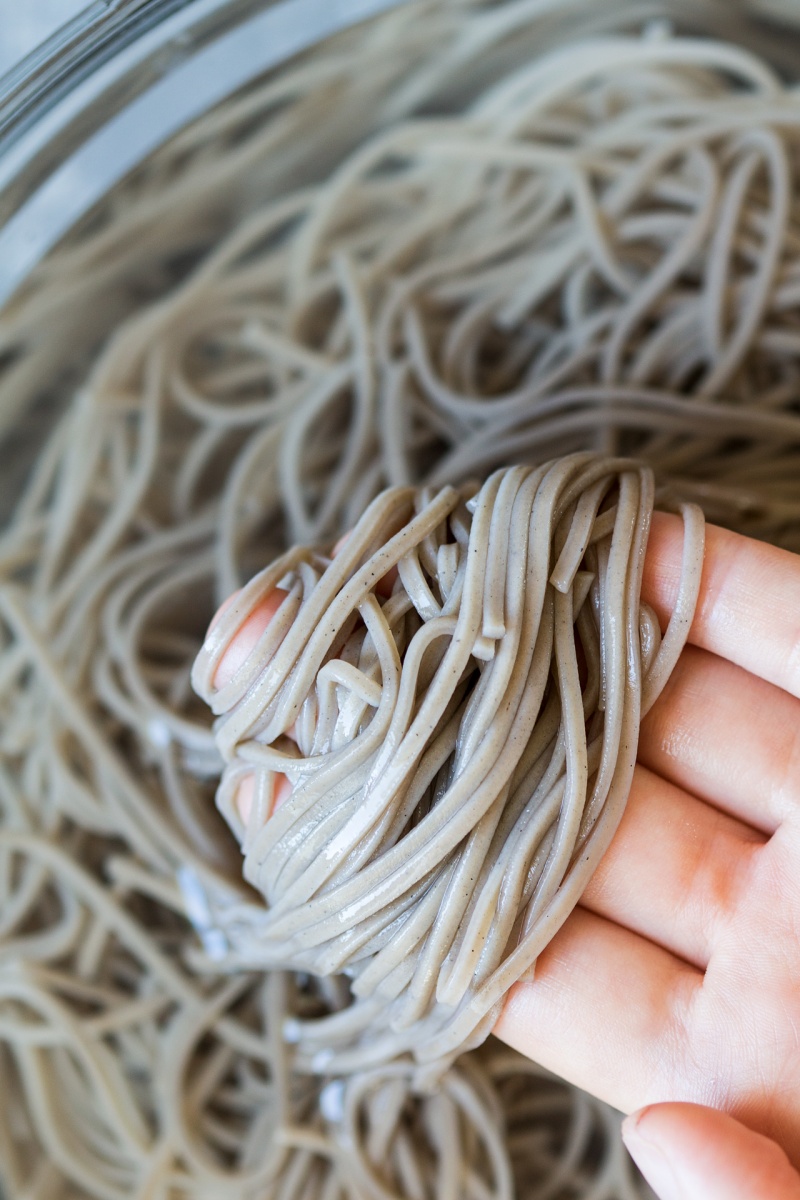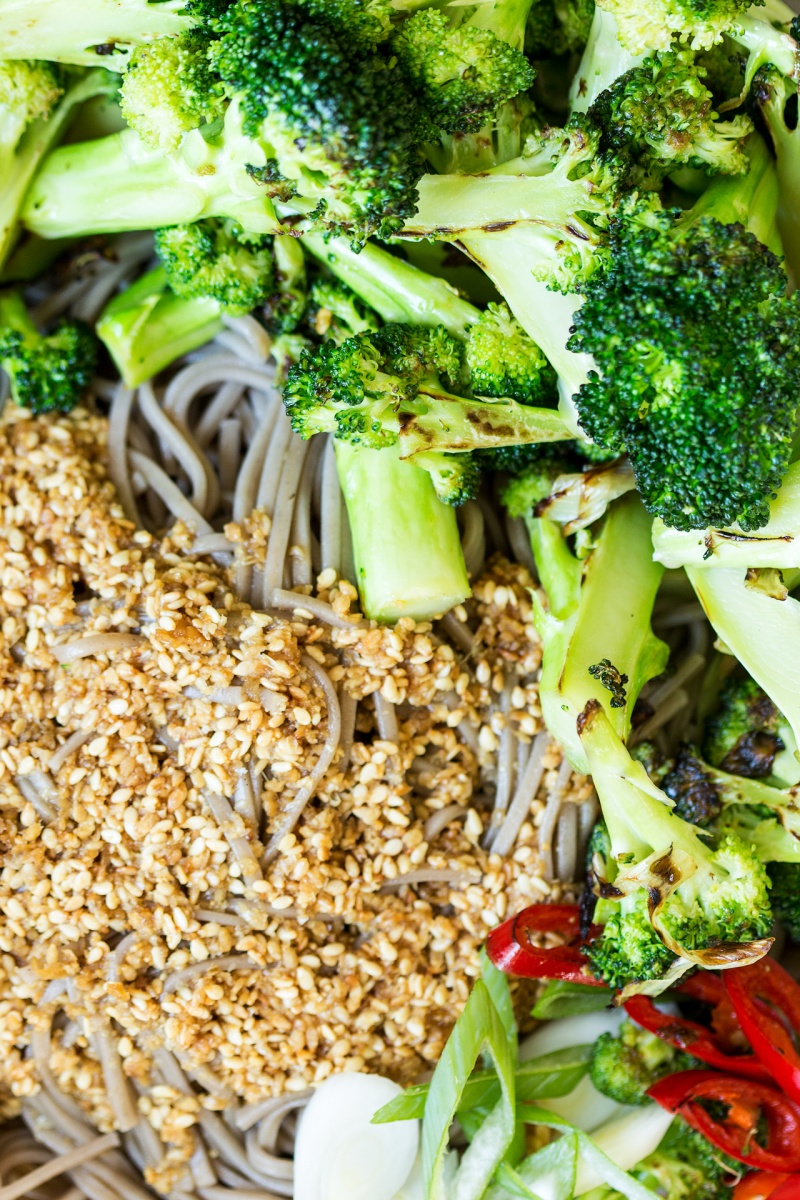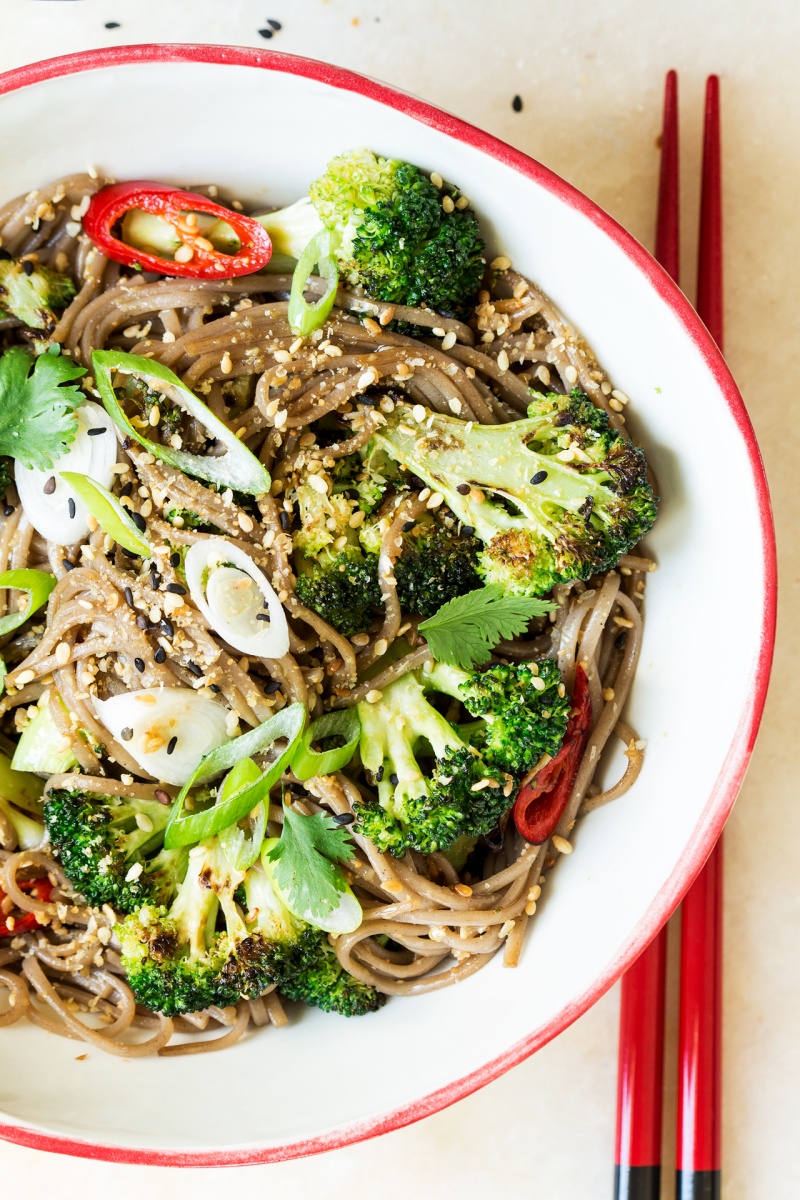 180 g / 6.25 oz soba noodles (go for 100% buckwheat if GF)
1-2 tbsp peanut oil (or other high smoke point oil)
1 head of broccoli
1 small spring onion, thinly sliced
½ red chilli, thinly sliced
SESAME-GINGER DRESSING
METHOD
Get a large bowl of cold water ready.
Prepare the noodles according to the instructions. Don't take the cooking time indicated on the packet as gospel though – mine required only 3 minutes of cooking, whilst the packet stated 5-6. Also be sure to stir them gently a few times once cooking to prevent clumping.
Once the noodles are cooked, refresh them under a cold tap and then quickly plunge them into a bowl with cold water. Agitate them a bit with your hands to stop them from sticking to each other.
Divide broccoli into similar size florets.
Heat up 1-2 tbsp of peanut oil (or other stir-frying oil) and stir-fry the broccoli florets until tender yet still crunchy – about 3-5 minutes depending on the size.
Gently roast the sesame seeds on a dry frying pan. Be sure to move them around the pan a lot as they burn easily. Take them off the heat as soon as they turn golden brown and become fragrant (it should take around 3-5 minutes).
Using a pestle and mortar, grind the roasted sesame seeds until about half of them are crushed / ground to powder.
In a separate bowl, mix all the dressing ingredients together, taste and adjust the amount of ginger to your liking. Add most of the crushed sesame seeds (leave about 2 tsp for decoration) and mix well.
Place the cold noodles in a large bowl. Mix the dressing through it. Add broccoli, spring onion and chilli slices. Toss everything together. Serve straight away.