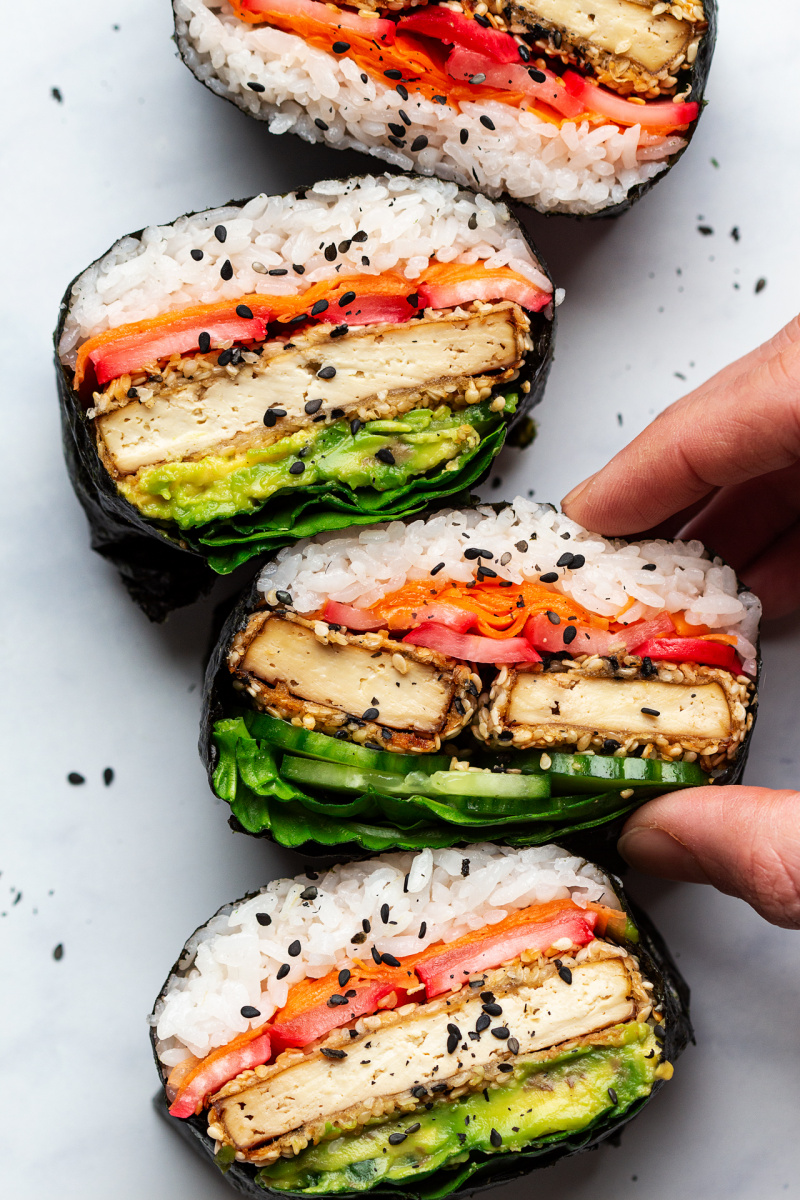 It's safe to say that things are a bit eerie and downright uncomfortable right now. Life has changed, at least for the foreseeable future, and that takes some adjustment. Supermarket shelves are empty, people look anxious and sombre as newspapers spill an inordinate volume of doom and gloom hourly. It's difficult not to get anxious, especially if anxiety is your middle name. I am trying to stay positive and rational, not to panic. A Polish university friend of mine rightly said to me yesterday when we were discussing panic buying induced shortages of dry cupboard staples 'we are the children of communism, we will manage!'
As getting supplies isn't exactly easy right now – yesterday we went food shopping for the first time since the crisis hit and while we bought plenty of vegetables, all other things we normally rely on were long gone – today's dish is a rehash of two of my old recipes based on things I already had in my cupboards and fridge: sushi rice, nori sheets, soy sauce and plain tofu. If you are missing some of these, get creative – use whatever else you have on hand. One thing I did notice is that while people seem to be frantically buying pasta, rice, tinned tomatoes etc, the vegan aisles are still quite well stocked. For once being part of a minority that everyone makes fun of appears to be finally paying off 😉 .
Hope you are all well and not too panicked about the situation. I will do my best to provide you with biweekly food inspiration as cooking is a great way to pass the time, learn something new, bond with other family members, especially if you are all stuck together at home. As resources get harder to come by the recipes might take an interesting turn, but I am up for this challenge. Creativity is borne out of constraints. Sending everyone positive vibes!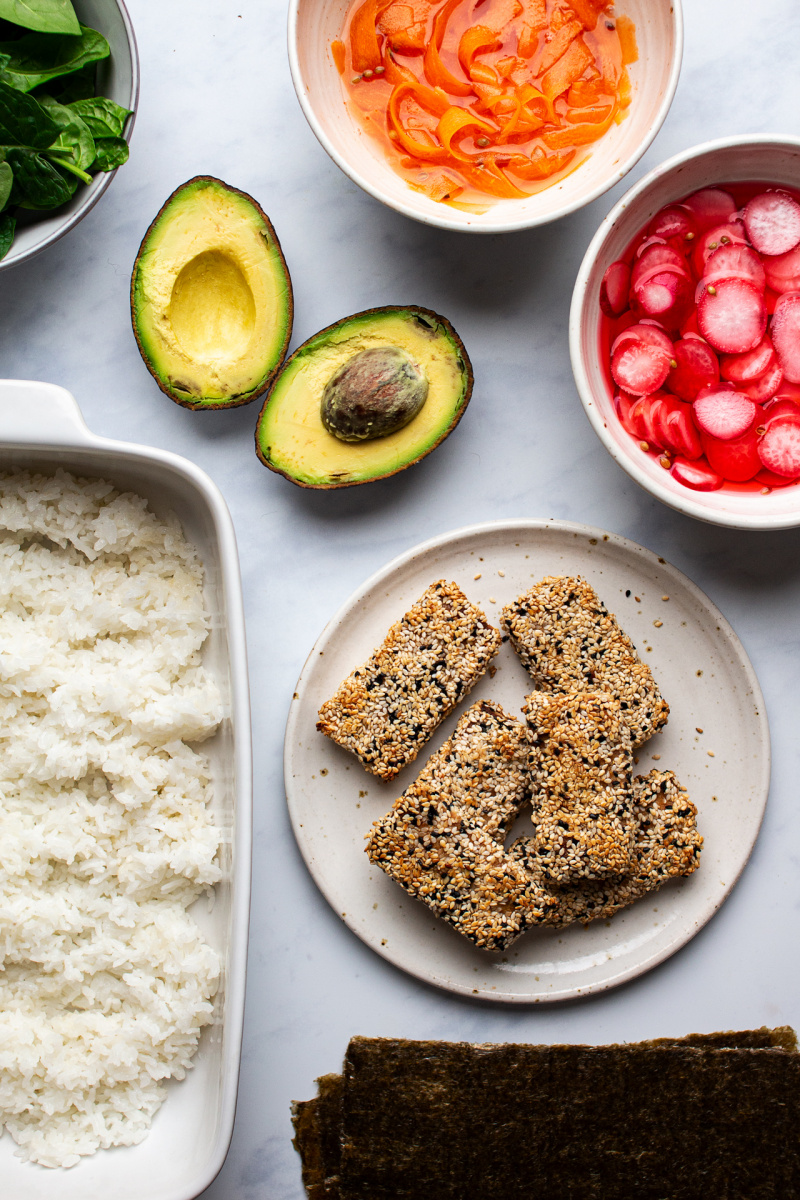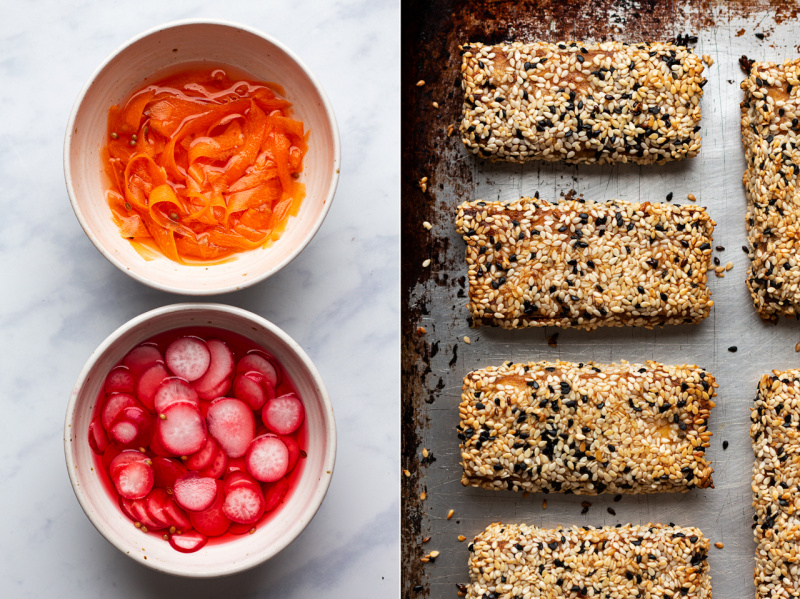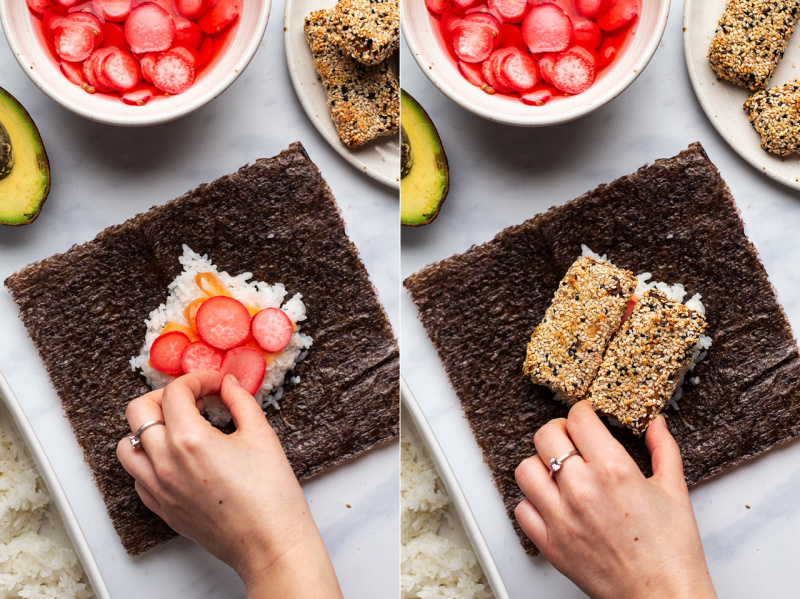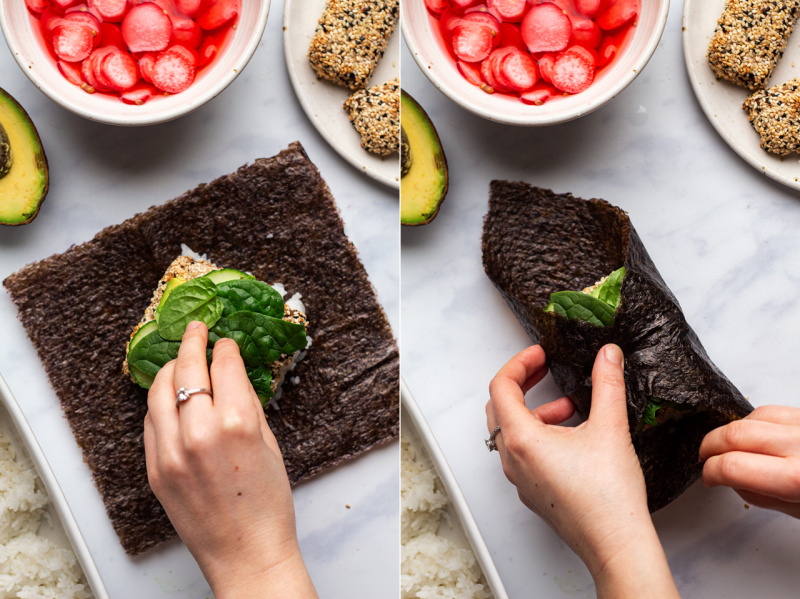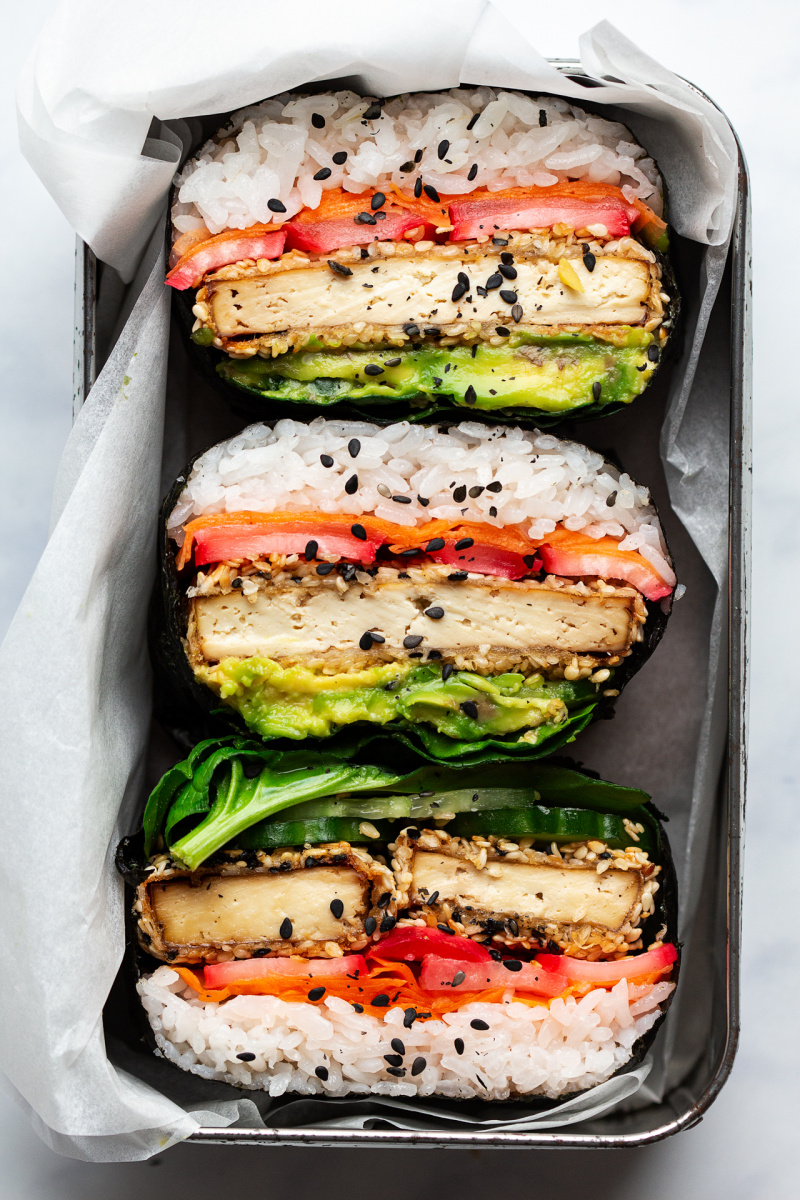 ONIGIRAZU
200 g / 1 cup sushi rice
salt (to season)
1 ripe avocado, sliced
pickled radishes and / or carrots (see below)
½ small cucumber, sliced
a handful of baby spinach leaves
vegan mayo, Sriracha, Sriracha mayo (optional)
SESAME ENCRUSTED TOFU
PICKLED RADISHES / CARROTS
100 g / 3.5 oz radishes, sliced thickly or 2 carrots, shaved into ribbons
½ cup rice vinegar
2 tbsp sugar or maple syrup
1 tsp fine sea salt
1 clove of garlic, crushed with the side of a knife
1 tsp coriander seeds, crushed
METHOD
SUSHI RICE
Rinse sushi rice really, really well until the water runs clear.
Place rinsed rice in a medium pot that you have a glass lid for and cover with 240 ml / 1 cup of water. Cover with a lid and bring to the boil. Once the water comes to the boil, decrease the heat down to low and let the rice cook until it has absorbed all of the water. Once all the water has been absorbed, switch the heat off (but do not lift the lid) and let the covered pot sit on a warm hob for another 5-10 minutes to finish off cooking in its own steam.
Transfer cooked rice onto a large tray (a large Pyrex works well) and season with salt by gently folding the seasoning into the rice with a spatula (being careful not to squash the grains). Allow the rice to cool down completely – helping it cool down quicker by fanning is a good idea if you have the time ?.
QUICK PICKLED RADISHES / CARROTS
Place sliced radishes (I used both radishes and carrots dividing the pickling liquid between the two) in a clean jar.
Put the remaining ingredients and 120 ml / ½ cup water in a small pot. Bring to a gentle boil, over low heat.
Once they come to the boil (make sure the sugar has dissolved), pour the pickling liquid over the radishes and allow the liquid to cool down. Store any leftover in the fridge for up to 2 weeks.
SESAME ENCRUSTED TOFU
Drain the tofu and press it well, until all the excess moisture is squeezed out so that it is primed for absorbing the marinade. This is the tofu press I use.
Mix ground up flax or chia seeds with 60 ml / ¼ cup water and place in the fridge for the mixture to jellify.
Make the marinade / dressing by combining soy sauce (or tamari), rice vinegar, maple syrup, toasted sesame oil and minced ginger.
Cut the pressed tofu into 1 cm / 0.42″ thick 7 cm / 2.75″ square slices and place at the bottom of a baking dish. Pour the marinade you've prepared in the previous step over the tofu and allow it to soak in.
Place flour and sesame seeds on two plates and jellified flax in a shallow bowl.
Set the oven to 220° C / 425° F. Alternatively, you could also shallow fry your tofu like I did in this recipe.
Lift a piece of tofu out of the marinade, press it into the flour to coat it lightly, then dip it into the flax egg (allow any excess to drip off) and finally press it into the sesame seeds making sure the entire surface is tightly packed with them. Place on a clean plate and proceed to coat the rest of the tofu in the same manner.
Brush a bit of oil underneath each tofu piece. Bake for about 25 minutes flipping the pieces to the other side halfway through.
ASSEMBLY
Place a nori sheet on the work bench, shiny side down and rotated 45° in relation to the edge of the work surface.
Wet your hands (keep a small bowl of water handy to wet your hands) and grab a handful of rice. Place it in the middle of the sheet and using your hands form it into a compacted 8 cm / 3″ square. Try to make that layer as even and compacted as possible.
Place filling ingredients on top: a layer of pickled carrot and / or radish, sesame encrusted tofu, cucumber slices, a layer of avocado and fresh spinach. Dollop some vegan mayo, Sriracha or Sriracha mayo under the tofu steak if you like.
Once you are done with your stack, seal all four corners of the nori sheet on top of the filling. Fold the right corner over the stack, wet the end of the nori sheet with a wet finger and fold the left corner over the stack and 'glue' it to the right corner. Repeat the same thing with the bottom and top corners until you get a small packet.
You may want to wrap it tightly in a clean kitchen towel to help the onigirazu keep its shape. Set aside to let the seaweed soften a little and cut in half with a sharp knife before eating or packing away.
NOTES