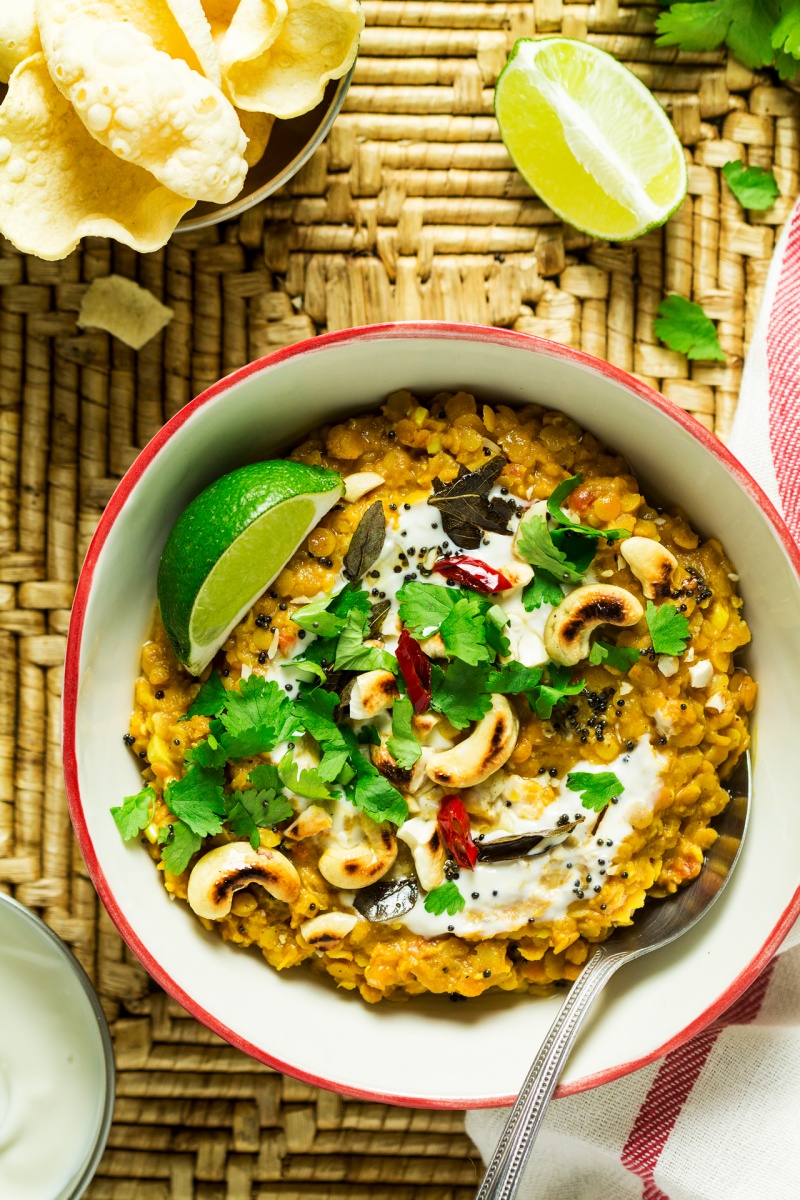 I hesitated to do a dhal recipe for the blog for a little while, because while this well known Indian staple tastes magical, it's really hard to convey this in photographs and it so happens that visuals are my main way to communicate to you that a recipe is worth bothering with.
You can make dhal with pretty much any type of lentils you want, but I chose to use split red lentils as they do not require presoaking and cook really quickly, which is a massive bonus as far as a mid-week dinner is concerned.
If you are worried that doing away with a presoak won't get rid of phytic acid, let me remind you of Dr. Greger's video (which I already mentioned in my post on amaranth), where he explains that combining phytic acid rich foods with onion and garlic neutralises its negative side-effects.
So this puppy is quick to make, really filling, chock-a-block full of plant protein and very versatile, so feel free to adjust the spicing or the selection of spices to your own liking. It tastes even better the day after it has been made, it re-heats well (just add a good splash of water) and freezes well so it's one of those emergency dishes that is good to batch cook and stick into your freezer for the busy days ahead.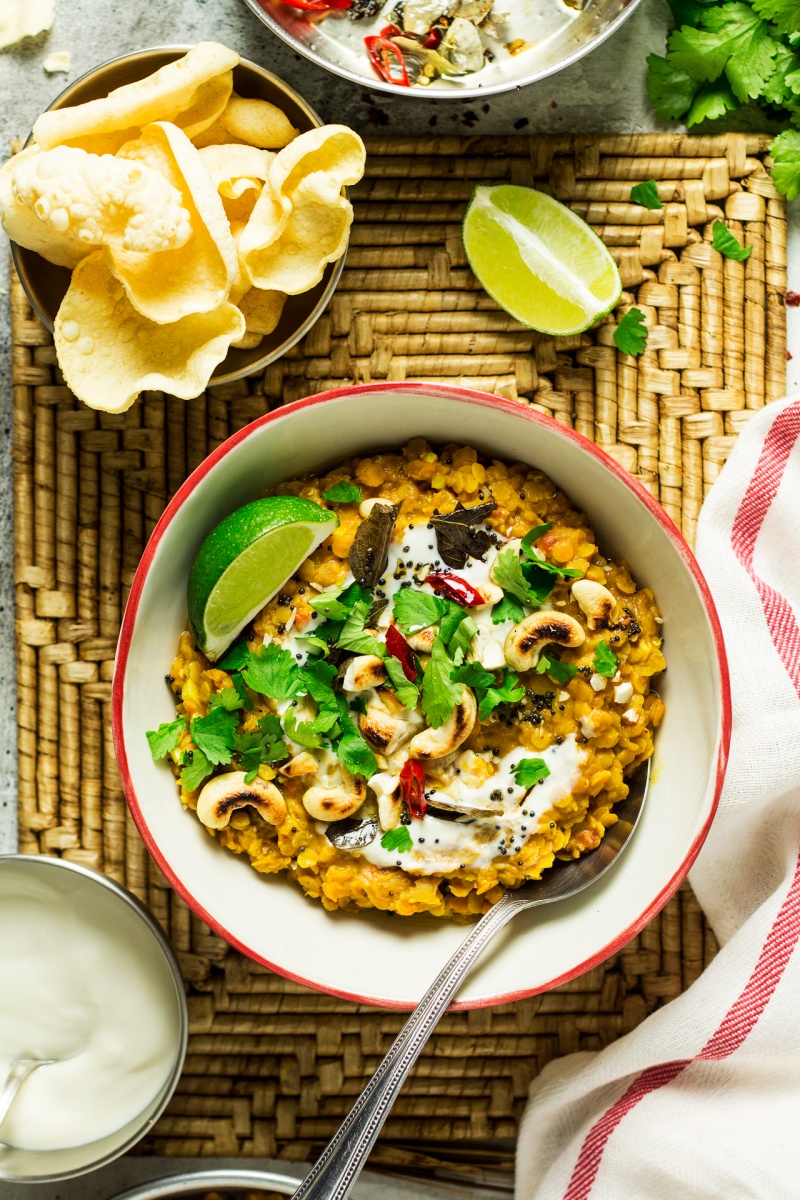 2-3 tbsp / 30-45 ml oil (I used rice bran)
1 onion, finely diced
2 garlic cloves, finely diced
3 tsp finely grated ginger
1 tsp ground cumin
1 tsp ground coriander
1½ tsp garam masala
½ tsp turmeric
½ tsp ground chilli
approx. ¾ tsp coarse salt, adjust to taste
270 g / 1½ cups red split lentils, rinsed well
200 g / 7 oz chopped tomatoes (I used half a 400 g / 14 oz can)
2-3 tbsp cashews
240 ml / 1 cup coconut milk
fresh coriander, to serve
TEMPERING INGREDIENTS
1 tsp black mustard seeds
10 dried curry leaves
1 red chilli, finely sliced (optional)
METHOD
Heat up 1 tbsp of oil in a heavy bottomed pot or pan. Once the oil heats up, add sliced onions, garlic and ginger. Sauté, giving them a stir from time to time, until the onions turn translucent.
Decrease the flame to low and mix all the ground spices into the onion mixture. Allow them to fry gently for a minute or so.
Tip rinsed lentils and chopped tomatoes into the pot and top with about a 240 ml / 1 cup of water. Allow the lentils to simmer on a low heat until all the water has been absorbed. Check on it frequently so that the bottom does not burn.
Check the lentils for doneness and top up with a bit more water if the lentils are still tough. The exact amount of water depends on what texture of dhal you prefer – it can be drier and full of texture or more soupy according to personal preference. If you prefer the latter you'll need more water.
While the lentils are cooking, pan roast the cashews on a dry pan (no need for oil) until slightly browned on both sides, making sure you agitate them a fair bit as they burn easily.
Once the water gets absorbed and you are happy with the texture of your dhal, add coconut milk, bit by bit, allowing each portion to be absorbed by the lentils.
Add salt to taste.
Serve warm with tempered spices, a swirl of vegan yogurt, fresh coriander and roasted cashews.
TEMPERING
Heat up the remaining 1-2 tbsp of oil in a small frying pan (I used the same pan I toasted the cashews on).
Once the oil gets hot, add mustard seeds, curry leaves and chilli slices (if using).
Allow them to fry quickly, agitating the pan (by stirring or swivelling it off the heat) frequently until some of the mustard seeds have popped.