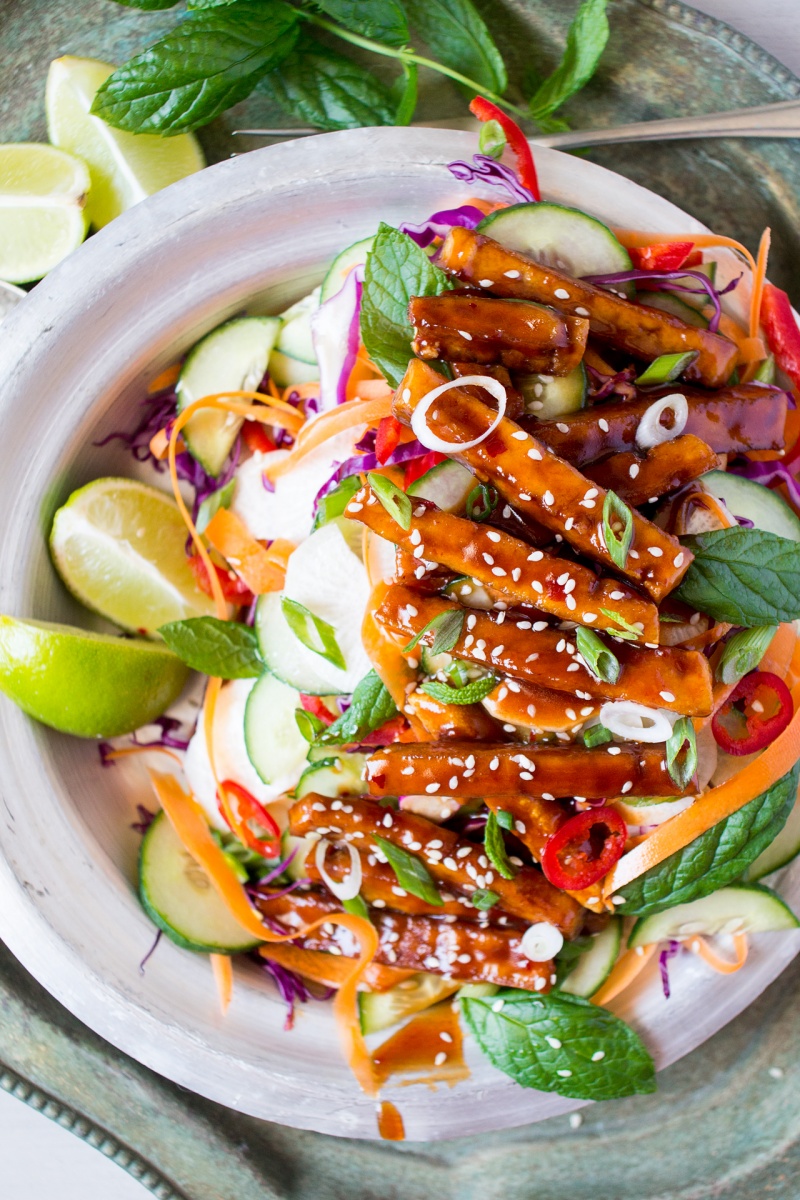 My favourite flavours when summer strikes are definitely Asian flavours. I realise it is a generalisation really as Asian cuisine is one of amazing depth and breadth, but there are certain staple Asian ingredients like limes, chilli, ginger, soy sauce, spring onions, lemongrass, coriander, mint that scream summer to me and I like using them in hot summer months.
Today's dish is somewhat inspired by a TV show we've been passionately watching. Those of you who live in the UK are probably familiar with the entertaining pair of Hairy Bikers. The series we've just finished watching was called Asian Adventure, where they delved into the culinary traditions of Thailand, Hong Kong, Japan and South Korea.
Although most of the food they enjoyed wasn't really vegan, I still loved watching the show. It certainly got my creative juices flowing. The idea for this dish struck me after I watched one of the episodes and although the purists will certainly shake their heads in disapproval as my today's dish is a bit of a fusion – it's simply my take on flavours that I enjoy eating – don't be put off trying it.
It's easy to make, healthy, filling and immensely satisfying.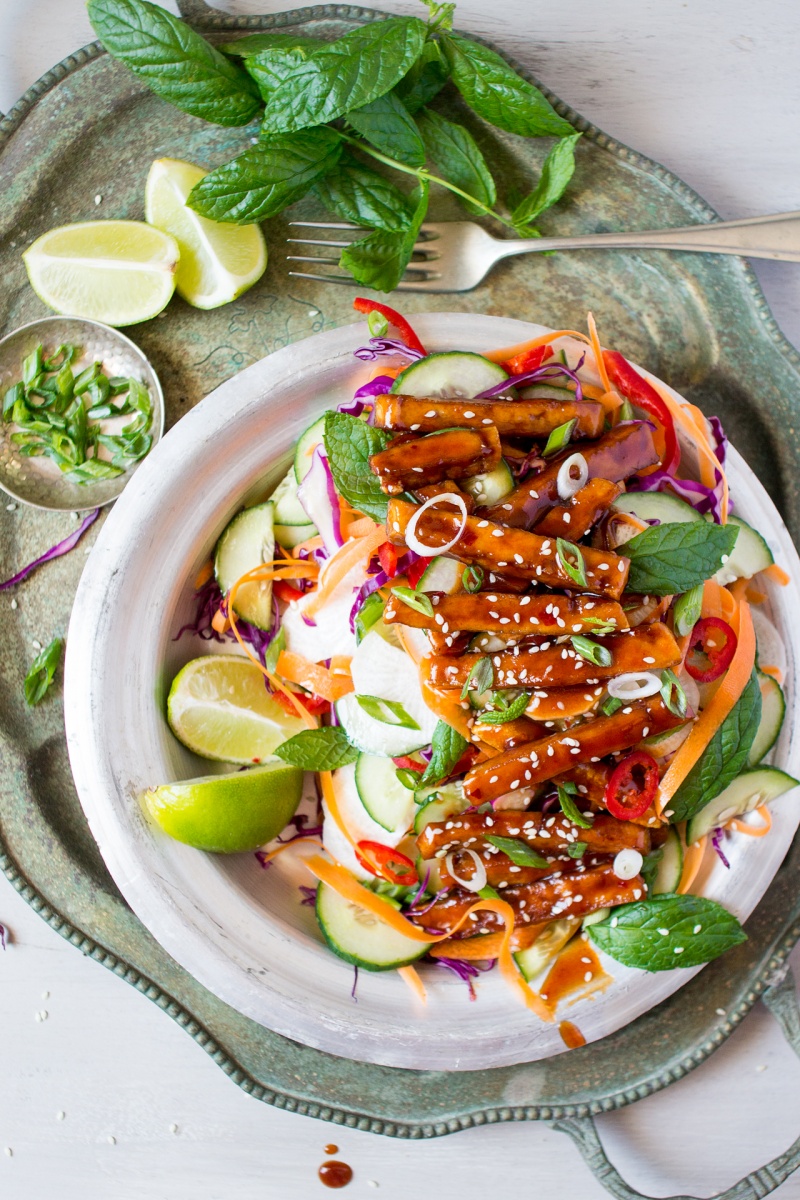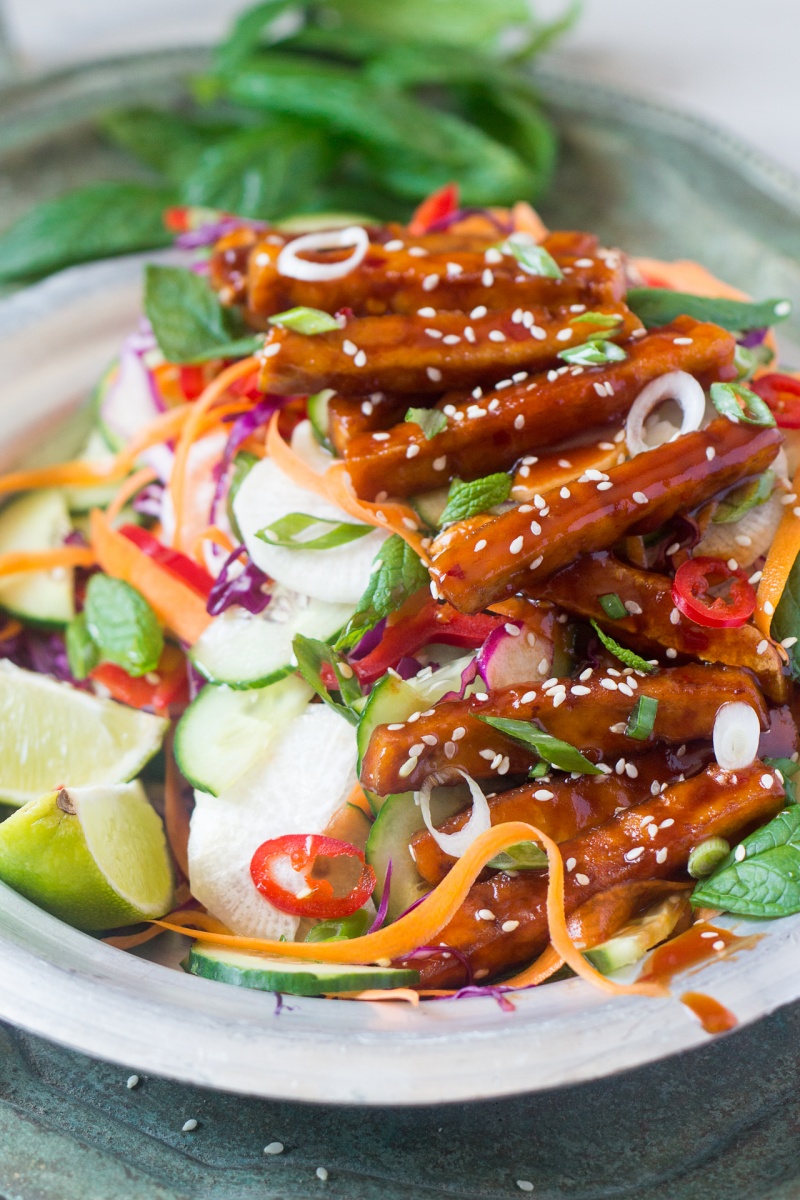 SALAD
2 carrots, shaved into ribbons
1 red pepper, in thin strips
a wedge of cabbage, sliced finely
½ long cucumber, sliced into half-moons
1 small daikon (Japanese radish), sliced into half-moons
½ red chilli, sliced thinly
1 spring onion, sliced thinly
handful of fresh mint and/or coriander
1 tbsp of neutral oil
2 tbsp of lime juice
2 tbsp tamari or soy sauce
2 tsp maple syrup
1 tsp toasted sesame oil
TOFU & TOFU GLAZE
METHOD
Cut pressed tofu into long, thin strips. Pour about a tablespoon of tamari or soy sauce over them and give them a gentle stir – no need to soak them. Arrange on a clean plate and dust with a thin layer of cornflour.
Heat up 2 tbsp of oil in a small pan. Once the oil becomes hot, fry tofu pieces on a medium-hot flame until they crisp up nicely. Be sure to turn them around frequently.
In a small bowl, mix together oil, lime juice, tamari (or soy sauce), maple syrup and sesame oil to make a dressing.
Mix all the glaze ingredients together (2 tbsp maple syrup, 1½ tbsp rice vinegar, 1 tbsp soy sauce, 1 tsp Sriracha and 1 tsp liquid smoke) in a small pot. Whisk in 1 tbsp of cornstarch and let the mixture come to the boil. Boil for 1-2 minutes until it thickens. Set aside to cool.
Combine all the salad ingredients together in a large bowl and stir the dressing through it. Put fried tofu into the glaze and coat well. Serve on top of the dressed salad.
NOTES
*To drain a block of tofu, wrap it in a few layers of a kitchen roll. Place it on a plate and put something heavy on top, like a tin of coconut milk. The paper towel will soak up excess moisture. Once the towel gets wet, swap it for a new one. Repeat a few times.